We have a serious obsession with chickens here in the Philippines. Even though the market for chicken-related products here is quite competitive (think: fried chicken, buffalo wings, chicken wings, chicken inasal, etc.), 24 Chicken has managed to break in quickly. 
Let's look at the 24 Chicken menu and see if we can determine what makes this chicken restaurant so popular among Filipinos
Here is the latest 24 Chicken Menu with prices in the Philippines:
Menu
Price

Boneless Chicken

Original (Half)
250
Original (Whole)
485
Lemon Glazed (Half)
255
Lemon Glazed (Whole)
495
Garlic (Half)
255
Garlic (Whole)
495
Jack Daniels (Half)
255
Jack Daniels (Whole)
495
Yangyeom (Half)
255
Yangyeom (Whole)
495
Yangnyeom x2 (Half)
255
Yangnyeom x 2 (Whole)
495
Yangnyeom with Garlic (Half)
260
Yangnyeom with Garlic (Whole)
515
Spicy BBQ (Half)
255
Spicy BBQ (Whole)
495
Snow Cheese (Half)
260
Snow Cheese (Whole)
515
24 Cheddar (Half)
260
25 Cheddar (Whole)
515

Rice Meals

Original (2pcs)
95
Orginal (3pcs)
130
Garlic (2pcs)
100
Garlic (3pcs)
135
Jack Daniels (2pcs)
100
Jack Daniels (3pcs)
135
Yangnyeom (2pcs)
100
Yangnyeom (3pcs)
135
Yangnyeom x2 (2pcs)
100
Yangnyeom x2 (3pcs)
135
Spicy BBQ (2pcs)
100
Spicy BBQ (3pcs)
135
Lemon Glazed (2pcs)
100
Lemon Glazed (3pcs)
135
Yangnyeom with Garlic (2pcs)
105
Yangnyeom with Garlic (3pcs)
140
24 Cheddar (2pcs)
105
24 Cheddar (3pcs)
140
Snow Cheese (2pcs)
105
Snow Cheese (3pcs)
140
Yangnyeom with Garlic x2 (2pcs)
105
Yangnyeom with Garlic x2 (2pcs)
140

Half and Half

Choose any 2 flavors
495
Party Package
1070

Add Ons

Cajun Fries
75
Extra Rice
20
Extra Sauce (Jack Daniels)
45
Extra Sauce (Yangnyeom)
45
Extra Sauce (Yangnyeom x2)
45
Extra Sauce (Spicy BBQ)
45
Extra Sauce (Lemon Glazed)
45
Softdrinks in Can
50
Mineral Water
25
Garlic
20
Caramelized Onions
45
Kimchi
45
Kimchi Rice
65
Coke 1.5L
98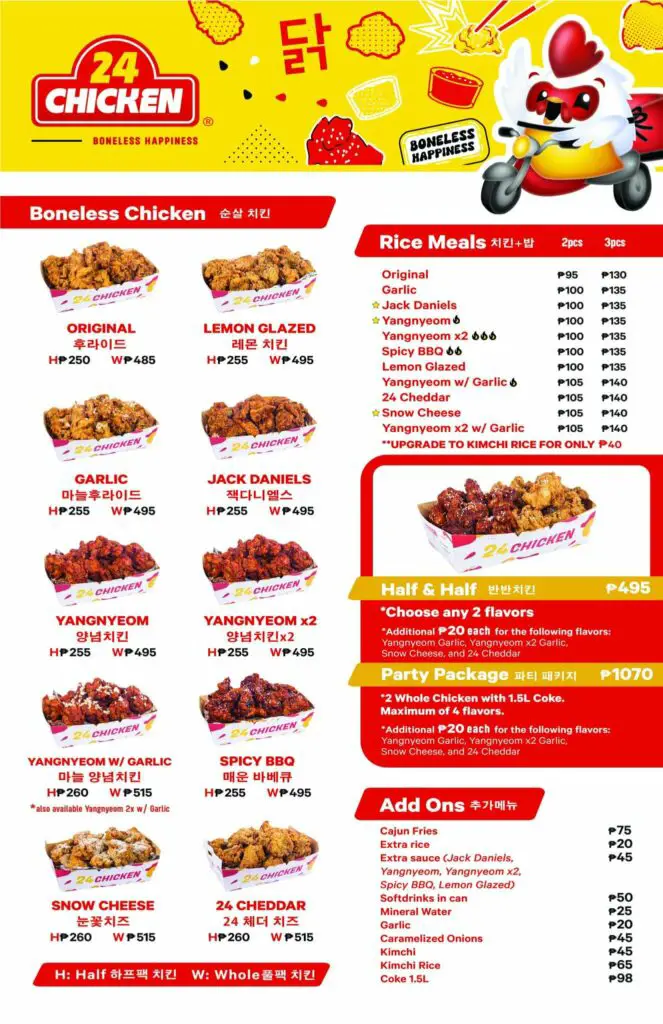 24 Chicken Menu
24 Chicken's Korean fried chicken comes in 11 flavorful varieties and is both affordable and tasty. It's easy to see why it became so popular in the Philippines.
24 Chicken Best Sellers
Jack Daniels
This was my favorite of the four options we tested. Even if the taste isn't 100% authentic to Jack Daniels, it's still quite satisfying. Perhaps it appealed to my millennial palate, but it was delicious.
Yangnyeom
While the name might take some time before it rolls off the tongue, it's sure a treat on the taste buds. It boasts a flavor profile that perfectly balances sweetness and heat. If the K-Flavor seems overwhelming, try pairing it with something salty.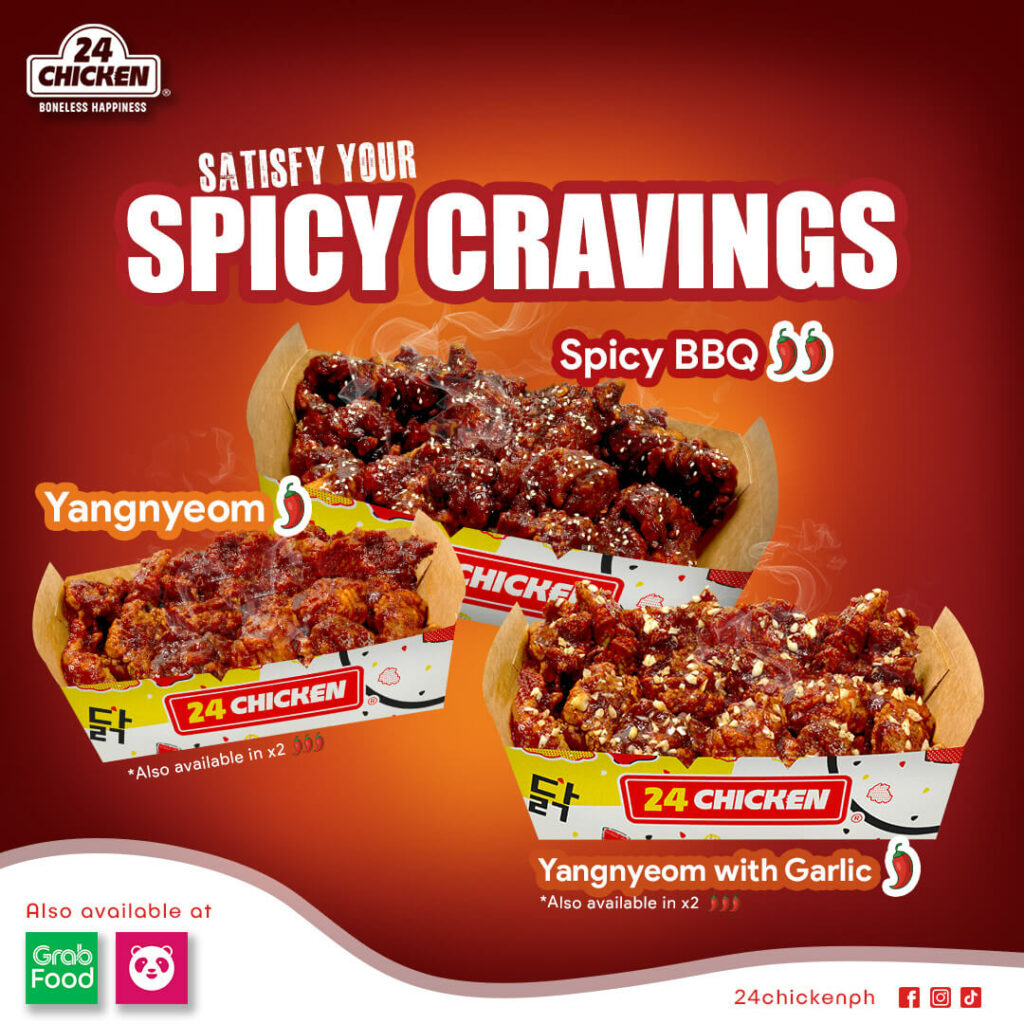 Lemon Glazed
A flavor that's nearly too sweet for my palate. Just picture your chicken dinner with a sweet lemon added to it. It has the flavor of candy — but the good kind! My partner other has a sweet tooth, and they adored this.
Want to be updated on other promos? Subscribe to our newsletter.
Snow Cheese
Cheese lovers shouldn't pass up this opportunity to try something really special. Boneless fried chicken dusted with cheese powder is an irresistible treat. The sharp taste of the cheese powder permeated every bite of the hot, tender white meat.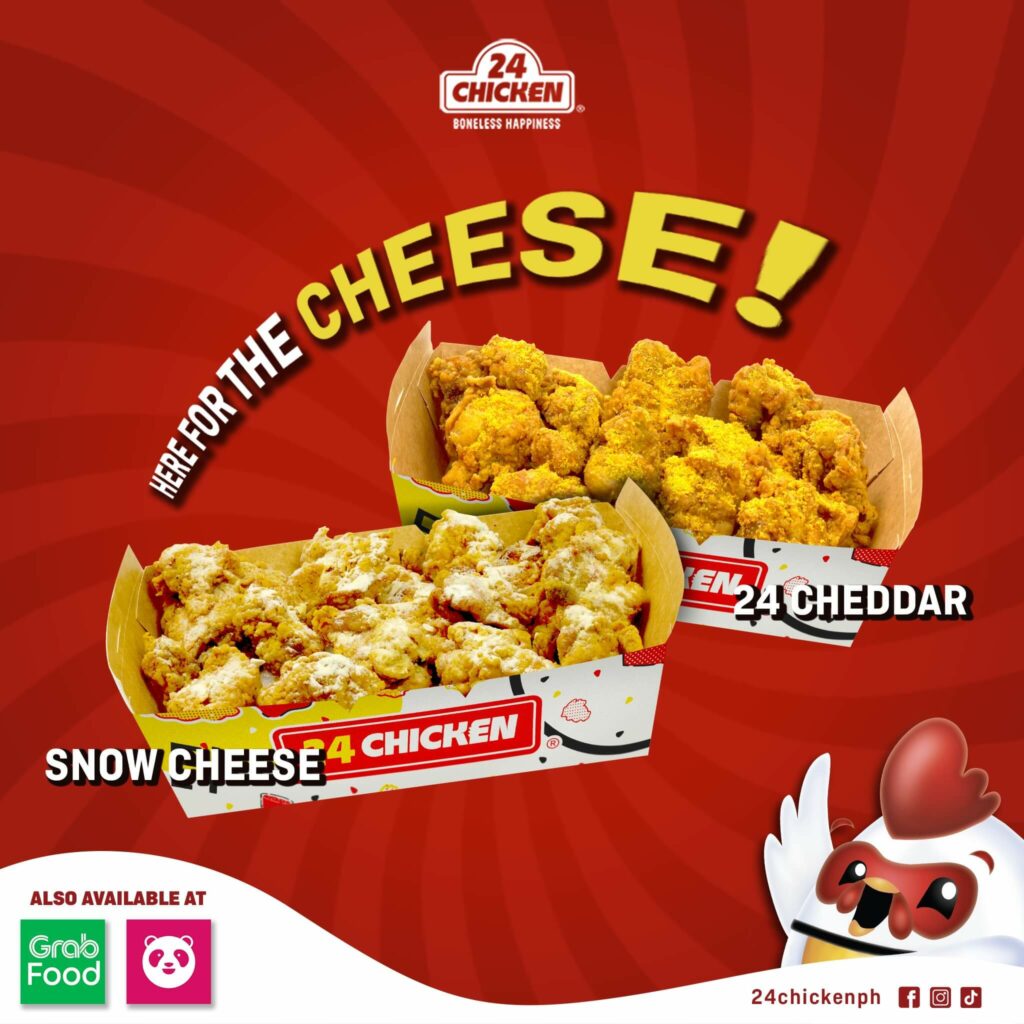 Other Flavors
Here are some of the other flavors you can try:

Original
Garlic
Yangnyeom with Garlic
Yangnyeom x2
Yangnyeom w/ Garlic x2
Spicy BBQ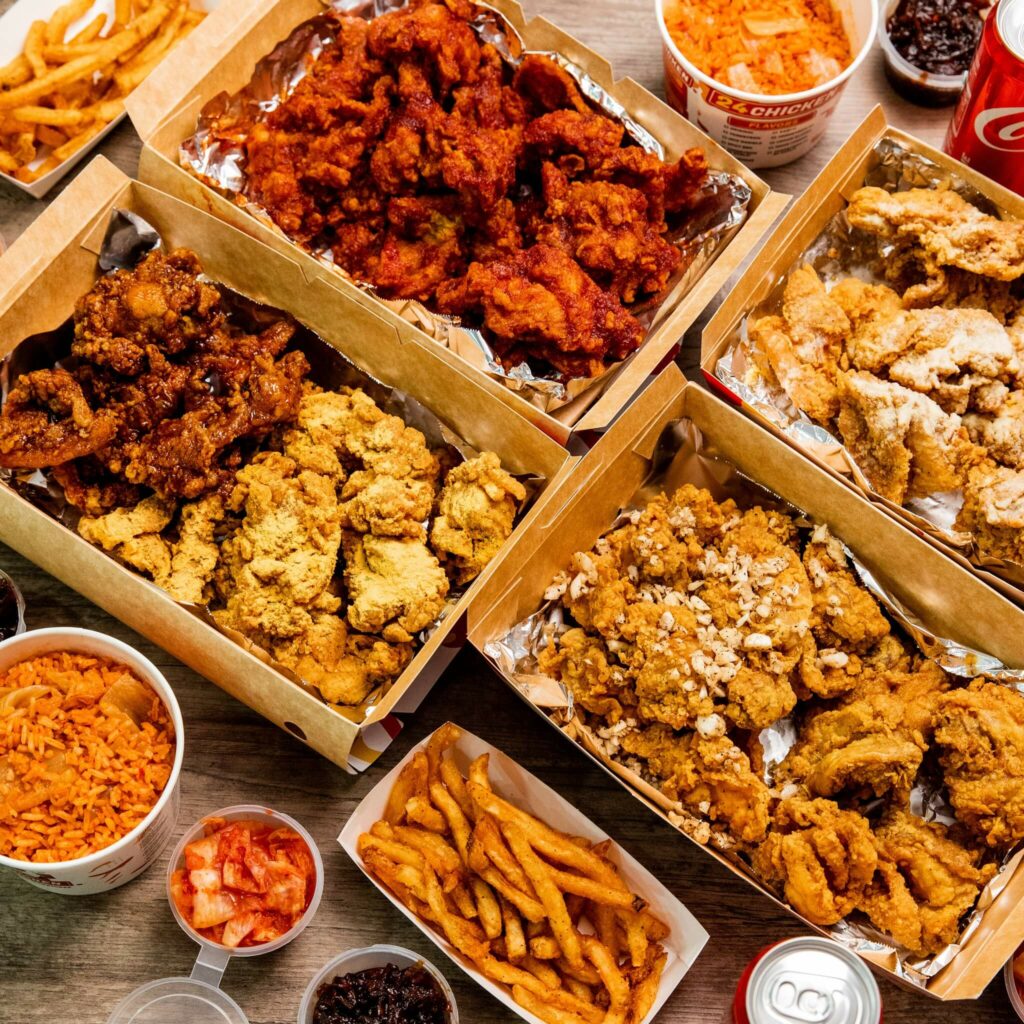 If you're feeling generous to yourself, you can also try out the pricier alternative – Frankie's Wings!
24 Chicken Delivery
Delivery options from GrabFood and FoodPanda allow one to enjoy the tasty Korean chicken from 24 Chicken without leaving the house. You may also contact them via their Facebook page to place your order.
Frequently Asked Questions
Where can I find 24 Chicken?
24 Chicken has established its presence in several regions across the Philippines, including Metro Manila, Pampanga, Cebu, Leyte, CDO, Cotabato, Davao, Gensan, Koronadal, and Tagum.
What serving sizes are available?
 You can choose from different sizes for your chicken orders, such as half, whole, and party packages. The half order includes seven pieces of big boneless fried chicken, while the whole order offers 14 pieces and the flexibility to select up to 2 flavors. The party package is an excellent choice for larger gatherings, featuring 24 pieces of big boneless fried chicken and the option to enjoy up to 4 flavors.
About 24 Chicken in the Philippines
Owner Mark Gerald Ong wanted to introduce Korean fried chicken's original and economical tastes to the Philippines after seeing its growing popularity and value during his visit to South Korea. 24 Chicken, initially located in Leon Guinto, Malate, immediately became a favorite among students and fans of fried chicken. Now with more than 30 locations around the country, it can meet the needs of a diverse clientele.
Talk To 24 Chicken Filipino Staff
Want to know more about the 24 Chicken Menu in the Philippines? Send their staff a message on social media:
For any more questions you have about the 24 Chicken Menu, leave a comment below.