You become used to the heat when you live in a nation where it feels like the summer lasts year-round, even throughout the monsoon season. We become experts in locating the most delicious cold drinks and sweet treats to cope with the oppressive heat. Many brands say they have the greatest halo-halo, but have you ever seen one that proclaims itself "the creamiest halo-halo in the solar system?" The reviews for a San Juan halo-halo store indicate this is not just sensationalism. Let's check out what's available on Bebang's Halo Halo menu.
Here is the latest Bebang's Halo Halo Menu with prices in the Philippines:
Menu
Price

Halo-Halo

Blueberry Pistachio
168
Halo Halo Presidential
168
Strawberry Pistachio
168
Matcharap
168
Banana Cinnamon Con Yelo
158
Buko Pandan
158
Halukay Ube
158
Manngo Graham
158
Melon
158
Choco Mallows
148
Icy Coffee
128
Cookie Crumble
148
Mango Classic
128
Halo Halo Special
138
Mais Con Yelo
118
Royal Halo Halo
498

Taho

Ube Taho
108
Strawberry Taho
108
Blueberry Taho
108
Matcha Taho
108
Chocolate Taho
108

Hotdog

Regular Hotdog w/o Fries
177
Regular Hotdog w/ Fries
248
Chorimozza w/o Fries
258
Chorimozza w/ Fries
318
Choridog w/o Fries
268
Choridog w/ Fris
328

Fries

Regular Fries
108
Large Fries
128
Bebangs Menu
Bebang's luscious version of the legendary Filipino cold delicacy is a challenge to the status quo since it boasts no jagged shards. Instead, they utilize frozen, shaved, full-cream milk so that even if it starts to melt, it won't taste flat or watered down, as is often the issue if you don't consume your halo-halo straightaway. Since everything is prepared upon ordering when you make a purchase, the consistency is just as if you had done it yourself.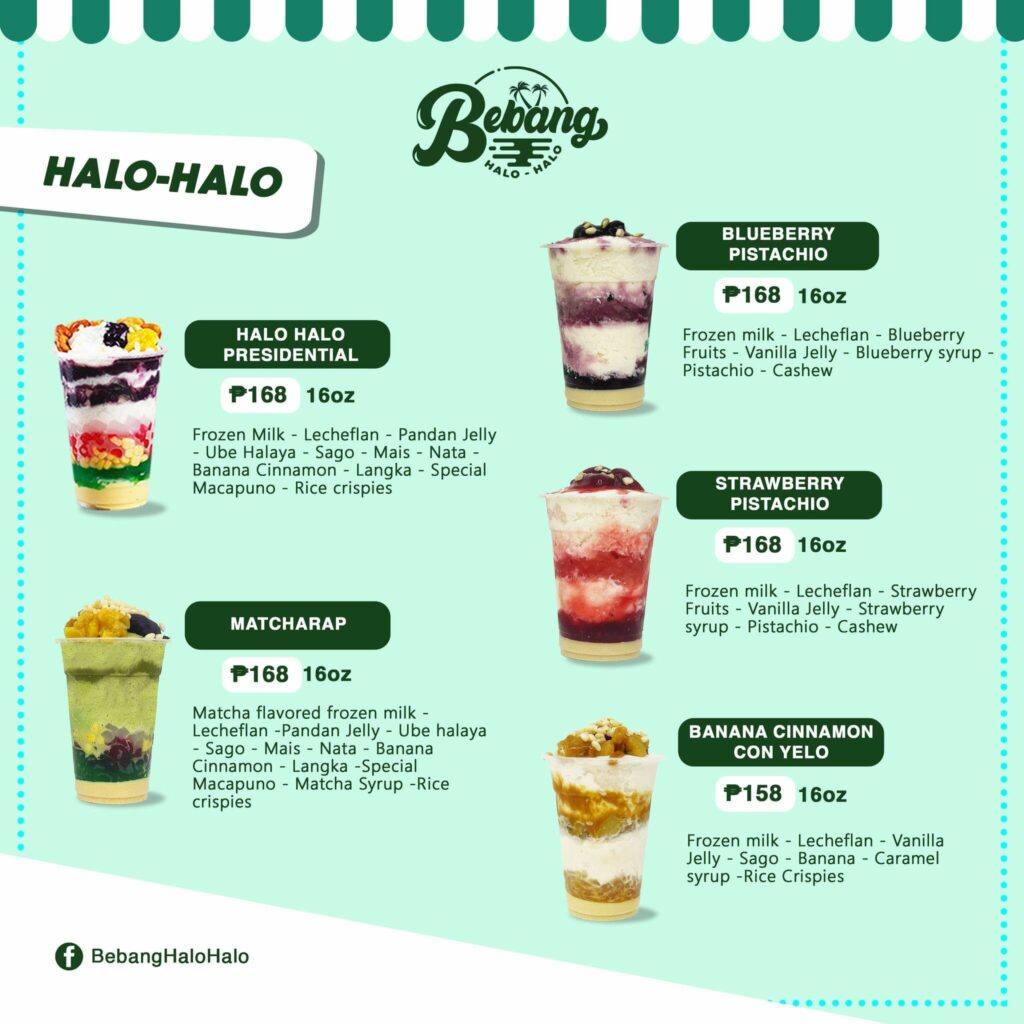 Bebang's Halo Halo Bestsellers
Royal Halo Halo
Bebang's Royal Halo-halo, garnished with edible 24k gold flakes, became a TikTok sensation. This is a fusion of Filipino and American dessert pleasures in a cup, with the toasted marshmallow garnish and ingredients like blueberries, peaches, and pistachios that aren't often seen in halo-halo. It's a touch too sugary for some, but it was just right for me. Still, the ingredients are sosyal, so you can't criticize it for staying true to its "royalty" reputation. A golden spoon is included for further opulence, in case the dish itself wasn't impressive enough.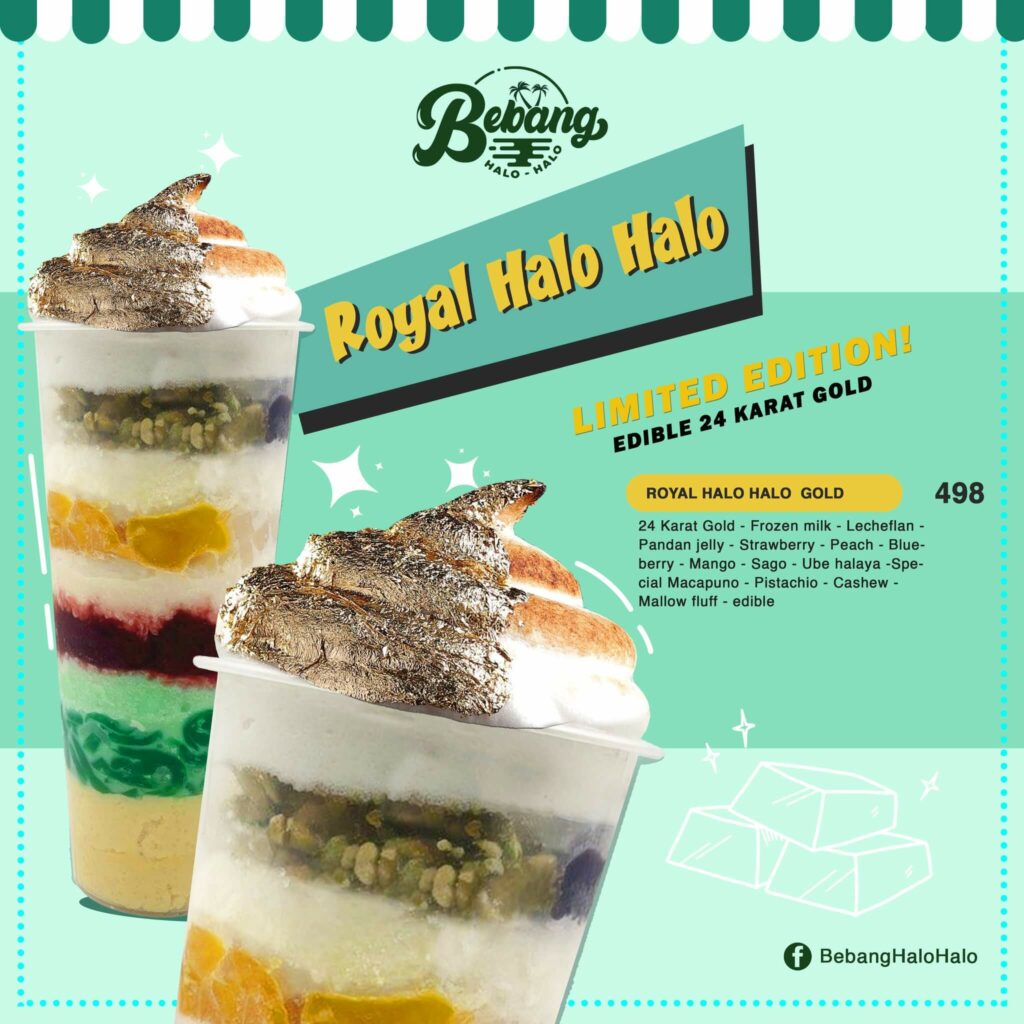 Halo Halo Presidential
This is Bebang's version of the standard halo-halo, except with much more delicious stuff. In addition to Bebang's delicious frozen milk, this beautiful glass of halo-halo also contains Leche flan, pandan jelly, sago, mais, nata, banana cinnamon, ube halaya, langka, special macapuno, and rice crispies. The frozen milk foundation gives Bebang's Halo-Halo Presidential a sophisticated twist on a classic, so you can savor every mouthful without worrying about diluting the sweet treat.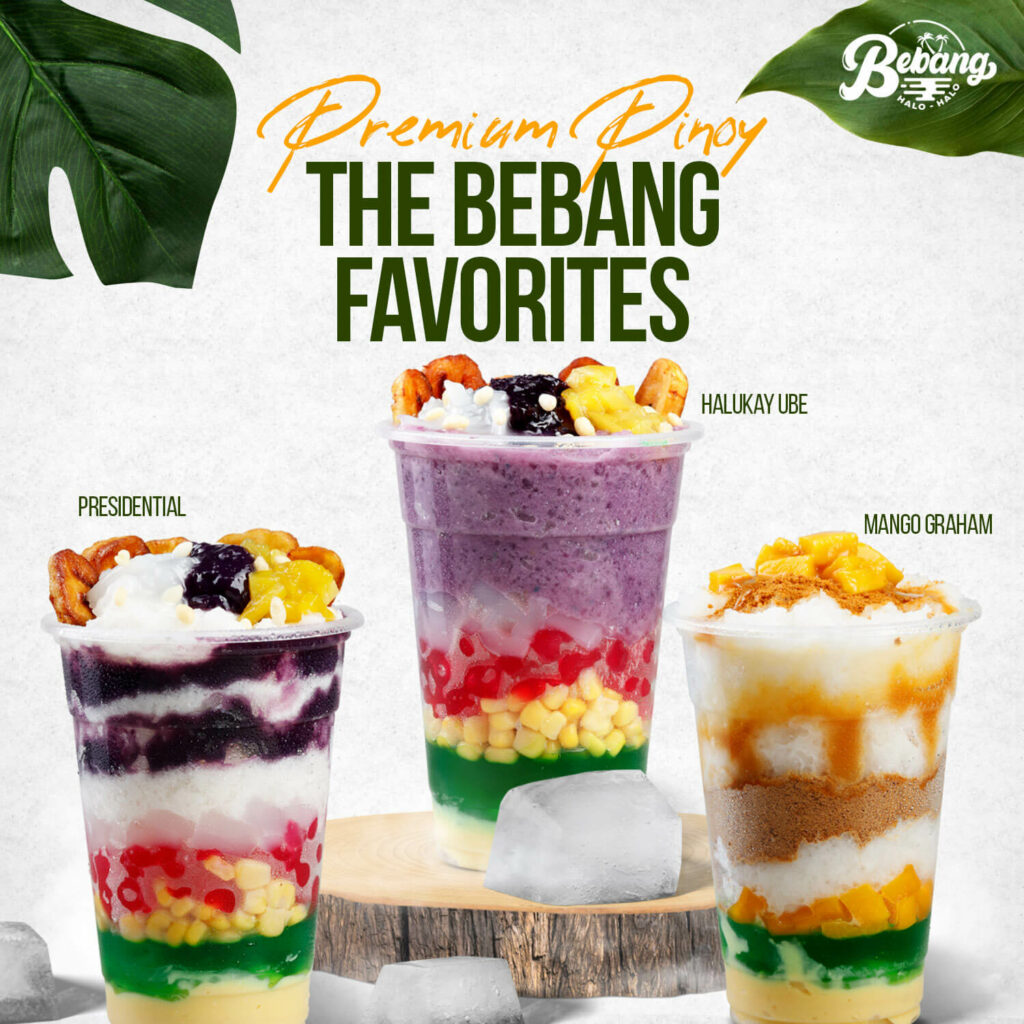 Mango Graham Halo Halo
This dessert is made with leche flan, pandan jelly, caramel syrup, and frozen milk on top of the customary fresh mangoes and graham. This one tastes just like mango graham but with a twist.  Combining the sweet mango and crunchy graham bits with the mellow thawing of the velvety frozen milk is a recipe for bliss. The addition of the leche flan, caramel, and pandan jelly to the mango grahams makes each mouthful a mini-dessert in and of itself. 
Banana Cinnamon Con Yelo
Banana Con Yelo was a childhood favorite of mine, so it made me happy to see it being dialed up to eleven. This one tastes like banana pudding in halo-halo form. It contains leche flan, sago, vanilla jelly, bananas, and caramel syrup secured in frozen milk. For extra texture, rice krispies are scattered over the top. They managed to make a dessert that was not too sugary, cinnamony, or milky.
Want to be updated on other promos? Subscribe to our newsletter.
Hotdogs and Fries
The restaurant also sells hotdogs, chorizo, and chorizo-mozzarella with various sauces and toppings, such as jalapeño, caramelized onions, and ground beef, to accompany the halo-halo. An ideal snack pairing would be this with some thick-cut fries. I found this very welcome, as eating too much sweet treats without savory cuts in between can be too rich.
You may also get taho, a silky tofu snack, in ube, strawberry, chocolate, or blueberry flavors if you're dining with somebody who doesn't enjoy frozen sweets.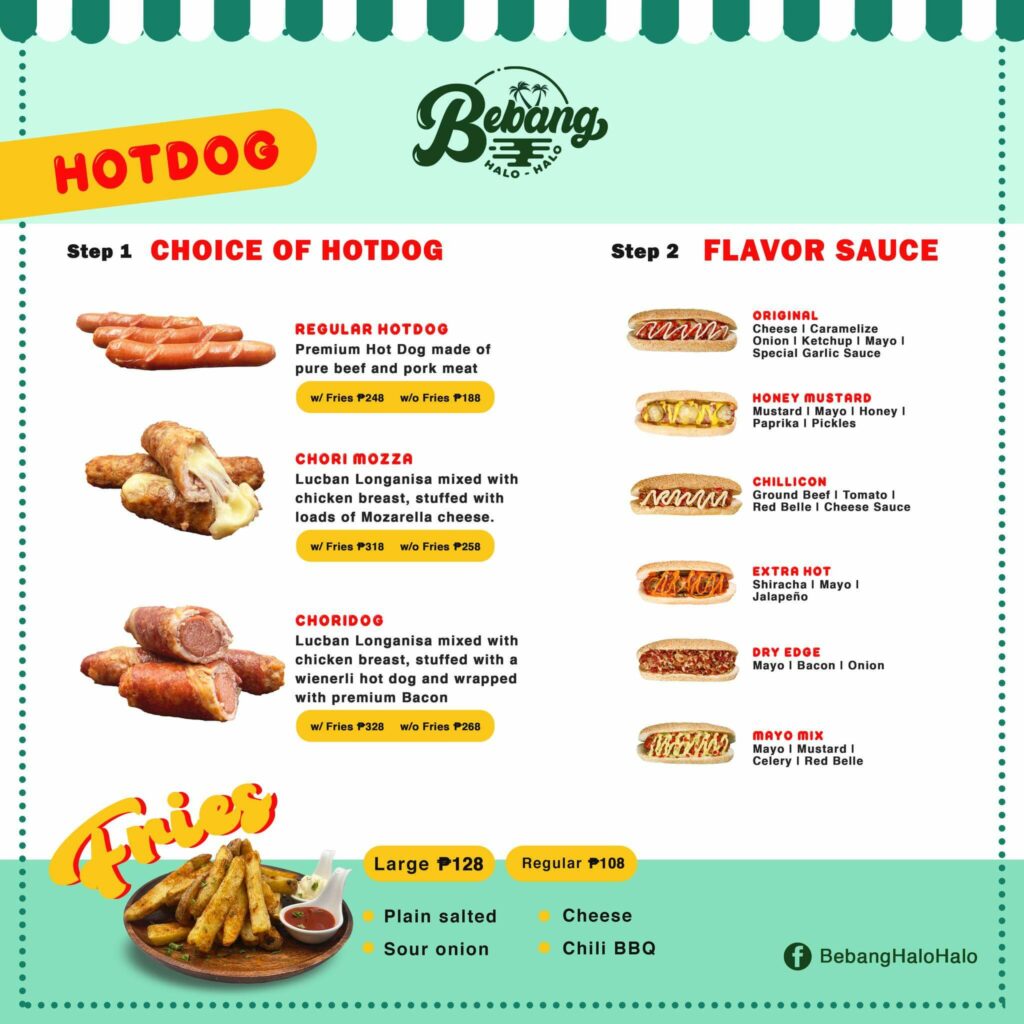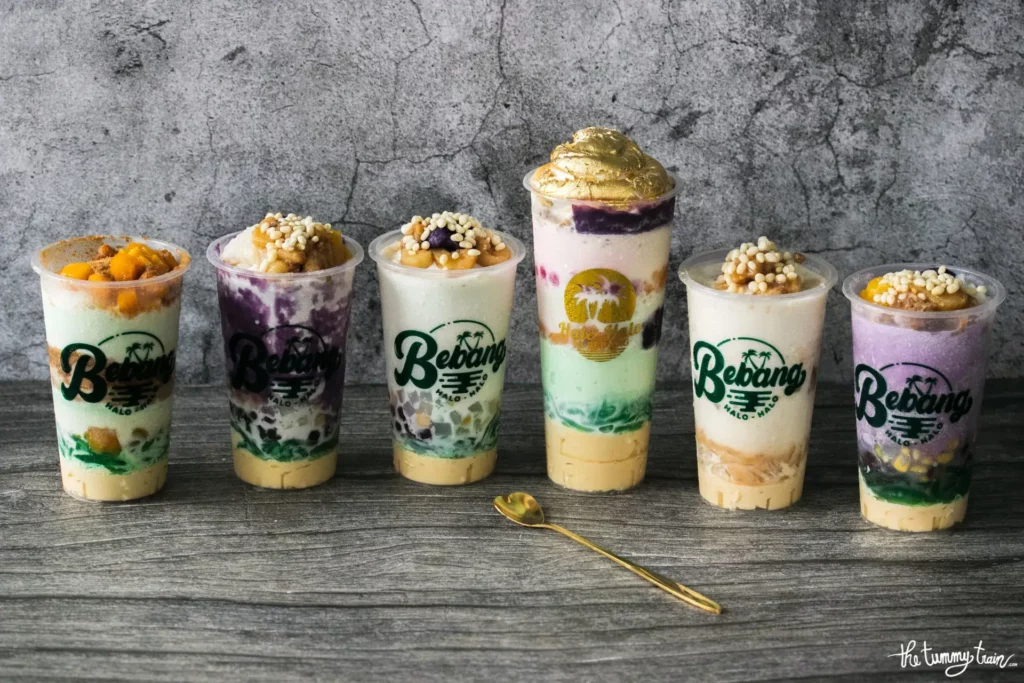 Bebang's Halo Halo Delivery
It is possible to place orders via Facebook. You may inquire about it or purchase it by sending them a message on Facebook. Also, they have a website at www.bebang.ph where customers may make orders for pickup or delivery of their chosen Bebang's menu item.
Frequently Asked Questions
Where does Bebang's deliver?
The majority of Metro Manila can take use of Bebang's delivery service. Your purchase is backed by a "delivered frozen or your money back" guarantee, which states that you'll receive a full refund if your halo halo arrives at your doorstep thawed. This guarantee is included with every transaction.
How many flavors of halo halo can I choose from?
At Bebang's, you may choose from fifteen halo-halo flavors, ensuring you can always enjoy your favorite or explore a new flavor.
About Bebang's Halo Halo in the Philippines
Bebang's is a business on Shaw Boulevard in Mandaluyong that serves up high-quality halo-halos. Their Royal Halo-Halo Gold, sprinkled with edible gold flakes, became a huge hit on TikTok. Following that, they were constantly sold out from online and presale purchases, making it hard to serve walk-in consumers for a while.
Talk To Bebang's Halo Halo Filipino Staff
Want to know more about the Bebang's Halo Halo Menu in the Philippines? Send their staff a message on social media:
For any more questions you have about the Bebang's Halo Halo menu, leave a comment below.