Genuine home-cooked meals will always be ideal when someone asks where to find the finest Filipino cuisine. Where, however, amid the hectic pace of city life, when dining out may seem more appealing than cooking at home, can you discover authentic Filipino cuisine? Check out the top two contenders: a battle of the Manam vs. Mesa menu.
Manam Vs. Mesa Menu
Many restaurants have tried and failed to recreate and elevate Filipino cuisine. The very few who succeed become idols in the Filipino restaurant scene. The two most top-of-mind brands, Manam and Mesa, serve upscaled, reinvented, and reimagined Pinoy favorites to Filipino foodies who feel like they've tasted every variation of Pinoy classics.
Food Variety and Style
Manam and Mesa aim to elevate Philippine cuisine but take different avenues.
For instance, Manam divides its menu into the "Classics" and the "Twists." The earlier offers options for those who like more traditional takes, and the latter provides tastes that excite the palettes of daring diners. Mesa, on the other hand, offers a more "upscaled Filipino cuisine" feel. Sometimes it might scare off the so-called "purists," but believe us when they are worth the try.
Manam often feels like the safer choice because it feels more "traditional," in the sense that what you'd expect when you talk about Pinoy eating: bright lights, open air, and meals made to be shared in the middle of the table. Mesa, on the other hand, plays toward the premium side of the scale. Some of their dishes jump beyond recreation and reinvention — shrimp cooked on hot stones and salads on spoons, to mention a few. Such dishes may scare off the old-fashioned eaters but will entice the daredevils of cuisine.
Bestseller Comparisons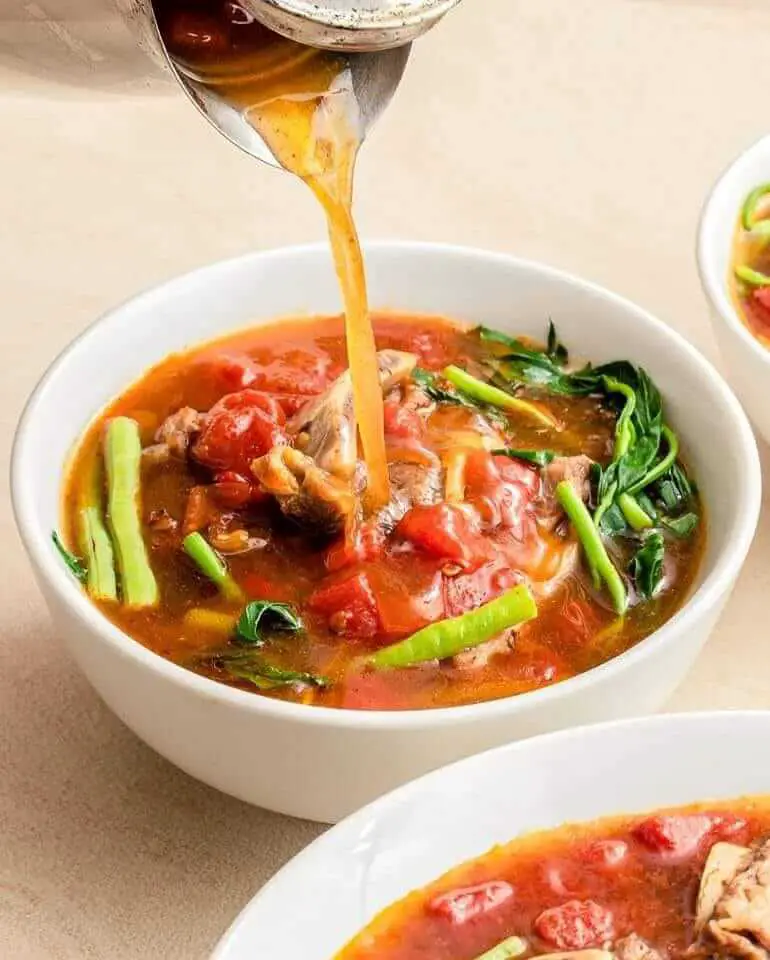 Manam's Watermelon Sinigang and Mesa's Sinigang na Baboy sa Pinya at Bayabas
Manam's top-tier sinigang is famous across the Metro. It's part of Manam's "Twists" menu, and with good reason. It reimagines the balance provided by the sour soup by adding sweet watermelon. Few can rival this dish, but Mesa's take on sinigang is close. It's made sweeter with pineapples instead of watermelon but tastes more traditional (yet exciting) due to the bayabas sour soup base. The only leg up that Mesa's version has is that it lets you choose from different proteins: pork, bangus, and shrimp.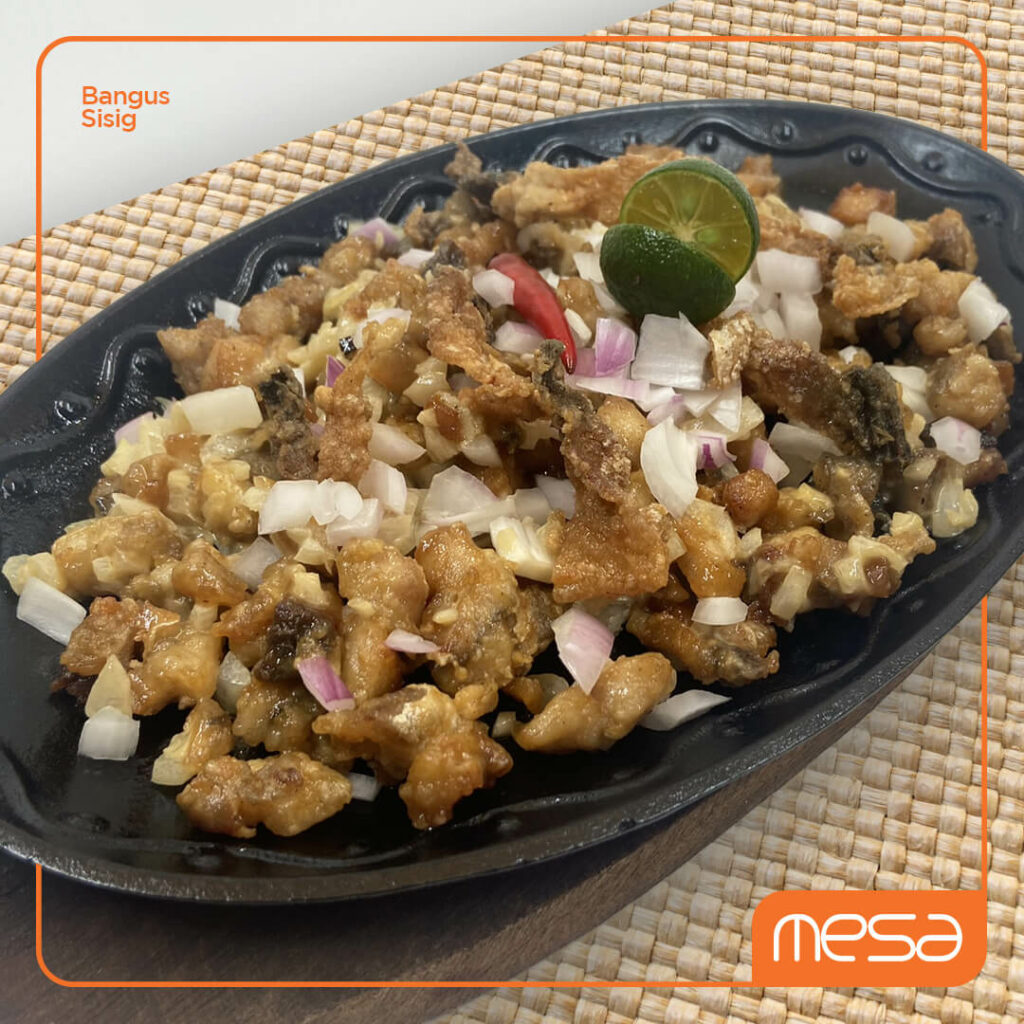 Mesa's Sisig in a Pouch and Manam's House Crispy Sisig
Mesa's Sisig in a Pouch is a prime example of the elevation that Mesa provides Filipino cuisine. As the name suggests, it's sisig placed in a pastry-like pouch. While delicious, it's a leap from traditional Filipino dining, as in shared meals in a central serving bowl, which is what Manam's House Crispy Sisig embodies.
Price Points
The prices for these two restaurants don't differ much.
In Manam, appetizers (or pica-pica, as per their menu) are priced at P65 for the Balut and Salt Trio (S) to P615 for the Gambas in Chili, Olive Oil, and Garlic (L). In contrast, Mesa's appetizers can be enjoyed, from P185 for the Tinapa Roll to P260 for the Baked Scallops.
The factor that will make a difference here is that Manam offers three different meal sizes. This means that if you're eating for a party of six, you can get a Large meal for the table to share. However, if you're dining in Mesa as a big party, you may have to order multiple meals to be shared across the group.
This is a point up for Manam, as this makes them more affordable and represents what Filipino dining is — community, family, and sharing.
Availability
If you've got a craving for Filipino meals and are looking for Mesa or Manam and could go either way, you'll have a better chance of finding a Mesa branch. As of writing, Mesa has 51 locations around the country, while Manam only has 17 branches serving their brand of Filipino cuisine across the Metro. You'll instantly recognize these restaurants from each other — Manam uses lighter wood tones and softer lighting, while Mesa opts for darker earth palettes and darker lighting.
Final Thoughts
While several brands are vying for the top reimagined Filipino cuisine, Manam and Mesa is definitely at the top, and no other brand threatens to come close. The two are different and have pros and cons, but ultimately, they boast their unique takes on Filipino cuisine that will not fail you.
Just a final note, personally, I love Manam's fresh take on Filipino food. But hey, try both to see for yourself what you would prefer!