Pancake House is the largest pancake and waffle restaurants in the Philippines. They have all types of pancakes you can enjoy and many other tasty dishes on their menu.
Here is the latest Pancake House menu with prices in the Philippines:
Menu Item
Price

Pancakes & Waffles

Classic Pancakes 2pcs
₱205.85
Classic Pancakes 3pcs
₱246.10
Cheese Pancakes 2pcs
₱240.35
Cheese Pancakes 2pcs
₱269.10
Banana Pancakes 2pcs
₱240.35
Banana Pancakes 3pcs
₱269.10
Chocolate Marble Pancakes 2pcs
₱240.35
Chocolate Marble Pancakes 3pcs
₱269.10
Chocolate Chip Pancakes 2pcs
₱249.35
Chocolate Chip Pancakes 3pcs
₱269.10
Walnut Pancakes 2pcs
₱246.10
Walnut Pancakes 3pcs
₱286.35
Blueberry Pancakes 2pcs
₱246.10
Blueberry Pancakes 3pcs
₱286.35
Caramel Banana Walnut Pancakes 2pcs
₱246.10
Caramel Banana Walnut Pancakes 3pcs
₱286.35
Classic Country Pancake Medley
₱356.50
Bacon & Cheese Pancake Medley
₱396.75
Golden Brown Waffles
₱228.85
Chocolate Marble Waffles
₱251.85
Cheese Waffles
₱251.85
Bacon Waffles
₱269.10
Caramel Banana Walnut Waffles
₱269.10

Starters

Mushroom Soup
₱113.85
Best Taco in Town
₱113.85
Caesar Salad
₱281.75
Best Tuna Macaroni Salad
₱218.50
Potato Salad
₱218.50
Fiesta Taco Salad
₱356.50

Filipino Favorites

Pork or Chicken Tocino
₱310.50
Daing na Bangus
₱408.25
Smoked Golden Tinapa
₱431.25
Beef Tapa
₱356.50

International Delights

Ham and Cheese Omelette
₱258.75
Mushroom Omelette
₱235.75
Spanish Omelette
₱258.75
Cinnamon Toast
₱143.75
French Toast
₱201.25

Special Sets

Spaghetti Club Special Set
₱345.00
House Specials Set A
₱373.75
House Specials Set B
₱373.75
Pan Chicken Special Set
₱373.75
Hamburger Steak Special Set
₱373.75
Roast Beef Special Set
₱408.25

Pasta

Spaghetti With Meat Sauce, Regular
₱253.00
Spaghetti With Meat Sauce, Large
₱385.25
Classic Baked Mac
₱286.35
Carbonara
₱356.50

Main Course

Classic Pan Chicken, 2 pcs
₱264.50
Classic Pan Chicken, 3 pcs
₱345.00
Classic Pan Chicken & Golden Brown Waffle, 1 pc
₱310.50
Classic Pan Chicken & Golden Brown Waffle, 2 pcs
₱408.25
Fish Roll
₱333.50
Pork Vienna
₱345.00
Special Salisbury Steak
₱345.00
Spicy Chicken w/ Brown Rice Pilaf
₱322.00
Crispy Chicken Fillet
₱286.35
Hot Roast Beef
₱402.50
Spicy Maple Danggit
₱286.35
Pan Grilled Pork Belly
₱345.00
Chicken Parmigiana
₱286.35
Corned Beef Hash
₱322.00
Steak and Eggs
₱632.50

Burger & Sandwiches

Jumbo House Burger
₱396.75
Grilled Cheese
₱235.75
Tuna
₱241.50
Bacon, Lettuce, and Tomato
₱293.25
Clubhouse Sandwich
₱402.50
Grilled Ham and Cheese
₱264.50
Chicken
₱287.50

Kids Menu

Mini Classic Pancakes
₱138.00
Mini Classic Pancakes with Candy-coated Choco Bites
₱155.25
Children's Classic Spaghetti
₱138.00
Slice N' Shine
₱258.75

Classic Takeout Favorites

Make Your Own Taco Box of 5 pcs.
₱458.85
Box of 6 pcs. Classic Pan Chicken with 3 rice
₱684.25
Box of 6 pcs. Classic Pan Chicken
₱603.75
Box of 8 pcs. Classic Pan Chicken with 4 rice
₱879.75
Box of 8 pcs. Classic Pan Chicken
₱787.75

Ready-to-Cook

Fish Rolls with Lumpia Sauce
₱411.70
Salisbury Steak with Gravy Sauce
₱926.90
Pork Vienna with Breading and Polka Sauce
₱463.45
All Meat Spaghetti Sauce
₱661.25
Beef Tapa
₱1288.00
Country Sausage
₱284.05
Daing na Bangus
₱239.20
Smoked Golden Tinapa
₱284.05
Menu Updates
There's no doubt Pancake House has become one of the largest and most popular restaurants in the country. They've grown massively throughout the Philippines thanks to their delicious classic and home-y dishes like pancakes, pan fried chicken, waffles, and a whole lot more.
It can be tough to keep up to date with their regularly changing menu, which is why these photo of their latest menu should be quite useful: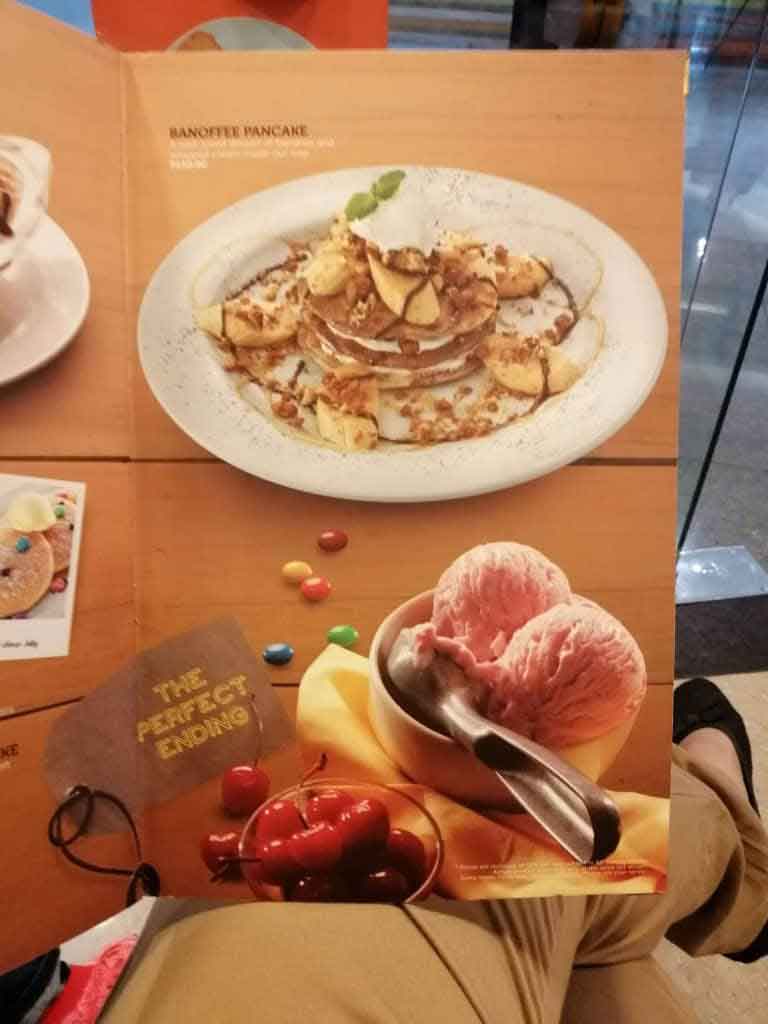 Food On The Pancake House Menu
Aside from its signature pancakes and waffles, the Pancake House menu carries a diverse array of Western and Filipino food items, so there are plenty of choices whether you're thinking of a light repast or hungering for a full meal. Snacks include tacos, burgers, and sandwiches, while starters or appetizers come in the form of soups and salads.
If you can't decide on what to order, a must try is their pan fried chicken! An absolute classic.
The breakfast menu has a wide array of selections, from toast and omelettes, to satisfying rice meals featuring Pinoy favorites such as pork tocino, beef tapa, and daing na bangus. In the mood for a big breakfast? Then take your pick from the My Breakfast Medley, Pancake/Waffle Combination, and My Ultimate Breakfast, all of which come with eggs, meat, and your carb of choice.
Main courses available on the Pancake House menu include feature hearty pasta dishes, as well as tried-and-true entrées such as the Classic Pan Chicken, Steak and Eggs, and Pan-Seared Fish Fillet. If you have tots in tow, you can order mini pancakes, chicken bites, and other treats from the Kid's Corner menu.
The Special Sets menu features combinations of some of Pancake House's most popular specialties, such as tacos and spaghetti, and roast beef and Caesar salad. You can order them with side dishes like hash browns and potato salad too. Desserts at Pancake House are literally cool; sweet meal endings here include scoops of ice cream, halo-halo, and banana splits.
Special Pancakes
The flapjacks you can order from the Pancake House menu are a delight to hungry diners of all ages. They're prime examples of melt-in-your-mouth deliciousness, and being fluffy, light, and airy, they don't leave you feeling overfull and bloated. Plus, they aren't too sweet, so you don't have to feel guilty about pouring an extra dollop of maple syrup.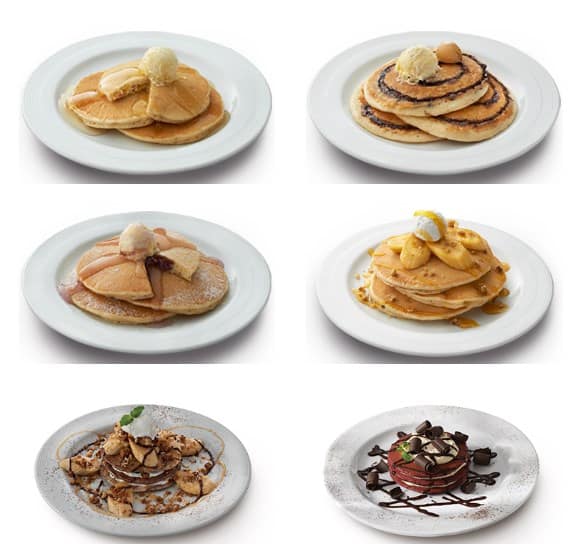 If you're feeling adventurous, there's a whole slew of pancake varieties to try. To get your fruit fix, sample the Blueberry Pancakes or the Caramel Banana Walnut Pancakes. For dessert, the Banoffee pancakes and the Red Velvet pancakes are must-tries.
Ready to Cook
Ready to Cook meals have become wide spread now in restaurants. Pancake house now has Ready to Cook meals you can take home for a freshly cooked meal. They have Ready to Cook meals for Salisbury Steak with Gravy, Beef Tapa, Daing na Bangus and Tapa, and of course, their famous Spaghetti Sauce!
If you're looking for a Japanese Ready to Cook Meal you can have at home, you can also check out Tokyo Tokyo's menu.
Promos
Pancake House launches promos from time to time that give you great bang for your buck. One recent deal on the Pancake House menu this 2021 was a Taco and Spaghetti All You Can Eat Weekend for only Php 349!
For Pancake House's birthday on March 2021, they launched a Php247 promo highlighting different food for every weekdays of March. Example, for Monday, you can get the 1 pc Pan Chicken, Spaghetti & a Minute Maid drink for only Php 247 – saving you Php 52! For Thursday, it was a Fiesta Taco Salad – saving you Php95. For Friday, it was the 3pcs Caramel Banana Walnut Pancakes – saving you Php34.
Want to be updated on other promos? Subscribe to our newsletter.
Pancake House Rewards Card
In 2020, they've released their own Pancake House Rewards card which you can get with any purchase for FREE!
They offer many reward card holders exclusive promos. You get 10% discount for dine in or takeout transactions worth at least Php 600. During your birthday month, you get free pancakes. They also release promos for rewards card holders from time to time.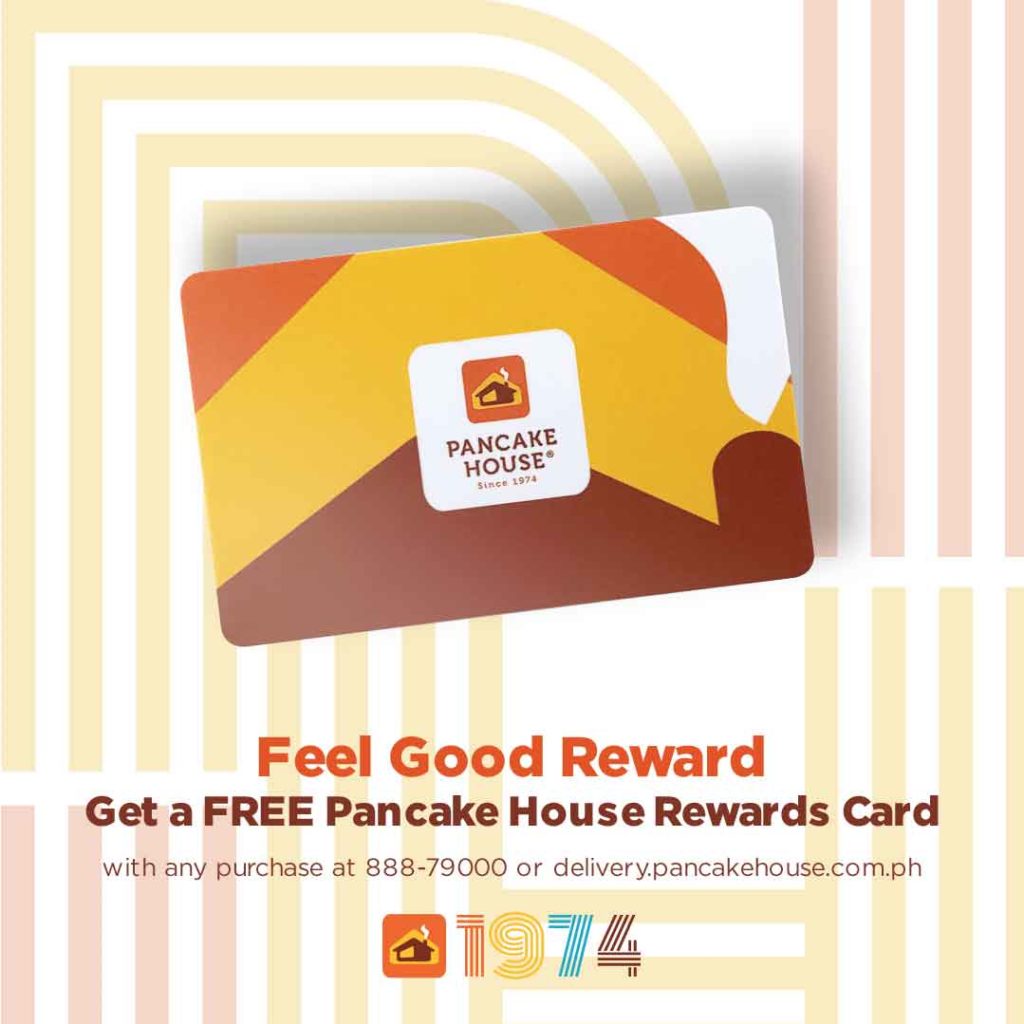 Do Other Filipinos Like The Pancake House Menu?
About Pancake House
Pancake House traces its beginnings to the 1970s, when it was established by Milagros Basa, Leticia Zamora, and Carmen Zaragosa. The first branch opened in Magallanes, followed shortly after by restaurants in Makati's chic Ayala Arcade and the bustling United Nations Avenue in Manila. In 1978, Pancake House saw its first franchise open in the Greenhills shopping district in San Juan.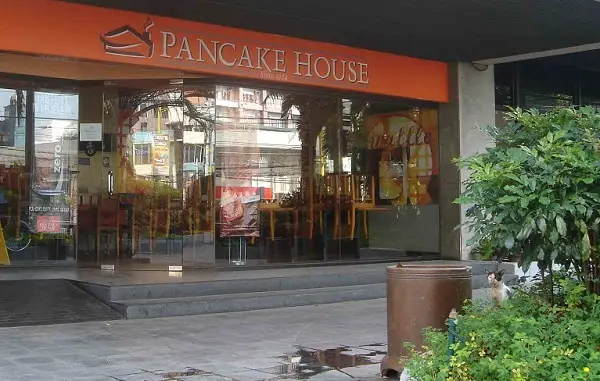 An investor group headed by Martin P. Lorenzo bought the Pancake House chain in 2000. In 2014, it was purchased by Max's Group, the Philippines' largest casual dining restaurant company.
Today, there are more than 100 restaurants serving the delicious Pancake House menu with a wide range of comfort food to discerning diners all over the Philippines.
Talk To Pancake House Filipino Staff
Feel like you need more info about the Pancake House menu? Send your questions to their team on social media:
If you don't want to do that, you can find one of their stores online using their store locator. Otherwise, you can call them on (02) 888-79000 or send an email to feedback@pancakehouse.com.ph. Finally, you can send them a message through their website if you like.
Looking to have a Pancake House delivery? You can order from the Pancake House delivery website or via GrabFood.
For all other questions you have about the Pancake House menu, leave it on the form below.