Panda Express has won the palates of Filipinos with its irresistible blend of Chinese and American cuisines deserves our undivided attention. From legendary dishes such as orange chicken and Beijing beef to the delectable Kung Pao chicken, we'll walk you through some must-try menu choices. Come with us as we explore the origins of the delicious foods that have made the Panda Express menu popular.
Here is the latest Panda Express Menu with prices in the Philippines:
Entrees Ala Carte

Orange Chicken
186
Broccoli Beef
186
Savory Shrimp
252
Kung Pao Chicken
186
Beijing Beef
252
Asian Grilled Chicken
186
Eggplant Tofu
186
Honey Walnut Shrimp
286
Mongolian Pork
186
Black Pepper Steak
280
Kung Pao Fish
186
Wok-Seared Steak and Shrimp
286

Sides Ala Carte

Fried Rice
102
White Steamed Rice
102
Mixed Veggies
102
Chow Mein
102

Trays

Family Tray Entrée
1038
Family Tray Side
522
Party Tray Entrée
1914
Party Tray Side
1218

Desserts

Fortune Cookies
132
Mango Sago
144
Ube Pastillas
144

Appetizers

Chicken Egg Roll
102
Fried Cream Cheese Wontons
114
Vegetable Roll
102
Hot and Sour Soup
66
Egg Drop Soup
66

Beverages

Coke
60
Sprite
60
Coke Zero
60
Iced Tea
82
Pineapple Juice
82
Coke (PET)
66
Sprite (PET)
66
Calamansi Juice
66
Guyabano Juice
66
Bottled Water
42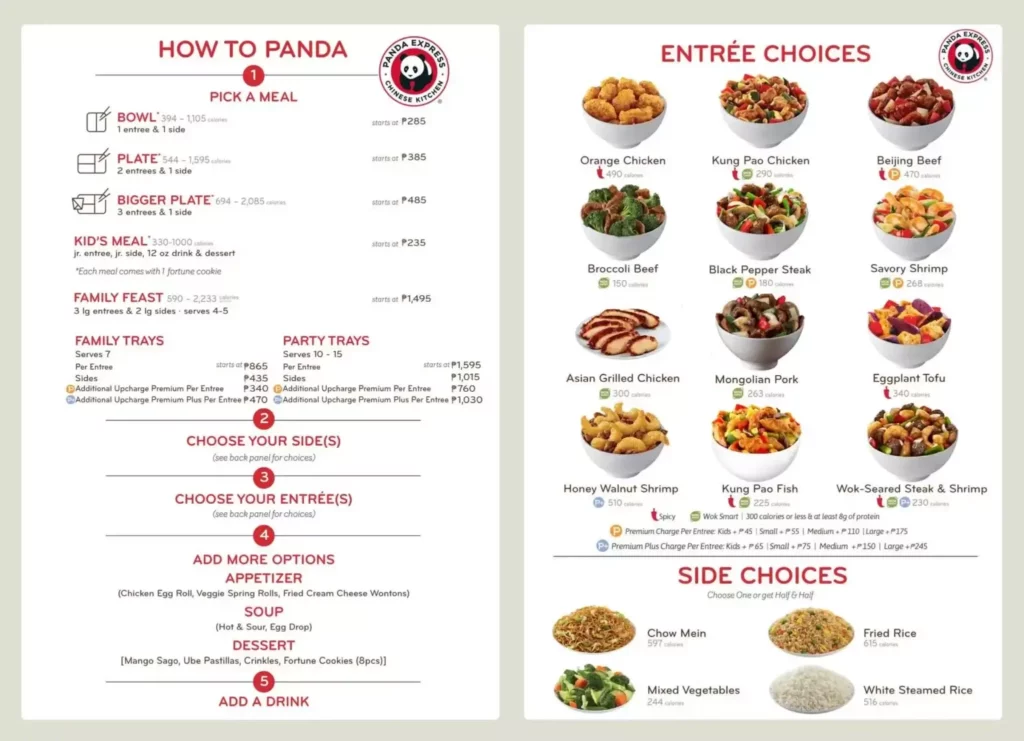 Panda Express Menu
Their menu has something for everyone, with hearty tastes and the ease of fast food. There is a wide selection of delicious main meals, sides, rice, noodle dishes, and more. Don't miss out on the exciting seasonal offerings that help to keep the menu interesting and varied. Panda Express combines the finest Chinese and American cooking so everyone can find something they like.
Panda Express Bestsellers
Orange Chicken
In terms of its addictive blend of sweet, tangy, and savory tastes, not to mention its distinctive crispy coating, Panda Express' Orange Chicken is certainly in a league of its own. As you indulge in these succulent chicken bites, covered in a glaze that expertly combines orange and honey, you'll immerse yourself in a lovely gastronomic experience. The chicken is well cooked, with a juicy inside and a crispy outside that provides a satisfying textural contrast. Panda Express Orange Chicken never fails to satisfy when served over piping hot white rice, chow mein, or even on its own. It's a personal favorite, and I cannot recommend this enough.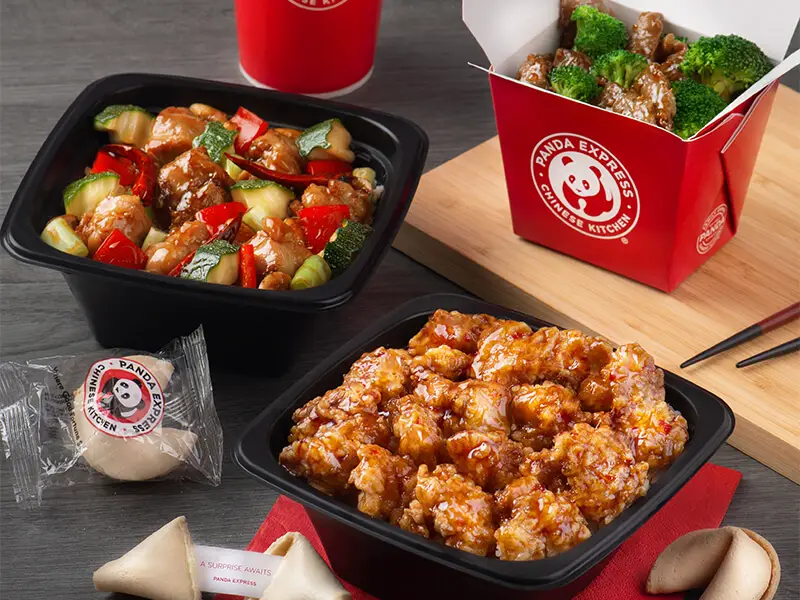 Beijing Beef
The Beijing Beef from Panda Express is a show-stopper of a meal. Skillful stir-frying of beef strips with onions and bell peppers yields a dish that is a symphony of taste and texture. The meat is wonderfully coated in a flavorful and not overly sweet-sauce, making every morsel more satisfying than the last. The meat is perfectly cooked, tender, and juicy, and the veggies are crisp and refreshing. 
Kung Pao Chicken
I was pleasantly surprised with Panda Express's Kung Pao Chicken. This meal's spicy, acidic, and luscious tastes were an instant hit with my taste buds. Every mouthful of the perfectly cooked chicken was a pleasure, and adding crunchy peanuts and vibrant vegetables elevated the dish to new heights. The Kung Pao sauce has the right amount of heat without dominating the other flavors. 
Want to be updated on other promos? Subscribe to our newsletter.
Chow Mein
If you're craving noodles, go beyond Panda Express's delicious Chow Mein. The cooked noodles in the stir fry have the ideal chewiness. The meal is enlivened by the crispness and brightness of a variety of fresh veggies, and the flavorful sauce that covers the noodles and veggies is a wonderful addition to the dish as a whole. If you're a noodle fan and looking for a hearty lunch, the Chow Mein from Panda Express is a safe and delicious bet.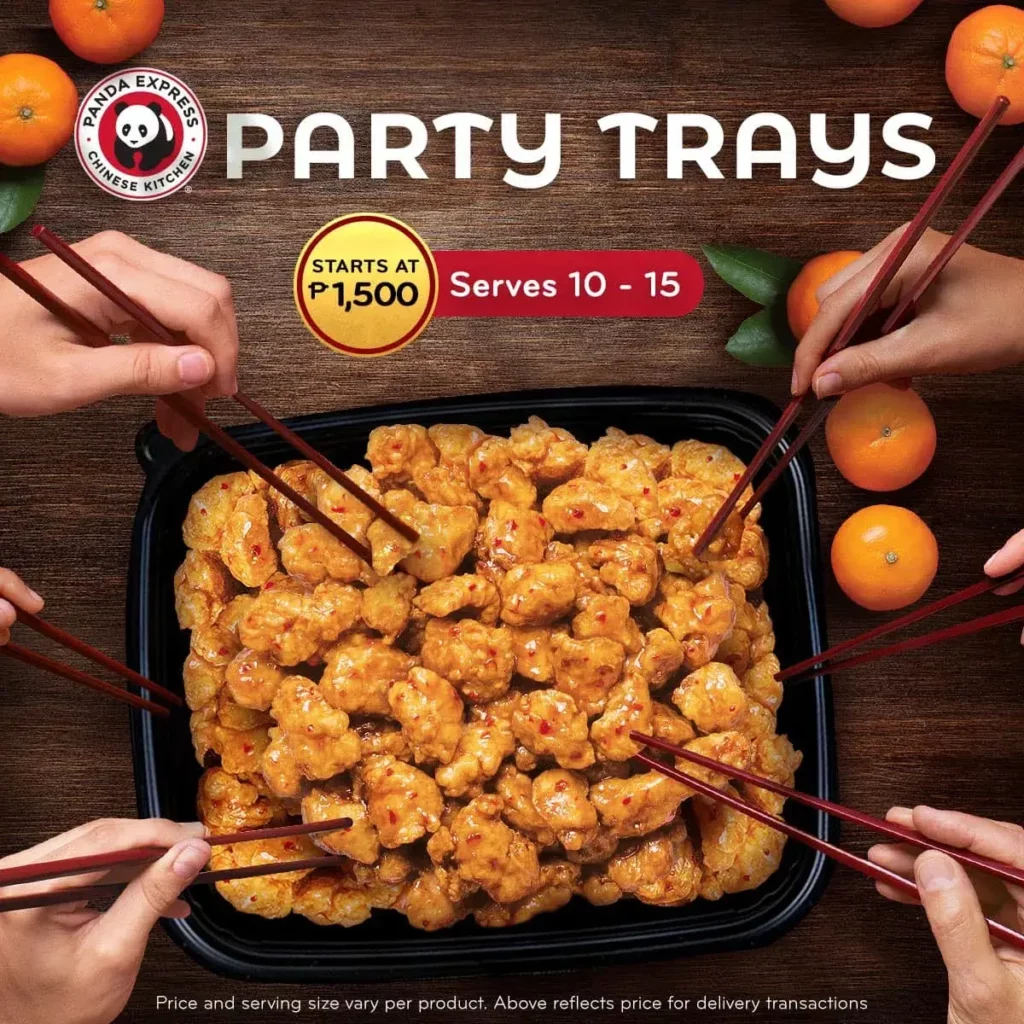 Panda Express Delivery
If you want to enjoy Panda Express goodness but feel lazy like a panda, you can have your favorites delivered to your home. Panda Express can be found on food delivery platforms like GrabFood and foodpanda. However, the availability and delivery prices depend on your location. They also have their delivery website, order.panda express.com.ph. 
Frequently Asked Questions
Does Panda Express have any alternatives for vegetarians?
Vegetarians may choose from a few dishes at Panda Express, including Vegetable Spring Rolls, Eggplant Tofu, and Chow Mein. It's worth noting, however, that menu items could change depending on where you go.
Does Panda Express provide gluten-free options?
No gluten-free menu is available at Panda Express, and customers should be cautious about the risk of cross-contamination. Ingredient-wise, certain goods may be gluten-free, but cross-contamination is possible because of the kitchen's shared nature. 
About Panda Express in the Philippines
Fast food chain Panda Express, famous for its Americanized take on Chinese cuisine, has spread from its American roots to locations all over the world. The company operates more than 2,200 restaurants across Asia, North America, and other parts of the globe, making it the biggest Asian-segment restaurant chain in the world.
Panda Express and Jollibee Foods Corporation partnered in September 2018 to open outlets throughout the Philippines. Panda Express did not open its first Philippine restaurant until December 2020, at SM Megamall in Mandaluyong. After that, in 2021, a second location opened in Quezon City's SM City North EDSA. There are already twelve Panda Express restaurants in the Greater Manila Area as of February 2023.
Talk To Panda Express Filipino Staff
Want to know more about the Panda Express Menu in the Philippines? Send their staff a message on social media:
For any more questions you have about the Panda Express menu, leave a comment below.