Paotsin serves a variety of Asian dumplings and dishes with a bold claim that it's "different" yet "delicious". But how does it taste? Is it worth the cost? Let's take a quick look at some of the bestsellers from Paotsin's Menu.

Table of Contents
Here is the latest Paotsin menu with prices in the Philippines:
Menu Item
Price

Dumplings

Dumplings (Solo)
₱47.00
Dumplings (Fried)
₱47.00
Dumplings (Steamed)
₱47.00

Dumplings with Rice

Dumplings on Hainanese Rice
₱65.00
Dumplings on Lemak Rice
₱65.00

Asian Chicken with Rice

Asian Chicken on Hainanese Rice
₱85.00
Asian Chicken on Lemak Rice
₱85.00

Crackling Pork with Rice


Crackling Pork with Hainanese Rice
₱90.00
Crackling Pork with Lemak Rice
₱90.00

Laksa

Dumplings on Laksa
₱75.00
Asian Chicken on Laksa
₱90.00
Crackling Pork with Laksa
₱100.00

Extra

Hainanese Rice
₱30.00
Lemak Rice
₱30.00
Buko Pandan 12oz
₱27.00
Buko Pandan 16oz
₱30.00
Buko Pandan 22oz
₱32.00
Pandan Coolers 12oz
₱28.00
Pandan Coolers 20oz
₱30.00
Menu Updates
Not much has changed in their menu. Here is a photo of the most up to date menu at Paotsin: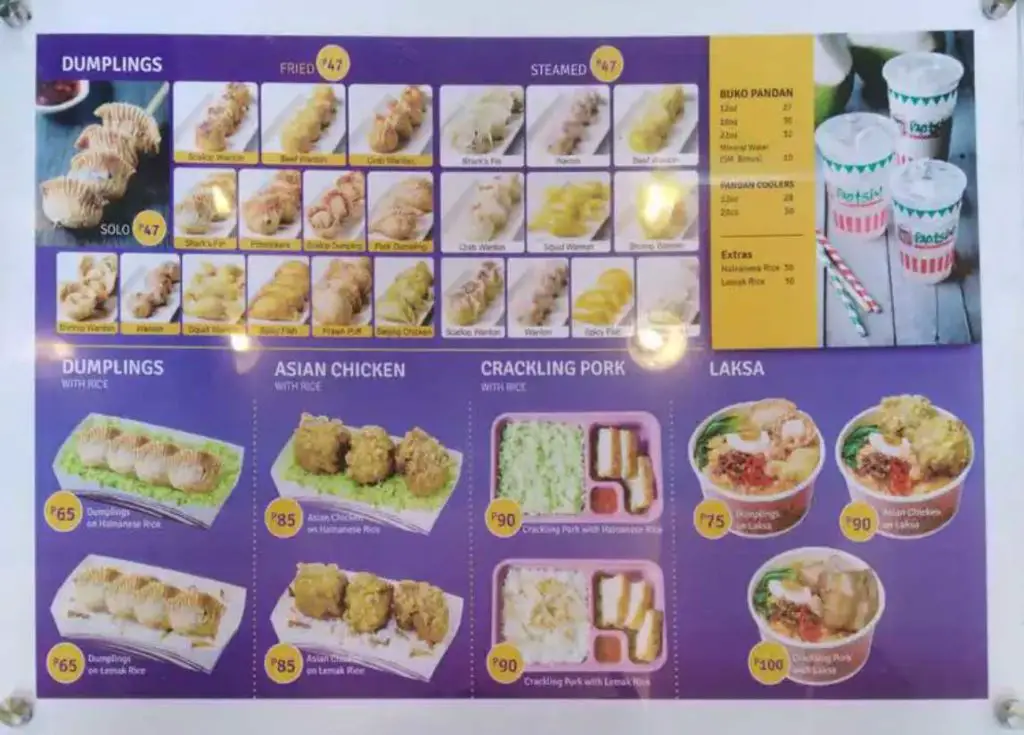 Looking for other types of Chinese food? Check out the Chowking menu.
Paotsin Bestsellers
What makes Paotsin famous is that it makes affordable yet delicious dumplings and Hainanese Rice.
Dumplings
There's a wide range of Paotsin dumplings that you can choose from. They have Scallop Wanton, Beef Wanton, Crab Wanton, Shark's Fin, Potstickers, Scallop Dumpling, Pork Dumpling, Shrimp Wanton, Wanton, Squid Wanton, Spicy Fish, Prawn Puff, and Beijing Chicken.
One of the best sellers is the Shark's Fin but the Scallop Wanton is also a must try!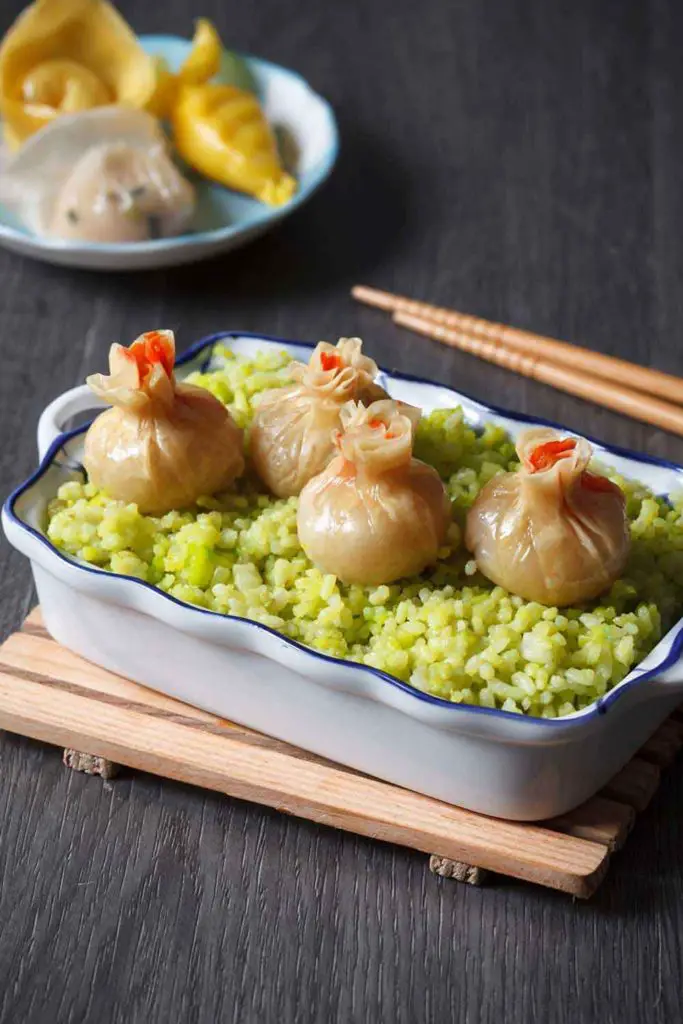 Hainanese Rice
The Green Hainanese Rice is perhaps the most famous piece of Paotsin's menu. If you ask around, the iconic green rice might even be the first thing that most people mention.
If you're unfamiliar with what Hainanese Rice is, it has its roots in Hainan in Southern China where it was created by immigrants based on a Hainanese dish called Wenchang Chicken.
This dish is most recognized as part of Singaporean cuisine, and now, it found its next evolution in Paotsin's menu. Paotsin's Hainanese Rice is infused with pandan leaves, giving it its very recognizable green tinge.
Hainanese Rice is fluffy, tasty, and soft. Unsurprisingly, it pairs extremely well with a number of dumplings, especially meat dumplings like beef wantons or pork dumplings, or the Asian Chicken. You can get 4 pieces of dumplings atop a bed of fluffy and tasty Hainanese rice for P65, or have Asian Chicken with Hainanese Rice for only P85.
Craving for some fried chicken instead? Check out the Jollibee Menu.
Lemak Rice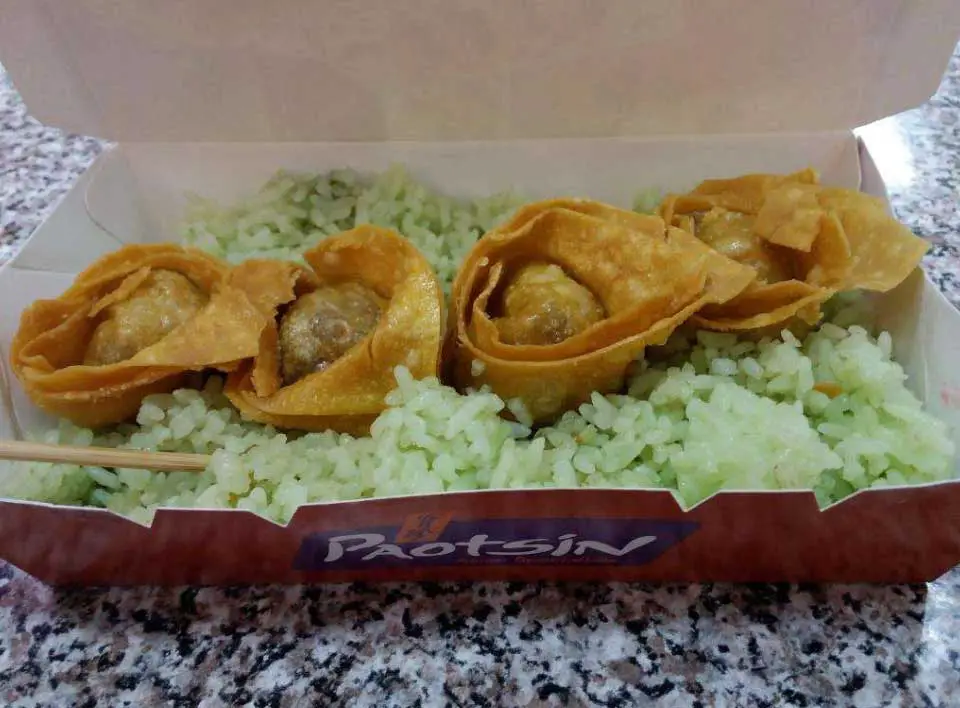 If you're looking for something that crosses a thin line between familiar and intriguing, then Paotsin's Lemak Rice is a must-try for you.
Lemak Rice is most likely inspired by Malaysia's Nasi Lemak, which roughly translates to "fatty rice", as it's made with coconut milk and pandan leaves, making for a fluffy, fragrant, and extremely flavorful rice.
The way that Paotsin serves it up with toasted, crunchy garlic bits on top helps bring it across the table to those who are looking for a more familiar taste of their meal, as it brings it a tad bit closer to what traditional Filipino garlic rice tastes like.
Paotsin's Lemak Rice's inert richness and the garlic chips' sharpness pair well with seafood dumplings, like the prawn puffs and scallop wontons. There's also the Asian Chicken that perfectly melds with the richness of the Lemak Rice.
You can have the Lemak Rice with the 4-piece dumplings for P65 and the Asian Chicken combo for P85.
Laksa Soup
Laksa is a noodle soup from Malaysia (also found in Singapore and Indonesia) and is made with a seafood broth and coconut milk, which imparts a slightly creamy, sweet flavor to the soup, but with a spicy kick.
However, there are several other varieties of Laksas, and visitors visiting Malaysia are sometimes startled to find that the most popular Laksa has a considerably stronger curry taste and is not cooked with coconut broth.
The Laksa Soup on Paotsin's menu is a balance of what traditional laksa is with their own spin. It's more catered to a Filipino taste — meaning that their laksa soup is not that spicy and may not be as creamy as the ones you're used to.
However, at P75 (or P90 if you're feeling like topping it with some Asian Chicken), it's a great and affordable hot soup that's got enough spice to get you reared and geared for the rest of the day.
Want to be updated on other promos? Subscribe to our newsletter!
Paotsin Delivery
Paotsin, being open to franchise, has no shortage of presence around every major location. This means that they are available for delivery through major mobile delivery apps, like Grab and Foodpanda.

Simply download the abovementioned apps, sign up, search for Paotsin, and place your order.
About Paotsin Philippines
Paotsin has been the pioneer in being able to provide fried dumplings with a dish of rice combination since 1995. Paotsin has spread throughout the country during the last 23 years or more, as may be shown.
Paotsin is the motivation for integrating the culinary talents of Chinese and Filipino cuisine at its heart to produce a renowned brand of flavor that is likely to turn heads for many of its customers.
This growing fast-food chain has outlets located in various malls and universities in Luzon, serving affordable yet filling meals to students and workers alike.
Talk To Paotsin Filipino Staff
Want to know more about the Paotsin menu in the Philippines? Forward a message to them on social media:
Otherwise, you can find one of their stores and contact a Paotsin branch near you.
For any more questions you may have about the Paotsin menu Philippines, leave a comment below.