Those who grew up in the 1980s and 1990s may recognize Tropical Hut as a prominent fast-food eatery in the country. However, today's younger customers are likely unfamiliar with the chain and its selection since big-name businesses like Jollibee and McDonald's have dwarfed it. All of that changed when a recent viral post unintentionally sparked a flurry of nostalgia, making the Tropical Hut menu again a conversation subject and a pillar of the Philippine dining scene.
Like a trusty old pal, Tropical Hut has remained mostly constant over the years, through both inflation and economic downturns, while maintaining a loyal customer base and serving its iconic burgers and other nostalgic favorites.
When you dine at Tropical Hut, you'll have a feast for your eyes and belly. The Clubhouse Sandwich, for example, looks like it would be more at home in a high-end bistro than a fast food joint, and this is just one example of how the brand distinguishes itself from the fast food herd.
Here is the latest Tropical Hut menu with prices in the Philippines:
Menu
Price

Rice Value Meals

Fish Tempura
₱174.00
Daing na Bangus
₱195.00
Quick Fried Beef
₱165.00
Dbistek Tagalog
₱165.00
Pork Dinuguan
₱199.00
Tapa
₱169.00
Big Shot Meal
₱220.00
Burger Steak (1 pc)
₱89.00
Burger Steak (2 pc)
₱129.00
1pc Burger Steak w/ Chicken Shanghai
₱145.00
6pc Chicken Shanghai
₱110.00
Go Chicken Sopas Add
₱30.00
Go Large Drinks Add
₱20.00

Chicken Value Meals

1pc Fried Chicken
₱105.00
2pc Fried Chicken
₱185.00
Spring Chicken
₱225.00
Chicken Family Meal (w/ 8pcs. Chicken)
₱787.00
6pc Chicken
₱405.00
8pc Chicken
₱535.00
Go Chicken Sopas Add
₱30.00
Go Large Drinks Add
₱20.00

Pasta Value Meals

Spaghetti w/ Chicken
₱150.00
Palabok w/ Chicken
₱195.00
Spaghetti
₱89.00
Palabok
₱125.00
Spaghetti w/ Burger
₱125.00
Go Large Drinks Add
₱20.00

Burger Value Meals

Double Burger
₱240.00
Classic
₱210.00
Hawaiian Glee
₱185.00
Rancho - Ranchero
₱185.00
Sili Burger
₱220.00
Tropical Cheeseburger
₱15.00
Reg. Burger
₱115.00
Reg. Cheeseburger
₱135.00
Go Large Fries Add
₱30.00
Go Large Fries and Drinks Add
₱20.00

Sandwich Value Meals

Clubhouse
₱195.00
Cheesedog
₱15.00
Ham & Cheese
₱135.00
Chicken
₱155.00
Tuna
₱139.00
Go Large Fries Add
₱30.00
Go Large Fries and Drinks Add
₱20.00

All Time Favorites

Mais Con Hielo
₱50.00
Mais Con Hielo w/ Scoop Ice Cream
₱69.00
Halo-Halo
₱59.00
Halo-Halo w/ Ice Cream 1 Scoop
₱79.00
Halo-Halo w/ Ice Cream 2 Scoops
₱89.00
Fruit Salad
₱65.00
Macaroni Salad
₱65.00
Fresh Salad Mix
₱125.00
Tuna Green Salad (Big)
₱120.00
Tuna Green Salad (Small)
₱85.00
Softdrink (Small)
₱44.00
Softdrink (Reg.)
₱53.00
Softdrink (Large)
₱63.00
Pineapple Juice (Small)
₱42.00
Pineapple Juice (Reg.)
₱53.00
Pineapple Juice (Large)
₱63.00
Chicken Sopas
₱40.00
French Fries (Large)
₱65.00
French Fries (Small)
₱45.00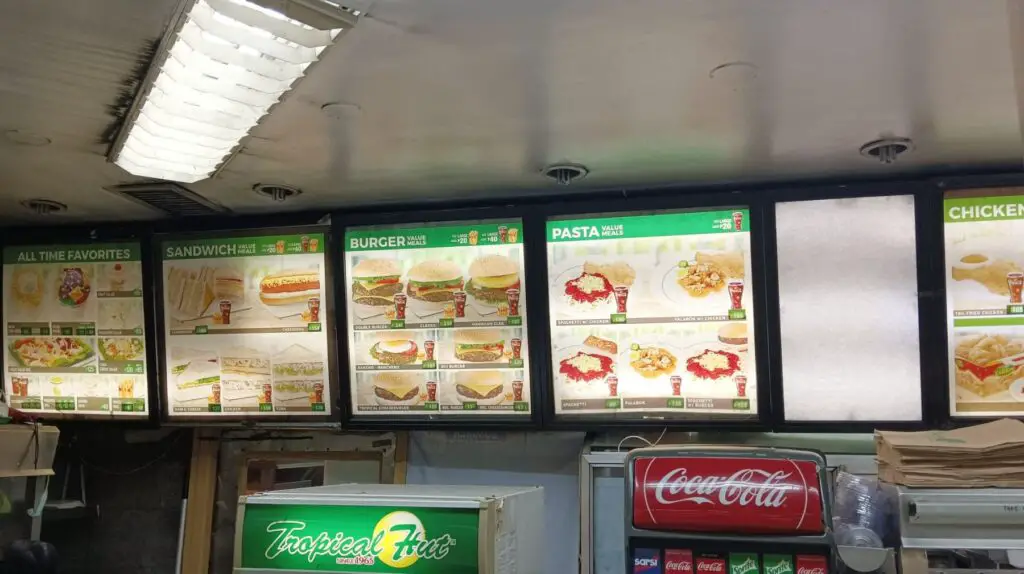 Tropical Hut Best Sellers
Tropical Hut Breakfast Menu
Like the best fast-food joints, Tropical Hut serves breakfast for its early bird clientele. They offer Filipino classics like tapa, tocino, daing na bangus, and longganisa meals. Tropical Hut also offers not-so-staple items like hotcakes with ham, hamburger, and omelet meals.
Classic Burger Meal
Tropical Hut is your best bet if you're hankering for a burger. Their patties are manufactured only from 100% pure beef and are soft, delicious, and juicy.
The Classic Burger meal still comes in its traditional foil wrapper, with a tag certifying the patty to be made entirely of beef. It's just as large as before, with a competitive caliber with far more expensive alternatives. If you're looking for a hearty and fulfilling bite, the Classic Burger delivers, with or without all the nostalgic tingles.
Specialty Burgers
The Rancho Rancheros is a tried-and-true Tropical Hut original. Tomatoes, lettuce, and a fried egg give their rancho ranchero an extra flavorful touch. The Hawaiian Glee, which has a slice of juicy pineapple on top, is also one of Tropical Hut's most well-known burgers. Any regular at Tropical Hut will tell you that the Sili (Chili) Burger must-order item for those who don't mind a little heat in their meals.
Want to be updated on other promos? Subscribe to our newsletter.
Spaghetti and Cheese Burger Combo Meal
The timeless combination of Hamburger and Spaghetti never gets old. The tastes go so well together, and you can add fries if you like! It's one of those meals that makes you feel like you're back in your youth.
Tropical Hut Delivery
Using third-party delivery apps, like foodpanda or GrabFood, makes placing an online Tropical Hut order a breeze. There is no dedicated delivery site, and delivery contact details are locale-specific.
Frequently Asked Questions
How Many Are Tropical Hut Branches There?
As of July 2022, Tropical Hut maintains 21 outlets around the island of Luzon, including 17 in Metro Manila. The fast-food restaurant also runs six 24-hour locations.
What Caused the Return of Tropical Hut in the Philippines?
John Paul Tanyag (@dumidyeypee), a market analyst, tweeted on June 12, 2022, about just how empty the restaurant was at its Escolta location and how he longed for the days when it was bustling with patrons. Likewise, a 2019 social media post went viral that was originally posted by the now-defunct Carmona, Cavite location, inviting customers to "Kumain naman kayo sa amin" (Come on, please dine with us).
Due to this and other social media postings, there was a snowball effect and renewed interest in the fast food chain, and many Filipinos visited locations to try it out for themselves.
About Tropical Hut in the Philippines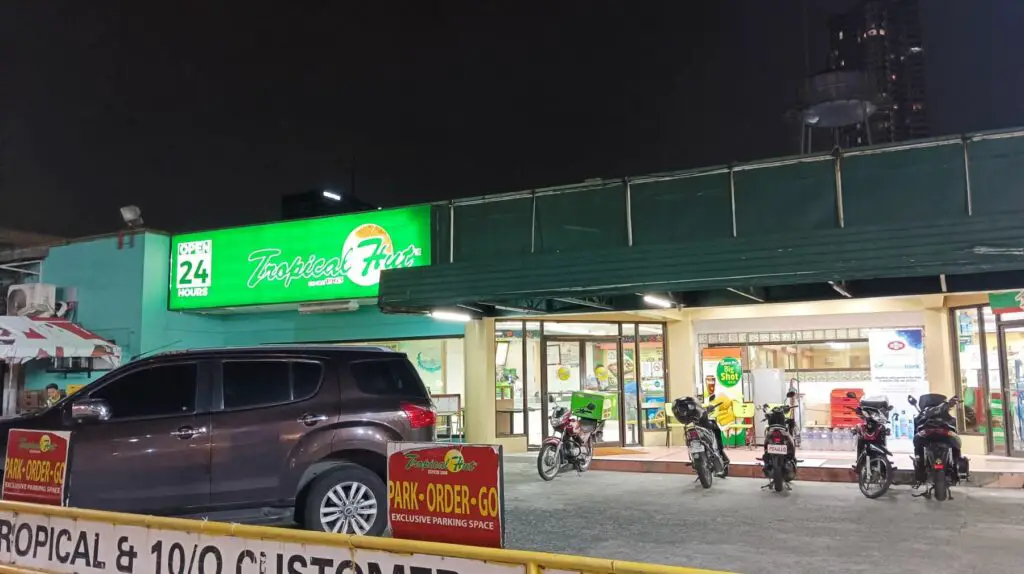 Tropical Hut, founded in 1962, began as a sari-sari store before fast expanding into an everyday grocery store and then a supermarket with a coffee house. As a result of its rapid growth during this period, on February 26, 1965, the firm was formally established as Tropical Hut Food Market, Inc., trading under the brand name Tropical Hut Hamburger.
They were bought out by the Mercury Group of Companies in 1972, after which they opened numerous more locations in and around Metro Manila.  Some Filipinos believe it to be the country's "first" burger establishment, given that it predates both Jollibee and McDonald's Philippines, established in 1978 and 1981, respectively.
Talk To Tropical Hut Filipino Staff
Want to know more about the Tropical Hut menu in the Philippines? Send their staff a message on social media:
For any more questions you have about the Tropical Hut menu, leave a comment below.