You've probably heard of Zark's Burger if you're a burger fan in the Philippines. This fast food joint has become a favorite among those craving a hefty burger because of its reputation for serving enormous, one-of-a-kind hamburgers. Zark's Burger is a mainstay in the Philippine dining scene because of its dedicated customer base and innovative burger fixings. Here, we'll check out some of their best-selling dishes to determine whether the Zark's Burger menu is worth the buzz.
Here is the latest Zark's Burger Menu with prices in the Philippines:
Menu
Prices

Boneless Fried Chicken

#colspan
Buffalo (Box of 8)
299
Buffalo (Box of 12)
389
Buffalo (With Rice)
169
Honey Buffalo (Box of 8)
299
Honey Buffalo (Box of 12)
389
Honey Buffalo (With Rice)
169
Honey Soy Garlic (Box of 8)
299
Honey Soy Garlic (Box of 12)
389
Honey Soy Garlic (With Rice)
169
Butter Popcorn (Box of 8)
299
Butter Popcorn (Box of 12)
389
Butter Popcorn (With Rice)
169
Salted Egg (Box of 8)
299
Salted Egg (Box of 12)
389
Salted Egg (With Rice)
169
Carribean BBQ (Box of 8)
299
Carribean BBQ (Box of 12)
389
Carribean BBQ (With Rice)
169
Southern (Box of 8)
299
Southern (Box of 12)
389
Southern (With Rice)
169

Pre Game

#colspan
Seasoned Fries
139
Cheesy Bacon Fries
199
Hall of Fame Fries
219
Hall of Fame Nachos
219
Cheesy Nachos
99
Big O'
119

Southern Classics

#colspan
Boneless Fried Chicken (8pcs)
299
Boneless Fried Chicken (12pcs)
389
Boneless Fried Chicken (With Rice)
169
Boneless Fried Chicken Sandwich (Solo)
189
Boneless Fried Chicken Sandwich (Meal)
264
Buffalo Wings (4pcs)
189
Buffalo Wings (8pcs)
379
Buffalo Wings (With Rice)
199

Major League

#colspan
Stunner (Solo)
299
Stunner (Meal)
374
Grilled Cheeseburger (Solo)
259
Grilled Cheeseburger (Meal)
334
Luther Jr (Solo)
269
Luther Jr (Meal)
344
Deep Fried Burger (Solo)
199
Deep Fried Burger (Meal)
274
Thunder Mac n' Cheese (Solo)
259
Thunder Mac n' Cheese (Meal)
334
Jawbreaker
399

Cheesy Burgers

#colspan
Three Pointer (Solo)
199
Three Pointer (Meal)
274
Thunder Mac n' Cheese (Solo)
259
Thunder Mac n' Cheese (Meal)
334
Grilled Cheeseburger (Solo)
259
Grilled Cheeseburger (Meal)
334
Cheesy Mushroom (Solo)
179
Cheesy Mushroom (Meal)
254
Cheesy Jalapeno (Solo)
199
Cheesy Jalapeno (Meal)
274
Cheesy Bacon Mushroom (Solo)
209
Cheesy Bacon Mushroom (Meal)
284

Rice Meals

#colspan
Burger Steak (Solo)
179
Burger Steak (Meal)
199
Boneless Fried Chicken (Solo)
169
Boneless Fried Chicken (Meal)
189
Buffalo Wings (Solo)
199
Buffalo Wings (Meal)
219

Challenge Burgers

#colspan
Jawbreaker (Solo)
399
Jawbreaker (Challenge)
499
Tombstone (Solo)
599
Tombstone (Challenge)
699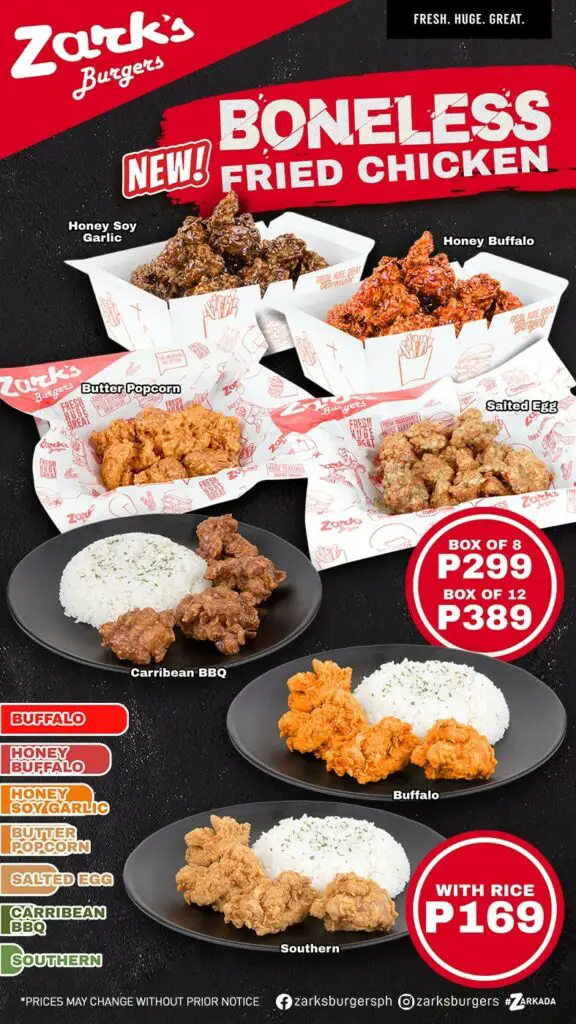 Zark's has earned an excellent track record as a top choice for burger lovers because of its extensive menu, from traditional beef, chicken, pork, and veggie patties to more out-of-the-ordinary selections like mac & cheese. In addition to burgers, the menu offers a variety of sides, such as fries and onion rings, as well as non-burger items like wings and sandwiches. Zark's has quickly become a favorite among diners who don't want to break the budget but want a high-quality restaurant experience.
Zark's Burger Best Sellers
Zark's Ultimate
My dining companion ordered Zark's Ultimate Burger, the house specialty. You'll find a burger crowned with bacon, mushrooms, vegetables, and cheese sauce between soft buns. My partner used a lot of mustard sauce because that's how they liked it, but it complemented the savoriness of the burger quite well.
Jawbreaker
The Jawbreaker burger at Zark's is not to be missed if you're searching for a true food challenge. Despite its huge appearance, the flavor is well worth the effort. A delicious triple cheeseburger cooked to perfection, piled high with burger accouterments, and finished with crispy bacon and cheese sauce. The fluffy bun is durable enough to keep everything in place despite its softness. The Jawbreaker burger is a unique culinary experience that justifies its moniker.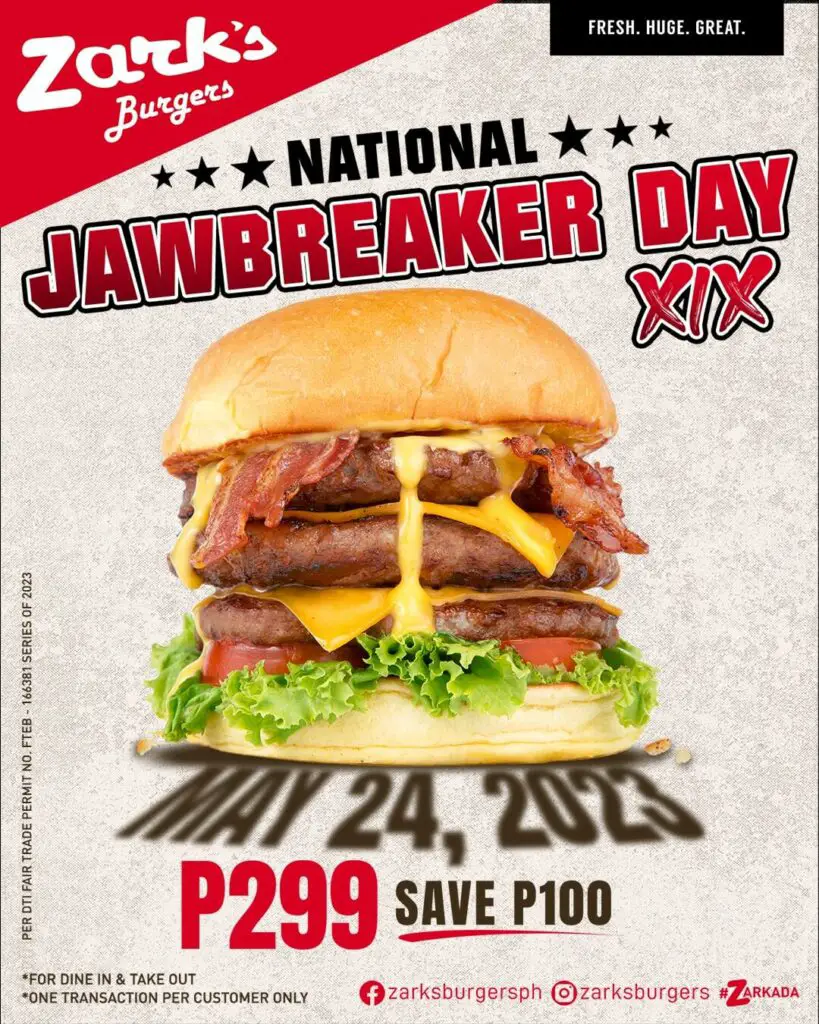 Three Pointer
The Three Pointer burger from Zark's is a cheese lover's paradise with its triple cheese combo of cheddar, mozzarella, and American, plus crispy bacon, fresh lettuce, juicy tomatoes, and a special sauce that ties it all together. It's a real crowd-pleaser on Zark's menu and a must-try for anyone who loves the savory, salty goodness of cheese and bacon paired with juicy patties.
Want to be updated on other promos? Subscribe to our newsletter.
Black Mamba
You can't go wrong with the Mamba burger, a major seller at Zark's. The burger is cooked to perfection, remaining juicy and flavorful throughout. The sauce is interesting, with just enough spice to give it the necessary kick without dominating the other flavors. The caramelized onions on top lend a zippy and sweet twist that fits the burger well. As a personal favorite, I can wholeheartedly recommend this.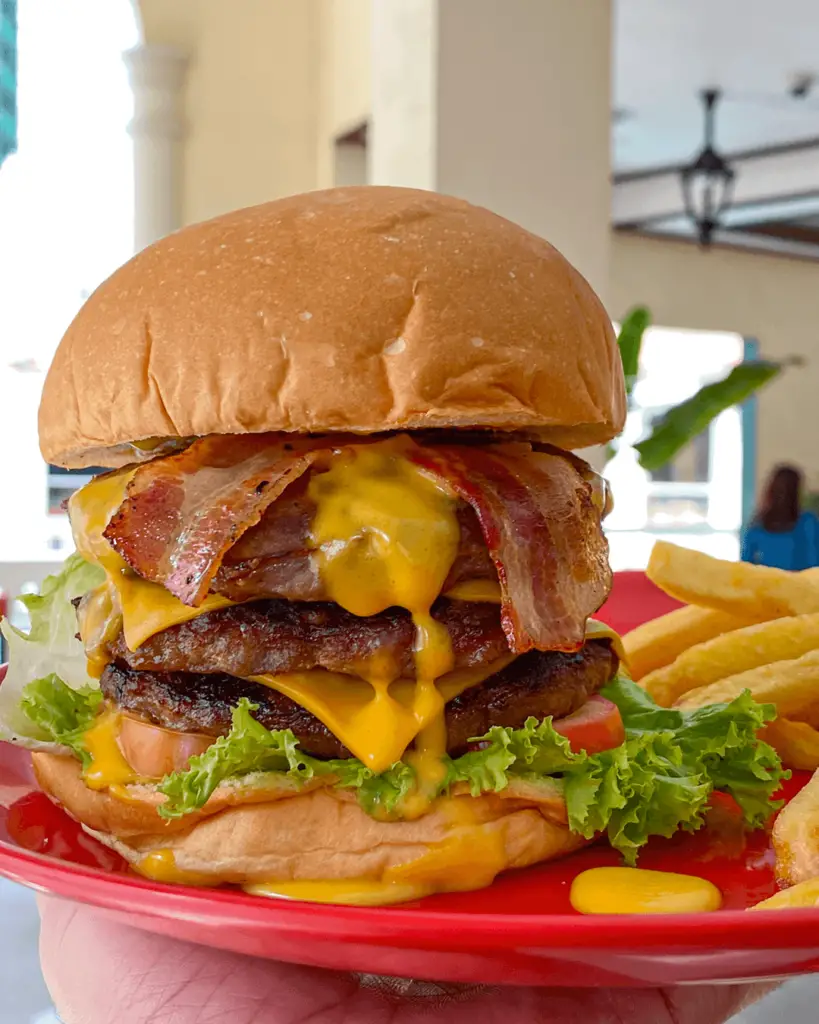 Fancy a different type of burger? Try out Brothers Burger, Burger King, or 8Cuts Burger!
Zark's Burger Delivery
GrabFood, Foodpanda, or Zark's Burgers Delivery website all provide Zark's delivery services, albeit the minimum order amount and delivery fees may change depending on the platform and the delivery destination. Before purchasing, you should check the platform's or website's delivery rules and rates.
Frequently Asked Questions
Do Zark's Burgers offer vegetarian or vegan options?
In September 2020, Zark's introduced the V Burger, a plant-based vegetarian burger option. Plant-based "meat" dubbed Veega by San Miguel Foods is the foundation for this burger with cheddar cheese, garlic ranch sauce, tomatoes, and lettuce between brioche buns.
Where are Zark's Burgers located?
There are many Zark's Burgers restaurants throughout the Philippines. Taft Avenue, Katipunan Avenue, and SM Megamall are home to some of the most well-known Zark's stores in the Philippines.
Does Zark's only sell burgers?
While burgers are Zark's Burger's bread and butter, the restaurant also serves sandwiches, rice meals, and a variety of appetizers and sides. It's just the burgers that set Zark's apart and draws in the crowds.
About Zark's Burger in the Philippines
Zark's Burger is a popular franchise in the Philippines founded in 2009 by Rolandrei Viktor "Zark" Varona. The first restaurant was opened near De La Salle University on Taft Avenue in Manila. Zark's Burger was created to provide high-quality burgers at affordable prices to students and young professionals. 
Through word-of-mouth and online sharing, Zark's Burger quickly gained a following among burger enthusiasts in the Philippines. Their signature burgers, including the Jawbreaker and Ultimate Burger, became fan favorites. Today, Zark's Burger has expanded to over 50 locations nationwide, including in major cities like Cebu and Davao.
The franchise has received numerous awards and recognitions, such as being named "Best Burger Restaurant" by ClickTheCity and one of the "Top 10 Burgers in Manila" by the Philippine Star.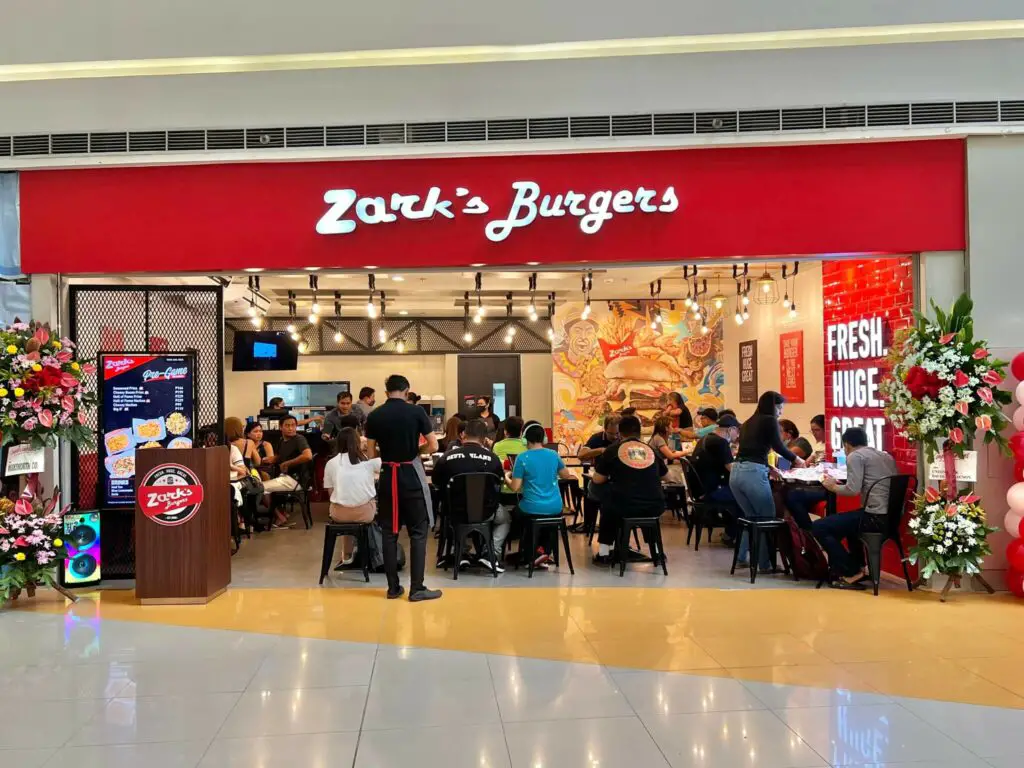 Talk To Zark's Burger Filipino Staff
Want to know more about the Zark's Burger menu in the Philippines? Send their staff a message on social media:
For any more questions you have about the Zark's Burger menu, leave a comment below.