For a long time, Alex the III has been a go-to for those craving authentic Filipino food. It was founded by the same visionaries that launched the successful Philippine restaurant chain Aristocrat. Alex the III is a legendary figure in the business due to their long and successful career. The restaurant has an air of refined elegance that is both traditional and endearing to its diners. Let's explore why people of all social and professional backgrounds keep returning for Alex the III menu favorites.
Here is the latest Alex III menu with prices in the Philippines:
Menu
Price

Appetizers

Sizzling Sisig
399
Calamares Fritos
485
Chicharon Bulaklak
304
Kilawin Tanigue
359
Tokwa't Baboy
250
Chicharon Balat ng Manok
279
Kilawin Tuna
359

Soup and Salad

Sotanghon Soup
135
Mushroom Soup
135
Caesar Salad
350
Barbecue Salad Bowl
455

Vegetables

Chopsuey Special (Half)
355
Chopsuey Special (Whole)
615
Pinakbet na Bagnet (Half)
365
Pinakbet na Bagnet (Whole)
625
Bicol Express sa Bagnet (Half)
365
Bicol Express sa Bagnet (Whole)
625
Fresh or Fried Lumpia Ubod
210
Bicol Laing
295

Noodles

Pancit Palabok
320
Pancit Canton (Half)
395
Pancit Canton (Whole)
620
Sotanghon Guisado
360

Rice

Steamed Rice
75
Java Rice
95
Garlic Rice
85
Japanese Fried Rice
189
Shanghai Rice
140

Bestselling Barbecues

Classic Chicken Barbecue (3pcs)
389
Classic Chicken Barbecue (2pcs)
339
Boneless Chicken Barbecue
339
Double Boneless Chicken Barbecue
559
Mixed Boneless Chicken and Pork Barbecue
405
Premium Pork Barbecue
315
Boneless Chicken Barbecue and Prawns
699

Old Time Favorites

Inihaw na SMB (Salmon, Manok, Baboy)
559
Inihaw na Baboy
359
Lengua with Mushroom Gravy
625
Boneless Fried Chicken in a Basket
375
Lumpiang Shanghai (Half)
240
Lumpiang Shanghai (Whole)
405
Crispy Bagnet
520
Chicken and Pork Adobo
585
Kare-Kare Beef Shortribs (Half)
465
Kare-Kare Beef Shortribs (Whole)
785
Kare-Kareng Bagnet (Half)
465
Kare-Kareng Bagnet (Whole)
785
Kare-Kareng Oxtail (Half)
495
Kare-Kareng Oxtail (Whole)
815
Crispy Pata
895

Seafood Choices

Paksiw na Boneless Bangus
400
Grilled Prawns
559
Cameron Rebosado (Half)
400
Camaron Rebosado (Whole)
750
Adobong Pusit (Half)
550
Crispy Boneless Bangus
595
Grilled Salmon
695
Whole Crispy Boneless Lapu-Lapu in Sweet anad Sour Sauce
795
Whole Crispy Boneless Pampano with Mango Salsa
765
Tanigue Salpicao
659

Premium Steak Specialties

Angus Ribeye
950
Tenderloin Steak Ala Pobre
850
Tenderloin Steak and Grilled Prawns
920
Tenderloin Salpicao
679

Hotpot Specialties

Hototai Soup (Half)
360
Hototai Soup (Whole)
545
Sinigang na Ribs ng Baboy sa Sampaloc (Half)
395
Sinigang na Ribs ng Baboy sa Sampaloc (Whole)
675
Sinigang na Ribs ng Baboy sa Bayabas (Half)
395
Sinigang na Ribs ng Baboy sa Bayabas (Whole)
675
Sinigang na Boneless Bangus sa Miso (Half)
365
Sinigang na Boneless Bangus sa Miso (Whole)
675
Sinigang na Boneless Bangus sa Bayabas (Half)
365
Sinigang na Boneless Bangus sa Bayabas (Whole)
675
Sinigang na Salmon sa Miso (Half)
395
Sinigang na Salmon sa Miso (Whole)
720
Sinigang na Sugpo sa Sampaloc
675

All Day Merienda

Arrozcaldong Manok
315
Dinuguan
340
Tokwa't Baboy
250
Adobo Flying Saucer
195
Puto
85

All Day Breakfast

Garlic Pork Adobo
435
Chicken Adobo
395
Corned Beef Guisado
295
Daing na Bangus
330
Garlic Longganisa
355
Tenderloin Tapa
440

Dessert

Bibingka
149
Puto Bumbong
149
Pandan Jellied Tapioca
149
Leche Flan
129
Halo-Halo Regular
159
Halo-Halo Special
219
Saba Con Hielo
149
A Scoop of Ice Cream
119

Beverages

Canned Softdrinks
99
Bottled Water
89
Tropicana Buko Juice
119
Dalandan Juice
119
Gulaman at Sago
129
Bottomless Iced Tea
119
Ripe Mango Shake
199
San Miguel Pale Pilsen
119
San Miguel Beer Light
119
Hot Tea
99
Hot Chocolate
159
Brewed Coffee
139
Pineapple Juice
119

Instant Celebration Menu

Set 1
3500
Set 2
3500
Set 3

Celebration Trays

Boneless Chicken Barbecue Strips
1800
Premium Pork Barbecue
1250
Chicken Barbecue
1250
Lengua with Mushroom Gravy
1900
Tenderloin Salpicao
1900
Kare-Kare Oxtail
2000
Kare-Kare Shortribs
1900
Kare-Kare Bagnet
1900
Special Pancit Canton
1300
Sotanghon Guisado
1300
Pancit Palabok with Tokwa't Baboy
130
Pinakbet sa Bagnet
1700
Chopsuey
1500
Fresh Lumpia Ubod
960
Pork Dinuguan with Puto
1150
Chicken Barabecue Salad
1700
Adobo Flying Saucer
1300
Java Rice
750
Tanigue Salpicao
1900

Pre- Order Celebration Trays (Order 2 Days in Advance)

One Whole Chicken De Leche
4200
Chicken Relleno
2400
Pastel De Lengua
2600
Roast Pork with Mushroom Gravy
2200
Mechado
2200
Chicken Adobo
1600
Pork Adobo
1600
Fish Mediterranean
2200
Fish Fillet with Lemon Caper Sauce
2000
Fillet of Lapu-Lapu in Sweet and Sour Sauce
2000

Blowout Box

Barbecue Blowout
336.25
Barkada Barbecue Blowout
1248.75

Sashimi and Sushi

Tuna Sashimi
434.5
Kani Sashimi
328.9
Tuna Suhsi
337.7
Kani Sushi
317.9

Maki Selection

Crab Salad Roll Maki
361.9
California Maki
337.7
Ponchi
337.7
Alex III Roll Maki
482.9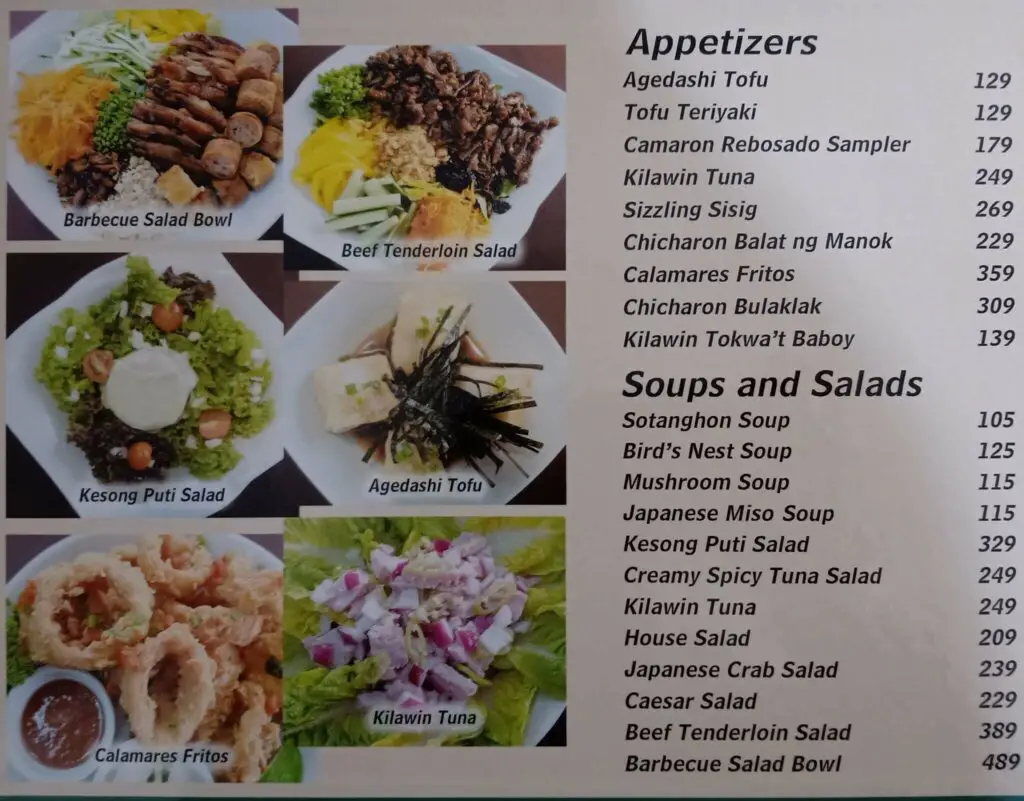 Alex The III Menu
The famed Aristocrat's sibling restaurant has been dishing up similar dishes for years, and fans may enjoy them just as much. Appetizers, soups and salads, vegetables, noodles, rice, barbecues, old-school favorites, seafood, steaks, hotpots, merienda, all-day breakfast, desserts, and drinks make up the Alex III menu. This eatery also offers traditional Asian cuisine, including sushi, sashimi, and maki. These mouthwatering dishes provide a memorable eating experience you won't soon forget.
Alex The III Bestsellers
Classic Chicken Barbecue
Alex III's grilled chicken is a staple that has stood the test of time thanks to their unique marinade. The chicken is marinated and cooked to perfection, so it stays delicate and juicy while yet keeping its delicious flavor. This classic meal has won the hearts of diners of all ages because of its irresistible combination of flavors and textures. Two- and three-piece servings are available, each of which is a hearty helping. 
You can also check out Aristocrat's Chicken BBQ, something similar yet different 😉
Pinakbet sa Bagnet
The dish has always been a diner favorite. Squash, string beans, okra, and other vegetables are cooked in a flavorful sauce to make the vegetable dish pinakbet. The mouthwatering pinakbet is garnished with slices of crispy bagnet. The marriage of these popular meals consistently fulfills guests' desires. Although I don't like dishes that are mostly vegetables, my partner appeared to like it a lot.
Tenderloin Salpicao
Definitely choose this premium steak special, which is a perfectly grilled tenderloin with a side of vegetables and a special sauce. The lunch consists of crisp Caesar salad, soup of your choosing, tasty rice, and a delicious dessert. If you want to enhance the taste of your dinner, consider pairing it with garlic rice. This bestseller is a must-try for everyone.
Want to be updated on other promos? Subscribe to our newsletter.
Old-Time Favorites
Popular Filipino cuisine eaten in households around the country may be found on Alex III's Old Time Favorites menu. These tried-and-true recipes have stood the test of time because they consistently provide satisfying results. Try their Short Ribs Kare-Kare, Bagnet Kare-Kare, or Oxtail Kare-Kare. The menu has grilled pork and SMB (Salmon, Manok, Baboy), chicken and pork adobo, crispy pata, lumpiang shanghai, crispy bagnet, boneless fried chicken in a basket, and lengua with mushroom gravy are just a few of the typical Filipino favorites that will round off your dinner. Alex III is where you go to relive your fondest childhood meal memories.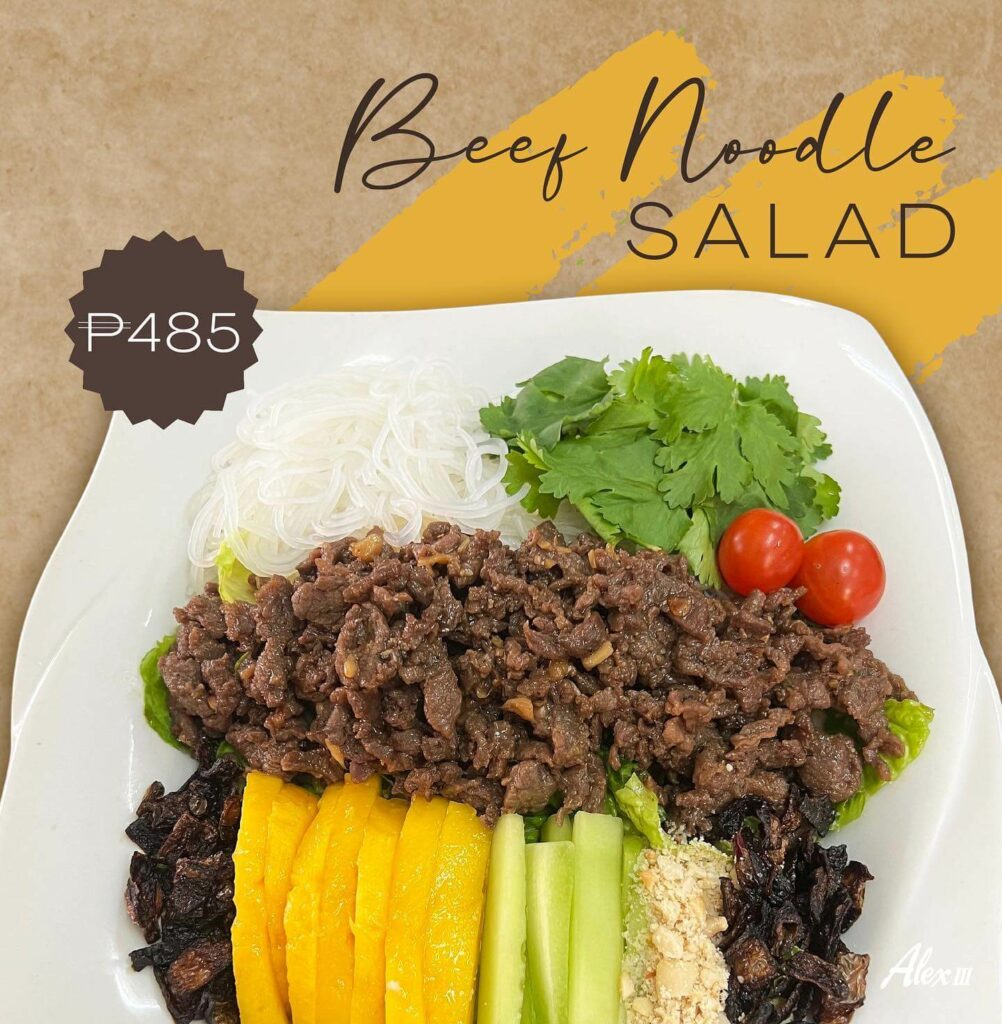 Alex III Delivery
Alex III restaurant's delicious dishes may be enjoyed without stress since home ordering has never been simpler. You can order from GrabFood and FoodPanda with a few clicks. You may get their renowned roast beef or other delicious delicacies from home. Online ordering lets you have Alex III's best dishes delivered to your door. You can also call the individual branches to place your orders.
Frequently Asked Questions
How many branches does Alex the III have?
Alex the III has three branches as of writing. They are present in: Greenhills, South Fairview, and Tomas Morato. They are open from 11 AM to 9 PM.
What are their contact numbers?
Each branch has its distinct contact numbers, listed below:
Greenhills: 8726-4444, 8724-0882, 8724-7794, 0939-252-1112
Tomas Morato: 8371-1414, 8371-1415, 8371-1416, 0939-629-3596
South Fairview: 8376-6286, 8376-5179, 8275-8139, 0947-699-0330
About Alex III in the Philippines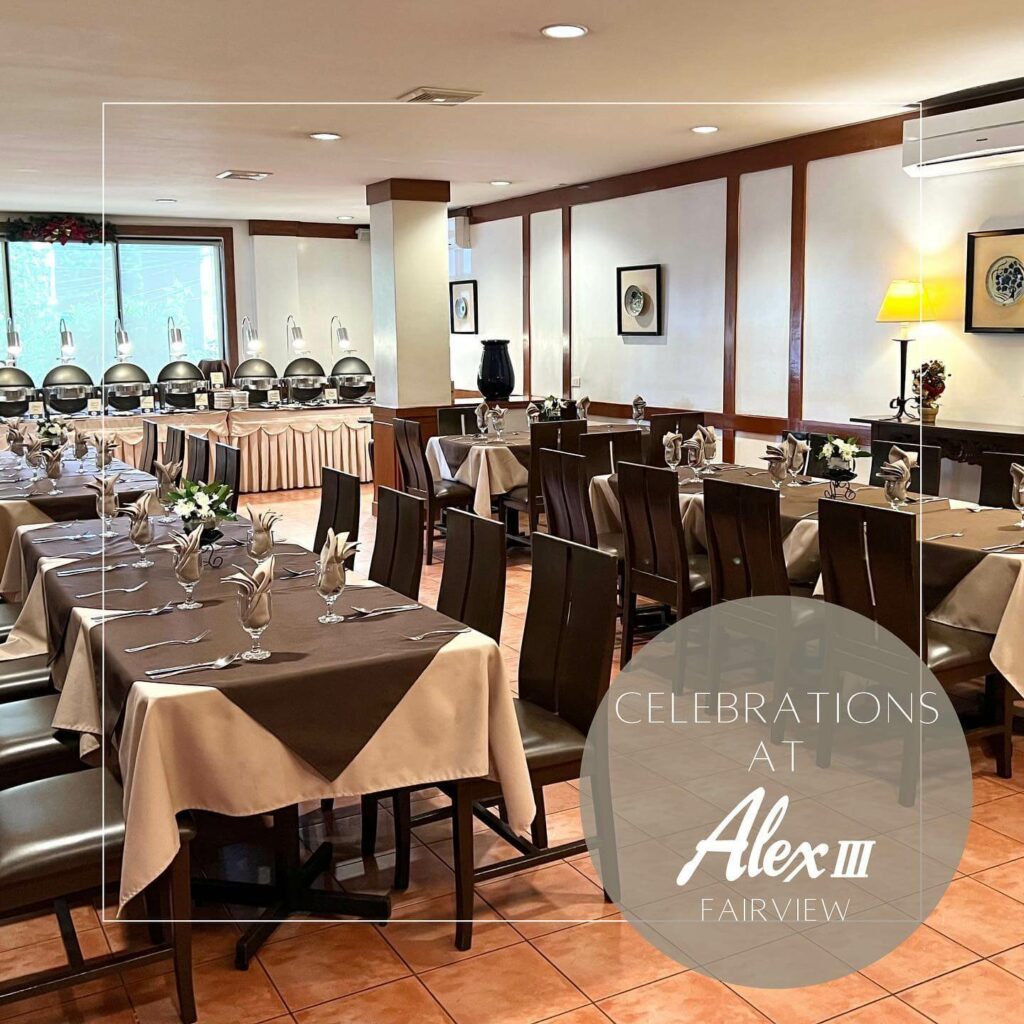 One of the grandchildren of Aristocrat restaurant's original owners, Justice Alexander "Alex" Reyes and Engracia "Asiang" Reyes, founded Alex III. Inspired by the household patriarch, Alex III continues the culinary history of its forebears in the Reyes family. The restaurant serves a wide variety of traditional and fan-favorite Filipino cuisine. All of the dishes are cooked in the same manner that the matriarch of the Reyes family did back in the day. The restaurant's cream-colored walls, soft lighting, and wooden furnishings create a cozy, homey atmosphere. Diners can get a feel for how Filipinos relax with family and friends over a delicious dinner thanks to the restaurant's intimate vibe.
Talk To Alex III Filipino Staff
Want to know more about the Alex III Menu in the Philippines? Send their staff a message on social media:
For any more questions you have about the Alex III Menu, leave a comment below.