Aristocrat, a renowned restaurant chain in the Philippines, has gained a reputation for its delectable cuisine that draws inspiration from the diverse cultural flavors found in the country. With a history dating back to 1936, this iconic establishment has remained a beloved choice among food enthusiasts. From local favorites to global delights, the menu at Aristocrat caters to a broad range of tastes, making it a popular destination for discerning foodies seeking a memorable culinary experience. Let's check out the Aristocrat menu and why it remains a culinary landmark in the Philippines
Here is the latest Aristocrat menu with prices in the Philippines:
Menu
Prices

Barbecue Classics

3pc Chicken Barbecue
285
Pork Barbecue
250
Boneless Chicken Barbecue
231
Pork Spareribs Barbecue (Half)
268
Pork Spareribs Barbecue (Whole)
528

Appetizers

Calamares
350
Sizzling Gambas
330
Camaron Rebosado
345

Beef

Kare-Kare
768
Mechado
560
Tapang Karne
295
Bulalo
728
Kalderetang Baka
550
Bistek Tagalog
390

Chicken

Chicken Honey (Whole)
530
Chicken Honey (Half)
270
South China Chicken
700

Dessert

Halo-Halo (Special)
190
Halo-Halo (Regular)
135
Leche Flan (Small)
60
Leche Flan (Big)
175

Noodles

Aristocrat Pancit Canton
450
Sotanghon Guisado
315
Pancit Bihon
375
Pancit Luglog
250

Pork

Sizzling Tofu
250
Aristocrat Lumpiang Shanghai
358
Sinigang na Baboy
498
Lechon Kawali
375
Lola Asiang's Chicken and Pork Adobo
325
Crispy Pata
890
Sizzling Sisig
270
Native Longganisa
285

Rice

Aristocrat Java Rice
50
Plain Rice
40
Shanghai Rice
225
Garlic Rice
45

Sandwiches and Merienda

Aristocrat Flying Saucer
110
Beef Dinuguan
188
Arroz Con Caldo
135
Lumpiang Ubod Sariwa
130
Bibingka
130
Fried Lumpiang Ubod
150
Clubhouse Sandwich
350
Puto
65
Puto Bumbong
120
Pospas De Galina
135
Tokwa't Baboy
170
Chicken Sandwich
130

Seafood

Sweet and Sour Lapu Lapu (Small)
598
Sweet and Sour Lapu Lapu (Medium)
732
Sweet and Sour Lapu Lapu (Big)
880
Sizzling Pusit
300
Sweet and Sour Fish Fillet
280
Sinigang na Tiyan ng Bangus
410
Paksiw na Tiyan ng Bangus
375
Daing na Bangus
325
Sinigang na Hipon
420
Crab Foo Yeung
270

Soup and Salad

Sotanghon Soup
98
Hototai Soup
270
Ensaladang Manggang Hilaw
135

Vegetables

Pinakbet na Hipon o Baboy
270
Ginataang Laing
175
Chopsuey (Shrimp or Mixed)
350
Ampalaya Con Carne
270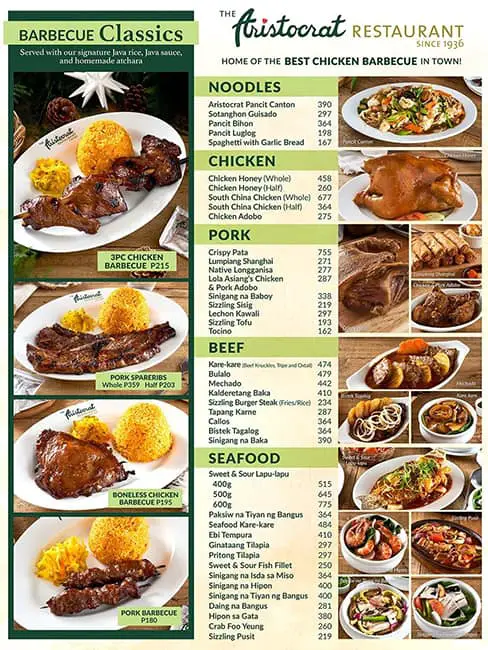 Aristocrat Menu
The Aristocrat menu is a culinary extravaganza with delectable options for diners of all palates. There is a wide variety of dishes, ranging from traditional Filipino fare to popular dishes worldwide. Their extensive menu has something for everyone: meat dishes, fresh seafood choices, simple sandwiches, hearty noodles, satisfying desserts, and more.
Aristocrat Best Sellers
Chicken Barbecue
Chicken Barbecue, my special favorite at Aristocrat, is succulent chicken marinated in a savory blend of spices and grilled to perfection. The perfect amount of grilling brings out the appealing smokey taste. However, the dish's outstanding special sauce steals the show: envision a perfect balance of both tart and sweet flavors that elevates this meal to new heights of pleasure. It comes with a serving of steamed rice for your enjoyment. You will be perfectly satiated after eating this Filipino classic; it is a tried-and-true crowd-pleaser.
Another Chicken BBQ place? Try Alex the III's!
Seafood Kare-Kare
The seafood kare-kare at Aristocrat is a tasty take on the classic Filipino dish. Various seafood, including shrimp, fish, squid, and mussels, is prepared in a rich and creamy peanut sauce and served with a wide range of vegetables. The fish's natural sweetness pairs well with the rich and nutty overtones of the sauce, creating a deliciously balanced meal.
Sizzling Sisig
Aristocrat's Sizzling Sisig is the Filipino dish most synonymous with comfort food. Spicy and flavorful, this meal is a medley of pig's face and ears (also called maskara), onions, spicy peppers, and citrus juice. The combination of crispiness and softness in the texture and the burst of savory and zesty flavors makes it an absolute delight. Pair this classic bar chow with beer, and it's a certified good hangout combo.
Crispy Pata
Aristocrat's Crispy Pata is heaven on earth for meat eaters like me. The pork leg in this meal is first slow-cooked until fork-tender and then deep-fried until the skin is golden and the flesh is juicy and soft. The outcome is a deep, savory flavor and interesting textural contrast. It's an indulgent feast with a portion of rice and a zesty soy-vinegar dipping sauce. This meal is washed down best with a cold beer or Aristocrat's delightful House Blend Iced Tea.
Want to be updated on other promos? Subscribe to our newsletter.
Beef Caldereta
Filipinos are known for their delicious stews, and the Aristocrat's Beef Caldereta is no exception. Slow-cooked beef is complemented by various vegetables, including bell peppers, carrots, and potatoes, in a flavorful tomato-based sauce seasoned with various spices. The result is a flavorful meal with a hint of sweetness over bold spice, great over steamed rice. 
Aristocrat Delivery
Aristocrat offers their delectable meals to hungry foodies in their own homes. You can place orders through their website, delivery.aristocratph.com. You can also find Aristocrat on third-party delivery apps like foodpanda or GrabFood. Remember that the restaurant's availability on these platforms and the accompanying delivery fees depend on your location
Frequently Asked Questions
Do vegetarians and vegans have any alternatives at Aristocrat?
Aristocrat offers limited vegetarian options alongside their meat dishes, so you should inquire about specific vegetarian or vegan choices when placing your order.
Does Aristocrat have a dress code?
Aristocrat has a casual dining atmosphere with no strict dress code, allowing guests to comfortably dine in casual attire, but it's recommended to dress appropriately for the occasion or if visiting a more formal event or branch.
About Aristocrat in the Philippines
The Aristocrat Restaurant can trace its rich history back to 1936. It was founded by Engracia "Aling Asiang" Cruz-Reyes in the bustling Malate district of Manila. Aristocrat was only a small canteen serving fresh food when it began, but its reputation quickly soared. Its unique Chicken Barbecue and Sizzling Sisig dishes, among others, have contributed to its rising popularity over time. Numerous Aristocrat restaurants can be found in and around Metro Manila, and the brand has become a cultural symbol in the Philippines for its illustrious past and superb cuisine.
Talk To Aristocrat Filipino Staff
Want to know more about the Aristocrat menu in the Philippines? Send their staff a message on social media:
For any more questions you have about the Aristocrat menu, leave a comment bel