Since the beginning of its operations, the Angel's Burger fast food business in the Philippines has been providing patrons with mouthwatering burgers that are sure to satisfy their cravings. Angel's Burger has established itself as the go-to spot for burger lovers nationwide due to its dedication to providing both high-quality and affordable fare.
Here is the latest Angel's Burger Menu with prices in the Philippines:
Menu
Price

Buy 1 Take 1

Beef Burger Sandwich
40
Cheesy Burger Sandwich
50
Cheesy Hotdog Sandwich
37
Chori Burger
55

Solo

Cheesy Hungarian Sandwich
70
Cheesy Footlong Sandwich
56
Egg Sandwich
20

Add-ons

Cheese
5
Egg
15
Bacon
25

Drinks

Bottled Water
16
Softdrinks Glass Bottle
20
Softdrinks Plastic Bottle
25
Lipton Iced Tea
35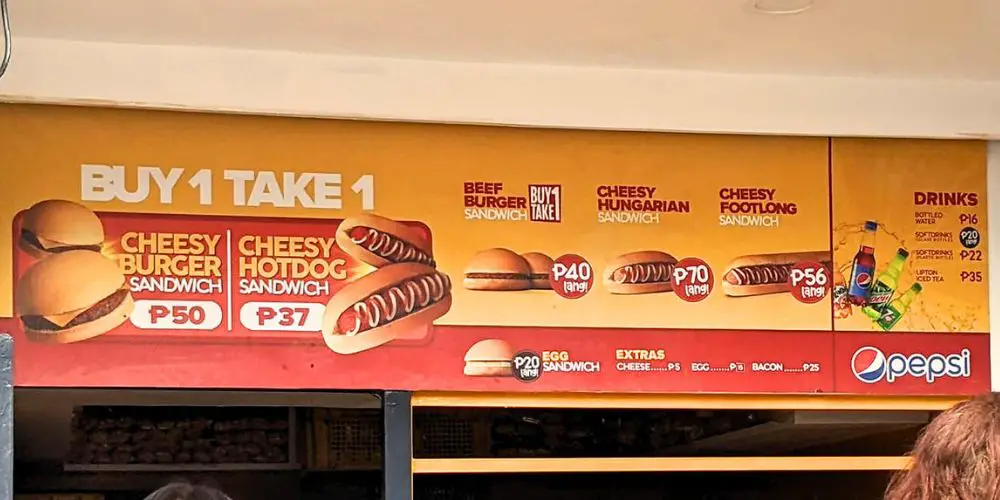 Angel's Burger has a menu with a wide range of burgers, hotdogs, and sandwiches to fill any burger hunger. The top-selling items on their list of offerings are the iconic hamburger and cheeseburger, offered in a perpetual buy-one-get-one-free deal and highly sought after among famished Filipinos.
Angel's Burger Best Sellers
Below are some of the crowd-favorites on Angel's Burger Menu.
The Angel's Burger menu, like all good things, has never had to change that much. They offer buy-one-take-one goodness in the form of burgers and cheeseburgers, among others.
The patties are crisp and juicy and are well rounded out by their generous slather of ketchup and mayonnaise. You can even upgrade your sandwich to add extra patties, cheese, eggs, ham, or bacon to your burger build.
Want to be updated on other promos? Subscribe to our newsletter.
You can also enjoy their cheesy footlong burger if you're really hungry, or perhaps a Hungarian sausage sandwich. Angel's Burger also offers bacon sandwiches. After a delightful snack, you can wash it down with Mountain Dew or Lipton Iced Tea.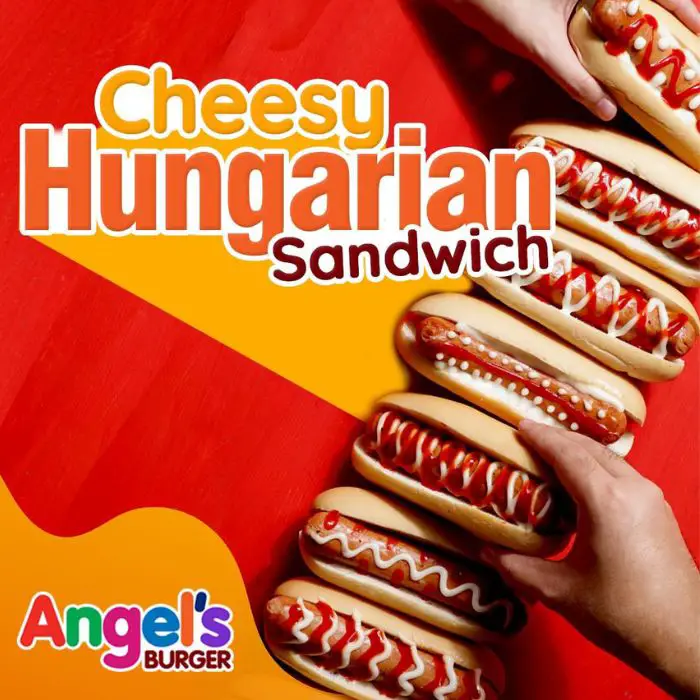 For a similar affordable burger, you can also try Minute Burger!
Angel's Burger Delivery
Angel's Burger offers delivery services nationwide through over a thousand company-owned and franchised sites. You can conveniently order Angel's Burger through popular delivery apps like GrabFood and Foodpanda, making it the perfect choice for a delicious and convenient meal without leaving your home.
Frequently Asked Questions
Do they provide anything gluten-free?
Regrettably, Angel's Burger does not have gluten-free options available for their burgers at the moment. They primarily focus on meat-based burger offerings and do not offer alternatives for individuals with gluten restrictions or preferences.
What are Angel's Burger's operating times?
They are open to serve 24 hours a day, seven days a week. This makes them a hit with all kinds of people, from early risers to night owls.
About Angel's Burger in the Philippines
Joseph and Victoria Mojica's dream of financial independence inspired them to launch Angel's Burger. Initially beginning with companies like Cholo's Gotohan and Joma's Bulalo, named after their boys, the couple encountered mixed results. But in 1997, inspired by the birth of their daughter, they came up with the concept of Angel's Burger and set out to serve hamburgers, which rapidly became a hit with Filipino diners.
The pair perfected their burger recipe to appeal to local tastes and provide exceptional value. Initially having five locations, they set out on a trip to the United States in 1999 to collect ideas and perfect the ultimate Angel's hamburger. When they got back, they reorganized the company and began offering franchises.
Angel's Burger has over a thousand locations in the Philippines, including company-owned and franchised outlets. The company gained its name on the strength of its perpetual Buy One Take One offerings, which included high-quality products at low prices. Angel's Burger has seen incredible success since its inception, but the company's creators are always on the lookout for new ideas that will help them keep the bar high for both the Angel's Burger name and the quality of their burgers.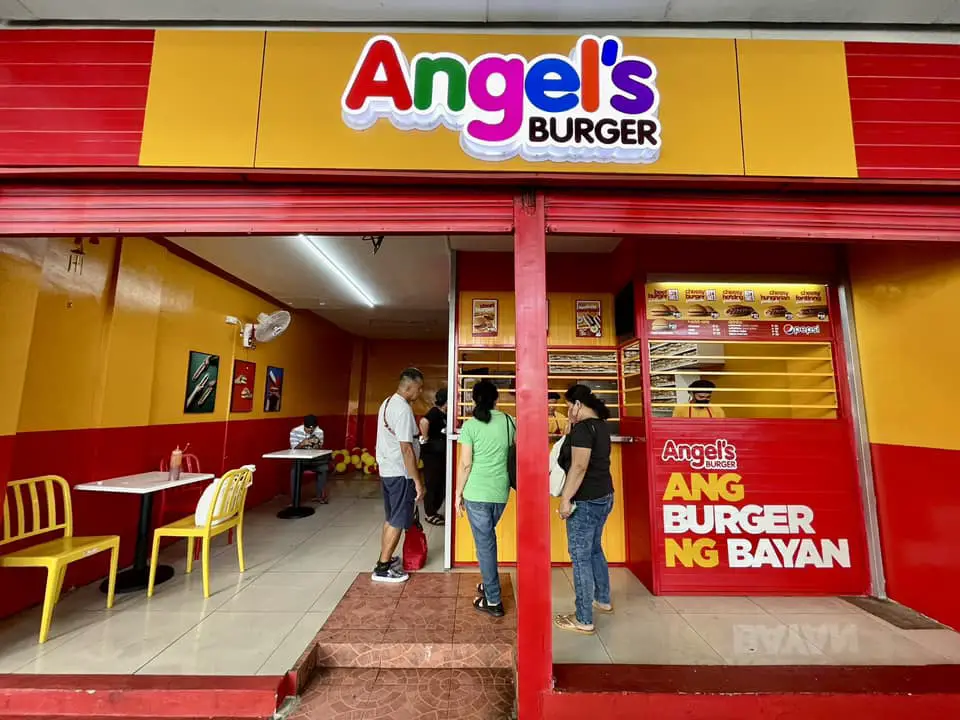 Talk To Angel's Burger Filipino Staff
For any more questions you have about the Angel's Burger menu, leave a comment below.