Minute Burger has become a household brand in the Philippines with its speedy service and high-quality burgers and snacks. Minute Burger is a chain of fast food restaurants in the Philippines popular among consumers due to its low prices and high quality. Let's take a look at Minute Burger's history, as well as its Minute Burger menu, biggest sellers, delivery choices, and frequently asked questions.
Here is the latest Minute Burger Menu with prices in the Philippines:
Menu
Price

Big Time

Buy 1 Take 1 Bacon Chesse Burger
93
Buy 1 Take 1 Black Pepper Burger
86
Buy 1 Take 1 50/50 Veggie Premium Chicken Burger
83
Buy 1 Take 1 Meatlovers Beef Pizza Burger
89
Buy 1 Take 1 Baconnaise Chicken Burger
88
Buy 1 Take 1 Beef Shawarma Burger
87
Buy 1 Take 1 Roasted Sesame Burger
93
Buy 1 Take 1 Steakburger
136

Sulit

Buy 1 Take 1 Minute Burger
41
Buy 1 Take 1 Double Minute Burger
61
Buy 1 Take 1 Cheesy Burger
50

Chicken Time

Buy 1 Take 1 Chicken Time
48
Buy 1 Take 1 Chicken Time w/ Cheese
62
Buy 1 Take 1 Crispy Chicken Chimichurri Burger
100
Buy 1 Take 1 Double Chicken Time
67

Hotdog

Buy 1 Take 1 Chili Con Carne Cheese Franks
87
Buy 1 Take 1 Bacon Cheese Franks
86
Buy 1 Take 1 Cheesy Dog
48

Side

Cheesy Carne Nachos
50

Extras

Supreme Cheese
14
Large Egg
13
Coleslaw
11

Drinks

Calamantea / Frutwist
22
Iced Choco
23
K-razy Milk Tea
28
Hot Coffee / Hot Choco
13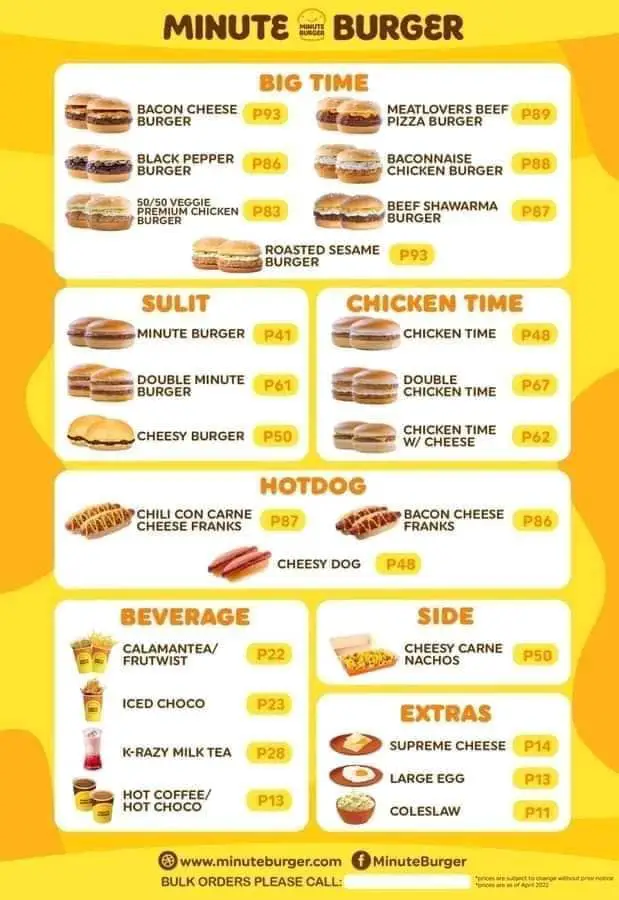 Minute Burger offers a variety of delicious quick-service meals. Everyone may find something they like on the menu, from traditional burgers to delicious sandwiches, hotdogs, and crisp fries. Their perpetual "buy one, get one free" promotion is a big draw since it gives consumers two servings of their delicious food for the price of one. Minute Burger is a popular option for a fast, affordable meal because of its focus on high-quality ingredients and efficient service.
Minute Burger Best Sellers
Below are some of the crowd-favorites on Minute Burger Menu.
Steakburger
The Steakburger from Minute Burger is the more expensive cousin of the Sulit Minute Burger, but it's well worth it. The burger patties in this buy-one-take-one premium sandwich are created from only the highest quality choice of beef. The American-style cheese and other components are also of the finest available quality. This is my go-to minute burger if I want to treat myself.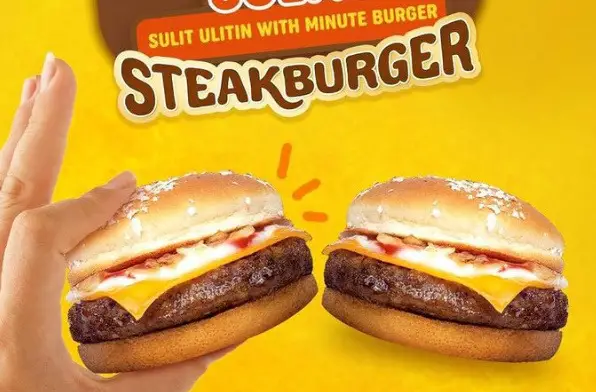 Cheesy Burger
You can't go wrong with the famous Minute Burger Cheesy Burger, which features a juicy beef patty and special ham-flavored cheese. Customers are kept coming back for more because of the combination of flavors. I'll admit that the hammy undertones initially put me off, but I've come to enjoy this.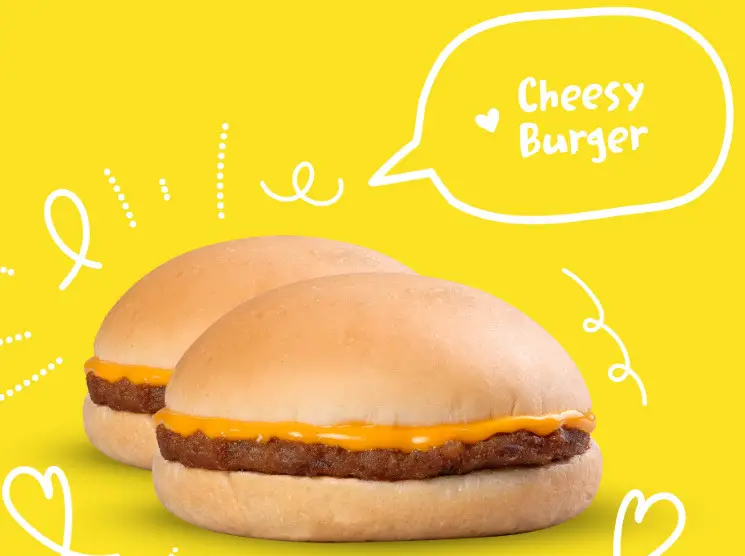 Want to be updated on other promos? Subscribe to our newsletter.
Black Pepper Burger
Because they didn't complicate things too much, the Black Pepper Burger at Minute Burger is outstanding. The peppercorn sauce and cheese combine to give each mouthful a distinct black pepper flavor that will leave your taste buds tingling and your mouth watering for more. The caramelized onions within were sweet and soft, making for a pleasant bite, and its smokey taste was pleasant and went well with the brioche bread.
Want to try something else? You can also try Angel's Burger!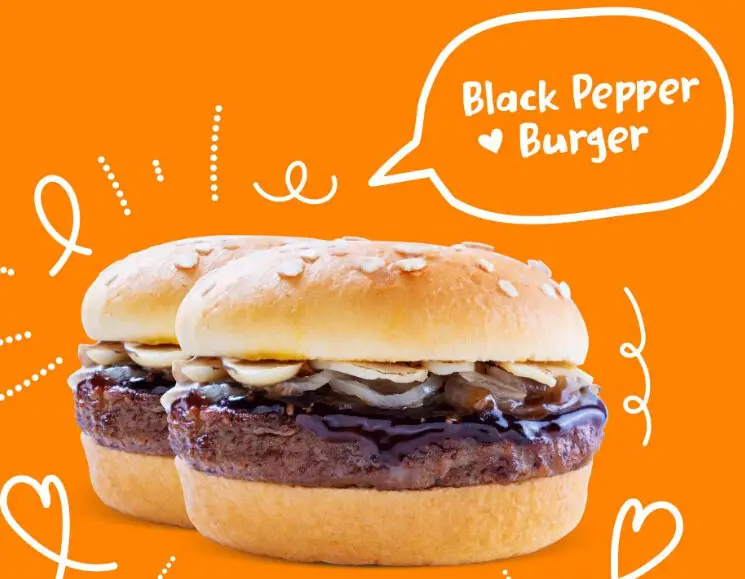 Minute Burger Delivery
Minute Burger satisfies your cravings with convenience. With their delivery platform Minute Burger Go!, you can order ahead and pick up your favorite snacks at your chosen branch. They've also partnered with GrabFood and Food Panda for delivery, ensuring you can enjoy their delicious burgers anytime.
Frequently Asked Questions
May I make modifications to my order?
Orders at Minute Burger can be customized, yes. Customers have the option of requesting customized changes or extras.
Does Minute Burger offer beverages?
Minute Burger sells drinks like milk tea, iced and hot choco, Calamantea, and mineral water.
Is Minute Burger open for franchising?
Minute Burger offers franchise opportunities starting at an initial investment of PHP 290,000, with various store options available. Visit minuteburger.com for more information.
About Minute Burger in the Philippines
Minute Burger has provided consumers with tasty and reasonably priced food for over 30 years.  Minute Burger, founded in 1982, is a Filipino fast food chain owned by Leslie Corporation, the same business responsible for the iconic Clover Chips snacks. Minute Burger is now one of the largest franchises in the Philippines, with more than 600 locations.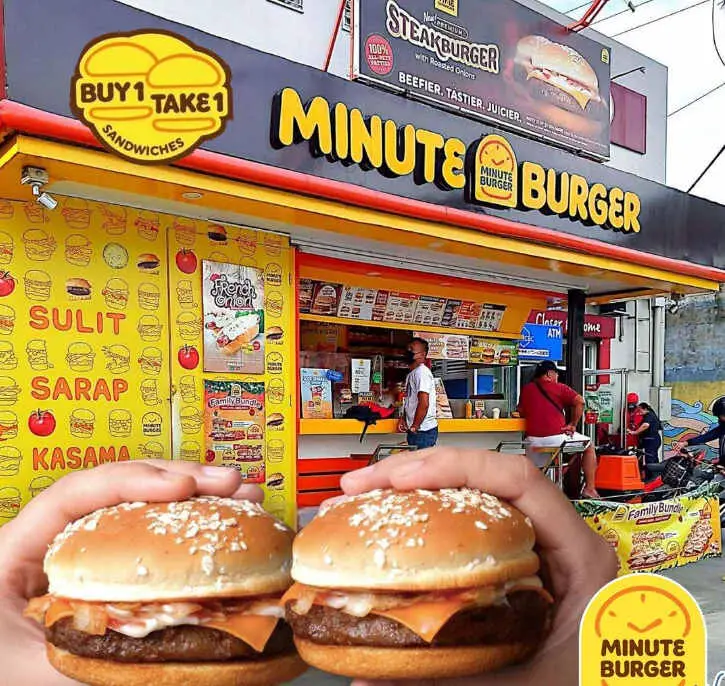 Talk To Minute Burger Filipino Staff
For any more questions you have about the Minute Burger menu, leave a comment below.