Bugis doesn't seem like much. In fact, it's one of those restaurants with a long line and tiny parking that you'll probably skip for the fancier-looking Singaporean restaurants. If you do that, however, you'd be disappointing your hungry tummy. If you're hungry for comfy and hearty Singaporean fare, look at the Bugis menu and become one of the restaurant's many believers.
Here is the latest Bugis Menu with prices in the Philippines:
Menu
Price

Breakfast

Early Riser Platter (Fish)
230
Early Riser Platter (Sausage)
230
Early Riser Platter (Chicken)
230
Early Riser Platter (Sweet Pork)
230
Nasi Lemak Burger
165
Economical Beehon
65
Kaya Toast Set (2pc Toast/ Soft Boiled Egg / Coffee)
125
Kaya Toast Set (Ala Carte/ 2pcs Kaya Toast)
70
Roti With Condensed Milk and Brewed Coffee
75
Singapore Ramen (Original)
100
Singapore Ramen (Sesame)
100
Singapore Ramen (Hot and Spicy)
100

Breakfast Drinks

Milso Dinosaur (Cold)
125
Hot Milo
55
The Tarik (Cold)
95
The Tarik (Hot)
55
Fruit Tea (Cold)
75
Fruit Tea (Hot)
75
Hot Jasmine Tea
50
Blended Iced Tea
75
Brewed Coffee
55

Appetizers

Numnums (Per Stick)
38
Numnums (Set of 12)
420
Chicken Satay with Peanut Sauce (3 Sticks)
120
Dynamite (2 pcs)
38
Curry Balls (3 pcs)
38
Beef Roll (2 pcs)
120
Pork Roll (2 pcs)
120
Chicken Chops
135
Squid Sambal
185
Buttered Squid Rings
185
Crunchy Tofu w/ Mushroom Sauce
145
Salted Egg Chicken and Prawns
280

Noodles

Singapore Laksa
250
Bah Kut The
230
Fish Soup with Mushroom Noodles
230
Steamboat with Beef or Pork Strips
230
Sukiyaki
225
Mee Goreng
155
Canton / Bihon Guisado
195
Singapore Ramen (Original)
100
Singapore Ramen (Sesame)
100
Singapore Ramen (Hot and Spicy)
100
Char Kuey Teow
155
Fried Noodles
65
Satay Beehon
185
Soy Sauce Chicken Noodle
195

Rice Meals

Satay Rice
125
Nasi Goreng Rice
125
Sambal Fried Rice
125
Hainanese Fried Rice
115
Shrimp Fried Rice
155
Laksa Rice
165
Shanghai Fried Rice
175
Plain Rice
35
Beef Teriyaki
190
Chicken Teriyaki
185
Pork Teriyaki
185
Nasi Lemak
230
Bugis Chicken with Rice
185
Bugis Chicken Ala Carte
255

Curry Meals

Fish Curry
225
Chicken Curry
225
Beef Curry
295
Curry Tonkatsu
225
Extra Roti
40

Chicken

Hainanese Chicken
248
Hainanese Chicken (Whole)
405
Soy Garlic Chicken
165
Buffalo Wings
165
Orange Chicken
205
Bugis Menu
Regarding Singaporean street food, Bugis is where it's at, and they offer some insanely delicious meals in a relaxed setting that allows you to take your time while still getting a fantastic value. With so many delicious options, from hefty main courses to your favorite comfort eats, you'll be spoilt for choice and want to return to Bugis ASAP.
Bugis Bestsellers
These are the dishes that many people (including us!) agree are the greatest of the Bugis Singaporean Street Food menu.
Nasi Goreng and Mee Goreng
Meat pieces, delicious chorizo, corn kernels, and scrambled eggs round out the ingredients for Nasi Goreng Rice. It has such a rich taste that it may be enjoyed on its own. On the other hand, the Mee Goreng is so strongly perfumed with spices that you may think twice before eating it. Don't be alarmed, however; despite its strong aroma, it's really rather mild. I can't handle very spicy foods, but I was able to eat this and like it due to the sweetness.
Laksa
What's Singaporean food without good Laksa? This delicious Singaporean dish is perfect for sharing between two or three people, but if you're feeling ravenous, you could easily take it down all by yourself. The Laksa is served up hot and fresh in a chafing dish with a nifty little burner to keep it warm while you savor every spoonful. From the very first sip, I knew I was in for a treat – this Laksa is seriously addictive! And if you can't get enough of that rich and fragrant broth, don't worry, you can ask for a refill (but only one per order, so make it count!). 
For another restaurant that does cheap and yummy laksa, you can try Eat Fresh!
Buttered Squid Rings
Despite their unassuming appearance, these Buttered Squid Rings completely changed the game. The squid rings, which were neither tough nor mushy, were the ideal accompaniment to the delicate and crispy coating. If you want to really amp up the taste, try dunking them in the red onion and vinegar sauce; it's just the right amount of acidic and fiery. My partner surely enjoyed each mouthful!
Want to be updated on other promos? Subscribe to our newsletter.
Roti 
No doubt about it, after a nice meal like that, dessert is a must. We decided to end things on a high note and went for a classic Roti. This stretchy flatbread is perfect for dipping in plain condensed milk – it doesn't get any more basic than that, but sometimes the simplest desserts are the best, am I right?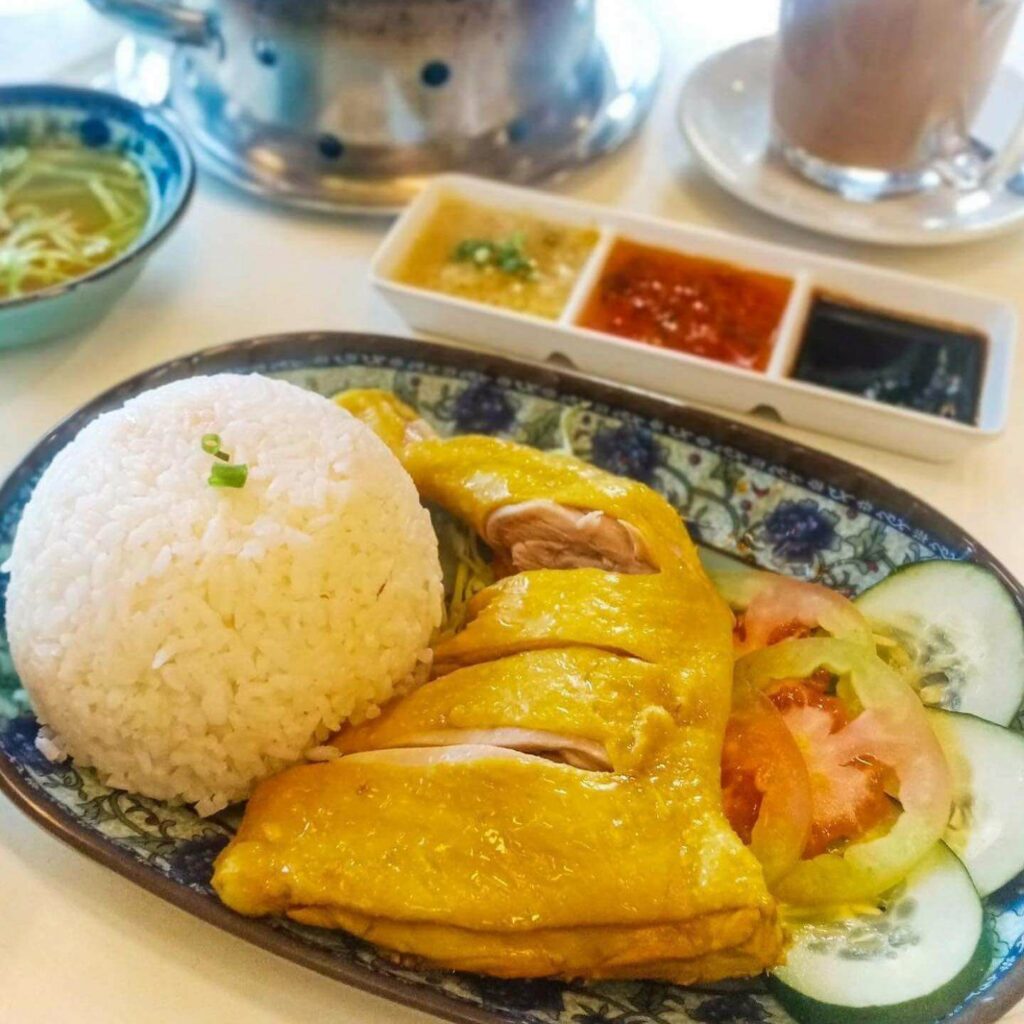 Bugis Delivery
You can enjoy my recommendations or your personal favorites from Bugis without having to leave your home! You can find them on your favorite delivery apps like foodpanda and GrabFood if they deliver in your area. In-house delivery is also available from Bugis Singapore Street Food. You can do this by sending them a message on Facebook, Instagram, or WhatsApp or by calling one of their physical locations.
Frequently Asked Questions
Is there any way to get in contact with Bugis?
Yes! They have a rich following on social media. You can follow them on Facebook (/BugisPh) or Instagram (@bugisph). You can also give them a call at 0945 994 3662 or shoot them an email at BugisChompPH@gmail.com.
How many Bugis branches are there? 
As of writing, there are four branches where you can enjoy their awesome meals. You can find them in Quezon City (78 N. Roxas St. and 207 Banawe St.), San Juan (285 P. Guevarra St.), and Marikina (32 Gen. Ordonez).
About Bugis in the Philippines
In addition to being a popular place to shop and eat in Singapore, Bugis is also a popular tourist attraction. As its name suggests, Bugis Singaporean Street Food is inspired by this real-life location and serves customers authentic hawker fare from Singapore, including staples like Nasi Goreng, roti, curry balls, and steamboat Laksa soup.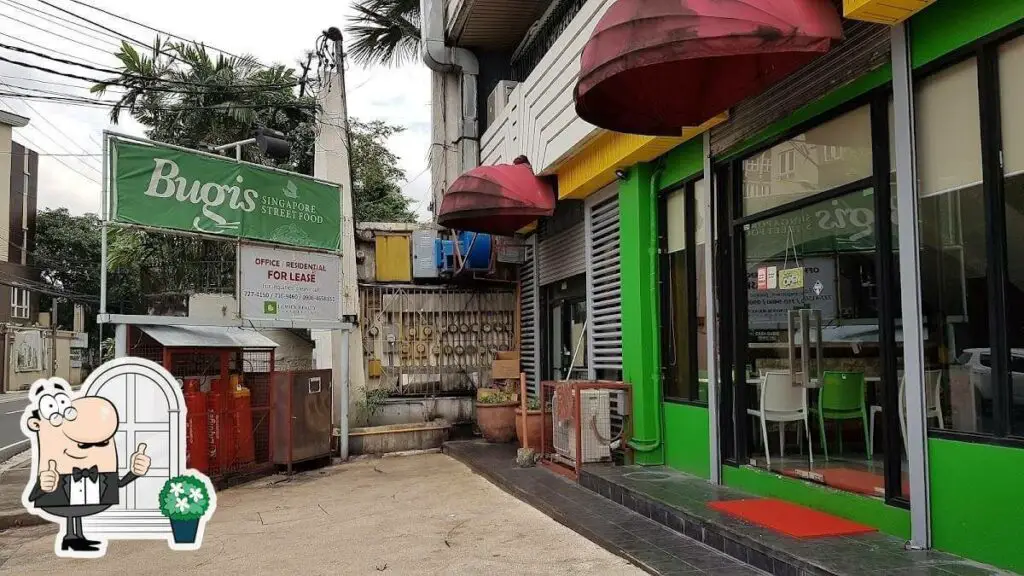 Talk To Bugis Filipino Staff
Want to know more about the Bugis Menu in the Philippines? Send their staff a message on social media:
For any more questions you have about the Bugis menu, leave a comment below.