Classic Savory, one of the most well-known restaurant chains in the Philippines, has been serving mouthwatering Filipino-Chinese fare to satisfied customers since 1950. The brand has come a long way from its early days, and it is now a well-known institution that captivates the hearts of locals and tourists alike.
Here is the latest Classic Savory menu with prices in the Philippines:
Menu
Price

Chicken

Whole Classic Chicken
655
Half Classic Chicken
345
Buttered Chicken
405
General's Garlic Chicken
405

Soups

Seafood Treasure Soup
315
Hot and Sour Soup
315
Wanton Soup
255
Hototai Soup
315
Spinach and Seafood Soup
255
Nido Soup with Quail Eggs
255
Cream Corn and Crab Soup
255

Rice and Noodles

Seafood Mushroom Stir-Fry Noodles
365
Seafood Fried Rice
315
Beef and Wanton Mami
285
Miki Bihon Binondo
345
Pancit Bihon Guisado
335
Savory Classic Lomi Soup
335
Savory Fried Rice
295
Chami
345
Wanton Mami
245
Beef Mami
285
Steamed Rice
49
Long Life Pancit Canton
345
Yang Chow Fried Rice
295

Beef

Spicy Pepper Beef Steak
405
Beef In Mushroom Gravy
425
Chinese Beef Steak
405
Beef with Broccoli
425

Pork

Sweet and Spicy Spareribs
405
Savory Shanghai Rolls
325
Sweet and Sour Pork
375
Fried Pork and Shrimp Dumplings
335
Patatim Special
635
Kikiam
325
Salt and Pepper Spareribs
405
Lechon Macau
455

Seafood

Spicy Squid
295
Sweet and Sour Shrimp
345
Fish Fillet Tofu Chili Garlic
335
Mixed Seafood with Broccoli
365
Fish Fillet Tofu in Tausi Sauce
365
Spicy Shrimp in Chili Garlic Sauce
345
Shrimp with Broccoli
325
Sweet and Sour Fish Fillet
305
Wawi's Crab Foo Yong
355
Creamy Mushroom Fish Fillet
325
Salt and Pepper Squid
295

Vegetables

Chppsuey with Cripsy Pork Belly
395
Four Season String Beans
285
Broccoli in Oyster Sauce
295
Lo Han Chai
285
Garlic Spinach
275
Chopsuey
285

Desserts

Ube Sago
90
Fried Bananna
90
Coffee and Cream Delight
90
Mango Pudding
90
Pandan Fiesta Salad
90

Drinks

Peach Fruit Tea
140
Strawberry Fruit Tea
140
Mango Fruit Tea
140
Iced Coffee Jelly
150
Hot Tea
50
Coffee and Cream Delight
50
Pepsi Products in Can
70
Bottled Water
50
Pineapple Juice
70
Savory Tropical Cooler
65
Savory Blend Iced Tea
65

Combo Meals

Comba A
565
Combo B1
335
Combo B2
335
Combo B3
335
Combo B4
335
Combo C1
605
Combo C2
605
Combo C3
645
Combo C4
595

Classic Incredi-Bowls

Lechon Macau and Chopsuey with Plain Rice
385
Salt and Pepper Squid, Sweet and Sour Fish Fillet, and Tofu in Tausi Sauce with Vegetable Rice
385
Porkchop, Kikiam and Shanghai Rolls with Vegetable Rice
385
Fish Fillet Tofu Chili Garlic and Fried Pork and Shrimp Dumplings with Vegetable Rice
385

Classic Affordable Group Meals

Chef's Choice Set Meal
129
Classic Set Meal Menu 1
1095
Classic Set Meal Menu 2
1095
Classic Set Meal Menu 3
1095
Classic Set Meal Menu 4
1095
Super Set Meal Menu 1
1525
Super Set Meal Menu 2
1525
Super Set Meal Menu 3
1525
Super Set Meal Menu 4
1525
Supreme Set Meal Menu 1
1965
Supreme Set Meal Menu 2
1965

Classic Fiesta Meals

GR8 Menu 1
3695
GR8 Menu 2
3695
GR8 Menu 3
3695
GR8 Menu 4
3695
Dozen Set Menu 1
4895
Dozen Set Menu 2
4895
Dozen Set Menu 3
4895
Dozen Set Menu 4
4895

Pancit Sa Bilao

Pancit Bihon Guisado Bilao (Small)
765
Pancit Bihon Guisado Bilao (Big)
1655
Miki Bihon Binondo Bilao (Small)
765
Miki Bihon Binondo Bilao (Big)
1655
Long Life Pancit Canton Bilao (Small)
765
Long Life Pancit Canton Bilao (Big)
1655

Salo-Salo sa Bilao

General's Chicken Regular Salo Salo sa Bilao
1500
General's Chicken Large Salo Salo sa Bilao
2180
Regular Salo Salo sa Bilao
1425
Large Salo Salo sa Bilao
2085

Affordable E Meal

E-Meal 1
265
E-Meal 2
265
E-Meal 3
265
E-Meal 4
265
E-Meal 5
265
E-Meal 6
265
Classic Savory Menu
Classic Savory's extensive menu showcases the rich and delightful flavors of Filipino and Chinese cuisines. From popular favorites like pancit, lumpia, and various vegetable and meat dishes, to their famous roasted chicken served with savory sauce and Java rice, every dish is expertly prepared to offer a unique and satisfying dining experience
Classic Savory Best Sellers
Roasted Chicken
The roasted chicken at Classic Savory is the restaurant's signature dish and for good reason. The optimal marinating process produces chicken that is both tasty and juicy. The dish's popularity stems from its combination with the restaurant's trademark sauce and the fragrant Java rice. For us, ordering this is a standard procedure.
Pancit Canton
Classic Savory serves an excellent stir-fried noodle dish called Pancit Canton. It's overflowing with flavor and packed with plenty of veggies, pork, and chewy noodles for a delicious textural contrast. It's a warm and satisfying option for any meal and a must-try for noodle fans.
Lechon Kawali
Classic Savory's Lechon Kawali delights every pork connoisseur, being both crisp and tender. Boiled and then fried to perfection to a golden crispness, the pig belly in this dish is both supple and flavorful. The resulting crispy skin and succulent flesh make for a wonderful pork pleasure that should not be missed. If you're a meat eater, you need this.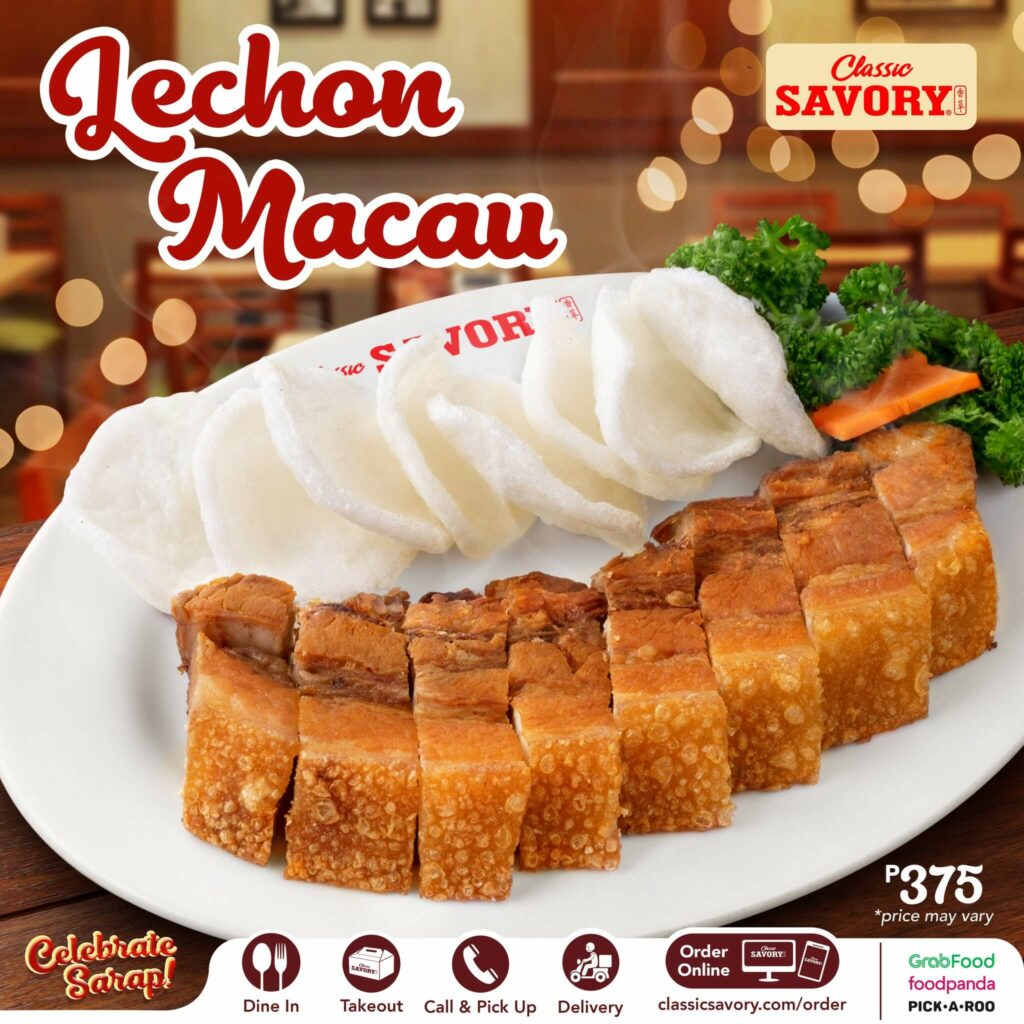 Beef with Broccoli
Tender beef slices are presented in this Classic Savory meal and are stir-fried with crisp broccoli florets. The colorful broccoli provides a crisp snap to the dish, while the beef is wonderfully prepared and melts in your mouth. As a result of the complementary tastes, this dish is a popular option for individuals who want to consume more vegetables with their meat.
Want to be updated on other promos? Subscribe to our newsletter.
Sweet and Sour Fish Fillet
The Sweet and Sour Fish Fillet at Classic Savory is a delicious seafood dish. Crispy fish fillets covered in a zesty and sweet sauce are made with a light batter. This meal is a favorite because of the wonderful variety of textures and flavors it presents in a unified whole.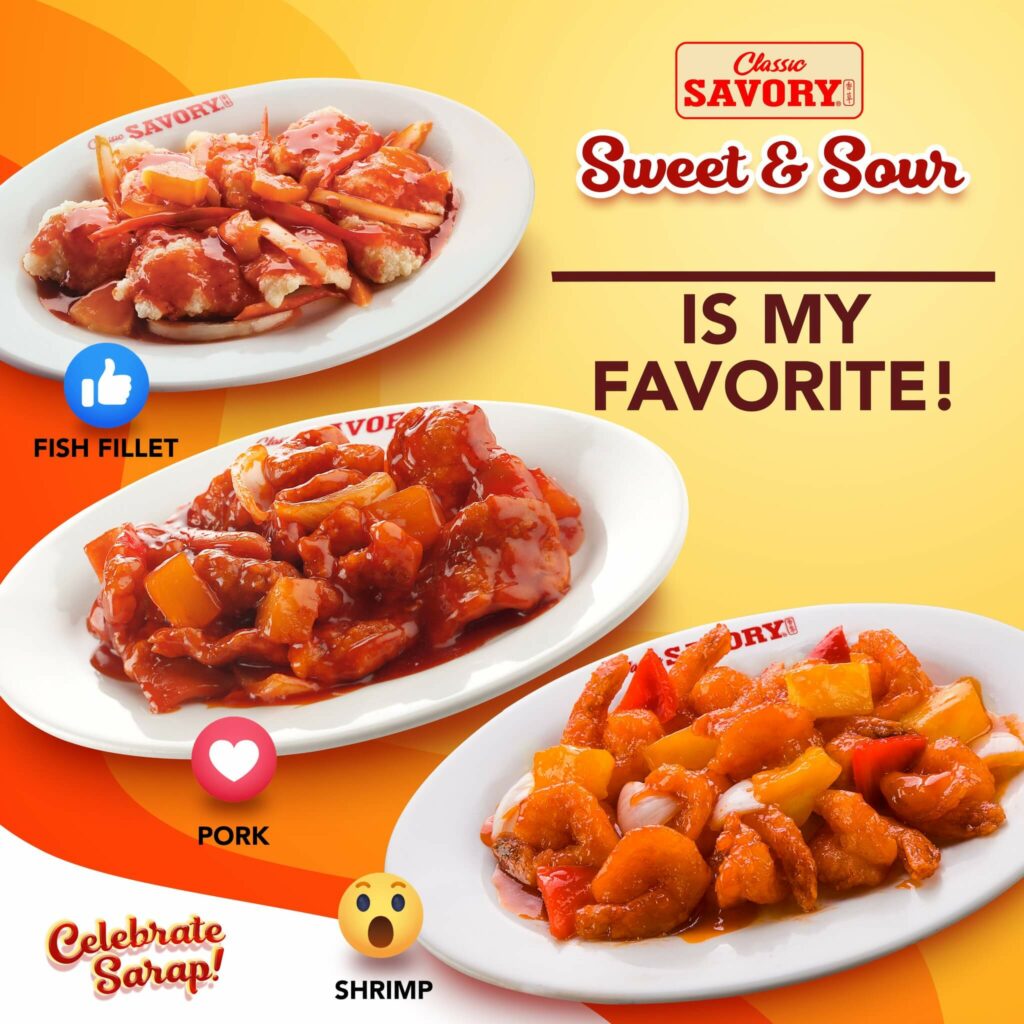 Lumpiang Shanghai
Classic Savory's Lumpiang Shanghai is a crowd-pleasing Filipino appetizer. These spring rolls are filled with ground meat, vegetables, and seasonings, then deep-fried to a golden crisp. These bites and a spicy dipping sauce are guaranteed to please a crowd.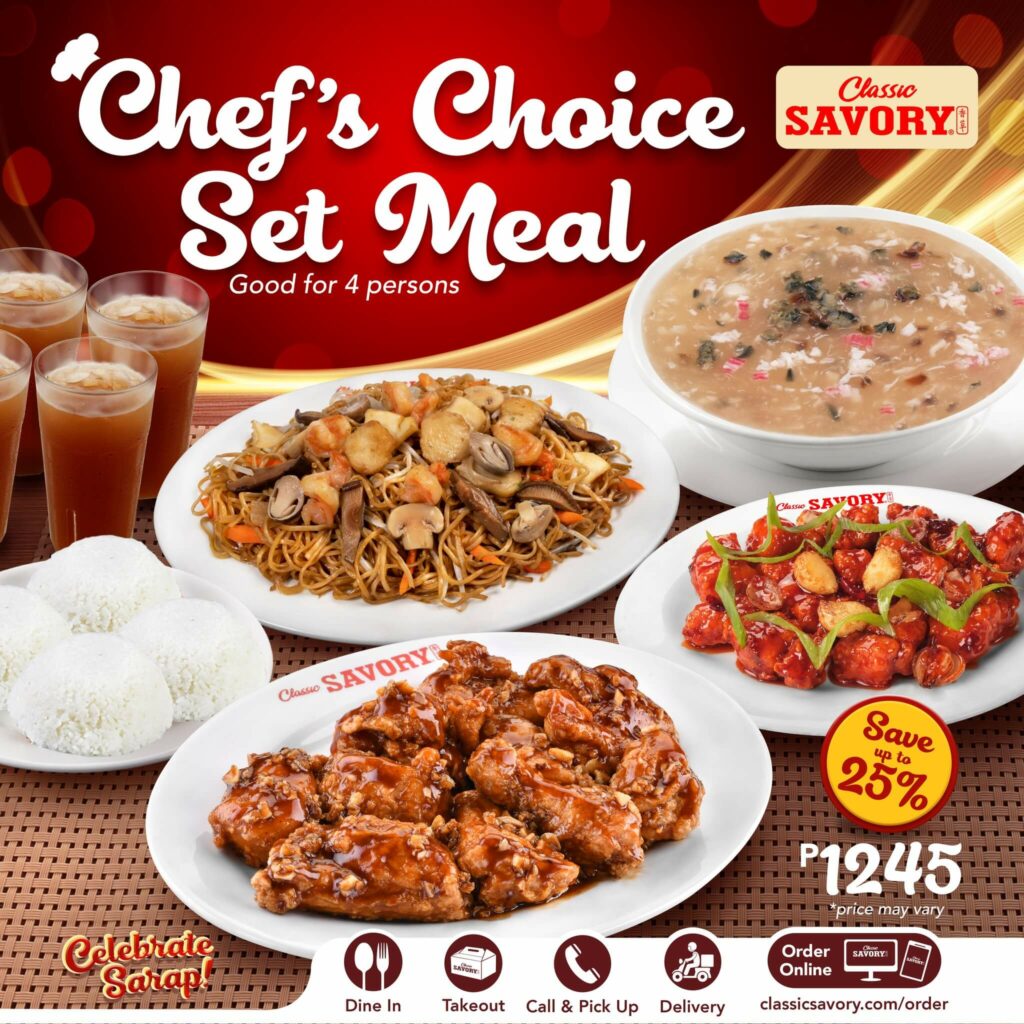 Another Chinese comfort food? You can try out Mann Hann!
Classic Savory Delivery
You can order your Classic Savory favorites via their delivery website, www.classicsavory.com/order. You can also find them on GrabFood or foodpanda. Remember that the restaurant's availability and delivery fees are based on your location.
About Classic Savory in the Philippines
The Classic Savory restaurant franchise has been serving Filipinos since 1950 and has acquired a household name because of its delicious Filipino-Chinese food. Classic Savory has been serving delicious food for nearly seven decades, showing no signs of slowing down.
Talk To Classic Savory Filipino Staff
Want to know more about the Classic Savory menu in the Philippines? Send their staff a message on social media:
For any more questions you have about the Classic Savory menu, leave a comment below.