The first Mann Hann store opened in 1995, and the restaurant was so successful that it inspired them to establish several locations in shopping malls. The exteriors of Mann Hann establishments give the impression that they are posh art galleries. Most of the building's exterior consists of glass, letting in plenty of ambient light in the morning and emphasizing soft lighting for the spacious dining space come the evening.  The Mann Hann menu has options, but what are the absolute must-haves?
Here is the latest Mann Hann menu with prices in the Philippines:
Menu
Price

Meat and Poultry

Cereal Chicken
420
Roast Chicken (Half Chicken)
420
Three Cup-Chicken
420
*Orange Chicken
420
Spicy Spareribs Forever
420
Lutong Lechon Macau
435
Lechon Macau with Tofu
435
Lumpiang Shanghai
310
Beef Ampalaya
420
Beef Broccoli Flower
420
Beef Brisket
455
Chinese Beef Tenderloin
455

Seafood

Taosi Fish Fillet
425
Fish Tofu
425
Taosi Fish Fillet
425
Taosi Fish Fillet with Ampalaya
425
Fish Fillet with Broccoli Flower
425
Sweet and Sour Fish Fillet
425
Fried Squid / Spicy Squid
425
Fried Squid Head
425
Spicy Prawn (200g per order)
425
Prawn Tempura
425
Prawn Tempura Wrapped In Bacon
425
Cereal Prawns (200g per order)
480
Taosi Clams
425
Oyster Cake
425

Noodles

Long Live Chami
425
Sate Chami
425
Saeafood Chami
450
Cha Bihon / Sate Bihon
425 / 425
Seafood Cha Bihon
450
Pork Leg Bihon
450
Miki Bihon
415
Beef Hofan
415
Seafood Hofan
450
Pancit Canton
425
Seafod Pancit Canton
450
Fried Noodles with Pork and Seafood
425
Fried Noodles with Seafood
455
Soy Noodles
345
Prawn Sotanghon
415

Desserts and Drinks

Mango Cheesecake
120
Sugarfree Cheesecake
120
Buko / Assorted Sherbet
165
Black Gulaman
120
Mango Sago
135
Almond Jelly
95
Black Almond Jelly
95
Chilled Taho
85
Buchi (4pcs)
100
Honey Lemon Tea Liter /Glass
195 / 100
Fresh Lemonade
140
Sago Gulaman
120
Fresh Buko Juice
120
Fresh Fruit Shake in Season
160
Lemon Basil Frost
150
Tarragon Iced Tea
150
Calamansi Juice
130
San Miguel Pale Pilsen
110
San Miguel Ligh
110
Softdrinks in Can
85
Bottled Water
85

Dimsum

Soy Tofu
170
Siomai (Pork and Shrimp)
170
*Japanese Siomai
165
Hakaw
190
Chicken Feet
150
Taosi Spareribs
170
Machang
140
Shrimp Roll
220
Radish Cake
130
Dumplings (Steamed and Fried)
170
*Shrimp and Vegetable Dumpling
190
Kikiam
145
Taipao
175
Siopao (2pcs per order) Asado, Spicy Asado, Bola-Bola, Kutchay (With Pork)
90
*Beancurd Roll
190
*Xiao Long Bao
240

Soup

Green Seafood Soup
465
Hot and Sour Soup
400
Chicken Corn Soup
400
Hototai
400
Wonton Soup
270
Clam Soup
310
Batchoy Seaweed Soup
310
Fishball Soup
190
Oyster Misua
355
Duck Misua
375
Lomi
355
Seafood Lomi
365
Maki (Maki balls with Shrimp)
315
Maki Mi
335
Roast Chicken Noodles
325
Beef Noodles
325
Beef Wonton Noodles
355
Wonton Noodles
295

Rice

Spicy Sansi Fried Rice
425
Yang Chow Fried Rice
425 / 255
Salted Fish Fried Rice
425 / 255
Fookien Rice
425
Garlic Rice
240
Plain Rice
60

Rice Toppings

Beef Broccoli Flower Rice
360
Beef Ampalaya Rice
360
Taosi Spareribs Rice
360
Spicy Spareribs Rice
360
Sweet and Sour Spareribs Rice
360
Sweet and Sour Pork Rice
360
Lechon Macau Rice
360
Broccoli with Shitake Rice
360
Sweet and Sour Fish Fillet Rice
360
Taosi Fish Fillet Rice
360
Fish Tofu Rice
360
Fish Broccoli Flower Rice
360
Fried Fish Fillet Rice
360

Vegetables

Garlic Kangkong
280
Bagoong Kangkong
280
Polunchay
340
Broccoli Flower with Shitake
340
Broccoli Flower with Garlic
340
Eggplant with Minced Pork
295
French Beans with Taosi
295
Mapo Tofu
325
Fresh Lumpia
120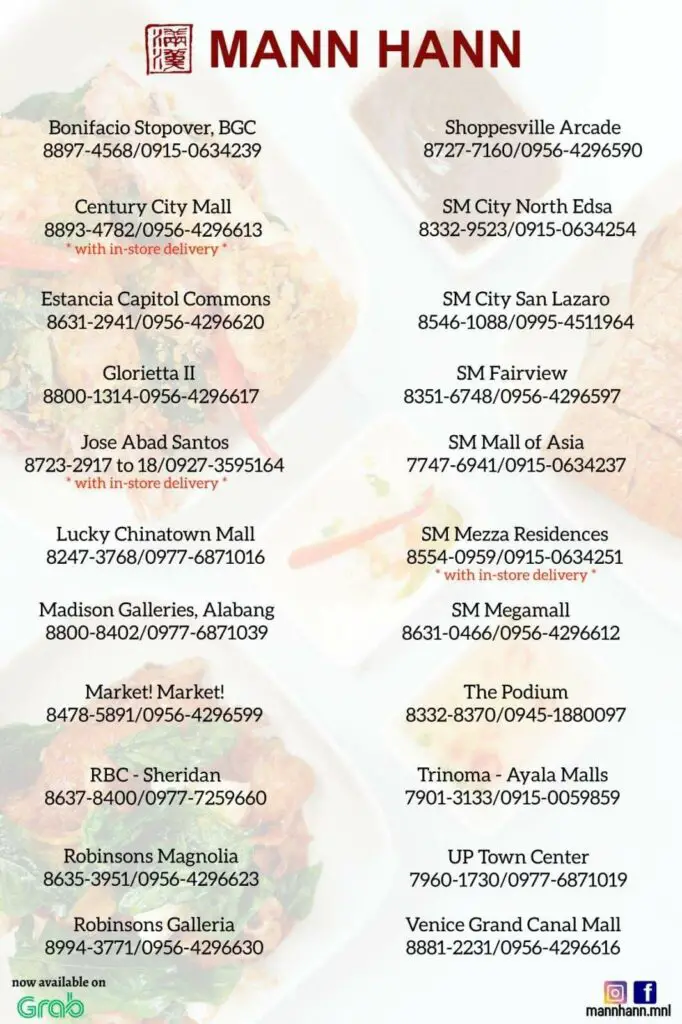 Their appeal stems from the fact that they provide consistently and reliably delicious Chinese comfort cuisine. Nothing particularly revolutionary on the menu, but it has many of the meals we crave when we just want something easy and reassuring to eat. The Mann Hann menu includes a range of reasonably priced selections, including entrees, dim sum, chicken, noodles, and many more.
Mann Hann Best Sellers
Here's a run-down of the crowd favorites on the Mann Hann menu.
Yang Chow Fried Rice
If there's anything that will bridge Filipino and Chinese cuisine, it is our collective love for rice. You'll find their Yang Chow Fried Rice to die for if you're a rice connoisseur. Their rendition of this Chinese restaurant mainstay is filled with eggs, barbequed pork bits, and green onions for a fresh crunch. If you're up for something saltier than a savory bite, you can try my personal favorite, their Salted Fish Fried Rice. It's got salted fish and chicken bits instead of barbequed pork. Both choices can feed up to four people — if you can stop yourself from getting an extra serving.
Looking for other Chinese restaurants? You can also check out Classic Savory, Tien Ma, Din Tai Fung, David's Tea House or Ling Nam!
Cereal Chicken
Nothing goes better with their fried rice than their classic Cereal Chicken. It's deceptively simple — it's crispy fried chicken that's made more delicious with a gentle toss with an aromatic spiced cereal mix with a little bit of a kick. This dish's flavor is addictive; the slight heat will get you through your rice faster. 
Congee
Congee is another rice staple in Asia, and Mann Hann has these on their menu with two variations: with Beef or with Fish. The beef congee was a great dish, owever, we can't find it anymore on updated menus as of the time of writing.
Oyster Cake
Mann Hann's Oyster Cake is an absolute must-try and an absolute classic. It's one of the original items from their first store (almost three decades ago!) and is still one of the most sought-after menu items today. The great thing about their Oyster Cake is that you'll actually taste the oysters and fillings, not the fillers — a must-have for oyster lovers.
Hakaw
Steamed to precision, these dumplings have fresh, juicy, and juicy prawns encased in elegant wrappers — no Mann Hann visit is complete without a taste of their Hakaw. It might not be a unique item on their menu, but it's something you'll remember. My partner and I are crazy for hakaw, and Mann Hann is yet to disappoint.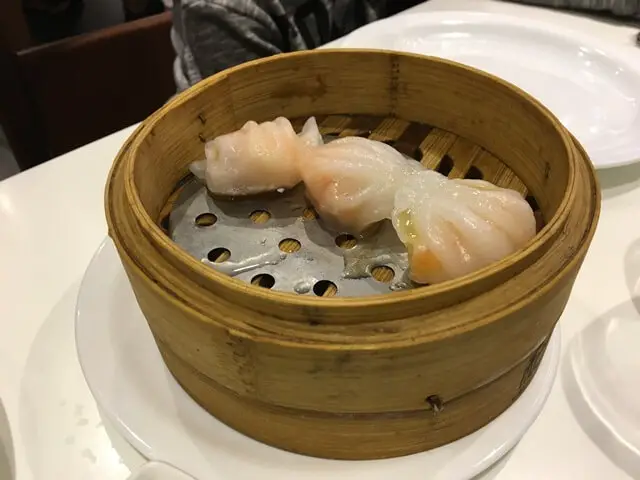 Want to be updated on other promos? Subscribe to our newsletter.
Mann Hann Noodles
Like any self-respecting Chinese restaurant, Mann Hann offers tasty noodle options. I personally recommend their Beef Hofan, generously loaded with beef and flat noodles. This has been a long-standing favorite of mine, and not a single bite is left on the plate. Mann Hann especially boasts of their 'fresh hand-made' noodles in their offerings, so rest assured, their noodles won't fail you.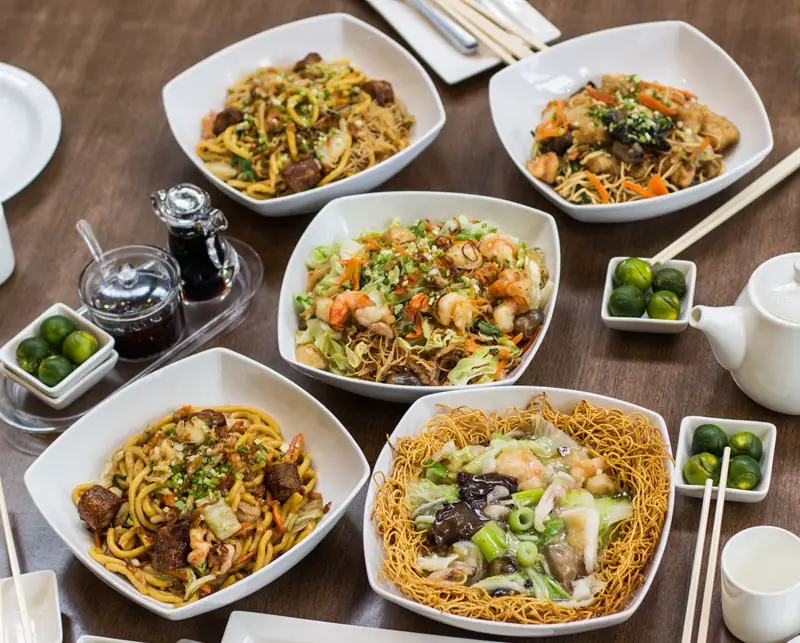 Mann Hann Delivery
You may always use GrabFood to have some of Mann Hann's tastiest dishes, such as Yang Chow Fried Rice, Hakaw, and more, delivered straight to your door.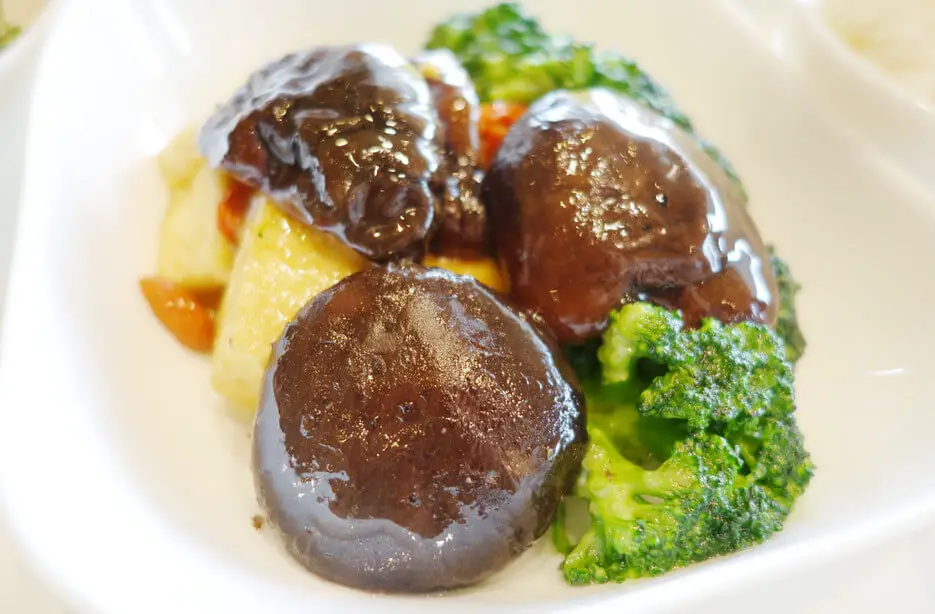 Frequently Asked Questions
What To Order In Mann Hann?
If you've never eaten at Mann Hann, you may be stumped for ideas on what to have. Besides the popular items we have mentioned, you may also get Lechon Macau, Crispy Pata, and Mapo Tofu.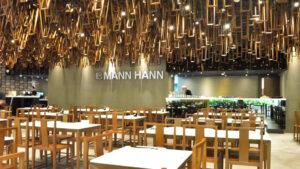 About Mann Hann in the Philippines
The first Mann Hann opened in San Juan as a high-end deli and convenience shop in 1996. When Ledesma operated his trucking firm, Dianne, Doris, and Dorothy built a shop selling imports from Subic like Wagyu Beef. The regular mahjong players on the establishment's second floor usually requested food, and the hosts always provided it.
The owners of Mann Hann Restaurant took inspiration for their business name from an ancient Chinese story. The emperor, a descendant of the ancient Han Dynasty and a Mann or Manchurian, exhibited his lavish side while dining with foreign guests. He requested the "Mann Hann" menu, which included 200 different types of delicious food. Often, they would spend weeks consuming these banquets. No one can say what happened, but these words have come to be associated with traditional Chinese food.
Talk To Mann Hann Filipino Staff
Want to know more about the Mann Hann menu in the Philippines? Send their staff a message on social media:
For any more questions you have about the Mann Hann menu, leave a comment below.