Binondo is one of the oldest culinary attractions in the Philippines, and visitors from every corner of the planet go to Chinatown in Manila to sample its renowned specialties. Throughout time, classic Chinese noodle joints like Ling Nam have grown outside Chinatown, bringing their unique brand of dim sum to a wider range of diners. Below is a brief overview of the Ling Nam menu.
Here is the latest Ling Nam menu with prices in the Philippines:
Menu
Price

Pho Soup

50 Pho Chin, Nam, Gan, Bo Vien: Brisket,Flank,Tendon,Meatballs Pho
468
13 Pho Bo Kho: Vietnamese Beef Stew Pho
468
2 Pho Chin Nac: Brisket Pho
402
15 Pho Canh Chua Tom: Hot and Sour with Prawns and Pineapple Pho
492
32 Pho Do Bien Seafood Pho
480
12 Pho Ga: Chciken Pho
402
8 Pho Chin, Gan: Brisket, Flank,Tendon Pho
432
40 Pho Nam, Bo Vien: Flank, Meatballs Pho
456
7 Pho Chin, Gan: Brisket,Tendon Pho
432
51B Pho Ga Khong Thit: Pho Chicken Noodle without Meat
240
33 Pho Bo Vien: Meatballs Pho
456
38 Pho Nam, Gan, Bo Vien: Flank, Tendon, Meatballs Pho
456
6 Pho Naam, Gan: Flank, Tendon Pho
432
4 Pho Chin, Nam: Brisket, Flank Pho
402
1 Pho Nam: Flank Pho
402
51 Pho Kong Thit: Pho Noodle Soup without Meat
240
51A Pho Chay: Vegetarian Pho
372

Starters

16 Goi CuonL Fresh Rice Paper Rolls
222
17 Cha Go Viet: Fried Rice Paper Rolls
252
44A Cha Gio Chien Voi Banh Xa Lach: Fried Rice Paper Rolls with Lettuce Wrap
354
66 Chein Trung Cuon: Fried Egg Rolls with Sweet Chili Sauce
222
18 Canh Ga Ghien: Stuffed Chicken Wings
294
42 Thit Nuong: Grilled Pork Brochette
264
29 Mat Ong Cang Ga: Caramelized Chicken Drumettes
354

Salads

3 Goi Tom Buoi: Pomelo Shrimp Salad
372
5 Goi Tom Xoai : Mango Prawn Salad
396
14 Goi Ga : Vietnamese Chicken Salad
336

Vermicelli Bowl

35B Bun Thit Nuong and Cha Gio : Grilled Pork and Fried Paper Rolls
408
35C Bun Ga Nuong and Cha Gio: Grilled Chicken and Fried Rice Paper Rolls
402
35A Bun Tom Thit Nuong: Grilled Prawns and Grilled Pork
438

Rice Plates

20 Com Ga Nuong Cha Gio: Grilled Chicken and Fried Rice Paper Rolls
420
21 Com Thit Nuong Cha Gio: Grilled Pork and Fried Rice Paper Rolls
420
45 Com Tom Thit Nuong: Marinated Prawns and Grilled Pork with Rice
468
30 Ga Nuong: Glazed Chicken with Rice
396
25 Com Suon Nuong: Grilled Pork Chop with Rice
450
57 Thit Kuo Trung Dau Hu: Pork Stew, Fried Tofu, Egg with Rice
456
28 Com Ga Xao Nam, Bap Non: Sauteed Chicken and Mushrooms with Rice
396
26 Banh Mi Bo Kho: Vietnamese Beef Stew with Bread
468
46 Com Bo Xao: Tenderloin Beef with Rice
510
24 Chay Dau Hu: Tofu and Assorted Mushrooms with Rice
384
34 Com Thit Bo: Beef Brisket on Rice
408
23 Com Tom Rim: Chili Shrimp with Rice
390
22 Com Ca Chein: Breaded Fish with Rice
396
56 Chien Ga Ot Sung, Dau Phung: Kung Pao Chicken with Rice
372
54 Thit Kho : Tung Po Pork with Rice
468

Ala Carte

41 Chien Dau Hu: Breade Tofu with Minced Mushroom Sauce
354
43 Dau Dua Xao Tom, Tep : String Beans with Ground Pork and Shrimps
384
37 Chien Muc Ot: Fried Squid with Chili and Green Onion
372
47 Ca Hap Voi Dau Vang: Vietnamese Fish with Yellow Beans
444
62 Tom Ot: Chili Shrimps with Rice
390
60 Xao Chay: Sauteed Kangkong with Garlic Shrimp Paste
324
61 Dau Phu Gion: Crispy beancurd with Seasame Soy Dressing
354
59 Thit Ga Bam Voi Banh Xa Lach Nam: Minced Chicken and Mushroom with Lettuce Wrap
420

Noodles

49 Tom Gia Ca Ri Mi: Sauteed Curry Noodles with Shrimps and Bean Sprouts
402
31 Mi Xao Don Thap cam: Crispy Noodles
486
68 Mi Xao Toi: Stir Fry Garlic Noodles
275

Desserts

Crispy Fried Bananas and Vanilla Ice Cream
246
D1 Banana Fritters
203.5
D6 Vanilla Ice Cream with Choco Syrup
137.5
D6 Mango Crepe with Ice Cream
203.5
D7 triple Threat Ice Cream (3 Scoops)
176

Banh Mi

36B Banh Mi Ga Nuong (BBQ Chicken)
252
36A Ban Mi Thit Niong (BBQ Pork)
252
36C Ban Mi Ga Sa (Lemongrass Chicken)
252

Pho Hoa Party Trays

Mixed Rice Paper Rolls Party Tray
948
Rfresh Rice Paper Rolls with Peanut Sauce Party Tray
666
Glzed Chicken with Pho Hoa Fried Rice with Extra Order of Fried Spring Rolls
1235
Vietnamese Chicken Salad Party Tray
954
Pomelo Shrimp Salad Party Tray
1168
Mango Prawn Salad Party Tray
1188
Fried Rice Paper Rolls Party Tray
1008
Glazed Chicken Party Tray
1188
Fried Rice Paper Rolls with Lettuce Wrapa Party Tray
1062
Grilled Chcien and Fried Rice Paper Rolls Party Tray
1260
Grilled Pork Chop Party Tray
1350
Pork Brochette Party Tray
792
Vermicelli Platter Party Tray
1314

MyThai Party Trays

Pad Thai (Chicken or Shrimp) Party Tray
1062
Thai Bagoong Rice Party Tray
1044
Pork/ChickeN Skewer Party Tray
774
Chicken in Pandan Leaves Party Tray
1116
Pork Belly Lemongrass Party Tray
1026
Catfish Salad
1170
Thai Style Chicken Party Tray
1062
Bagoong Rice Platter with Shrimp Cakes and Chicken Satay
1350
Pineapple Rice Platter Party Tray
1290
Shrimp Cakes Party Tray
1188
Fried Chicken Wings Party Tray
936
Squid Stir Fry Party Tray
1188
Blue Rice Platter

MyThai Soups

Shrimps in Hot and Sour Soup
414
Chicken with Lemongrass Coconut Soup
408
Coconut Curry Noodle Soup with Chicken
432
Seafood in Hot and Sour Soup
390

MyThai Salads

Spicy Deep Fried Catfish and Green Mango Salad
390
Spicy Green Papaya Salad
282
Spicy Grilled Beef Salad
366
Pomelo and Shrimp Salad
354
Herb Spiced Gropund Chicken Salad
246

MyThai Appetizers

Shrimp Cakes with Sweet Chili Sauce
396
Fried Spring Rolls with Chicken and Glasas Noodle
276
Chicken Satay Skewers with Peanut Sauce
312
Pork Satay Skewers with Peanut Sauce
258
Crispy Fish Fingers with Spicy Green Chili Dip
294
Fried Chicken Wings with Sweet Chili Sauce
312

Pad Thai Noodles

Shrimp Pad Thai Stir-Fried Rice Noodles with Shrimps
390
Chicken Pad Thai Stir-Fried Noodles with Chicken
444
Vegetable Pad Thai Stir-Fried Rice Noodles with Vegetables
318
Pad See Ew Wok Fried Noodles with Chicken and Broccoli Leaves
354

MyThai Main Course

Chicken Wrapped in Pandan Leaves
456
Pork Belly with Lemongrass
342
Crispy Tilapia with Tamarind Sauce
384
Squid Stir-Fry with Garlic and Peppercorns
396
Grilled Pork with Stir-Fried Kang Kong
0
Stir-Fried Chicken with Basil
372
Crispy Tilapia with Coriander Dip and Tamarind Sauce
474
Stir-Fried Pork with Shrimp Paste
360
Spicy Stir Fried Kang Kong
312
Half Crispy Fried Chicken with Crispy Shallots and Garlic with Sweet Chili Dip
402
Stir-Fried Black Peppercorn and Garlic Beef
420
Thai Style Girlled Boneless Chicken
354
Crispy Tofu, Vegetables and Chilies
336

MyThai Curry

Chicken Green Curry with a Cup of Steamed Rice
432
Prawns Green Curry
450
Tofu and Vegetable Green Curry
336
Pork Green Curry
408
Pork Red Curry
408
Fish Green Curry
396
Fish Red Curry
396
Chicken Red Curry with a Cup of Steamed Rice
432
Beef Green Curry with a Cup of Steamed Rice
540
Beef red Curry with a Cup of Steamed Rice
540

MyThai Rice

Thai Style Fried Rice
138
Pienapple Fried Rice
138
Shrimp Fried Rice
156

MyThai Desserts

Crispy Fried Bananas and Vanilla Ice Cream
246

MyThai Milktea

MyThai Milktea Bottle
0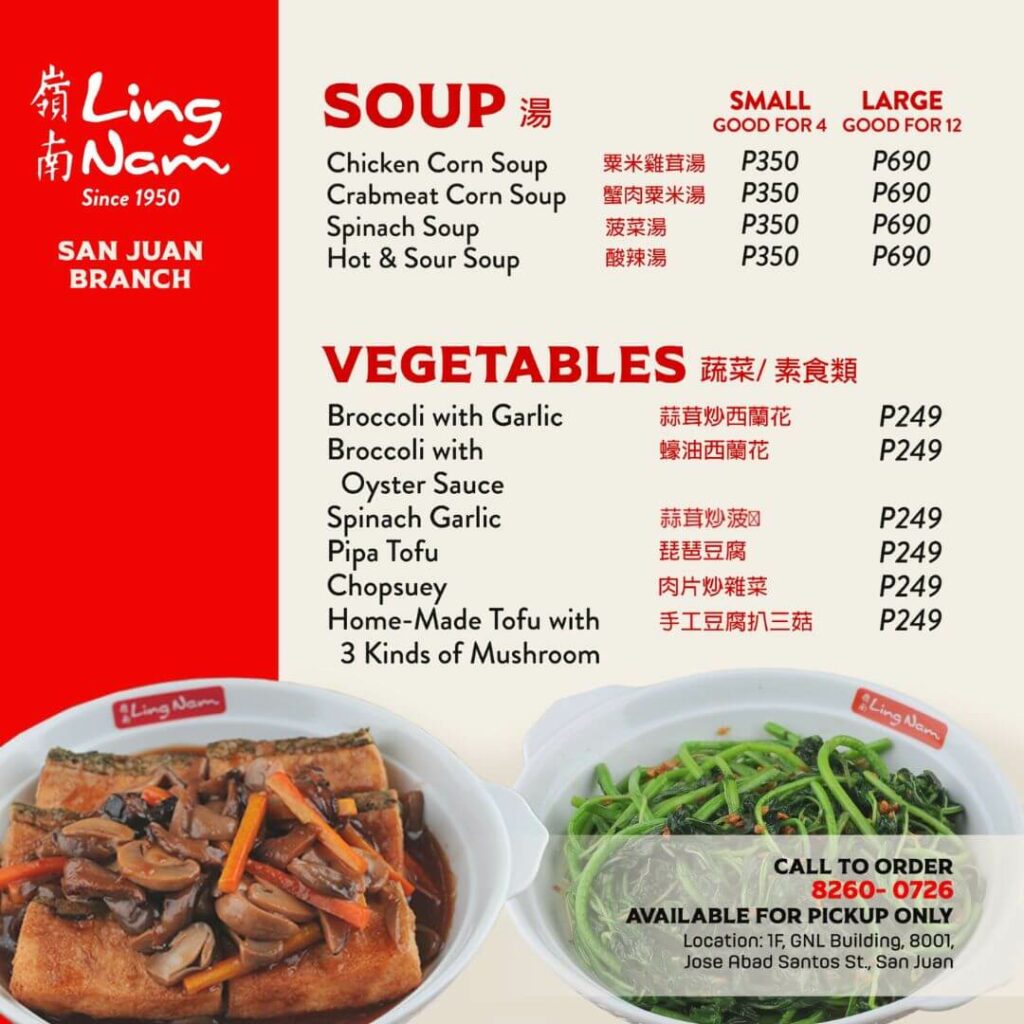 Given its well-known specialties that include hand-made Beef wonton noodles, dim sum, and congee, Ling Nam is a brand that is well-known among people in the Philippines who love Chinese cuisine. The following is a list of some of the most popular foods that can be found on the renowned Ling Nam menu.
Ling Nam Best Sellers
Below are some of the crowd-favorites on Ling Nam's menu.
Beef, Wanton, and Asado Noodles
The braised beef and noodles are both generously portioned, with the former almost covering the whole of the bowl's base. Fewer pieces of asado or Chinese barbecued pork and fewer wonton dumplings are included. Ling Nam's famed firm, chewy noodles, along with a larger-than-average serving size for noodle shops, will always leave me impressed.
Both the beef and the pork were tender, but the meat was the better value. The crisp kick and zip of some tabletop hot sauce complement the chewy noodles in this soup.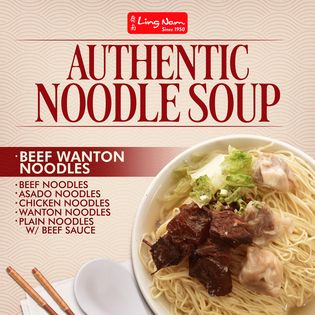 Read Also: David's Tea House Menu and Mann Hann Menu
Spinach Garlic
This one is quite delicious but can be quite misleading — Ling Nam's Spinach Garlic is made with kangkong, not spinach leaves. Although they can be let off the hook on the technicality that kangkong is indeed called 'water spinach' in English.
It's still similar in taste and texture, so it won't be too big of a difference. While garlicky and crisp-watery, it might not match your noodle orders best. The Spinach Garlic shines better alongside drier dishes and steamy rice.
Chami
In essence, chami is just thick pancit canton. The toppings, which were liberally spread among the noodles and sauce, were delicious and generous. Those who like different textures will be pleased by the abundance of juicy meat, tasty fish, and fresh produce. The dish has a fairly straightforward flavor, but the thick, chewy noodles make it a hit with diners of all palates. I shared this with my partner, which is a good thing since it was heavier a meal than I thought.
Seafood Roll
Although Ling Nam's Seafood Roll is often prepared fresh to order, it may take a little longer than expected to get to your table. This meal, however, is definitely worth the wait.
White fish filets (perhaps cream dory), kani, shrimp, and a broccoli floret are artfully rolled up in a Chinese cabbage leaf to make the delicious seafood roll. This flavorful package is served over a hearty plate of bird's nest soup called nido soup. If you want to appreciate all the different textures and tastes of a Seafood Roll, it's better to consume it in one mouthful.
Want to be updated on other promos? Subscribe to our newsletter.
Eggplant Ala King
When you first look at it, you may think it's simply a standard eggplant meal, but when you take a mouthful, you'll realize that it has a shrimp ball inside and is tempered with sautéed garlic and red chilies, and you'll completely forget that you're eating an eggplant. Mayonnaise, which is served with the meal, contributes significantly to the dish's overall deliciousness.
Ling Nam Delivery
Ling Nam favorites can be sent to your doorstep via third-party delivery apps, like foodpanda and GrabFood.
Frequently Asked Questions
Is it expensive to eat at Ling Nam?
Ling Nam is the restaurant to go to if you're looking for Chinese specialties that won't break the bank, won't leave you hungry, and won't disappoint in terms of flavor. Prices start at ₱60 for extras and up to ₱4,300 for a Family Feast (Good For 10).
About Ling Nam in the Philippines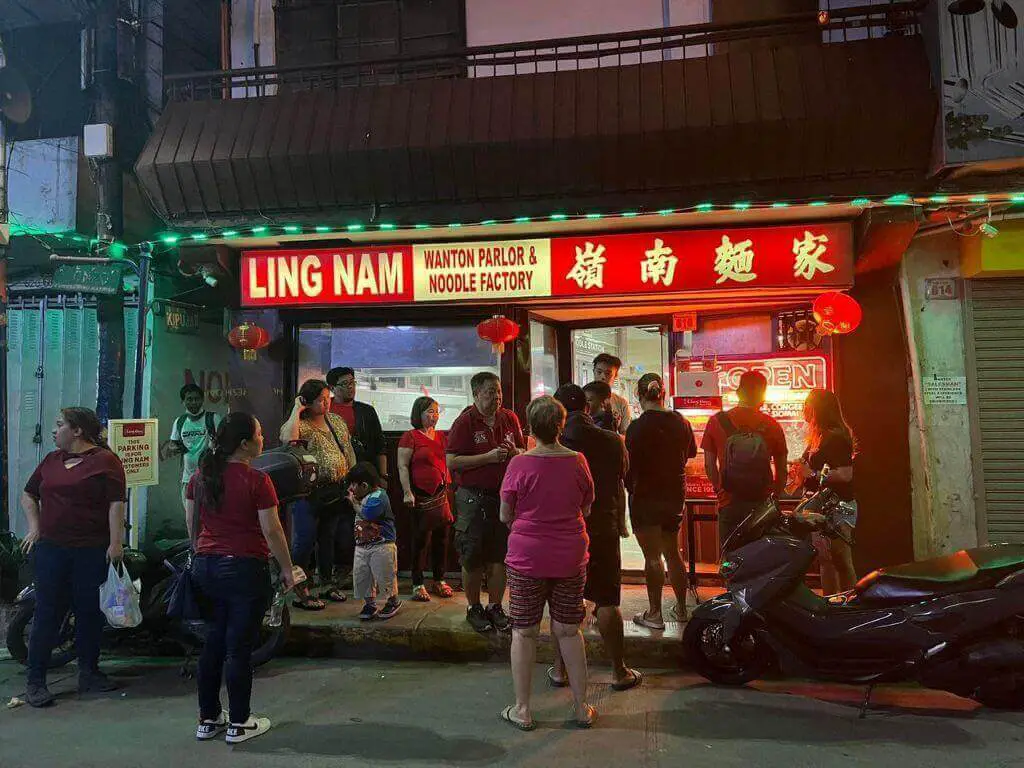 After World War II, Ling Nam began operation in the 1950s, providing Filipinos with beef wanton noodles and siopao. Tomas Fung, the man behind Ling Nam, built up one of the first noodle businesses in Manila to introduce Filipinos to the deliciousness of Chinese cuisine. In 1950, he established the original Ling Nam Noodle Restaurant on Zacateros St. in Sta. Cruz. He relocated the shop to its current location at 616 T. Alonzo St. in 1965, and to this day, it still operates successfully. Their flagship restaurant is in Binondo, but they now have many nationwide locations where you can also have their mouthwatering fare.
Talk To Ling Nam Filipino Staff
Want to know more about the Ling Nam menu in the Philippines? Send their staff a message on social media:
For any more questions you have about the Ling Nam menu, leave a comment below.