Filipinos fancy Chinese cuisine because of its bold colors and distinct flavors. Dim sum can be encountered at high-end establishments and low-cost food courts, making it affordable to diners of all tax brackets. David's Tea House is a customer-favorite Chinese restaurant franchise with its vivid yellow and red façade and distinguishable lanterns. Let's take a look at the David's Tea House menu below.
Here is the latest David's Tea House menu with prices in the Philippines:
Menu
Price

Dimsum

David's Assorted Dimsum Platter
329
Xiao Long Bao
130
Hakaw Shrimp
140
Japanese Siomai
130
Fried Shanghai Dumpling
130
Steamed Shanghai Dumpling
120
Shrimp Siomai
110
Tausi Chicken Feet
110
Tausi Spareribs
110
Beef Ball
110
Fish Tofu
110
Machang
110
Shark's Fin Dumpling
110
Beancurd Roll
120
Kuchay Dumpling
110
Pork Asado Siopao
110
Bola Bola Siopao
110
Taro Puff
110
Raddish Cake
110
Fried Spring Roll
110
Fried Cupao
85
Steamed Cupao
75
Seasme Buchi
100

Congee

David's Congee
215
Fish Fillet Congee
205
Pork Century Egg Congee
200
Asado Congee
200
Bola Bola Congee
190
Sliced Beef Congee
190
Halo Halo Congee
200
Plain Congee
100
Egg
30

Noodles

David's Special Noodles / Hofan
260
Wanton Beef Noodles/ Hofan
250
Wanton Noodles /Hofan
230
Beef Brisket Noodles /Hofan
230
Meat Ball Noodles /Hofan
210
Beef Ball Noodles /Hofan
210
Fish Ball Noodles /Hofan
210
Chicken Noodles /Hofan
210
Plain Noodles /Hofan
130

Rice Topping

Beef Ampalaya Rice
210
Beefy Oyster Sauce Rice
210
Minced Pork w/ Eggplant Rice
210
Sweet and Sour Pork Rice
210
Soyed Chicken Rice
210
Asado Rice
220
Fish Fillet w/ Beancurd Rice
210
Beef Brisket Rice
220
Fish Fillet w/ Tausi Rice
210
Chicken Feet Spareribs Rice
210
Chicken Curry Rice
210
Chopsuey Rice
210

Fried Rice and Noodles

David's Fried Rice
375
Fried Hofan w/ Mix Seafood
360
Crispy Fried Noodles
350
Pineapple Fried Rice
340
Frookien Fried Rice
340
Bihon Guisado
340
Misua Guisado
340
Beef Fried Hofan
340
Pancit Canton
340
Yang Chow Fried Rice
285
Salted Fish Fried Rice
285
Garlic Fried Rice
180
Birthday Noodles
390
Spicy Beef Fried Rice
300
Plain Rice
45

Drinks

4 Season Shake
120
Almond w/ Lychee
110
Mango Shake
110
Watermelon Shake
110
Pineapple Shake
110
Almond Jelly
80
Black Gulaman
80
Calamnsi Juice
80
Lemonade
100
Cold Lemon Tea
110
Lemon Coke
100
San Miguel Beer
80
Soft Drinks in Can
70
Mineral Water
40
Mango Sago
75

Dessert

Sesame Buchi
95
Mango Sago
70

Hot Soup

Polonchay w/ Seasfood Soup
345
Pumpkin w/ Seafood Soup
345
Fish Lip Soup
325
Hototay Soup
310
Hot and Sour Soup
310
Chicken and Corn Soup
310
Nido w/ Quail Egg Soup
310

Chicken

David's Hot Chicken Salad
440
Honey Glazed Chicken
395
Fried Breaded Chicken w/ Salted Egg
350
Chicken Curry
350
Lemon Chicken
340
Crispy Fried Chicken (Half)
340
Crispy Fried Chicken (Whole)
630
Fried Breaded Chicken
340

Juicy Pork

David's Braised Pata Tim (Big)
710
Fried Crispy Pata (Big)
710
Sizzling King Dao Spareribs
340
Minced Pork w/ Eggplant in Pot
340
Sweet and Sour Pork
340
Fried Spareribs w/ Salt and Pepper
340
Shanghai Spring Roll
320
Fried Wanton
250

Tender Beef

Beef Tenderloin w/ Black Pepper
470
Sizzling Beef Tenderloin Chinese Style
470
Beef Brisket in Pot
420
Beef Broccoli Flower
370
Beef w/ Ampalaya
340
Beef w/ Polonchay
350
Beef w/ Oyster Sauce
350

Roasting and Coldcut

David's Cold Cuts
440
Lechon Kawali
395
White Chicken (Half)
340
White Chicken (Whole)
630
Soyed Chicken (Half)
340
Soyed Chicken (Whole)
630
Roasted Pork Asado
365
Seaweeds w/ Century Egg
325
Soyed Beef Kenchi
325
Soyed Tofu
130
Century Egg
60

Fresh Fish

Fish Fillet w/ Tausi Sauce
440
Fish Fillet w/ Sweet and Sour Sauce
440
Fish Fillet w/ Sweet Corn
440
Steamed Fish Fillet w/ Garlic
440
Fish Fillet w/ Beancurd in Pot
440
Fried Breaded Fish Fillet
440

Golden Prawn

Hot Prawn Salad
560
Camaron Rebusado
560
Fried Prawn w/ Salted Egg
560
Fried Prawn w/ Szechuen Sauce
560
Sizzling Prawn w/ Black Pepper
560
Shrimp w/ Broccoli Flower
480
Shrimp w/ Scrambled Egg
430

Other Seafood

David's Mixed Seafood in Pot
480
Sizzling Seafoods w/ Szechuen Sauce
470
Sauteed Squid w/ Broccoli Flower
380
Fried Squid w/ Salt and Pepper
380

Vegetable

David's Chopsuey
335
Abalone Mushroom w/ Broccoli Flower
360
Sizzling Chopsuey w/ Szechuen Sauce
360
Lo Han Chai (Mixed Vegetables)
330
Sizzling Fresh Button Mushroom
300
Braised Beancurd in Pot
290
Mapo Tofu
290
Polonchay w/ Garlic
290
Taiwan Pechay w/ Garlic
290
Broccoli Flower w/ Garlic
320
Fried Beancurd w/ Salt and Pepper
300

Others

Pumpkin Seafood Soup
365
White Chicken (Whole)
660
White Chicken (Half)
350
Chicken Teriyaki
390
Kung Po Chicken
360
Fried Lapu- Lapu w/ Soy Sauce
650
Fried Lapu- Lapu w/ Sweet and Sour Sauce
650
Fired Lapu-Lapu Thailand Sauce
680
Japanese Tempura
610
Fried Prawns w/ Salt and Pepper
590
Steamed Prawns w/ Garlic
560
Soyed Tofu
140
Chicken Noodles
200
Halo-Halo Congee
200
Salted Fish Fried Rice (Whole)
290
Salted Fish Fried Rice (Half)
150
David's Tea House is great for cheap yet delicious Chinese food. The atmosphere, the service, and the meals at this Chinese restaurant are all top-notch. From congees to dim sum specialties and beyond, they provide just about every Chinese meal you want.
David's Tea House Best Sellers
Here are some bestselling items on the David's Tea House menu..
Polonchay with Seafood Soup 
A great way to start your meal is with a warm soup, and one of the top options you have in David's Tea House is the Polonchay with Seafood Soup. The pureed polonchay (Chinese spinach) paired with egg and shrimp makes for a thick, healthy, and hearty soup.
David's Tea House Sauteed Misua Guisado
The perfectly cooked Sauted Misua Guisado at David's Tea House is piled high with beautiful toppings, including pork, shrimp, and eggs. The noodles are delicate and flavorful from the broth, and the result is a dish that is both chewy and slick. Noodle fans everywhere will like this dish; even those who don't may appreciate this. I sure did.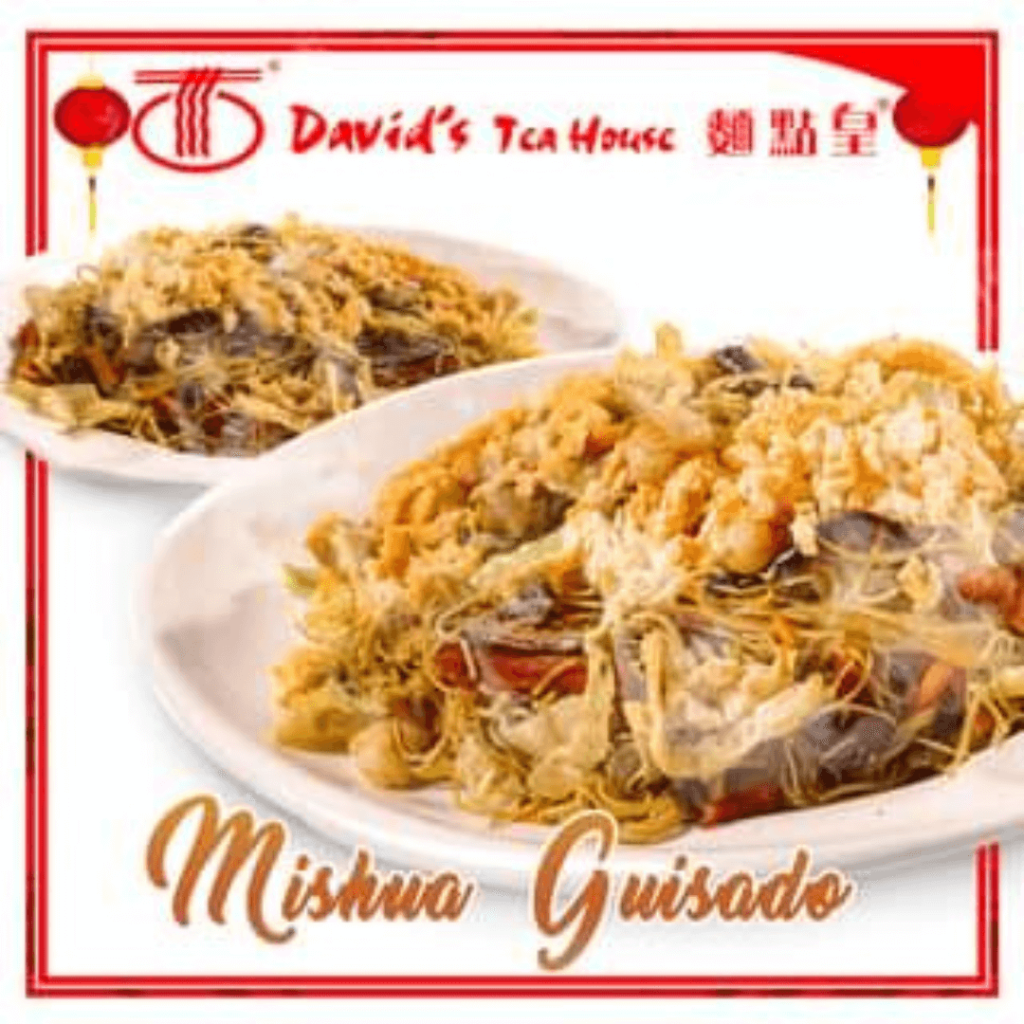 David's Assorted Dimsum Platter
As it includes samples of six distinct dim sum options, the Dimsum Platter is consistently one of the most popular dim sum selections at David's Tea House. In fact, it's always one of my go-to orders at this restaurant. This platter is a great opportunity to sample a variety of the restaurant's offerings, including Siomai, Hakaw, Shark'sfin, Beef Ball, and Fried Spring Roll.
See Also: Ling Nam Menu
Beef Brocolli Flower
The Beef Broccoli Flower was another straightforward and exciting option. The meat in this meal is high quality, and they prepared it in a different phase than the vegetables — meaning that you get the beef's amazing softness there from beginning to finish while still having the broccoli's crunch. Thick and flavorful, the sauce went well with hot, simple white rice.
Hot Prawn Salad
One of the most sought-after seafood offerings at David's Tea House is their prawn salad, a common dish in most Chinese establishments. David's Tea House did the salad dressing with mayonnaise and fruit credit, and the prawns were deep-fried to perfection. This meal is enjoyable even for those who often hate foods made with mayonnaise.
Fried Crispy Pata
The Fried Crispy Pata uniquely blends global flavors. The fried crispy pata comes to the table with an incredible scent growing as you dig in, garnished with colorful toppings. Crispy and full of flavor, right down to the bone. This may not be the best crispy pata for some, but my family usually scarfs this down as soon as it reaches the table.
Yang Chow Fried Rice
A meal at David's Tea House will never be complete without ordering a Yang Chow Fried Rice platter. The rice is perfectly done and topped with a savory combination of green peas, shrimp, and scrambled eggs. 
P.S. Mann Hann also has a great Yang Chow Fried Rice!
Want to be updated on other promos? Subscribe to our newsletter.
Buchi
It's practically sacrilegious to leave a Chinese restaurant without finishing your dinner with a serving of Sesame Buchi. I'm nuts for good Buchi, and David's version hasn't failed me yet. David's mongo bean paste filling, with its subtle sweetness, is very exceptional.
David' Tea House Delivery
David's Tea House offers delivery via both Grabfood and Foodpanda. It is also possible to place delivery orders and contact local stores through its social media pages. The website also includes information on contacting the most conveniently located branch for you so that your deliveries may be dispatched as soon as possible. Delivery options are not consistently available across all locations.
Frequently Asked Questions
Are all David's Tea House menu items for sharing?
David's tasty Rice Toppings are perfect for a solo dining experience. The Beef Brisket Rice and the Sweet and Sour Pork Rice are regular Rice Topping favorites at David's Tea House.
About David's Tea House in The Philippines
David Yeau opened the first David's Tea House on Tomas Mapua Street in Sta. Cruz, Manila, in 2003. The restaurant was successful despite facing stiff competition in an area well-known for its sizable Fil-Chi population because of its dedication to offering genuine Hong Kong food. In a short time, it grew from a Chinatown restaurant with 20 seats to a chain with over 20 locations around the Philippines.
While opening the business up for franchising, David's Tea House has maintained its stringent quality control over the food to ensure that regulars continue to get the authentic, flavorful Chinese cuisine for which the restaurant is known. As a result, it's no surprise that David's Tea House has maintained its popularity and remained a national institution while other fast-food fads have come and gone.
Talk To David's Tea House Staff
Want to know more about the David's Tea House menu in the Philippines? Send their staff a message on social media:
For any more questions you have about the David's Tea House menu, leave a comment below