Din Tai Fung is well-recognized as a top-tier food institution. It's a Michelin-starred Taiwanese take on the classic Chinese dim sum experience, and it's recognized for its handmade soup dumplings. The dough is prepared, kneaded, and filled by hand, in front of your eyes, at DTF. The restaurant has received universal acclaim for its service, cuisine, and ambiance, so let's check out the Din Tai Fung Menu.
Here is the latest Din Tai Fung Menu with prices in the Philippines:
Menu
Price

Appetizers

Din Tai Fung House Special
180.25
Taiwanese Kao Fu (Stewed Spongy Gluten)
283.25
Seaweed Salad
180.25
Sauteed String Beans
211.15
Cold Chicken with Scallions
260.00
House Special Spicy Jellyfish
285.00

Xiaolongbao

Chicken Xiaolongbao
180.25
Crab Roe and Pork Xiaolongbao
365.65
Pork and Roasted Garlic Xiaolongbao
190.55
Chili Crab and Shrimp Xiaolongbao
386.25
Green Squash and Shrim Xiaolongbao
190.55
Pork Xiaolongbao
190.55

Snacks

Crispy Shrimp and Pork Wontons
262.65
Golden Prawn Cakes
262.65
Pork and Roasted Garlic Buns
159.65
Braised Beef Buns
164.80
Chili Crab and Pork Buns
190.55
Crispy Vegetarian Mushroom Wontons
226.60
Chicken Wings in Shrimp Paste
293.55
Crispy Shrimp and Chicken Spring Rolls
185.40
Chiccken and Mushroom Buns
164.80

Vegetable Dishes

Stir-Fried Organic Spinach with Garlic
272.95
Stir-Fried Watercress
216.30
Stir-Fried Chinese Bok Choy
206.00
Winged Bean in Toasted Sesame Oil and Garlic
255.00

Featured Dishes

Beef Strips
278.10
Sweet amd Sour Pork
293.55
Hot Prawn Salad with Mango and Pineapple
442.90
Hot Garlic Spareribs
401.70
Fried Chicken Chop
288.40
Fried Pork Chop
293.55
Black Pepper Beef
448.05
Steamed Fish Fillet in Superior Soy Sauce
581.95
Salted Egg Yolk Prawns
448.05
Salt and Pepper Squid
422.30
Sweet and Sour Chicken
257.50
Three Cup Chicken
283.25
Stir-Fried Beef with Scallions
324.45
Chicken Cutlet with Special Sauce
298.70
Sweet and Sour Prawn
422.30

Fried Rice

Shrimp Fried Rice
262.65
Fried Rice with Salted Fish
221.45
Chicken Chop Fried Rice
381.10
Shredded Pork Fried Rice
242.05
Pork Chop Fried Rice
381.10
Fried Rice with Sweet Garlic and Scallions
159.65
Truffle Mushroom Fried Rice
345.05
Mushroom Fried Rice
216.30

Sauced and Fried Noodles

Dry Noodles with Spicy Shrimp and Pork Wonton
293.55
Fried Noodles with Vegetables
206.00
Fried Noodles with Beef
242.05
Noodles with House Special Spicy Sauce
190.55
Fried Noodles with Seafood
314.15

Soups and Noodle Soups

Braised Beef and Noodle Soup
427.45
Shrimp and Pork Wonton Noodle Soup
283.25
Din Tai Fung Hot Sour Soup
200.85

Dumplings, Wontons and Shao Mai

Shrimp and Pork Wontons
257.50
Mushroom Wontons
221.45
Steamed Shrimp and Pork Shao Mai
252.35

Solo Feasts

Salted Egg Yolk Prawns Feast
505.00
Crispy Beef Strips Ultimate Feast
445.00
Sweet and Sour Pork Ultimate Feast
450.00
Sweet and Sour Pork Featured Feast
330.00
Chicken Chop Featured Feast
350.00
Salted Egg Yolk Prawns Feast
435.00
Pork Xiaolongbao Dimsum Feast
395.00
Stir-Fried Beef with Scallions Featured Feast
335.00
Sweet and Sour Prawns Ultimate Feast
485.00
Stir-Fried Beef with Scallions Ultimate Feast
465.00
Crispy Chicken Cutlet with Special Sauce Ultimate Feast
460.00
Shrimp and Pork Wontons with House Special Spicy Sauce Dimsum Feast
385.00
Shrimp and Pork Wonton with House Soy Sauce Dimsum Feast
385.00
Hot Prawn Salad with Mango and Pineapple Featured Feast
435.00
Pork Chop Ultimate Feast
440.00
Crispy Beef Strips Featured Feast
305.00
Pork Chop Featured Feast
340.00
Three Cup Chicken Ultimate Feast
450.00
Salt and Pepper Squid Ultimate Feast
495.00
Three Cup Chicken Featured Feast
310.00
Hot Garlic Spareribs Ultimate Feast
475.00
Hot Prawn Salad with Mango and Pineapple Ultimate Feast
505.00
Hot Garlic Spareribs Featured Feast
395.00
Crispy Chicken Cutlet with Special Sauce Featured Feast
325.00
Chicken Chop Ultimate Feast
440.00
Salt and Pepper Squid Featured Feast
410.00
Steamed Shrimp and Pork Shao Mai Dimsum Feast
455.00
Chicken Xiaolongbao Dimsum Feast
390.00

Extras

Xiaolongbao Sauce
25.00
Ginger
10.00
White Rice
56.65
Chili Oil
25.00
Sweet Chili Sauce
25.00
Brown Rice
72.10

Milk Teas and Beverages

Black Milk Tea
135.00
Wintermelon Rock Salt and Cheese
155.00
Coke
90.00
Oolong Rock Salt and Cheese
155.00
Jasmine and Rose Milk Tea
145.00
Bottled Water
70.00
Sprite
90.00
Brown Sugar Pearl Milk Tea
155.00
Classice Iced Tea
85.00
Oolong Passion Fruit Tea
155.00
Lemongrass Juice
90.00
Iced Rose Tea
85.00
Passion Fruit Green Tea
155.00

Hot and Cold Desserts

Chocolate Lava Xiaolongbao
154.50
Black Lava Buchi
123.60
Golden Lava Salted Egg Yolk Buns
123.60
Din Tai Fung Menu
Din Tai Fung serves authentic Taiwanese and Chinese Huaiyang delicacies, but with over 80 options, it's easy to feel overwhelmed. Here are a few of Din Tai Fung's most popular menu items.
Din Tai Fung Bestsellers
Xiao Long Bao
These soup dumplings are the most often mentioned item on Din Tai Fung's menu and the reason the Taiwanese restaurant is so well-known: each dumpling is stuffed to the brim with flavorful, steaming broth. These are created from scratch every day by "masters" or "shifus" of the xiao long bao artistry, and they may be found in a wide variety of delicious flavors. Minced pork is a typical filling, but if you want to go another route, you can try several other ingredients like crab roe, chicken, garlic, and if you want to get fancy, even foie gras or truffle. I am an avid fan of Din Tai Fung's legendary xiao long bao, but I prefer the crab roe over the traditional pork filling.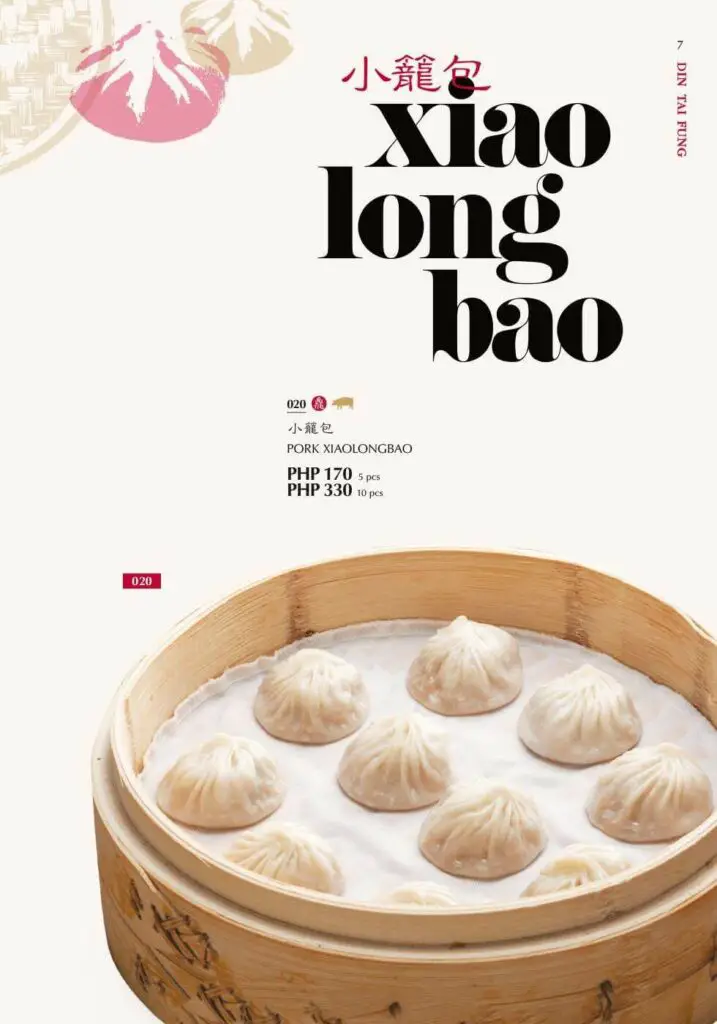 Salted Egg Yolk Prawns
Some folks love salted eggs' salty, buttery flavor, and I am no exception. While most may find this flavor in savory snacks like chips and delectable desserts, many people think it is best enjoyed with seafood, and Din Tai Fung's Salted Egg Yolk Prawns capture this nuanced flavor flawlessly. The restaurant's salted-egg batter gives succulent prawns a pleasant crunch and flavorful bite. The flavor shines when combined with simple white rice.
Sweet and Sour Pork
You probably already know you can find sweet-and-sour dishes on almost every menu at Chinese and Taiwanese eateries. Your grandparents and parents like it, and you will likely feel the same way. Din Tai Fung elevates this traditional meal by deep-frying the pork nuggets to a golden crisp and covering everything with a tangy-sweet crimson sauce; you won't find any mushy bites anywhere.
Black Milk Tea
As milk tea was invented in Taiwan, it is reasonable to assume that Din Tai Fung will sell its own version. The restaurant serves traditional Black Milk Tea, which you may order for takeaway from any Metro location. The milkiness and subtle sweetness of the pearls in this iteration balance out the bold black tea taste.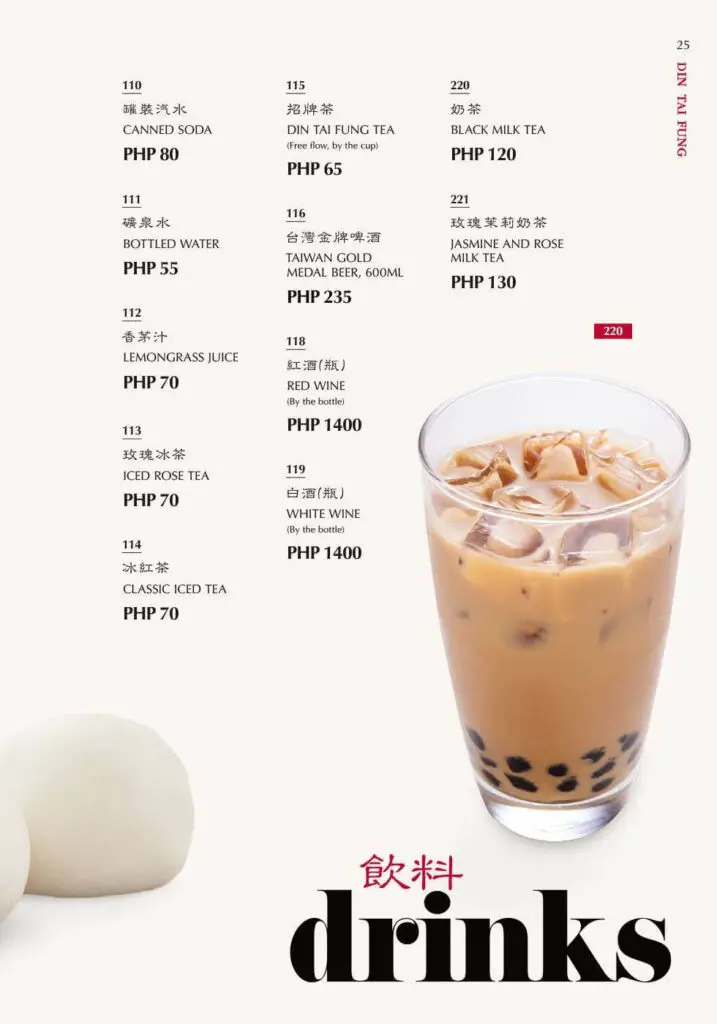 Want to be updated on other promos? Subscribe to our newsletter.
Chocolate Lava Xiaolongbao
Din Tai Fung Philippines is widely acknowledged as the originator of the now-ubiquitous Chocolate Lava Xiaolongbao. Din Tai Fung's Chocolate Lava Xiaolongbao is the stuff of fantasies for any true chocolate lover. Get a bite from a bao straight out of the steamer when the chocolate filling is dense and melting in the center. I have to say, this is way better than other chocolate-stuffed dim sums I have tried: it's velvetier, creamier, and more decadent.
They don't have xiao long bao but Mann Hann also has comfort Chinese food you can try!
Din Tai Fung Delivery
To get your favorite Din Tai Fung at home, visit their website: www.dtf.momentfood.com. You can also have your Din Tai Fung meals delivered through major apps like foodpanda and GrabFood.
Frequently Asked Questions
Is Din Tai Fung an international brand?
Din Tai Fung now operates restaurants in various countries, including Australia, China, Hong Kong, Indonesia, Singapore, South Korea, Thailand, United Arab Emirates, Japan, Macau, Malaysia, the Philippines, the United Kingdom, and the United States.
What's the general price range for Din Tai Fung?
Prices at Din Tai Fung range from ₱10 to ₱505. A side of ginger is the cheapest item on the menu, while the most expensive is the Salted Egg Yolk Prawns Grand Feast.
About Din Tai Fung in the Philippines
Yang Bingyi, a native of Shanxi (PRC), worked at Heng Tai Fung, a cooking oil store in Taiwan, for a decade. But, he desired to be his own businessman, so in 1958, he and his wife, Lai Penmei, opened a Cooking Oil Shop. Namely, Din Tai Fung.
The demand for frying oil plummeted in the 1970s. Bingyi devoted part of his establishment to selling steamed buns, which soon became a local hit. In 1972, after receiving positive feedback, this company completely transitioned from producing cooking oil to operating as a restaurant.
In 1996, the company opened a branch in Tokyo, Japan, marking its first foray into international markets. In 2005, a Din Tai Fung restaurant debuted in Jakarta. Din Tai Fung restaurants are currently in more than a dozen countries worldwide.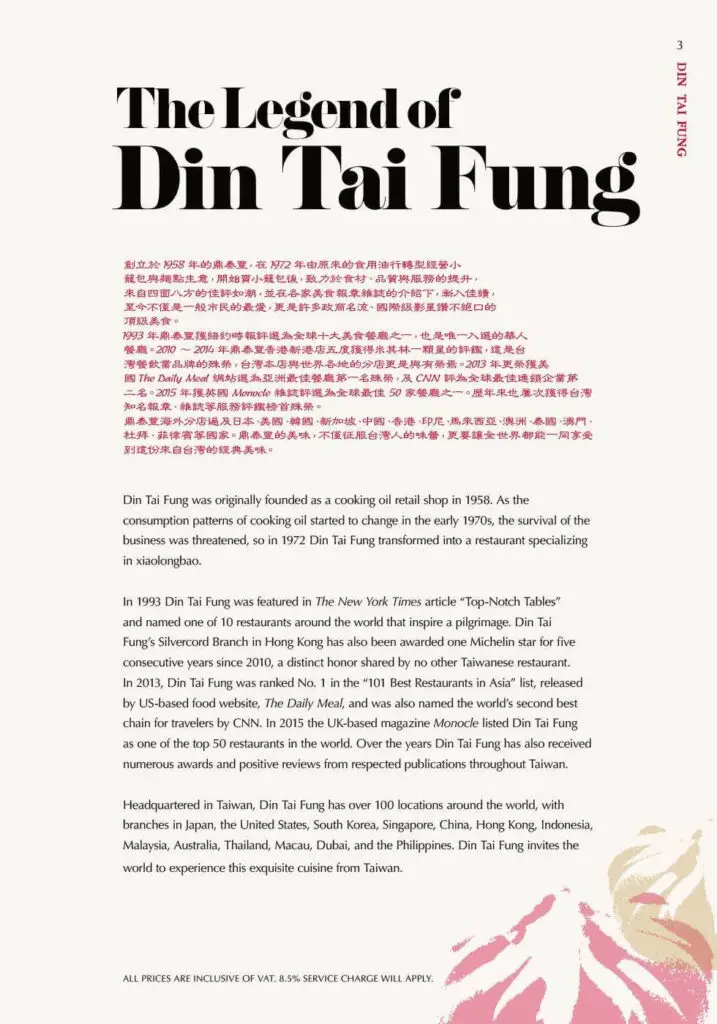 Talk To Din Tai Fung Filipino Staff
Want to know more about the Din Tai Fung Menu in the Philippines? Send their staff a message on social media:
For any more questions you have about the Din Tai Fung menu, leave a comment below.