Let me tell you about D' Original Pares – a spot with the locals talking and the foodies drooling! If you're a fan of comfort food and flavors that hit the spot, you're in for a treat.
Here is the latest D' Original Pares Menu with prices in the Philippines:
Menu
Price

D' Best Sellers

Beef Pares
140
Pares Tendon
175
Sizzling Sisig
155
Sizzling Sisig with Egg
170
Supermami
135
Lomi
135
Bulalo
225
Chopsuey Guisado
115
Supergoto
85
Tokwa't Baboy
60

Noodles

Supermami
135
Beef Mami
115
Chicken Mami
95
Siomai Mami
95
Wonton Mami
85
Lomi
135
Bihon Guisado
115
Miki Bihon
115
Pancit Canton
115

Supermeals

With Chopsuey, Rice and Soup
Lechon Kawali
135
Fried Chicken
135
Shanghai
135
Daing
135

Soups

Camto Soup
155
Bulalo
225

Lugaw

Supergoto
85
Goto
65
Superlugaw
90
Chicken lugaw
75
Lugaw with Egg
60
Lugaw
45

Binalot

Chicken Pork Adobo
135
Binagoongan
135
Bistek Tagalog
135
Beef Caldereta
135

Rice Meals

Sisigsilog
125
Paresilog
155
Tapsilog
125
Tocilog
105
Longsilog
85
Chixsilog
105
Daingsilog
125
Porksilog
115
Hotsilog
75
Pares Chicken
130
Chopsuey Rice
125
Siomar Rice
85

Side Orders

Sizzling Sisig
155
Sizzling Sisig with Egg
170
Lumpiang Shanghai
95
Lechon Kawali
140
Chopsuey Guisado
115
Fried Chicken
115
Tokwa't Baboy
60
Tokwa Fried
45
Siomai
70
Steamed Rice
20
Fried Rice
25
Siopao Asado
55
Siopao Special
55

Drinks

Super Iced Tea
35
Lemonade
35
Four Seasons
40
Mango
40
Pineapple Juice
45
Mineral Water
25
Softdrinks in Can
45

Pancit Bilao

Bihon, Miki Bihon, Canton
Small
370
Medium
495
Large
695

Kambing

Adobo - Solo
180
Adobo - with Rice
190
Kaldereta - Solo
180
Kaldereta - with Rice
190
Sinampalukan - Solo
185
Sinampalukan - with Rice
195
Papaitan - Solo
165
Papaitan - with Rice
175
Kilawin - Solo
165
Kilawin - with Rice
175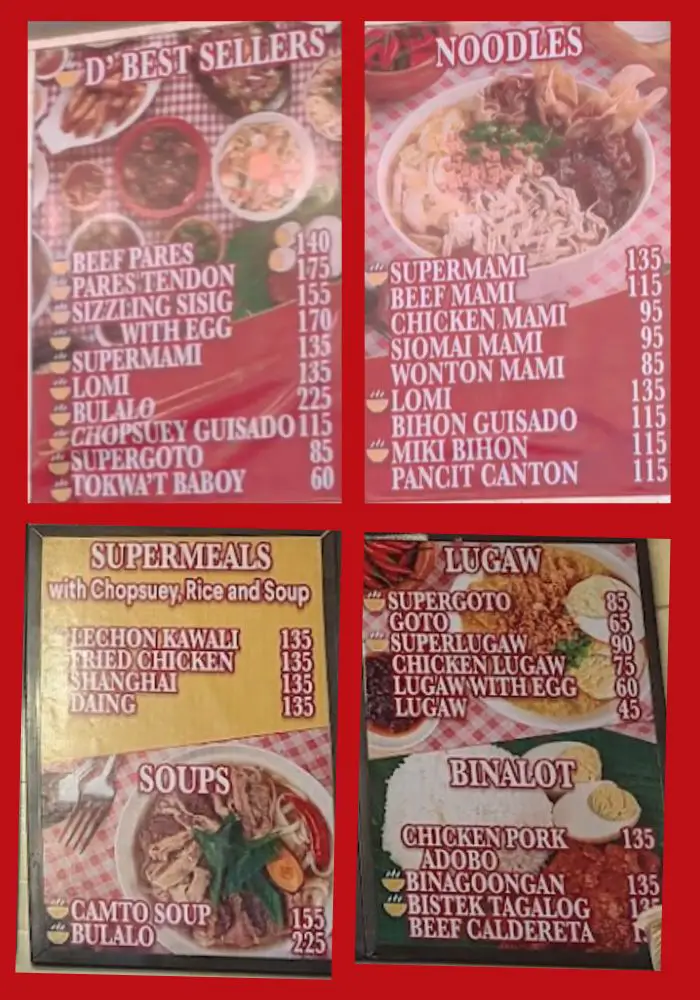 Picture this: tender, juicy beef simmered in rich, aromatic broth, served with steaming hot rice and lip-smacking garlic chili sauce to kick it up a notch. It's perfect for a quick bite after a long day, a hangout with friends, or even a late-night craving savior!
Best Sellers of D' Original Pares
Below are some of the crowd-favorites on D' Original Pares menu.
1. Beef Pares
Get ready to indulge in the ultimate comfort food experience with their iconic Beef Pares! Tender beef, slow-cooked to perfection, is immersed in D' Original's signature thick pares sauce, creating a mouthwatering blend of flavors that will leave you craving more. 
This dish is the perfect harmony of savory goodness and heartwarming satisfaction, served alongside fragrant fried rice and a piping hot bowl of soup. One bite, and you'll know why there's "walang tatalo" – nothing comes close to the exquisite taste of their Beef Pares!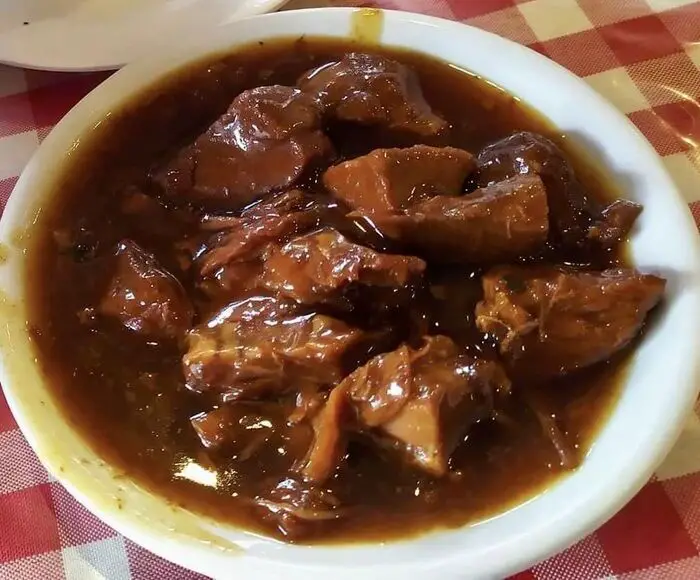 2. D' Original Pares with Tendon
Look no further than their Beef Pares with Tendon for a delightful twist on the classic. This dish takes the traditional favorite to new heights with tender tendon chunks immersed in a rich and savory pares sauce. The result? 
An explosion of flavors that will leave your taste buds cheering! Complemented by their irresistible fried rice and a comforting bowl of soup, this hearty meal is a definite "panalo" (winner) in every sense – a must-try for all the food enthusiasts out there!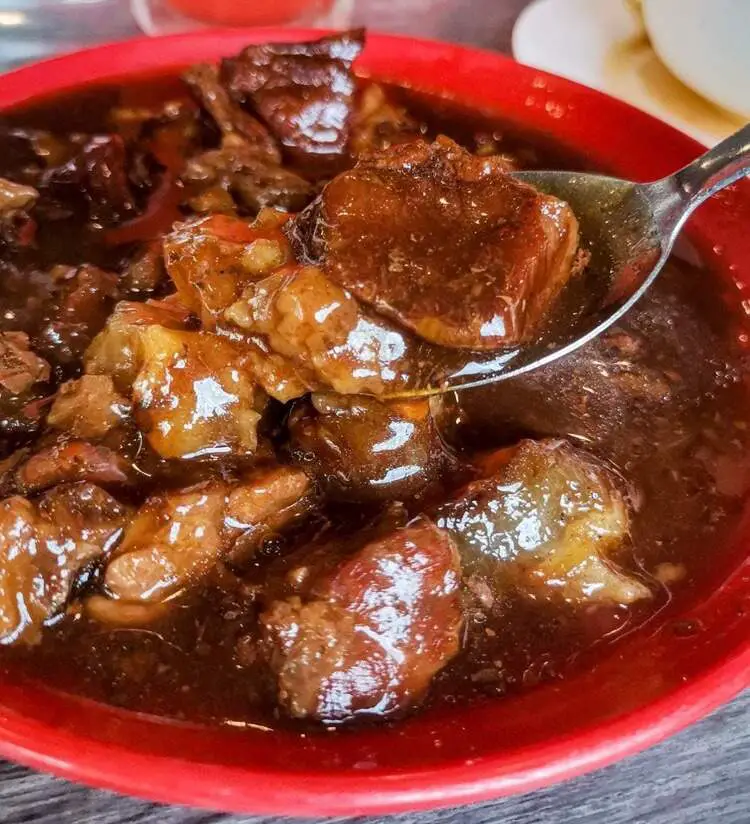 Want to be updated on other promos? Subscribe to our newsletter.
3. Supermami
Regarding the ultimate noodle experience, their Supermami takes the crown! Picture the best savory broth simmered perfectly, mingling with tender beef, delectable wontons, succulent siomai, and perfectly cooked chicken – all in one bowl! 
Every spoonful is an adventure, as each ingredient plays a flavorful role that complements the others effortlessly. Whether you're a noodle enthusiast or just looking for a delicious medley of goodness, the Supermami will undoubtedly leave you wanting more. No particular order is needed – every mouthful is a delightful surprise!
D' Original Pares Delivery
You can savor their mouthwatering dishes right in the comfort of your own home! Ordering is a breeze – simply call them or place your order online, and their friendly staff will promptly process your request.
D' Original Pares Branches
D Original Pares is spreading its deliciousness across the city with 14 branches.
About D' Original Pares in the Philippines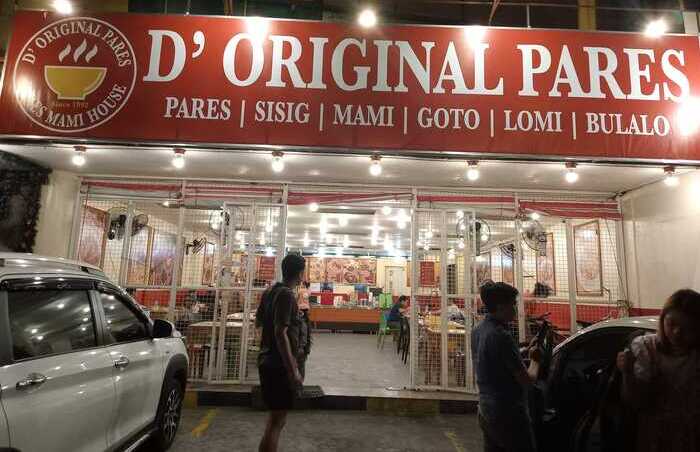 D Original Pares is a well-established Pares Mami House that has been delighting taste buds since 1992. With nearly three decades of experience, they have become a destination for locals and food enthusiasts seeking a comforting and flavorful dining experience.
Specializing in the iconic Filipino dish Pares, their secret lies in slow-cooking beef until it reaches the perfect tenderness, then simmering it in their thick and savory sauce. This winning combination has earned them a reputation for serving one of the best Beef Pares dishes in town. Alongside their Pares, they also offer variations such as D' Original Pares with Tendon, which takes the original recipe up by adding tender tendon chunks to the mix.
So take your pares pick! Do you prefer D' Original Pares or Pares Retiro?
Talk To D' Original Pares Filipino Staff
Want to know more about the D' Original Pares menu in the Philippines? Send their staff a message on social media:
For any more questions you have about the D' Original Pares menu, leave a comment below.