Looking for a taste of the best and most authentic pares in the Philippines? Well, look no further because let me introduce you to Pares Retiro! This food chain has been satisfying hungry bellies since 1989, and let me tell you, they know how to do pares right!
Here is the latest Pares Retiro Menu with prices in the Philippines:
Menu
Price

Pares at Bone Marrow

Served with Garlic Rice
Classic Pares
228
Pares Tendon
234
Premium Pares
240
Chicken Ala Pares
143
Regular Bone Marrow - Large
228
Spicy Bone Marrow - Large
240

Mayaman Meals

Chicken Lotong Rice
105
Garlic Butter Chix
105
Pares Siomai Rice
105
Pares Lotong Rice
105

Meryenda

Regular Goto
119
Special Goto
162
Lomi
155
Beef Pares Mami
149
Beef Pares Mami with Tendon
186
Pancit Pares Solo
210
Siomai Mami
137
Pancit Pares Bilao
618
Best with
Pares Siopao
60
Pares Siomai 3 pieces
72

HugotSilog

Porkchopsilog
192
Tapsilog
192
Tocilog
162
Bangsilog
168
Longsilog
162
Bisteksilog
215
Lechonsilog
210
Sisigsilog
174
Busogsilog
252

Ala Carte

Sizzling Sisig
276
Tokwa't Baboy
168
Sizzling Tofu
138
Garlic Kangkong
95
Camto Soup
180
Lumpiang Shanghai
161
Fried Rice
48
Fried Egg
30

Desserts

Saba Con Yelo
95
Special Halo-halo
119
Sago't Gulaman
60
Turon De Leche
102

Drinks

Coke Large
45
Coke Reg
35
Bottle Water
42

Sizzling Series

Sizzling Lechon Kawali
199
Sizzling Pares Tendon
235
Sizzling Sisig with Rice
199
Sizzling Porkchop
185
Sizzling Tofu with Dory
145
Sizzling Tofu with Mushroom
119

Add On under Sizzling Series

Regular 12oz Coke / Pineapple
20
Large 16oz Coke / Pineapple
25

Sulit Add-Ons

Lumpiang Shanghai
40
Tokwa't Baboy
40
Camto Soup
40
Pancit Pares
40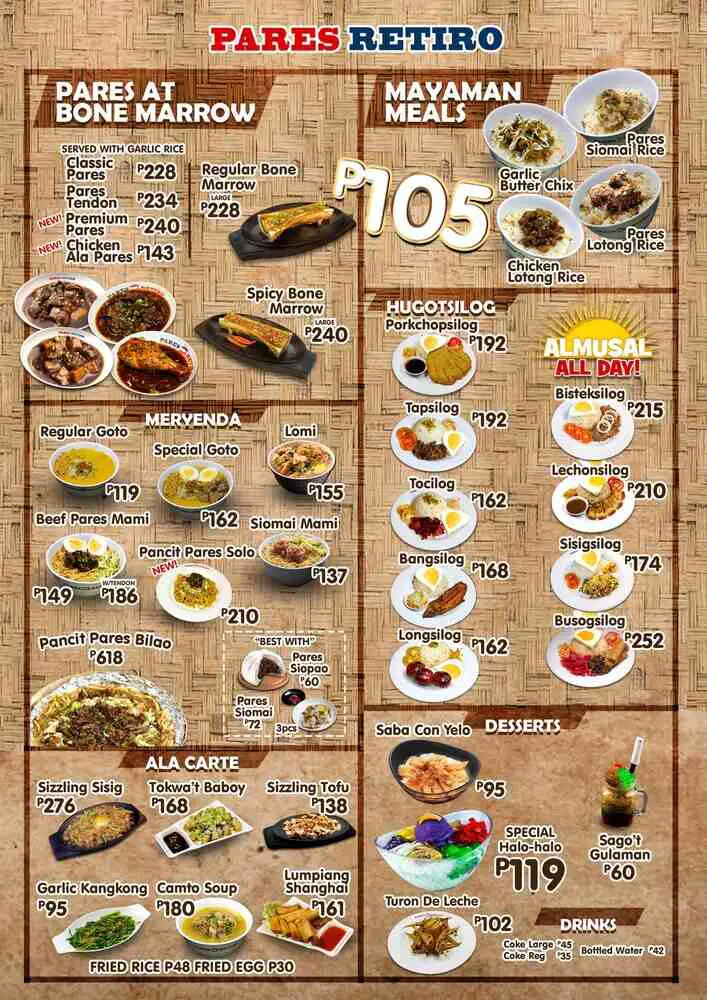 When you step into Pares Retiro, get ready to be transported to a world of warm, savory, and slightly sweet flavors of beef that will make your taste buds dance with joy. The mouthwatering Classic Pares and the oh-so-tender Pares Tendon lead their Pares Retiro menu. Trust me, you won't be able to resist taking a bite!
And that's not all – Pares Retiro also knows how to complement their star dishes with some irresistible sides. Just imagine sinking your teeth into their delicious siomai and siopao. It's not just a treat for your taste buds but also a feast for your eyes!
Pares Retiro Best Sellers
Below are some of the crowd-favorites on Pares Retiro's Menu.
1. Beef Pares Mami
Experience the ultimate comfort in a bowl with their Beef Pares Mami! Succulent and tender imported beef slow-cooked to perfection, awaits you in a hearty beef broth alongside fresh egg noodles.
Every spoonful is an explosion of flavors, as the slightly sweet sauce complements the rich and savory broth. Topped with aromatic spring onions and toasted garlic, this bowl of goodness will warm your heart and satisfy your cravings in every spoonful.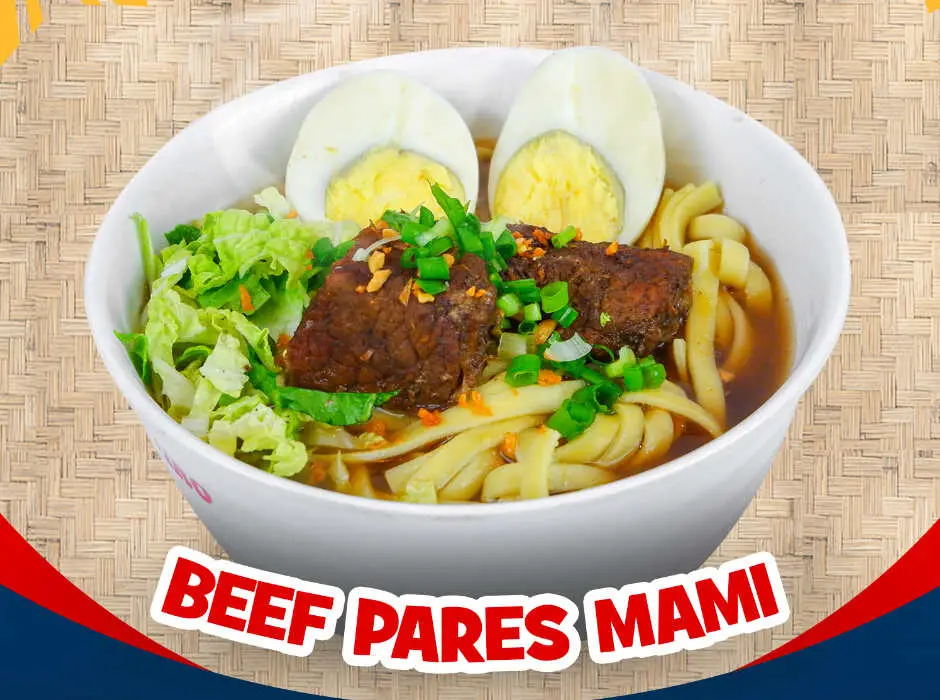 2. Classic Pares
Indulge in the time-honored favorite that put Pares Retiro on the culinary map – the Classic Pares! Made with the finest imported beef, this dish is a harmonious blend of succulent meat and a mouthwatering, slightly sweet sauce that will leave you wanting more.
Slow-cooked to perfection, each tender bite is a delightful journey through authentic Filipino flavors. Whether it's your first time or a returning fan, their Classic Pares will always feel like a warm and familiar embrace of home.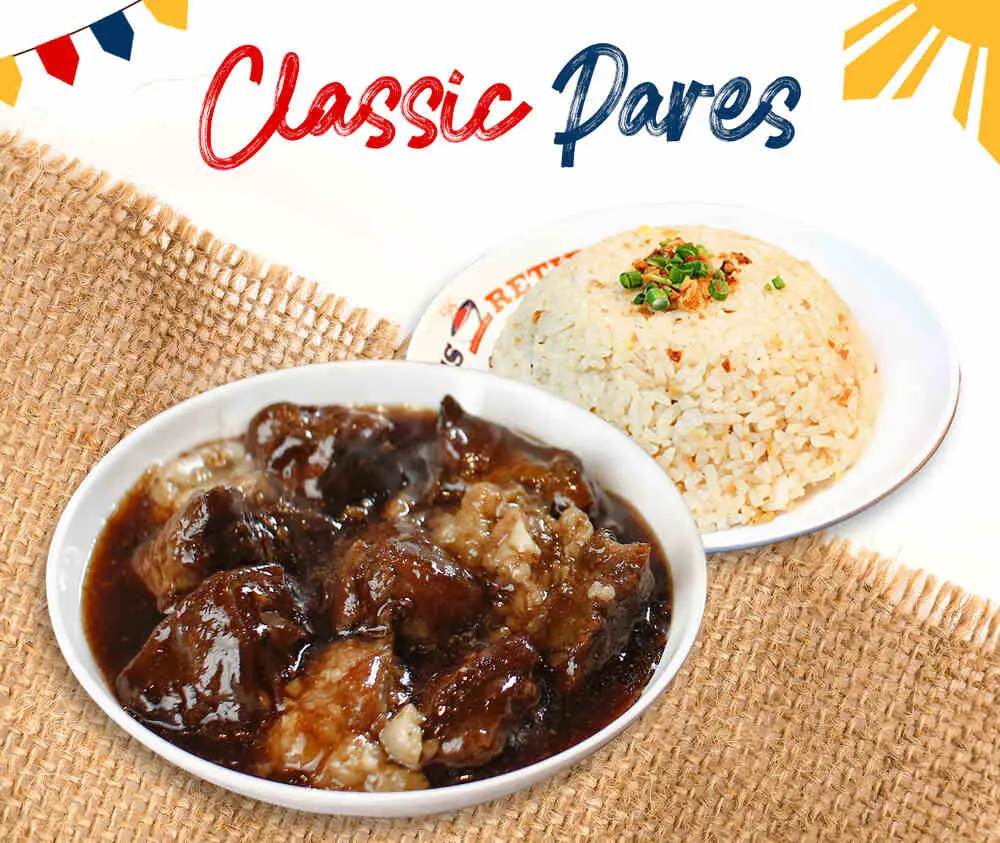 Want to be updated on other promos? Subscribe to our newsletter.
3. Garlic Butter Chix
Prepare your taste buds for an explosion of flavors with their Garlic Butter Chix! Bite-sized, boneless chicken pieces are perfectly fried to golden crispiness in rich, savory butter. Served with a generous helping of fluffy steamed rice, this dish is a delightful symphony of textures and tastes.
The marriage of buttery goodness with tender, succulent chicken will have you savoring every last bite. This is a true comfort food experience that'll leave you coming back for more of that irresistible Garlic Butter Chix magic!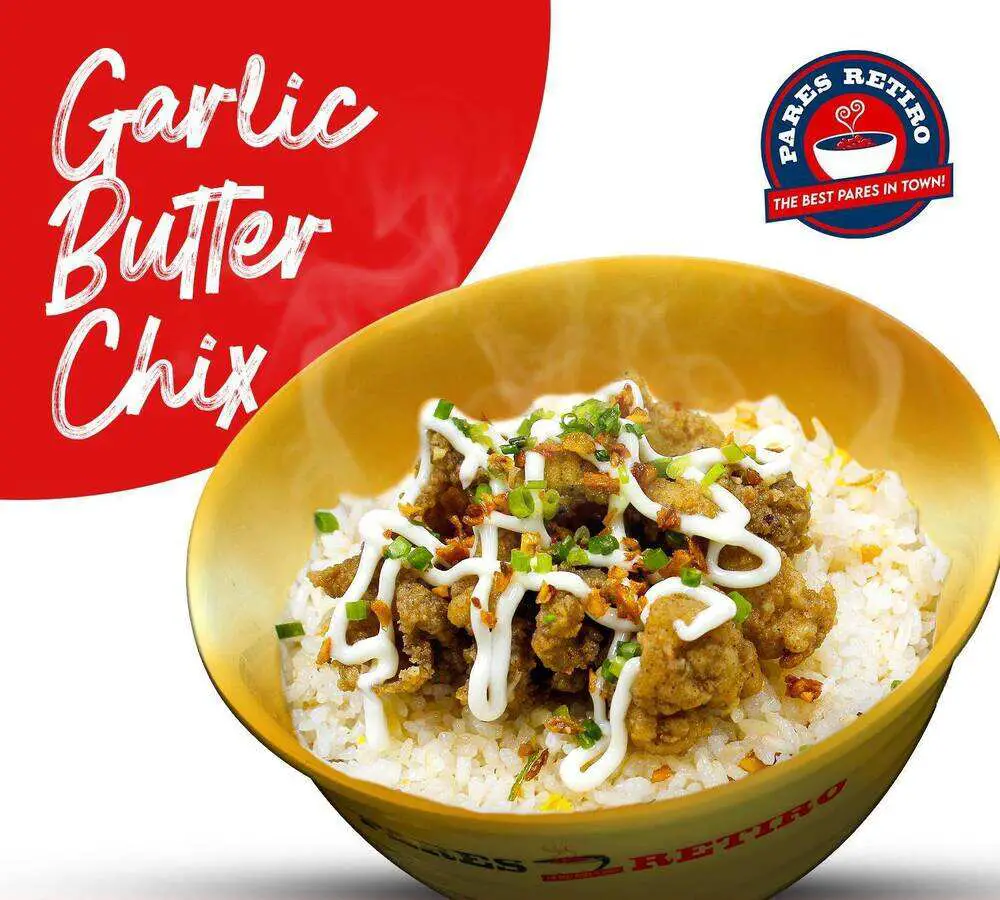 Have you tried D' Original Pares? Which do you prefer? 😉
Pares Retiro Delivery
Great news for all the Pares Retiro fans out there! Craving their mouthwatering dishes but can't make it to their restaurant? No worries because Pares Retiro's delivery service has got you covered!
To make it even better, Pares Retiro's delivery service is available on Food Panda, one of the leading food delivery platforms. Ordering is quick and easy – just a few taps on your smartphone, and your favorite Pares Retiro delights will come to you in no time.
Pares Retiro Branches
Pares Retiro has expanded its presence with over 40+ franchisees, making indulging in their fantastic pares and other mouthwatering dishes easier.
About Pares Retiro in the Philippines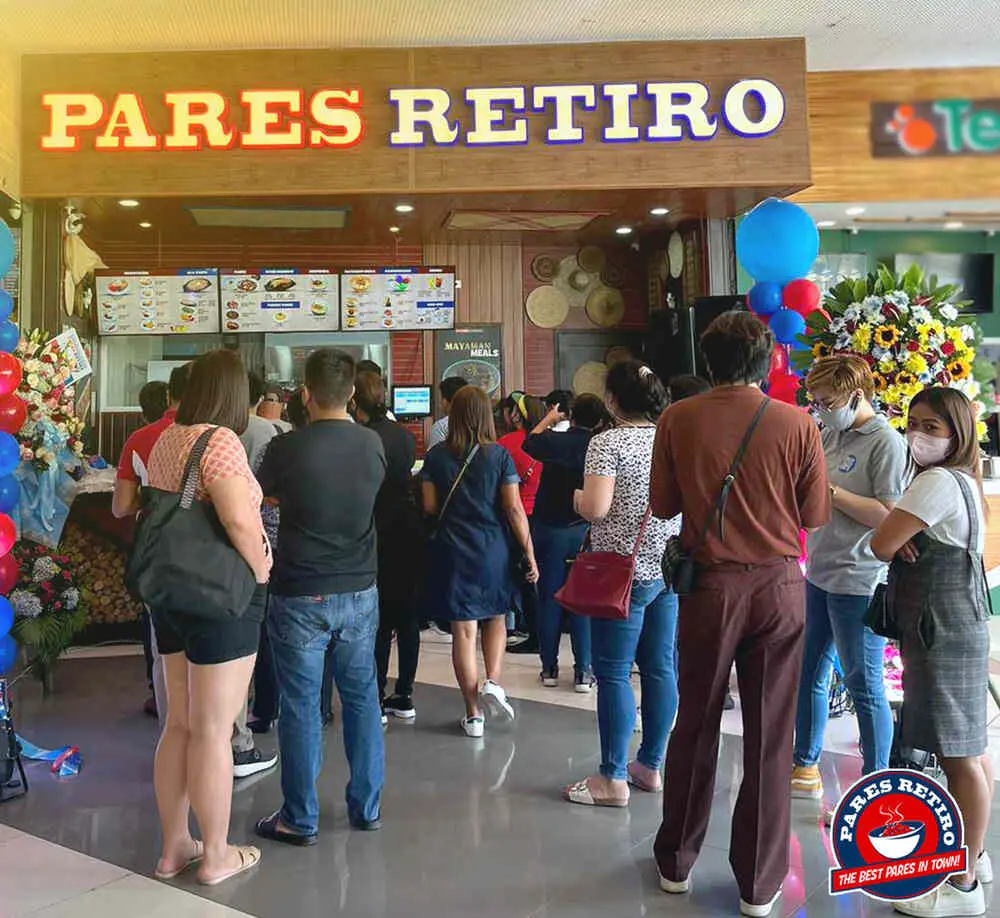 Pares Retiro is a renowned food chain in the Philippines known for serving "The Best Pares in Town." Since its establishment, Pares Retiro has become synonymous with authentic and delicious pares, offering a taste that keeps customers coming back for more.
Their Pares Retiro menu boasts a variety of mouthwatering dishes, with highlights including their delectable Pares, rich and flavorful Mami Noodles, hearty Lugaw (rice porridge), sizzling delights, and the classic tapsilog (tapa, sinangag, itlog). Each dish is prepared with meticulous attention to detail, ensuring every bite brings satisfaction and enjoyment.
Talk To Pares Retiro Filipino Staff
Want to know more about the Pares Retiro menu in the Philippines? Send their staff a message on social media:
For any more questions you have about the Pares Retiro menu, leave a comment below.