Denny's Diner, which has its roots in the American West, is a restaurant that specializes in serving substantial breakfasts and other traditional American dishes. It debuted in the Philippines in 2016, bringing the best of what it has to offer while molding itself to the local palate without sacrificing the quality of its products. If you enjoy breakfast and would be happy to consume it at any hour, then you will like what Denny's menu offers.
Here is the latest Denny's Menu with prices in the Philippines:
Menu
Prices

Three Egg Omelettes

Taco Omelette
375
Truffle Mushroom Omelette
395
Ampalaya Omelette
275
Classig Eggplant Omelette
275

Denny's Daily Deals

Mom's Spaghetti and Chicken
375
Salisbury Steak
395
Filipino Breakfast
325
Chicken Fingers and Quesadilla
332
Big Breakfast
495

Bistro Signature Bundles

Bundle 1
1195
Bundle 2
1395

Signature Slams

The Original Grand Slam
255/475
Lumberjack Slam
355/685
Waffle Slam
295/465
All American Slam
285/505

Premum Pancakes

Classic Waffle
105/175
Blueberry Pancake
160/285
Oreo Pancake
160/285
Classic Pancake
105/175
Choco Overloaded Peanut Butter Pancake
140/255
Banana Hazelnut Waffle
205
Fried Chicken and Waffle
405
Pancake Puppies
175

Breakfast Favorites

Combo Dobo
425
Combo Tapa
425
Combo Trio
595
Ampalay Breakfast Combo
325
Arroz Caldo
305
Garlic Smoked Bangus
505
All-Time Breakfast
405
Crispy Smoked Bangus Belly
465

Shareable Starters

Denny's Share Four All
705
Wings Basket (5pcs)
395
Wings Basket (10pcs)
645
Zesty Nachos
545
Chicken and Sausage Quesadilla
495

Fresh Pasta

Mom's Spaghetti (Small)
275
Mom's Spaghetti (Medium)
395
Mom's Spaghetti (Large)
545
Cajun Shrimp Pasta (Small)
295
Cajun Shrimp Pasta (Medium)
475
Cajun Shrimp Pasta (Large)
675
Creamy Bacon Carbonara (Small)
275
Creamy Bacon Carbonara (Medium)
445
Creamy Bacon Carbonara (Large)
645
Three Cheese Penne (Small)
275
Three Cheese Penne (Medium)
395
Three Cheese Penne (Large)
545

100% Beef Burgers and Sandwiches

Bacon Cheeseburger
505
Classic Burger
435
Spicy Sriracha Burger
505
Moons Over My Hammy
405
Crispy Chicken Sandwich
275
Philly Steak Waffle Sandwich
345
The Grand Slamwich
465

Fresh Salads

Chicken Cranberry Apple Salad (Small)
325
Chicken Cranberry Apple Salad (Big)
505
Grilled Chicken Caesar Salad (Small)
295
Grilled Chicken Caesar Salad (Big)
505

Diner Classics

South Carolina Fried Chicken
445
Ribs (Half Rack)
675
Ribs (Full Rack)
1200
8 oz USDA Striploin
1105

Diner Skillets

8 oz Prime Cut Salisbury Steak
405
Cajun Shrimp Skillet
495
Bourbon Chicken Skillet
405

Diner Classics

New Orleans Pork Chop (1pc)
495
New Orleans Pork Chop (2pc)
745
Chicken Teriyaki
395
Crispy Crunch Pork Belly
495
Pork Belly and Eggs (1pc)
345
Pork Belly and Eggs (2pc)
545
Eggplant Fritata
335
Chicken Fingers
465

Fresh Fruit Shakes

Ripe Mango
150
Watermelon
150

Soda and Juice

Soda in Can
Fresh Lemonade
Orange Juice
Dalandan
Iced Tea
Bottled Water

Milkshakes

Chocolate
Vanilla

Hot Beverages

Brewed Coffee
Endless Coffee
Hot Chocolate
Hot Tea

Nespresso

Espresso
105
Americano
105
Decaf
105
Cappuccino
130
Café Latte
140

Beer

San Miguel Pale Pilsen
95
San Mig Light
95
Tiger Beer
160

Sides

Steamed Rice
85
Garlic Rice
85
Fries
135
Hashbrown
95
Toast
65
Egg
35
Veggies
65
Bacon
95
Sausage
135
Scoop of Ice Cream
75

Diner Boxes

Diner Box A
595
Diner Box B
595
Diner Box C
495
Diner Box D
575
Diner Box E
565
Big Breakfast in a Box
295
Denny's Menu
The menu at Denny's has a wide variety of all-day breakfast items and other traditional American comfort food items. They have several options for pancakes, omelets, bacon, and eggs prepared to order, and the menu is rather broad. Burgers, sandwiches, salads, and soups are available for lunch and supper. Denny's is well-known for their famous breakfast combinations, which include a variety of breakfast foods served together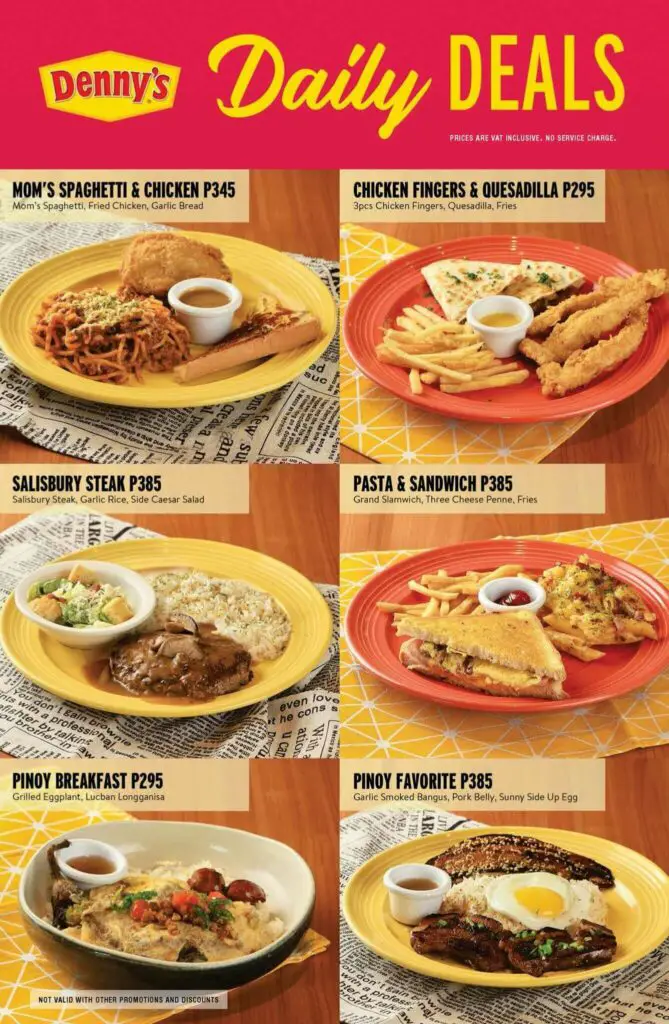 Denny's Best Sellers
The Original Grand Slam Breakfast
It's no exaggeration to say that Denny's Grand Slam Breakfast is an all-time classic. This plate includes two buttermilk pancakes, two eggs prepared in any way, two crispy bacon strips, and two rich sausage links. This meal is great because it has the right amount of sweetness, savory tastes, and a variety of textures that are enjoyable for munching on. The Grand Slam Breakfast is a failsafe for breakfast, lunch, or even supper.
Bourbon Chicken Skillet
The Bourbon Chicken Skillet at Denny's is a must-order due to its incredible variety of flavors and textures. Tender grilled chicken is doused in a tasty bourbon sauce and served with seasoned vegetables. The result is a tasty dish that can be prepared in a single skillet and hits all the appropriate notes. Tender and juicy chicken is served with crisp, fresh vegetables.
Lumberjack Slam
If you're looking for a hefty breakfast to fill you up till lunch, go no further than the Lumberjack Slam. Buttermilk pancakes, eggs made to order, bacon, sausage, hash browns, toast, and more all come together on this hearty breakfast buffet. It's the whole shebang in the morning (or anytime, for that matter), with something sweet, salty, and soothing all in one dish. 
Moons Over My Hammy
The Moons Over My Hammy is Denny's signature breakfast sandwich; you can't go wrong with it. You'll love this delectable treat so much that it will replace all your other favorites. Imagine a flawlessly grilled slice of bread topped with layers of melty Swiss and American cheese, succulent ham, and fluffy scrambled eggs. Your taste buds will be doing the happy dance once they experience the harmonious combination of sensations created by the elements and components in this unassuming classic.
Want to be updated on other promos? Subscribe to our newsletter.
South Carolina Fried Chicken
The South Carolina Fried Chicken at Denny is a savory treat. Imagine chicken that has been cooked to a golden crisp and seasoned to perfection. The meat is soft and juicy, with enough of flavor in every mouthful. It's a flavor of the South, served with fluffy white rice, yet a familiar meal to the Filipino diner. This chicken is so delicious you'll want to lick your fingers after eating it. I can assure you that you will want more.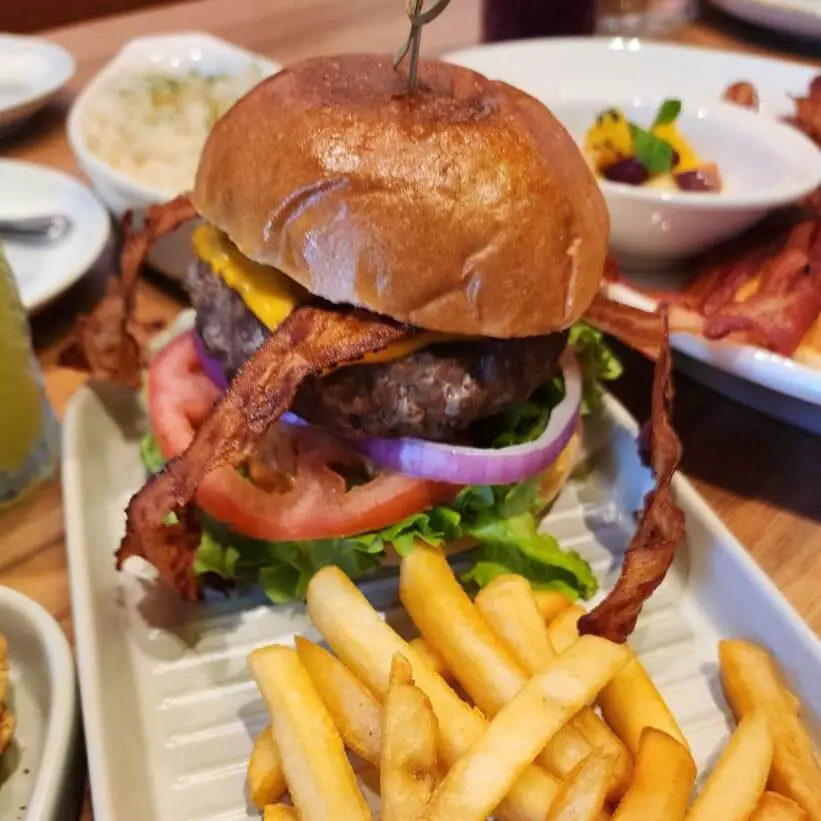 Denny's Delivery
The good news is that Denny's may be enjoyed without leaving your home's comfort. If you have the Bistro Delivers app, you can get some hearty Southern American comfort delivered to your door from Denny's. You may have Denny's delivered by tapping your favorite third-party app like GrabFood or Foodpanda and waiting for the meal.
Frequently Asked Questions
Does Denny's offer a breakfast menu all day?
Yes. At Denny's, you can satisfy your hunger for breakfast at any hour of the day or night with dishes like pancakes, eggs, bacon, and the restaurant's signature Grand Slam Breakfast.
Does Denny's offer any vegetarian or vegan options?
Denny's tries to accommodate customers who follow a vegetarian or vegan diet by offering options including veggie burgers, salads, and Build Your Own Omelettes made with vegan ingredients. 
About Denny's in the Philippines
In 1953, the first Denny's restaurant debuted in California under Danny's Donuts. They now have over 1,700 locations globally, and their menu includes breakfast favorites like pancakes, bacon, and burgers. Denny's first Southeast Asian location debuted in the Philippines in 2016 under The Bistro Group, an umbrella company for various casual dining and hospitality brands emphasizing customer experience. The Bistro Group also owns Italianni's, Buffalo Wild Wings, Texas Roadhouse, Fish & Co. and more!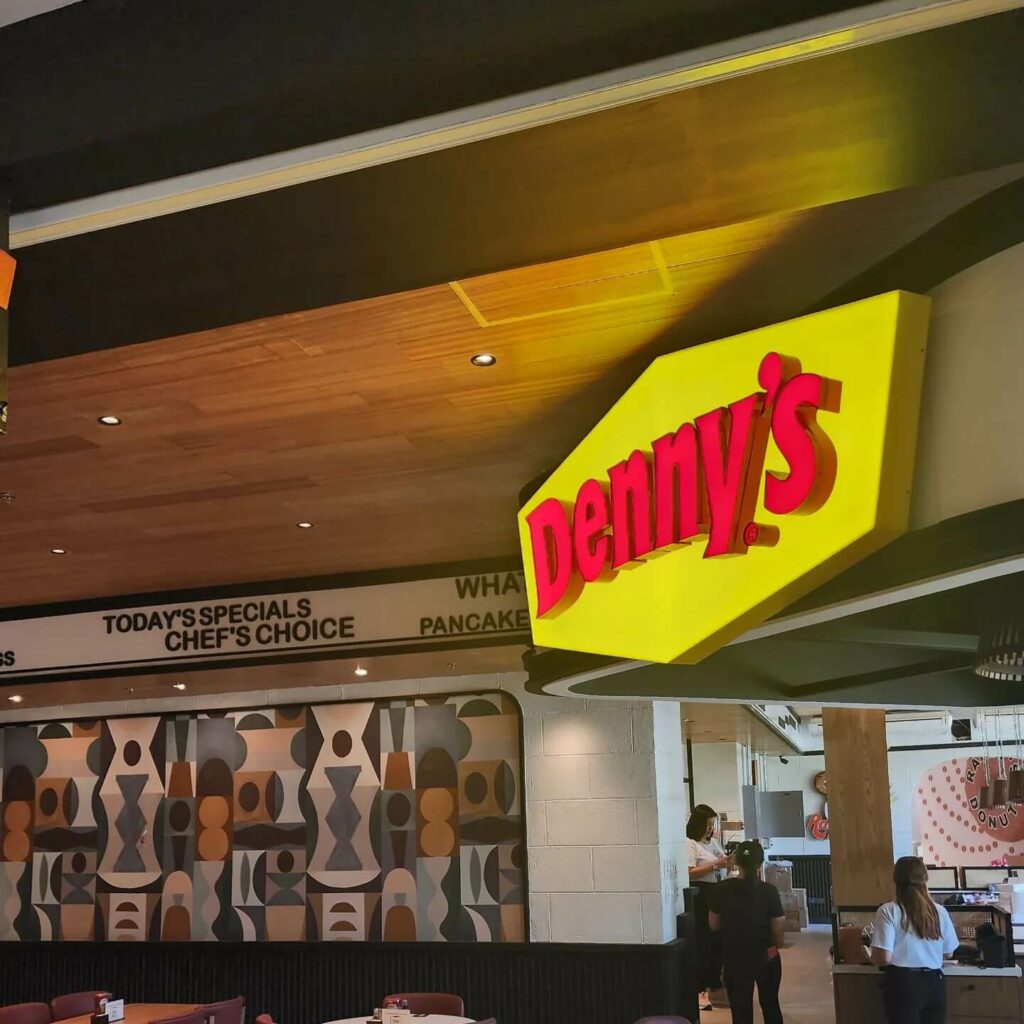 Talk To Denny's Filipino Staff
Want to know more about the Denny's Menu in the Philippines? Send their staff a message on social media:
For any more questions you have about the Denny's Menu, leave a comment below.