Anyone interested in sampling a true slice of Italy's gastronomic history need to look no further than Italianni's. The restaurant's cozy atmosphere and friendly service transport diners straight to the heart of Italy. Italianni's pulls together the finest of Italian cuisine and serves it in a manner that tempts the senses by placing a premium on high-quality ingredients. Get ready for a taste of Italy that will leave you wanting more from Italianni's Menu.
Here is the latest Italianni's Menu with prices in the Philippines:
Menu
Prices

Antipasto

Eggplant Parmigiana
495
Italian Truffle Fries
445
Italianni's Fritti
525
Spinach and Artichoke Formaggio (Small)
445
Spinach and Artichoke Formaggio (Big)
745
Mussels Lombardi (Small)
375
Mussels Lombardi (Big)
675
Toasted Ravioli Cheese (Small)
450
Toasted Ravioli Cheese (Big)
675
Fried Calamari (Small)
485
Fried Calamari (Big)
795
Chicken Wings (1/2lb)
495
Chicken Wings (1lb)
795

Insalate

Four Seasons
695
Insalata Rucola (Small)
525
Insalata Rucola (Big)
765
Caesar Salad (Small)
485
Caesar Salad (Big)
685
Sicilian Salad (Small)
595
Sicilian salad (Big)
795
Italianni's Salad
795

Zuppe

Minestrone Soup
220

Pastas

Angel Hair Mediterraneo (Small)
365
Angel Hair Mediterraneo (Medium)
545
Angel Hair Mediterraneo (Large)
750
Spaghetti Vongole (Small)
375
Spaghetti Vongole (Medium)
560
Spaghetti Vongole (Large)
775
Fruitti Di Mare (Small)
334
Fruitti Di Mare (Medium)
665
Fruitti Di Mare (Large)
895
Penne Arrabiata (Small)
365
Penne Arrabiata (Medium)
545
Penne Arrabiata (Large)
750
Carbonara Classico (Small)
445
Carbonara Classico (Medium)
665
Carbonara Classico (Large)
895
Seafood Cioppino (Small)
445
Seafood Cioppino (Medium)
665
Seafood Cioppino (Large)
895
Baked Ziti (Small)
395
Baked Ziti (Medium)
590
Baked Ziti (Large)
795
Spaghetti and Meatballs (Small)
445
Spaghetti and Meatballs (Medium)
665
Spaghetti and Meatballs (Large)
895
Shrimp Fra Diablo (Small)
445
Shrimp Fra Diablo (Medium)
665
Shrimp Fra Diablo (Large)
895
Truffle Chicken and Mushroom (Small)
485
Truffle Chicken and Mushroom (Medium)
725
Truffle Chicken and Mushroom (Large)
950
Fettuccine Alfredo (Small)
345
Fettuccine Alfredo (Medium)
495
Fettuccine Alfredo (Large)
695
Lasagna (Small)
385
Lasagna (Medium)
595
Lasagna (Large)
795
Spaghetti Bolognese (Small)
375
Spaghetti Bolognese (Medium)
560
Spaghetti Bolognese (Large)
750
Spaghetti Pomodoro (Small)
295
Spaghetti Pomodoro (Medium)
450
Spaghetti Pomodoro (Large)
650
Creamy Pesto Salmon (Small)
445
Creamy Pesto Salmon (Medium)
665
Creamy Pesto Salmon (Large)
895

Hand-Crafted Pizza

Truffle and Mushroom Pizza
695
Margherita
645
Classico
675
Pepperoni
675
Shrimp Mushoom and Anchovy
750
Garlic and Cheese
595
Quattro Staggioni
795
Quattro Carne
765
Quattro Formaggi
695
Tropicale
675

Pizza Grande

Quattro Staggioni Grande
1395
Pizza Due
1250

Dela Cucina Frutti Di Mare

Parmesan Crusted Fish Fillet (Small)
595
Parmesan Crusted Fish Fillet (Large)
795
Seafood Rice
650
Seafood Stew
795
Salmon Oreganato (Small)
650
Salmon Oreganato (Large)
895

Dela Cucina Carnes

Chicken Milanese
645
Chicken Italianni's
795
Chicken Parmigiana (Small)
445
Chicken Parmigiana (Medium)
665
Chicken Parmigiana (Large)
895
Chicken Cacciatore
795
Herb Roasted Chicken
745
Herb Roasted Chicken Platter
1495
Grilled Prok Chop Au Poivre (1pc)
565
Grilled Prok Chop Au Poivre (2pc)
895
Crispy Pork Ribs
745
Baby Back Ribs (Half)
995
Baby Back Ribs (Whole)
1895

Bistecca

USDA Ribeye (12oz)
1895

Risotto

Mushroom Risotto
545
Seafood Risotto
695

Dolce

Panna Cotta
335
Salted Caramel Chocolate Cake
285
Tartufo
480
New York Cheesecake
485
White Chocolate Coconut Cheesecake
285

Bambino

Create Your Own Pizza
255
Kids Spaghetti
280
Pasta and Chicken Fingers
395
Chicken Fingers
280

Beverages

Freshy Squeezed Lymonada
175
Peach Mango Lemonade
175
Orange Lemonade
175
Four Seasons Mango
175
Ripe Mango
185
Watermelon
185
Coke Regular
125
Coke Light
125
Coke Zero
125
Roya
125
Sprite
125
Bottomless Iced Tea
150
Bottomless Dalandan
150
Sola Iced Tea
95
Wilkins Water
95
San Beneddeto Water
275
Earl Grey
110
English Breakfast
110
Chamomile
110
Peppermint
110
Green Tea
110
Americano
110
Espresso
110
Decaf
110
Cappuccino
145
Café Latte
145
Café Mocha
145
Hot Chocolate
145
Italianni's Menu
At Italianni's, you may choose from various authentic Italian classics, such as pasta, pizza, risotto, seafood, and scrumptious desserts. In addition, the restaurant offers a wide variety of wines. Italianni's is a favorite spot for individuals who like Italian cuisine because of its generous servings, superb sauces, and menu designed to accommodate various tastes and preferences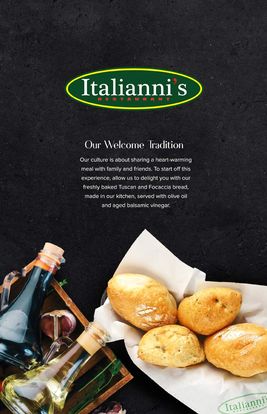 Italianni's Best Sellers
Margherita Pizza
The Margherita Pizza at Italianni is like a little taste of Italy in your mouth. The first thing you'll notice when you take a mouthful is the thin, crunchy crust that lays the perfect groundwork for the orchestra of ensuing flavors. The bright, acidic tomato sauce contrasts with the smooth, melted mozzarella cheese that covers the whole pizza. The addition of fragrant, fresh basil leaves brings the whole thing together beautifully. What I like most about it is its straightforwardness, which enables the richness of the elements to show through.
Seafood Cioppino
This exceptional dish comprises an assortment of fresh and delectable seafood swimming in a flavorful tomato-based broth. Just imagine the juiciness of the shrimp, the tenderness of the clams and mussels, and the flakiness of the fish as you dig in. The combination of tastes is superb. The sweetness of the shellfish is complemented by the savory broth, which is brimming with fragrant herbs and spices. Believe me, once you take your first mouthful, you'll be transported to an Italian beachfront restaurant serving the freshest seafood.
Chicken Italianni's 
Enjoy the full spectrum of flavor in every mouthful of this delicious meal. Think of a juicy, delicate chicken breast cooked to perfection and sprinkled with a mouthwatering combination of herbs and spices. The end result is a meal that is flavorful and juicy. The chicken is complemented by the flavorful sides, which may include roasted veggies or velvety mashed potatoes. 
For other Italian restaurants, you can also try Cibo or Mama Lou's!
Want to be updated on other promos? Subscribe to our newsletter.
New York Cheesecake
If you're a cheesecake fan, you'll flip for this treat. Melt in your mouth silky and creamy filling awaits your fork. What's the crust? It's like a graham cracker and butter had a baby, and now all your senses are having a baby. How does it taste, exactly? Oh, it's so luscious, indulgent, and delicious. Italianni's New York Cheesecake is a delicious symphony that will leave you delighted and yearning for another delectable piece, whether celebrating a special occasion or simply indulging yourself.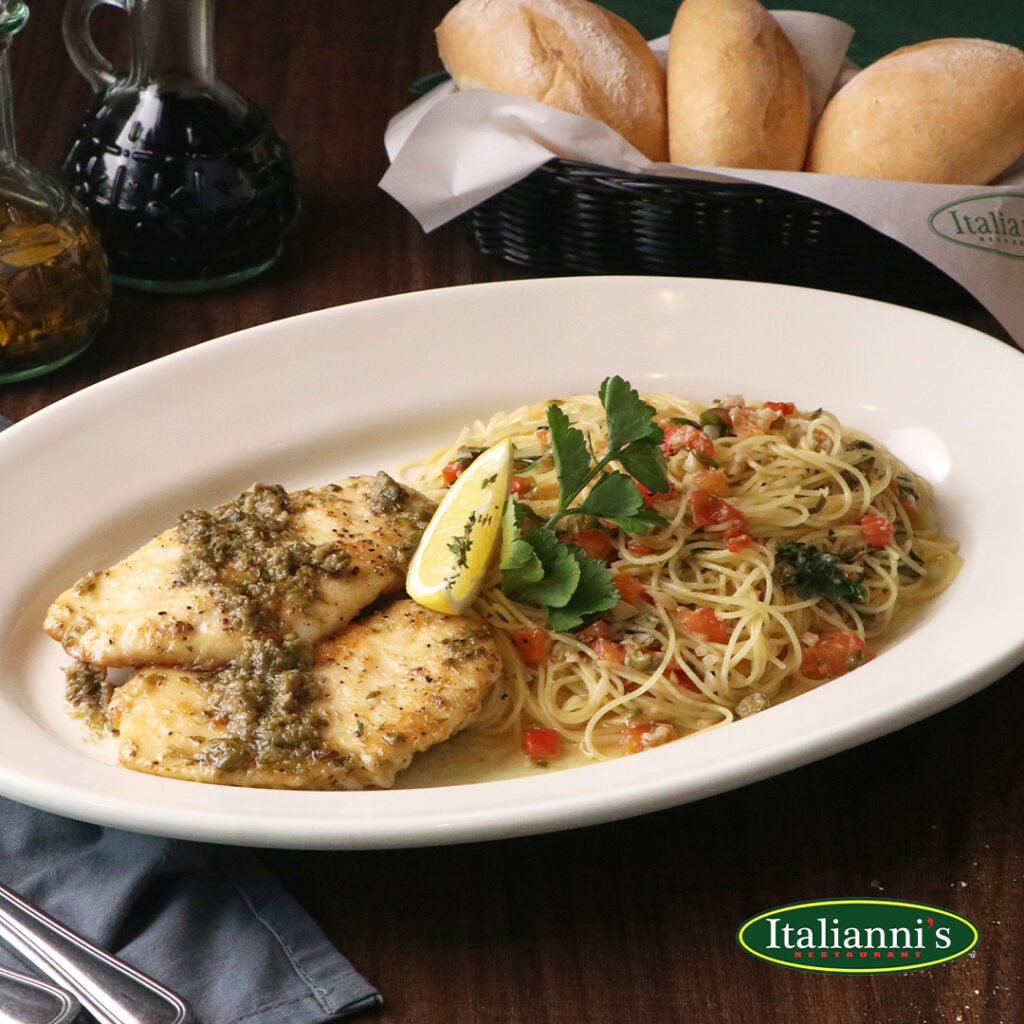 Italianni's Delivery
The good news is that you don't have to leave your house to enjoy Italianni's. You may get Italianni's hearty Italian cuisine sent to your door by downloading the Bistro Delivers App and using it to place your order. Italianni's also offers delivery via GrabFood and Foodpanda, so you can just tap on your preferred app and wait for your food to arrive.
Frequently Asked Questions
Does Italianni's have any vegan or vegetarian choices?
Italianni's is aware of the need to accommodate various dietary restrictions. Salads, spaghetti with veggie-based sauces, and veggie pizzas are just some of the vegetarian fare that can be found on the menu. Vegan alternatives are not guaranteed, so it's best to call ahead.
Can I make reservations at Italianni's?
Reservations are recommended at Italianni's. You may book a table by calling the restaurant, visiting their website, or on their physical locations. Making a reservation is the best way to guarantee a table is waiting for you when you arrive, particularly during busy times like dinner and on weekends.
About Italianni's in the Philippines
The Bistro Group established Italianni's in 1996 and has since become a successful chain of Italian restaurants in the Philippines. The restaurant takes its cues from classic Italian trattorias and offers a wide selection of pasta, pizza, seafood, steaks, and desserts. Because of its warm ambiance and impeccable service, it rapidly gained a reputation as the place to have special events. Using only the freshest ingredients and time-honored methods, Italianni's increased its business while never compromising its dedication to quality.
The Bistro Group also happens to own Denny's, Texas Roadhouse, and more!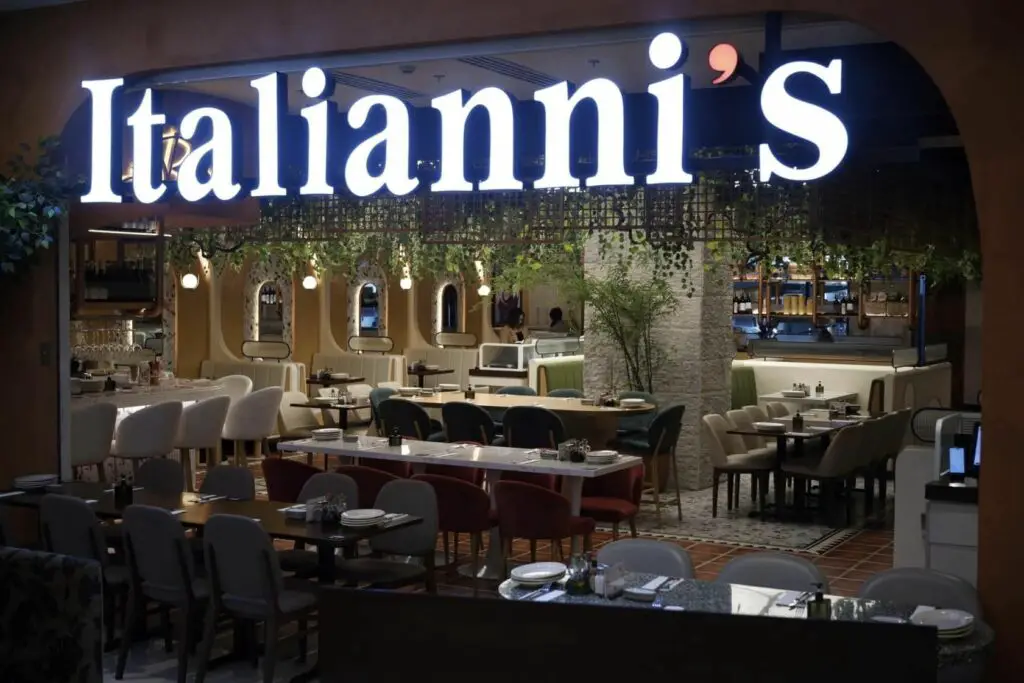 Talk To Italianni's Filipino Staff
Want to know more about the Italianni's Menu in the Philippines? Send their staff a message on social media:
For any more questions you have about the Italianni's Menu, leave a comment below