Gerry's Grill is the perfect place to relax and enjoy authentic Filipino cuisine and pulutan. Their extensive menu includes tasty options including crispy pig belly, zesty Sisig, and savory Kare-Kare sauce. The welcoming environment is ideal for spending time with loved ones. The Gerry's Grill menu, believe it or not, is a menu that is every Filipino cuisine lover's fantasy.
Here is the latest Gerry's Grill Menu with prices in the Philippines:
Menu
Prices

G-Cue

G-Cue Pork Barbecue
249
G-Cue Pork Inihaw na Liempo
299
G-Cue Chicken Kebab
299

Appetizer

Chili Chicken Sticks
190
Garlic Adobo Shreds
265
Crunchy Squid Heads
205
Peanuts
95
Chichabits
155
Lumpiang Shanghai
205
Tokwa't Lechon Kawali
265
Dinakdakan
335
Calamares
295
Crispy Kangkong
95

Soups

Sinigang Na Boneless Bangus
345
Sinigang na Hipon
365
Sinigang na Baboy
345
Nilagang Bulalo
415

Seafood

Inihaw na Bangus
345
Inihaw na Pusit
450
Inihaw na Baby Pusit
405
Inihaw na Tuna Belly
345
Bangus ala Pobre
345

Chicken

Gerry's Fried Chicken
299
Chicken Kebab
265
Inihaw na Manok
299
Spicy Garlic Fried Chicken
299
Chicken Barbecue
285
Gerry's Boneless Fried Chicken
299

Pork

Sizzling Sisig
255
Pork BBQ
195
Crispy Pata (Regular)
615
Crispy Pata (Family)
780
Lechon Kawali
375
Inihaw na Liempo
295

Beef

Beef Kare Kare
505
Prime Beef Caldereta
435

Rice

Plain Rice
46
Garlic Rice
49
Crab Rice
255
Special Binagoongan Rice
255
Pinakbet Rice
255

Vegetables

Pinakbet
225
Chopsuey
245
Sizzling Kangkong ala Pobre
185
Ampalaya Guisado
195
Stuffed Laing
245

Merienda

Lomi
195
Pancit Palabok
235
Pancit Canton
225
Special Pancit Bihon
235

Desserts

Halo Halo
135
Mais Con Hielo
115
Leche Flan
115
Ice Cream
65

Juices

Gerry's Special Iced Tea
79
Gerry's Special Iced Tea (Pitcher)
275
Nestea Ice Tea Bottomless
90

Softdrinks

Pepsi
70
Pepsi Light
70
Pepsi Max
70
Mirinda
70
7up
70
Mountain Dew
70
Mug Rootbeer
70
Pepsi 1.75L
150
Bottled Water
55
Americano Coffee
85

Alcoholic Drinks

SMB Pale Pilsen
75
San Mig Light
69
Heineken
85
Gerry's Grill Menu
For twenty years, Gerry's Grill has been serving up grilled delicacies to customers around the nation and beyond. Grilled meats, seafood, and traditional Filipino fare like adobo and sinigang are all on the menu. As a popular after-work drinking destination, they also provide bar food. Check out some of the most popular items from Gerry's Grill's menu below.
Gerry's Grill Best Sellers
Grilled Squid
The Grilled Squid is a must-try for any seafood lover. The marinade of soy sauce, vinegar, garlic, and calamansi juice infuses with the smoky and savory flavor that perfectly complements the tender and juicy texture of the squid. The addition of chopped tomatoes and other aromatics provides an extra burst of complexity and freshness that elevates the dish to new heights. My partner, a big fan of squid, gave this dish a perfect score of ten out of ten. 
Sisig
Gerry's Sisig is the perfect beer mate – sizzling, scrumptious, and full of flavor. Made with chopped meat from a pig's face, garlic, onions, pepper, and spices, it's surprisingly not that oily and pairs perfectly with a side of fried rice. If you're looking to ease your way into the diverse and delicious world of the Gerry's Grill menu, their sisig is a must-try dish.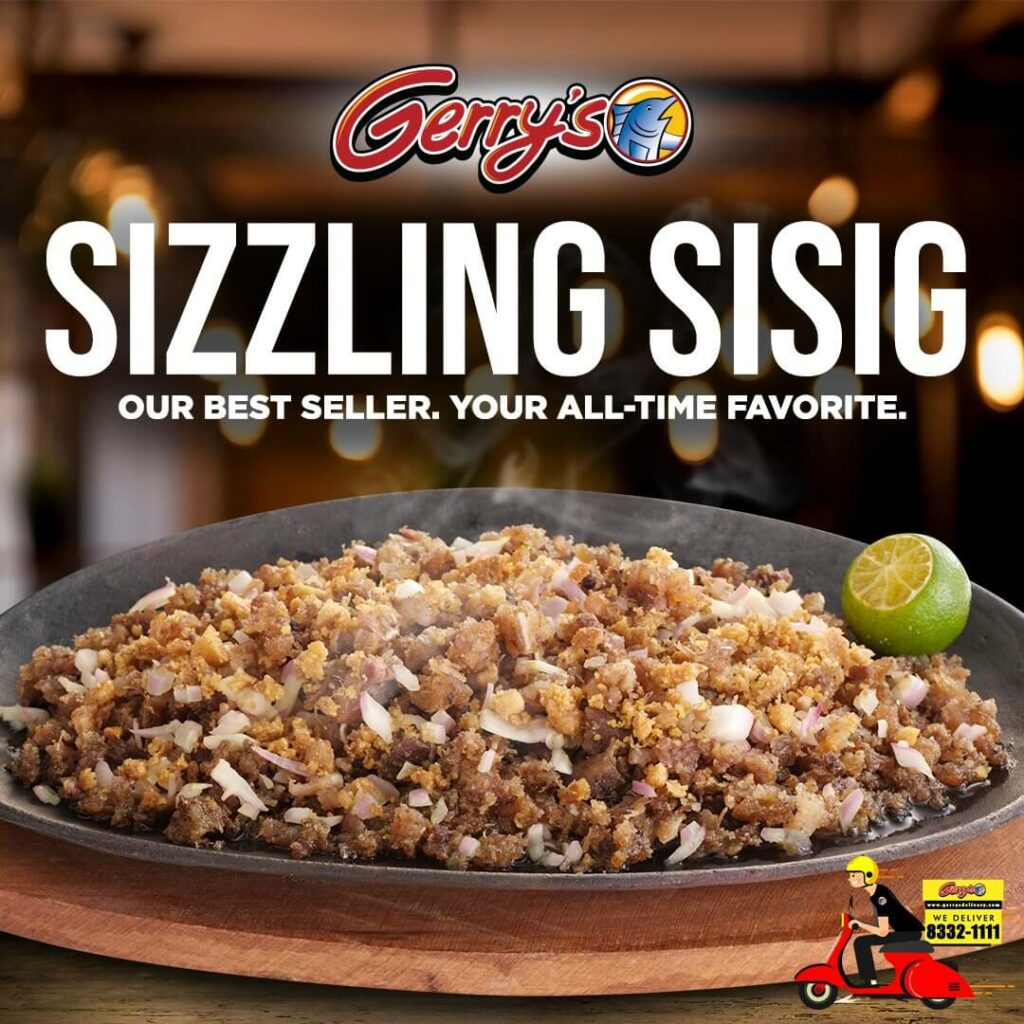 Crispy Pata
If you're into traditional Filipino food, you should definitely try the Crispy Pata at Gerry's Grill. It's a deep-fried pork leg that's super juicy on the inside and crispy on the outside, thanks to its tasty mix of herbs and spices. And the tangy vinegar dipping sauce? So good, it adds an extra kick to the dish. It's perfect if you love pork and crunchy foods too.
Want to be updated on other promos? Subscribe to our newsletter.
Pinakbet
Gerry's Grill's rendition of the classic Filipino dish, Pinakbet, is a delightful and wholesome vegetable medley. The eggplant, squash, string beans, and bitter gourd are perfectly cooked and seasoned with a savory blend of shrimp paste, garlic, and onions. The flavors and textures harmonize beautifully, making it an ideal complement to their grilled meats. I was never a veggies guy, but this is one delicious dish.
If you're looking for Filipino food with a bit more of a twist, you can also check out Locavore or Manam!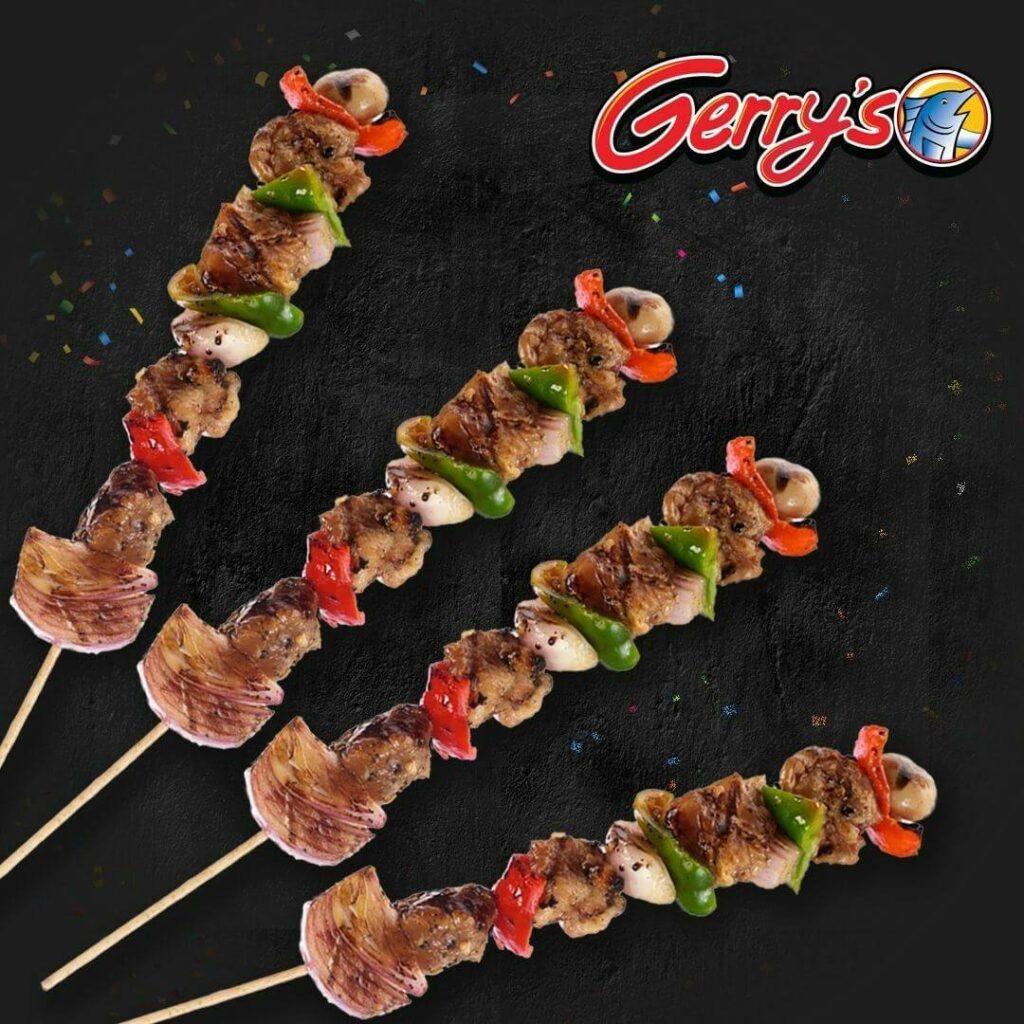 Gerry's Grill Delivery
Yes, Gerry's Grill offers delivery services for their customers' convenience. You can place an order through their website or by calling their delivery hotline. Depending on your location, you can also find them on major delivery apps like foodpanda and GrabFood.
Frequently Asked Questions
Does Gerry's Grill have group meals?
If you're looking to feed a group of 4 to 6 people with ease and flavor, Gerry's Grill Group Meals offer a convenient and delectable solution. You'll find a range of options on their menu, from grilled seafood to classic Filipino comfort food, each served with rice and sides. Whether you're planning a gathering, lunch, or any occasion where good food and company are essential, these meals are perfect. Plus, they provide excellent value for money, with generous portions that are guaranteed to satisfy everyone.
Are alcoholic beverages available at Gerry's Grill?
Yes, Gerry's Grill serves alcoholic beverages. In fact, the restaurant started out as a bar-centric idea.
About Gerry's Grill in the Philippines
Gerry's Grill is a beloved Filipino restaurant chain that has been delighting customers with delicious Filipino cuisine for over twenty years. It was founded in 1997 by Gerry Apolinario, who was passionate about creating a dining experience that celebrated the warmth and flavors of Filipino culture. The first Gerry's Grill location was a cozy eatery in Tomas Morato, Quezon City, Philippines, which soon became a popular dining spot, prompting the opening of additional branches across the country.
The secret to Gerry's Grill's success lies in its unwavering commitment to serving high-quality, flavorful Filipino dishes that are made from fresh, top-quality ingredients and prepared with care. Their menu offers a wide range of classic Filipino comfort food, grilled seafood, and other delectable dishes that have become beloved staples of Filipino cuisine. Today, Gerry's Grill has extended its reach beyond the Philippines, with locations in the United States, Singapore, and Qatar, bringing the delicious taste of Filipino food to customers around the world.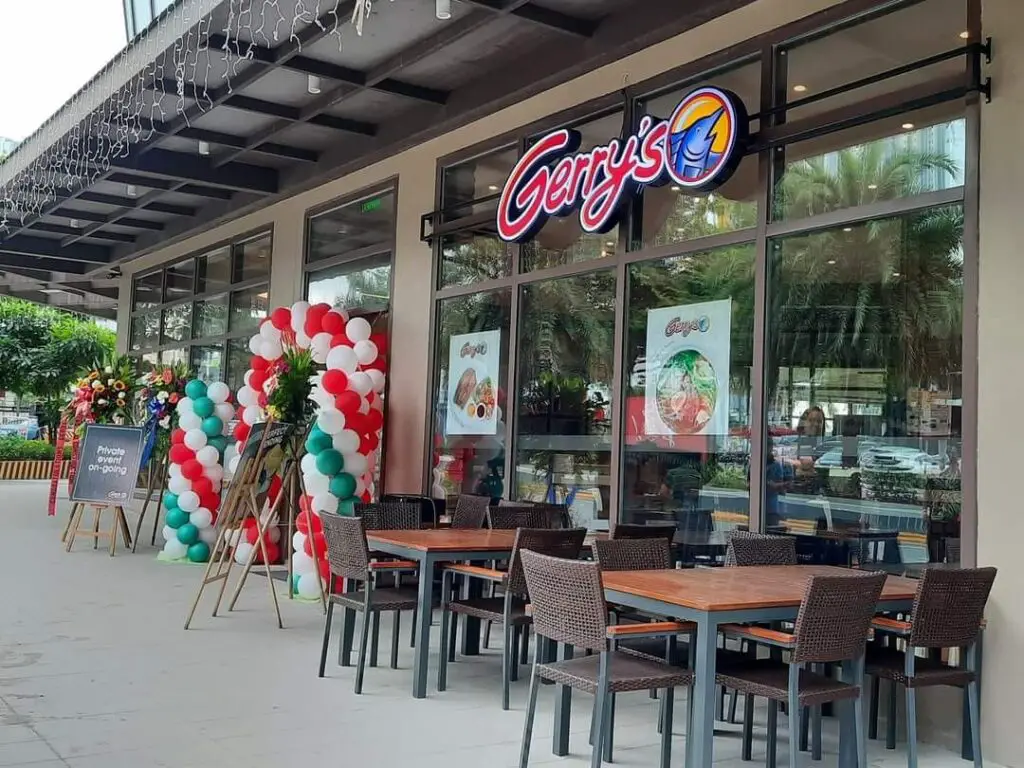 Talk To Gerry's Grill Filipino Staff
Want to know more about the Gerry's Grill Menu in the Philippines? Send their staff a message on social media:
For any more questions you have about the Gerry's Grill Menu, leave a comment below