Filipinos are often critical of the flavor of Filipino food when it is offered at a restaurant since we are used to and take pride in our traditional recipes and dishes. On the other hand, the Locavore menu is a gourmet fusion spin on traditional Filipino favorites that have won over the hearts of the locals. If you've become bored of the same old Filipino fare, try Locavore; it's certain to kickstart your affection for our country's cuisine.
Here is the latest Locavore Menu with prices in the Philippines:
Menu
Price

Pinoy Brunch

Champorado Ni Speedy
190
Duck Lugaw
320
TBPL
270
Torta (Poqui-Poqui)
270
Torta (Kabute)
270
Torta (Talaba)
320
Torta (Alimasag)
370

Pampagana

Salted Egg Gabi Chips
350
Gabi Chips
145
Singkamas, Manga at Bagoong
175
Street Food Platter
190
Lumpia (Fresh or Fried)
275
Kare-Kare Wins
275
Baked Scallops with Aligue Butter
525
Pulutang Lamang Dagat
395
Oyster Mangga, Bagoong
255
Bacon BBQ Skewers
520

Pampagana - Kinilaw

Fresh River Shrimp
220
Kalibo Oyster
220
Tuna
320
Tanigue
320
Lapu - Lapu
220
Kinilaw Platter
370

Pampagana - Sisig

Fried Oyster Sisig
370
Lechon Oyster Sisig
380
Oxtail Sisig
350

Ensalada

Pakwan
320
Pinya
275
Ensalada ni Andres (Vegan)
320

Mirienda

Luglog
350
Lechon Mami
250
Pares Mami
250
Chori Burger
320

Mga Ulam

Garlic Butter Sugpo
850
Gising Gising
275
Sinugbang Bangus
395
Dinuguang Lechon
550
Tinola Chicken
350
Green Curry Bicol Express
480
Kanto BBQ Rib Fingers
550
Garlic Baby Squid
450
Corned Bistek
550
Kimchinigang
550
Pho Lalo
670
Mac's Boneless Fried Chicken
270
Ginataang Kalabasa
420
Pakbet Ratatouille
350
Sugpo Con Mayonesa
980
Boneless Lechon Belly
650
Beef Pares Stew
495
Sizzling Sinigang
550
Ginataang Kaldereta
520
Adobong Baka sa Gata
540
Crispy Pata
695

Recommended

Salted Egg Gabi Chips
350
Grilled Bistek Omurice
420
Torta (Alimasag)
370
Luglog
350
Lechon Mami
250

Silogs

Porksilog
370
Chorisilog Omurice
495
Tapsilog
370
Grilled Tocilog
370
Grilled Bistek Omurice
420
Crispy Corned Beefsilog
420
Inabangsilog
270

Kanin

Steamed Organic White Rice
60
Steamed Organic Brown Rice
70
Roasted Garlic Organic White Rice
70
Roasted Garlic Organic Brown Rice
80

Extras

Chili Smoked Rock Salt
35
Manong's Sauce
35
Sweet Chili Sauce
35
Honey Vinegar
35
Butter Milk Ranch
35
Pickled Peppers
45
Pandesal bun
65
Extra Fried Egg
55
Soy Marinated Egg
45
Coco Jam Sauce
55
Tablea Sauce
35
Banana
35
Salted Egg Dulce de Leche
45
Pickled Cucumber and Onion
35
Extra Lettuce
65
Extra Quail Egg
55
Mac's Glaze
35
Mac's Dressing
35

Panghimagas

Bicho Bicho
155
Turon
190
Pandesal Pudding
175
Sizzling Pandesal Pudding
250
Leche Flan
190
Turon Con Leche
220
Torta Manga
230
Halo Halo (Regular)
230
Halo Halo (Large)
400
Sorbetes
150
Sorbetes (Tsoknut)
160
Sorbetes (Gatas)
160
Sorbetes (Keso)
160
Sorbetes Sandwich
230
Add Ons for Sorbetes Sandwich (1 Scoop)
80

Blended Scotch

Dewar's 12 Year (Bottle)
2000
Dewar's 12 Year (Shot)
175
Johnnie Walker Blue Label (Bottle)
10000
Johnnie Walker Blue Label (Shot)
600
Johnnie Walker Platinum Label (Bottle)
6000
Johnnie Walker Platinum Label (Shot)
500
Johnnie Walker Double Black (Bottle)
3500
Johnnie Walker Double Black (Shot)
250
Johnnie Walker Gold Label (Bottle)
3200
Johnnie Walker Gold Label (Shot)
245
Johnnie Walker Black Label (Bottle)
2500
Johnnie Walker Black Label (Shot)
185
Chivas Regal 12 Year (Bottle)
2500
Chivas Regal 12 Year (Shot)
185
Chivas Regal 18 Year (Bottle)
5000
Chivas Regal 18 Year (Shot
360

Bourbon

Jim Beam (Bottle)
2000
Jim Beam (Shot
175
Jack Daniels (Bottle)
2500
Jack Daniels (Shot)
185
Jack Daniels Honey (Bottle)
2500
Jack Daniels Honey (Shot)
185

Cognac

Remy Martin VSOP (Bottle)
5000
Remy Martin VSOP (Shot)
365
Hennessy VSOP (Bottle)
5000
Hennessy VSOP (Shot)
365

Gin

Bombay Sapphire (Bottle)
2000
Bombay Sapphire (Shot)
175
Hedricks (Bottle)
3200
Hendricks (Shot)
245

Vodka

Grey Goose (Bottle)
2500
Grey Goose (Shot)
185
Absolute Blue (Bottle)
2000
Absolute Blue (Shot)
175
Absolute Kurant (Bottle)
2000
Absolute Kurant (Shot)
175
Belvedere (Bottle)
2500
Belvedere (Shot)
185

Rum

Bacardi 8 (Bottle)
2300
Bacardi 8 (Shot)
1800
Bacardi Superior (Bottle)
1200
Bacardi Superior (Shot)
130
Bacardi Gold (Bottle)
1200
Bacardi (Shot)
130
Bacardi Black (Bottle)
1300
Bacardi Black (Shot)
140
Bacardi 151 (Bottle)
1500
Bacardi 151 (Shot)
145
Don Papa (Bottle)
2500
Don Papa (Shot)
185
Malibu Coconut Rum (Bottle)
1200
Malibu Coconut Rum (Shot)
130

Tequila

Cazadores (Bottle)
1900
Cazadores (Shot)
160
Jose Cuervo Gold (Bottle)
2000
Jose Cuervo Gold (Shot)
175
Patron Anejo (Bottle)
3200
Patron Anejo (Shot)
245
Patron X.O. (Bottle)
2500
Patron X.O. (Shot)
185

Liqueur

Baileys (Bottle)
2000
Baileys (Shot)
175
Frangelico (Bottle)
1500
Frangelico (Shot)
145
Tequila Rose (Bottle)
2000
Tequila Rose (Shot)
175
Kahlua (Bottle)
1500
Kahlua (Shot)
145
Disaronno (Bottle)
1500
Disaronno (Shot)
145
Jaegermeister (Bottle)
2000
Jaegermeister (Shot)
175
Absinthe (Bottle)
2000
Absinthe (Shot)
175
Midori (Bottle)
2000
Midori (Shot)
175
Campari (Bottle)
2200
Campari (Shot)
160
Cointreau (Bottle)
2200
Cointreau (Shot)
160

Beers

San Miguel Light
80
San Miguel Pale Pilsen
90
San Miguel Premium
110
San Miguel Cerveza Negra
110
Brew Kettle
90
Sierra Madre (Wheat Ale)
230
Fish Rider (Pale Ale)
230
Pivo Praha (Classic)
160
Kalinga Kolsch
160
Tuff Tuko
180
Tarsier
180
Exi Wounds
205

Single Malt Whiskey

Macallan 12 Year (Bottle)
5500
Macallan 12 Year (Shot)
400
Macallan 18 Year (Bottle)
6500
Macallan 18 Year (Shot)
520

White Wine

Marigny Neuf Sb Organic (2012)
2000
Frontera Moscato (2014)
1650
Tocomal Chardonnay (2014) (Bottle)
1320
Tocomal Chardonnay (2014) (Shot)
275
Altas Cumbres (Viognier)
1980
Altas Cumbres (Torrontes)
1980

Red Wine

Marigny Neuf CS Organic (2012)
2000
Casiler Del Diablo
1500
Sunrise Shiraz (2012)
1500
Tocomal Merlot (2014)
1200
Ffinca De Los Andes (Merlot)
1650

Sparkling Wine

Martini Prosecco
1500
Martini Rose
1500

Juices (Seasonal)

Orange
80
Orange Carafe
180
Kalamansi
80
Kalamansi Carafe
180
Cranberry
80
Cranberry Carafe
180
Samalig "Sago't Gulaman"
80
Samalig "Sago't Gulaman" Carafe
180
Pineapple
80
Pineapple Carafe
180
Dalandan
80
Dalandan Carafe
180
House Blend Iced Tea
80
House Blend Iced Tea Carafe
180
Apple
80
Apple Carafe
180
Fresh Buko
80
Fresh Buko Carafe
180

Soda

Coke
75
Coke Light
75
Coke Zero
75
Sprite
75
Ginger Ale
75
Soda Water
75
Tonic Water
75
Bottled Water
75
Red Bull
75

Signature Cocktails

Rosa
160
Perlas
160
Sexy Sili
160
Diwata
160
Alab
160
Juan Bulag
160
Dalanjuan
160
Calamanhito
160

Classic Cocktails

Margarita
150
Margarita Carafe
250
Side Car
150
Side Car Carafe
250
Pinacolada
150
Pinacolada Carafe
250
Singapore Sling
150
Singapore Sling Carafe
250
Cosmopolitan
150
Cosmopolitan Carafe
250
Martini
150
Martini Carafe
250
Manhattan
150
Manhattan Carafe
250
Long Island
150
Long Island Carafe
250
White Lady
150
White Lady Carafe
250
Sazerac
150
Sazerac Carafe
250
Zombie
150
Zombie Carafe
250
Weng 2x
150
Weng 2x Carafe
250

Shooters

Blow Job
150
Lemon Drop
150
Jager Bomb
150

Iced Blended Mocktails

Cocumber Limer Cooler
110
Apple Lime Cooler
110
Ripe Mango
110
Fresh Green Mango
110
Watermelon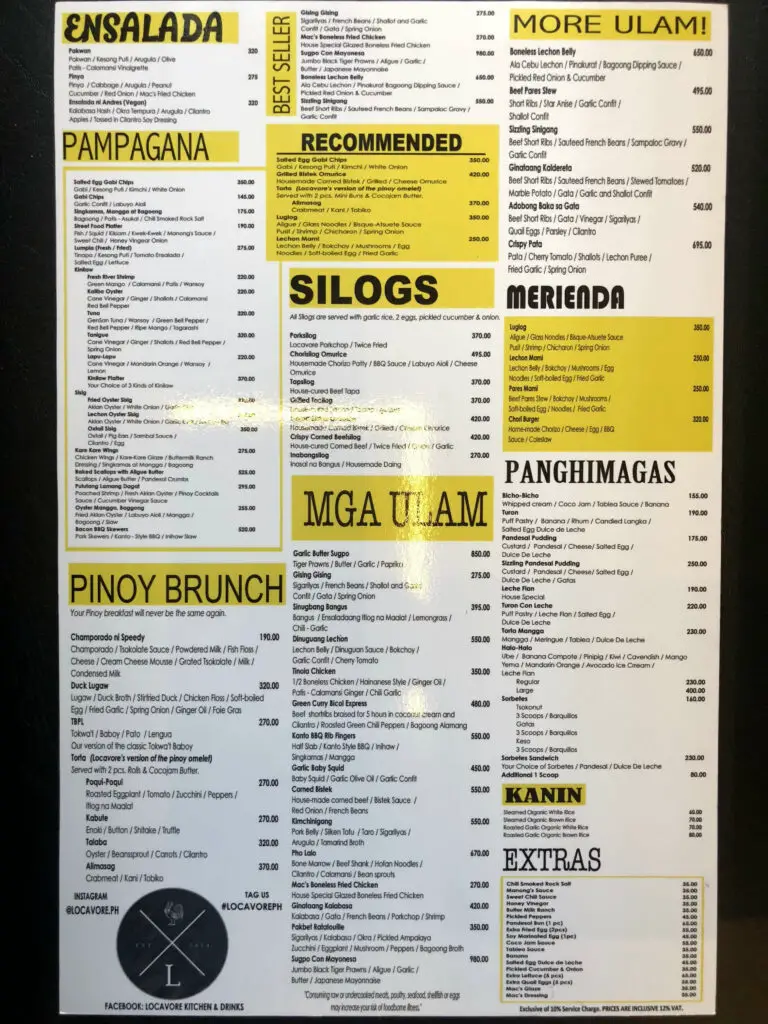 Locavore Menu
The Filipino fare at Locavore Restaurant and Bar is proudly prepared using organic ingredients sourced from growers around the Philippines.  Locavore is well-known for its innovative takes on traditional Filipino fare, an approach undoubtedly inspired by Chef Mikel Zaguirre's training in French cuisine and his fondness for using fresh ingredients sourced throughout the nation.
Locavore Bestsellers
Below are some of the crowd-pleasers on the Locavore menu.
Oyster Sisig
Locavore's Oyster Sisig is one of their signature dishes and top bestsellers, and rightfully so. Their Lechon & Oyster Sisig, simply and lovingly called Oyster Sisig, is made with large, crunchy oysters and is topped with a creamy sauce with a hint of heat, and shredded lechon pork is added for more complexity. It's best finished with a squeeze of calamansi for the perfect cut of freshness.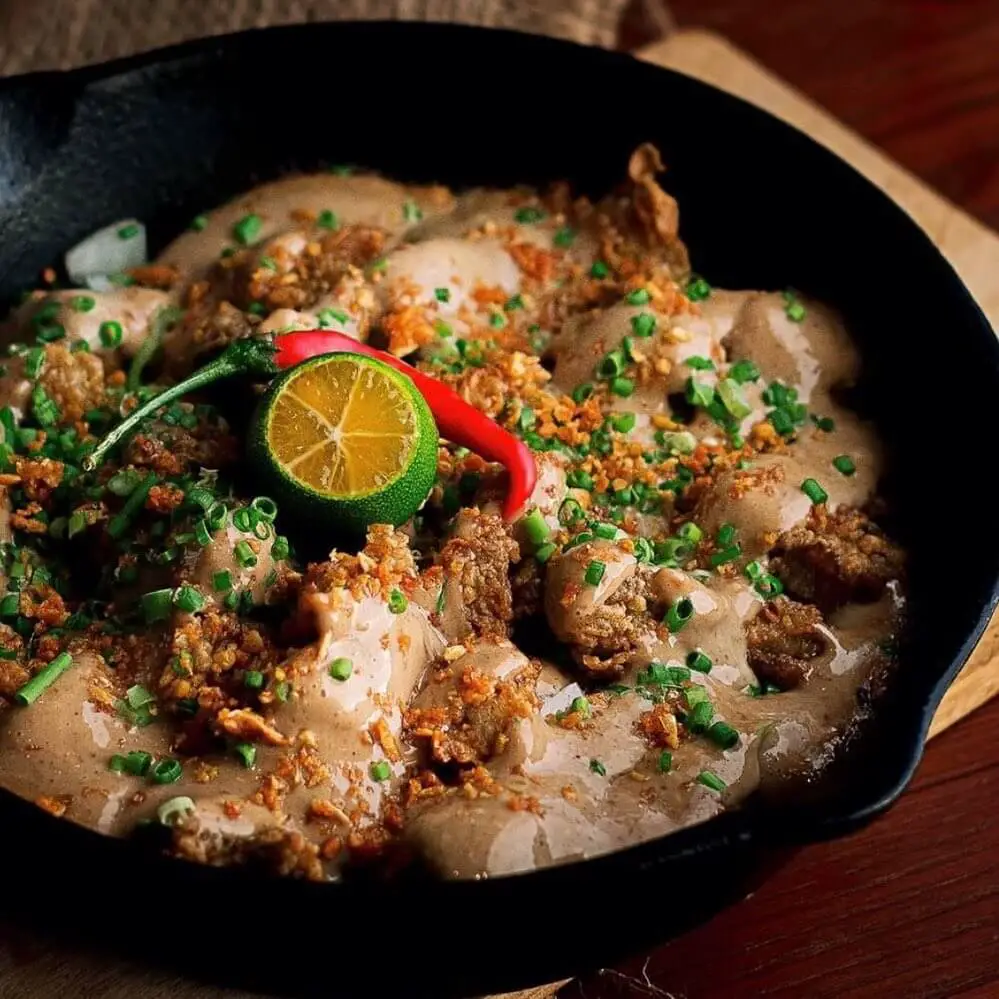 Gising Gising
Gising-gising is a staple meal in the Kapampangan cuisine, consisting of finely sliced sigarilyas (winged beans), French beans, garlic, shallot, gata, and spring onions. The extra garlic and extra sauce thickness will give you a powerful, flavorful boost. The subtle sweetness complements the subtle spice and gata flavor that seep every mouthful.
Corned Bistek
The Bistek has been reimagined as the Corned Bistek, with a few conceptual tweaks here and there. The citrus undertone and salty soy in the Locavore version of the recipe made it special and revitalizing. Superb-grade string beans were utilized, as indicated by the crispiness of each mouthful. This dish is a stretch, but I liked it by the final bite.
Sizzling Sinigang 
The Sizzling Sinigang may be the most intriguing and unforgettable thing on the menu at Locavore. It's a thick, zesty gravy on a pan of delicious, fall-off-the-bone beef, french beans, cherry tomatoes, onions, and garlic. Regarding appearance, however, it was more roast beef than the sinigang we're used to. However, it's the same heartwarming taste I've grown to love, just in a new, snazzier get-up.
Bacon BBQ Skewers
Large, juicy sticks that are evocative of traditional Filipino barbeque, when one skewer and a bowl of rice was enough to satisfy a person's hunger. You could easily feed seven people with these skewers because of their generous servings, but you won't be able to stop at just a few bites of the sweet and sticky glaze.
Want to be updated on other promos? Subscribe to our newsletter.
Boneless Lechon Belly
The carnivore in me was so happy with this dish. The Cebu Lechon-inspired flavors of Locavore's Boneless Lechon Belly are spot on. The skin was amazingly crisp and greatly retained the seasoning flavor. It had a lot of character and, as the saying goes, was dangerously sinful. As a bonus, dunking it in vinegar will make the flavor more robust.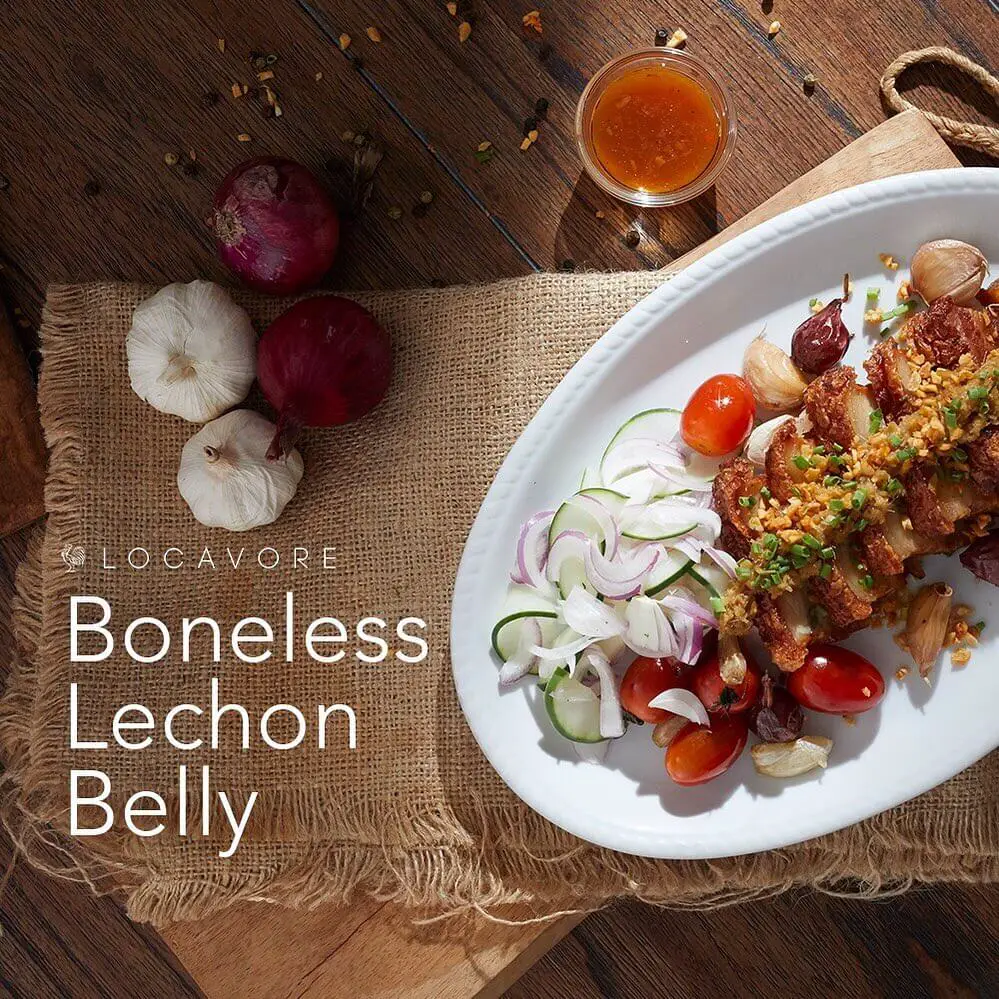 Locavore Delivery
f you want to enjoy Locavore's Filipino reinventions but do it in the comfort of your home, you can order online. You may find Locavore in third-party delivery apps like foodpanda and Grabfood. Note that the restaurant's availability depends on your location.
For other Filipino restaurants, you can also try Mesa or Manam! But for that classic Filipino food, you can also check out the ever staple, Gerry Grill.
Frequently Asked Questions
Does Locavore have branches in BGC or Eastwood?
Yes, there are Locavore BGC and Locavore Eastwood branches. You can also find Locavore joints in Pasig (Kapitolyo), Makati (Salcedo), and Pasay (S Maison). 
What does Locavore mean?
A 'locavore' is one who favors eating food grown, farmed, and produced in their locality. One of Locavore's distinguishing characteristics is its commitment to using only fresh, locally sourced ingredients in its meals. The company's dedication to providing clients with organic food continues with its relationships with nearby farmers and producers.
About Locavore in the Philippines
Locavore was created by four couples, including the renowned Speedy and Alta Lyttle, with the support of a youthful, risk-taking chef named Kel Zagguire. They want to retain the heartiness of traditional Filipino cuisine while appealing to a wider range of diners by updating some of the country's signature dishes.
Locavore's Kapitolyo location attracted regulars searching for a quality eatery soon after it opened. The diverse clientele of Locavore ensures that it is constantly bustling with activity, whether it is from office employees on their lunch breaks, foodies on the prowl, or a barkada cooling down after a night of adventuring.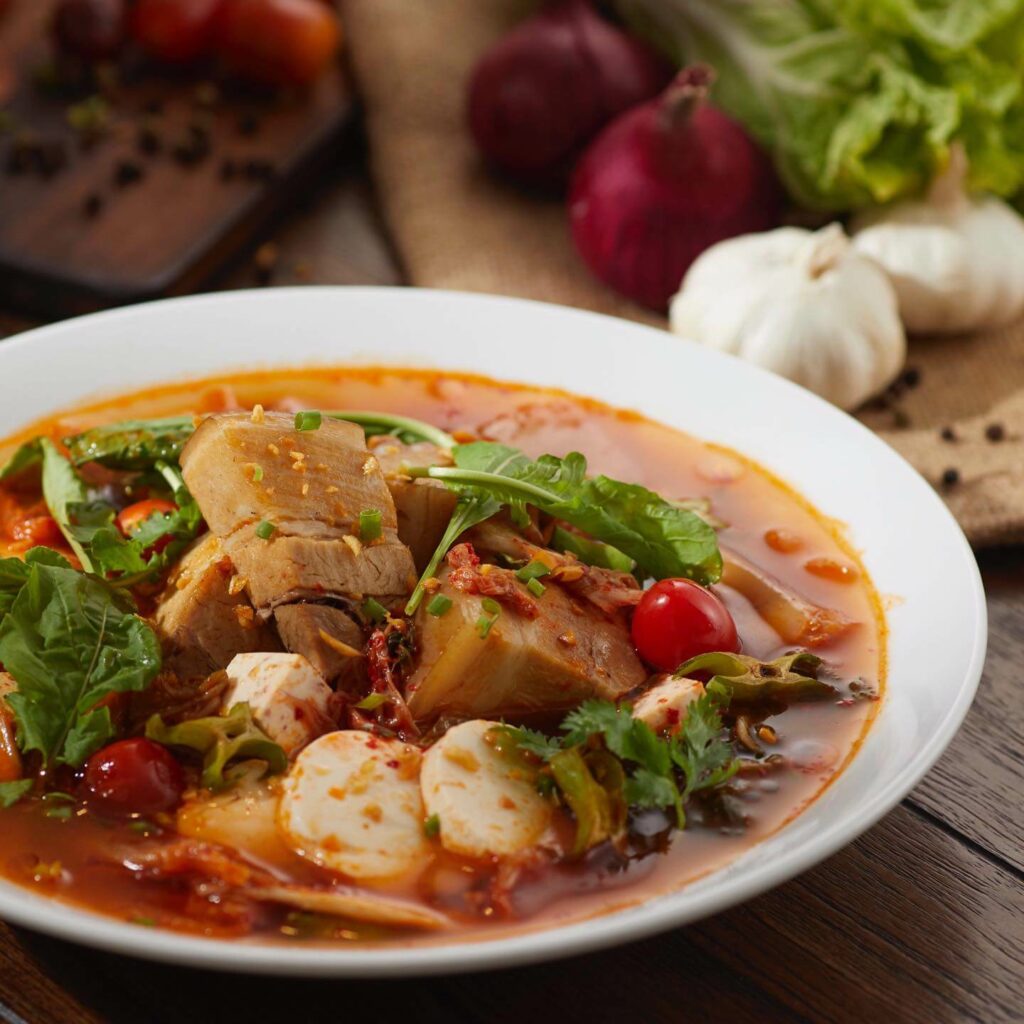 Talk To Locavore Filipino Staff
Want to know more about the Locavore Menu in the Philippines? Send their staff a message on social media:
For any more questions you have about the Locavore menu, leave a comment below.