If you're a lover of ramen, you've probably heard of Ippudo, a prominent Japanese dining establishment that specializes in this delightful noodle dish. Ippudo has become a worldwide icon because it serves consistently delicious ramen in a comfortable atmosphere. In this article, we will discuss the Ippudo eating experience, including the ramen and other meals available. This piece will help any reader, whether an advanced ramen expert or an inquisitive beginner, learn more about what the Ippudo menu has to offer.
Here is the latest Ippudo Ramen Menu with prices in the Philippines:
Menu
Prices

Ippudo Signature Sidekicks

Fried Chicken Bun
195
Pork Bun
195
Hakata-Style Gyoza
240
Deep-Fried Gyoza
260
Toched Salmon Roll
280
Nanban Karaage
360

Ippudo Salads

Goma-G
180
Ippudo Original Salad
295

Ippudo Shiromaru Motoaji

Classic
430
Special
505
Supreme
585

Ippudo Akamaru Shinaji

Classic
430
Special
505
Torched
585

Ippudo Karaka

Classic
450
Special
520
Torched
595

Ippudo Yokohama

Classic
450
Special
520
Torched
595

Ippudo Tokusei Tantamen

Tokusei Tantamen
595

Ippudo Desserts

Green Tea Ice Cream
180
Matcha Crème Brulee
195
Black Sesame Ice Cream
180
Lava Cake
280

Ippudo Drinks

Watermelon Shake
135
Pineapple Shake
135
San Mig Light Beer
160
San Mig Premium
150
San Mig Pale Pilsen
140
Asahi
220
Sapporo
220
Soda
110
Iced Tea
140
Bottled Water
60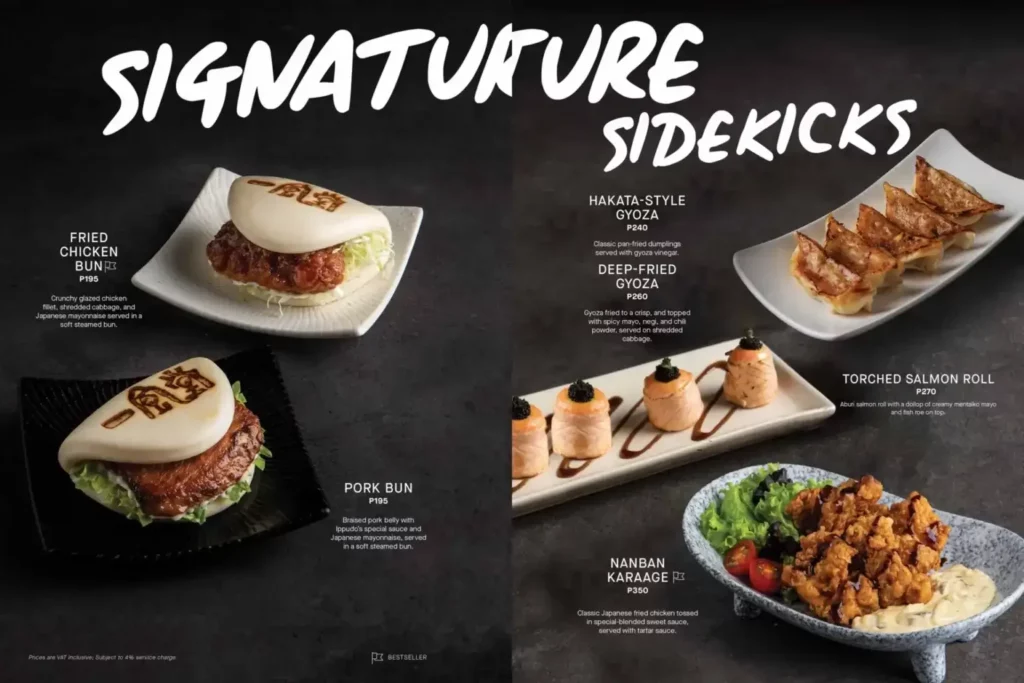 Ippudo Ramen Best Sellers
Akamaru Shinaji
The Akamaru Sinjai ramen at Ippudo is a must-eat that won't let you down. Unlike some other restaurants' versions, where the garlic oil may be too strong, Ippudo's is nuanced and well-balanced. The garlic oil is aromatic and flavorful, and the crisp kikurage is a welcome addition to the meal. The crimson miso paste is another standout ingredient, adding depth of flavor and visual appeal to the meal. Give this meal a go even if you normally avoid spicy foods, like me. It's a fantastic choice for a hearty meal since each dish is a generous proportion.
Tantanmen
Ippudo's trademark thick, wavy noodles are submerged in their tonkotsu (pork bone) broth, which has been flavored with tantanmen oil. It was topped with a hearty helping of ground pork, charred pork belly (chasu, cilantro, parmesan cheese, and onsen tamago (soft-boiled egg).
Pork Buns
The Ippudo Pork Buns are a must-eat. They're humble at first glance, but the taste is out of this world. It hits your palate like a bolt of lightning once you take a mouthful, and you won't understand how something so basic could have such a profound effect on your sense of taste. The star of this unassuming gem is the braised pork belly, which is so delicate that the big slice of fat virtually melts in your mouth.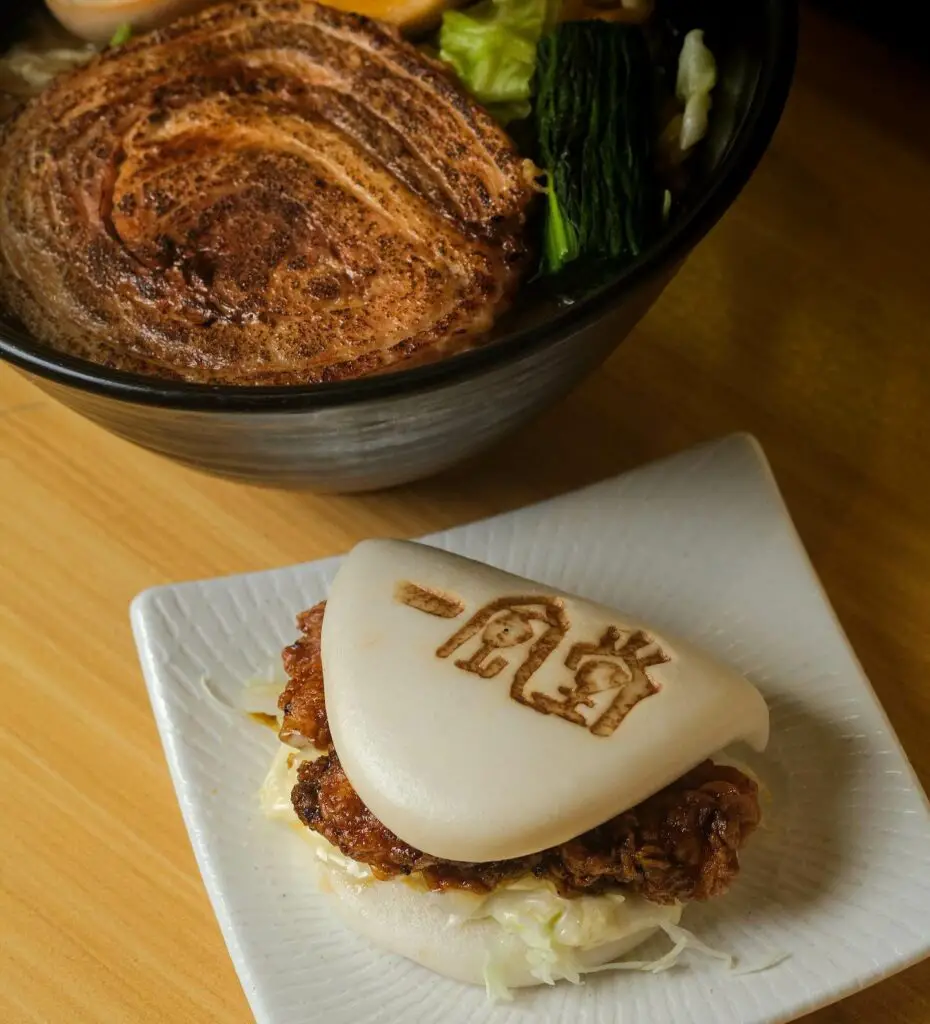 Want to be updated on other promos? Subscribe to our newsletter.
Gyoza
Gyoza is a beloved side dish that pairs perfectly with a bowl of hot Ramen. During our recent visit to Ippudo, we were excited to try their take on the classic dish. The Deep Fried Gyoza immediately caught our attention, with its extra crispy exterior and chewy interior. Topped with spicy mayo, negi, and chili powder, each bite was bursting with flavor. The well-seasoned meat filling was wrapped in a satisfyingly crispy shell, and the addition of Shoyu vinegar brought a delightful tang to the dish. Overall, the spicy mayo and crispy wrapper added a new dimension to the traditional Gyoza, resulting in a delicious blend of textures and flavors.
For other Ramen options, you can also check out Ramen Nagi or Mendokoro.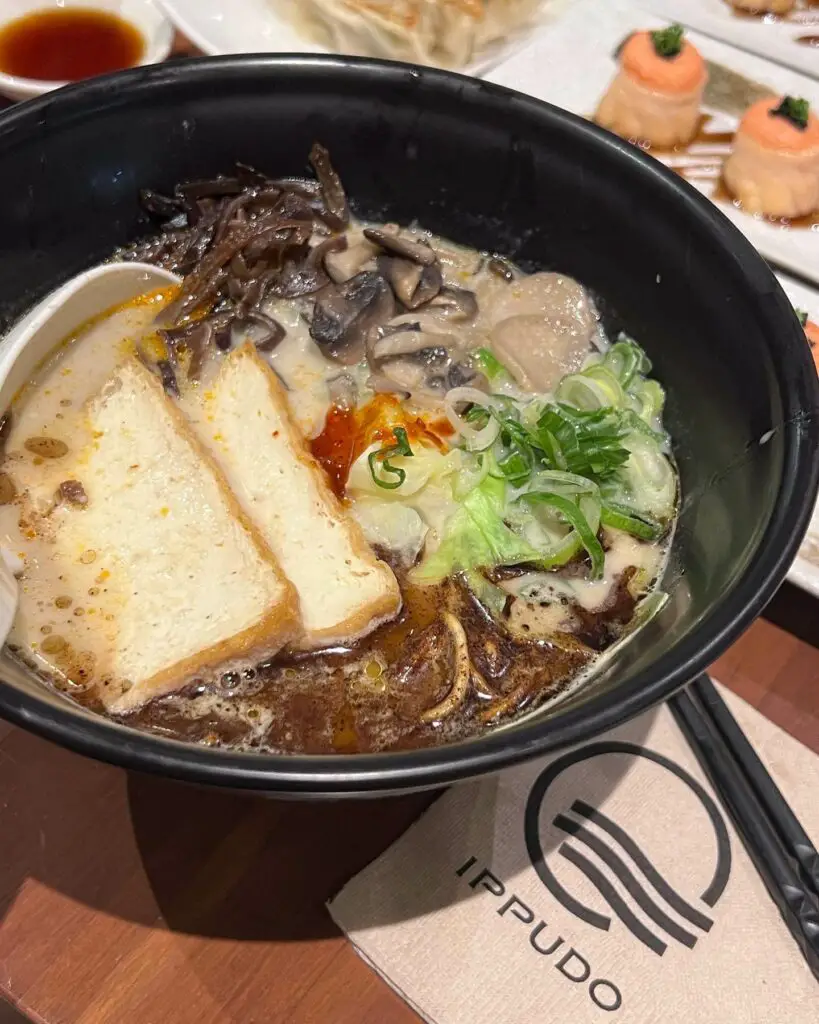 Ippudo Ramen Delivery
If you are craving Japanese food but would rather eat it in the comfort of your own home, Ippudo Philippines offers delivery services. You may place an order on their website or through third-party apps like GrabFood or Foodpanda, which specialize in delivering meals. Famous ramen dishes, along with other menu staples, are all available to you via these services.
Frequently Asked Questions
Does Ippudo Philippines offer any meatless or vegan dishes?
There are vegetarian and vegan alternatives at Ippudo Philippines. The Vegetable Ramen and Spicy Vegetarian Ramen are two of their vegetarian alternatives, while the Vegan Ramen and Vegan Bun are two of their vegan options.
Is there a halal certification for Ippudo in the Philippines?
No, the Ippudo restaurant in the Philippines does not have halal certification. Due to the fact that some of their meals include pork and alcohol, we do not suggest them to our Muslim readers.
About Ippudo Ramen in the Philippines
Ippudo Philippines is an outpost of the original Ippudo, a network of ramen shops established in Japan by Shigemi Kawahara in 1985. In 2014, Bonifacio Global City in Taguig became home to the first Ippudo restaurant in the country. Since then, other stores have sprung up in malls, including Greenbelt, SM Megamall, and Power Plant in different parts of the nation. The pork-based broth and thin, straight noodles that characterize Ippudo Philippines's Hakata-style tonkotsu ramen have earned the restaurant a reputation for excellence that has won the chain numerous awards and recognition.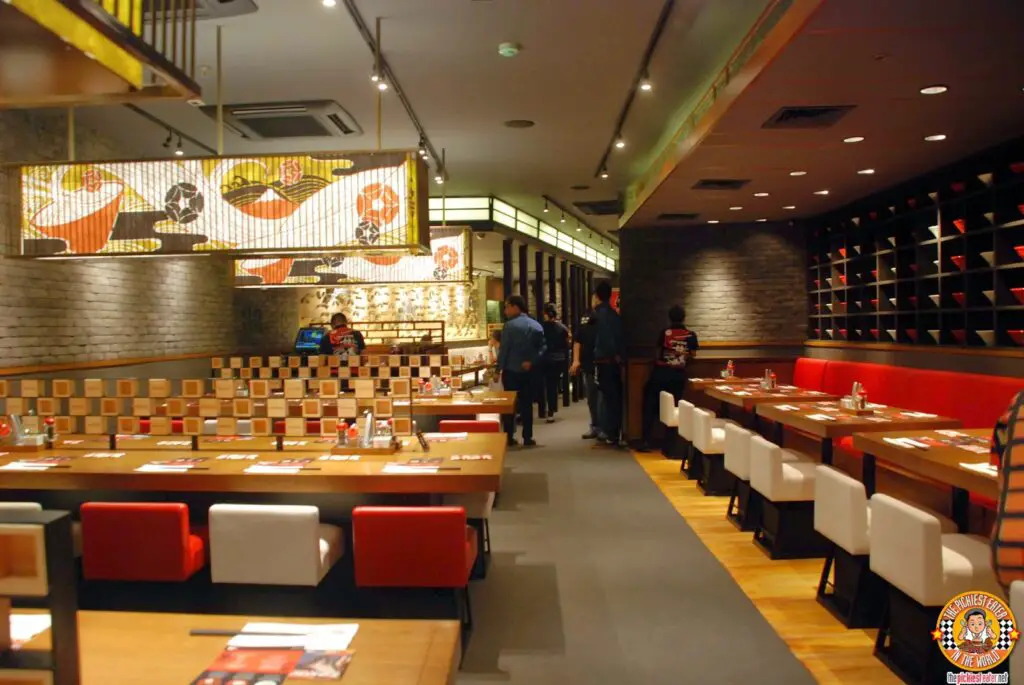 Talk To Ippudo Ramen Filipino Staff
Want to know more about the Ippudo Ramen menu in the Philippines? Send their staff a message on social media:
For any more questions you have about the Ippudo Ramen menu, leave a comment below.