The slogan of Ramen Nagi, "Ramen and Beyond," accurately reflects the restaurant's mindset. Many folks, especially Filipinos, continue to be enchanted with Ramen Nagi due to the restaurant's unparalleled skill in making ramen and its constant dedication to innovating the dish so that everyone around the globe may appreciate it. Let's take a look at the Ramen Nagi must-haves and staples.
Here is the latest Ramen Nagi Menu with prices in the Philippines:
Menu
Price

Ramen

Original King
420
Red King
480
Black King
480
Green King
480
Wonder Chashu King
510
Ramen Nagi Kiddie Meal
300

Side Dishes

Original Kaarage
350
Gyoza
240
Sui- Gyoza
210
Sesame-Q
180
Curry Spring Roll
250
Pork Tonkatsu
290
Nagi Star Salad
280

Extra Toppings

Kaedama
90
Tamago
80
Nori
70
Wonder Chasu
270
Nagi Toppings Set
240
Vegetable (Green Onion / Cabbage)
60
Kikurage
60
Kakuni
150
Chasu
180

Rice Meals

Chasu Rice
230
Gohan
60

Dessert

Nagi Vanilla Ice Cream
170
Wasabi Ice Cream
220
Matcha Ice Cream
220
Black Sesame Ice Cream
220
Ramen Nagi Menu
Ramen Nagi is where you should go to eat authentic ramen. Iconic both in Japan and beyond, this ramen shop serves up delicious bowls to hungry customers. There are also many condiments and sides to choose from, like salads and spring rolls, to various gyoza and karaage choices.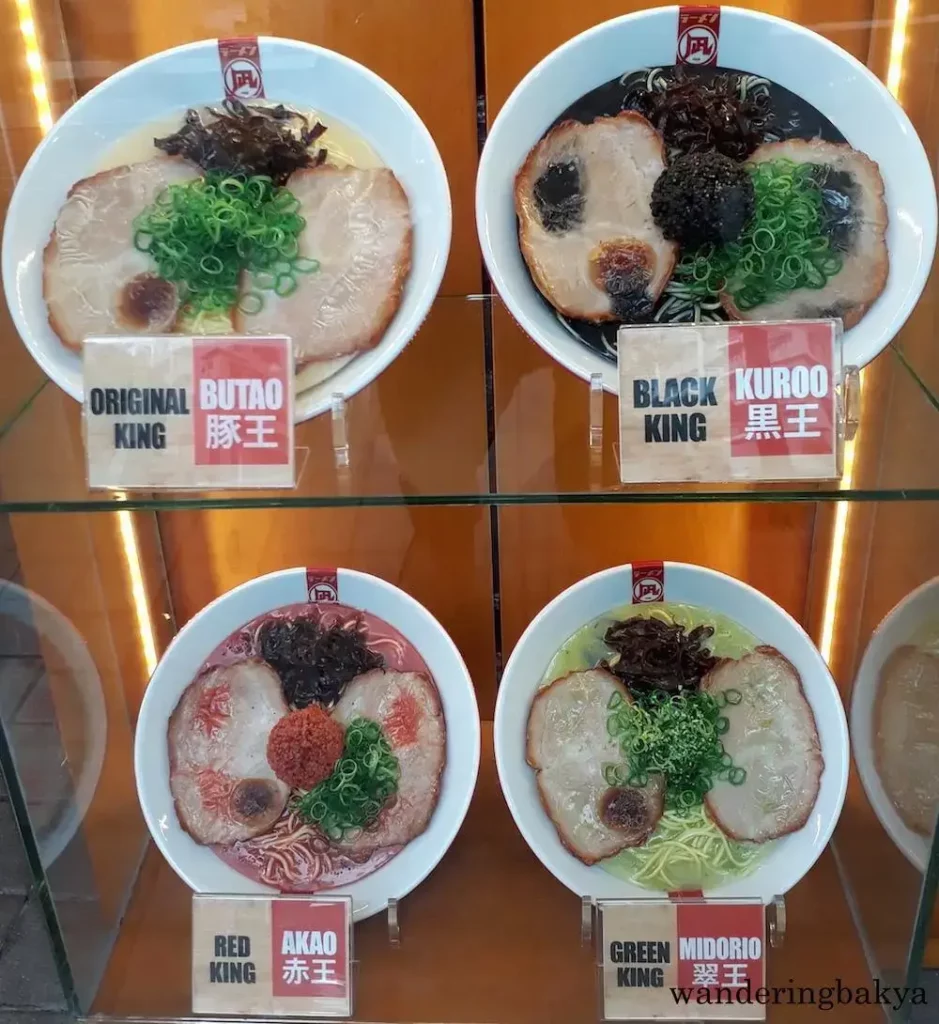 Ramen Nagi Bestsellers
Listed below are some of Ramen Nagi's crowdpleasers.
Ordering ramen at Ramen Nagi can be pretty daunting for first-timers, but we've got you covered. There are four basic soup bases you can order: 
Original King Ramen
Ramen Nagi's signature tonkotsu pork broth is rich, lively, and fragrant, created using traditional techniques; the noodles are handcrafted, and the pork chashu is the crowd-favorite Nagi-style. This soup base is my go-to order because I think this lends better to the many customizations they offer.
Red King Ramen
A tantalizing orb of miso-infused minced pork, premium Nagi cayenne, and supple chashu sit above a delicious spicy foundation of garlic, chili oils, and cayenne pepper in a smooth soup.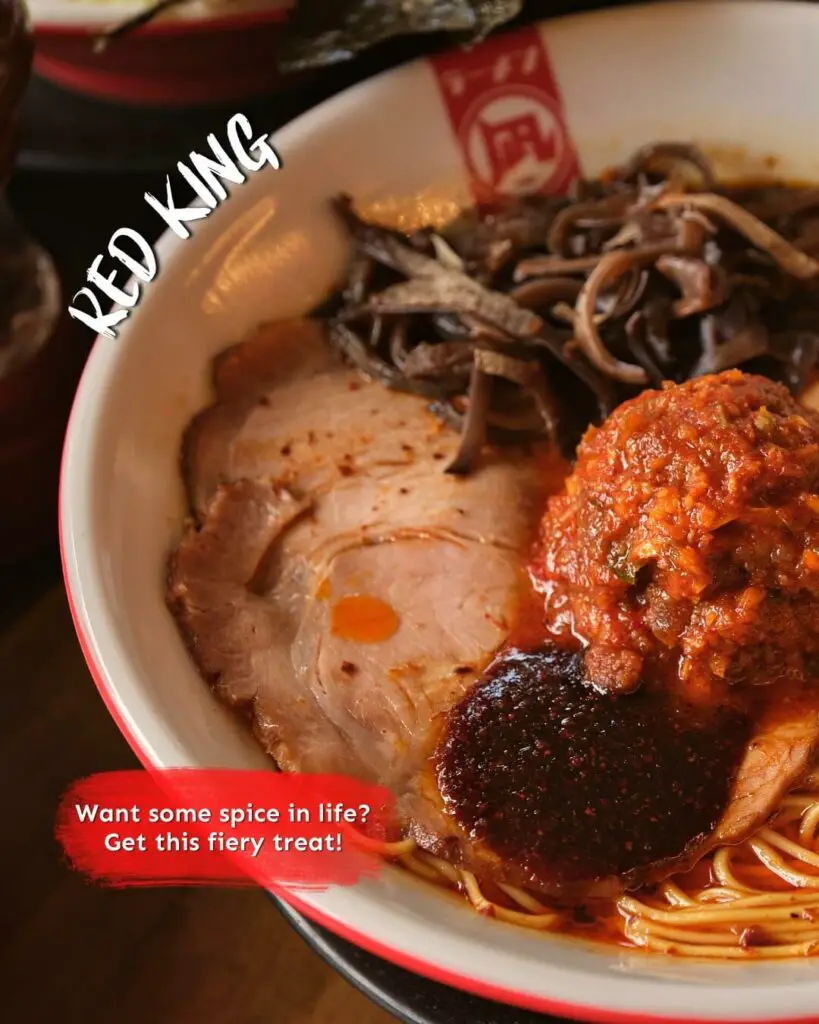 Black King Ramen
The Black King features delicious chashu in a smooth broth with blackened garlic and squid ink for a unique flavor profile. To top it all off, they add a sophisticated and irresistible ball of pork mince, black sesame, and Nagi flavors.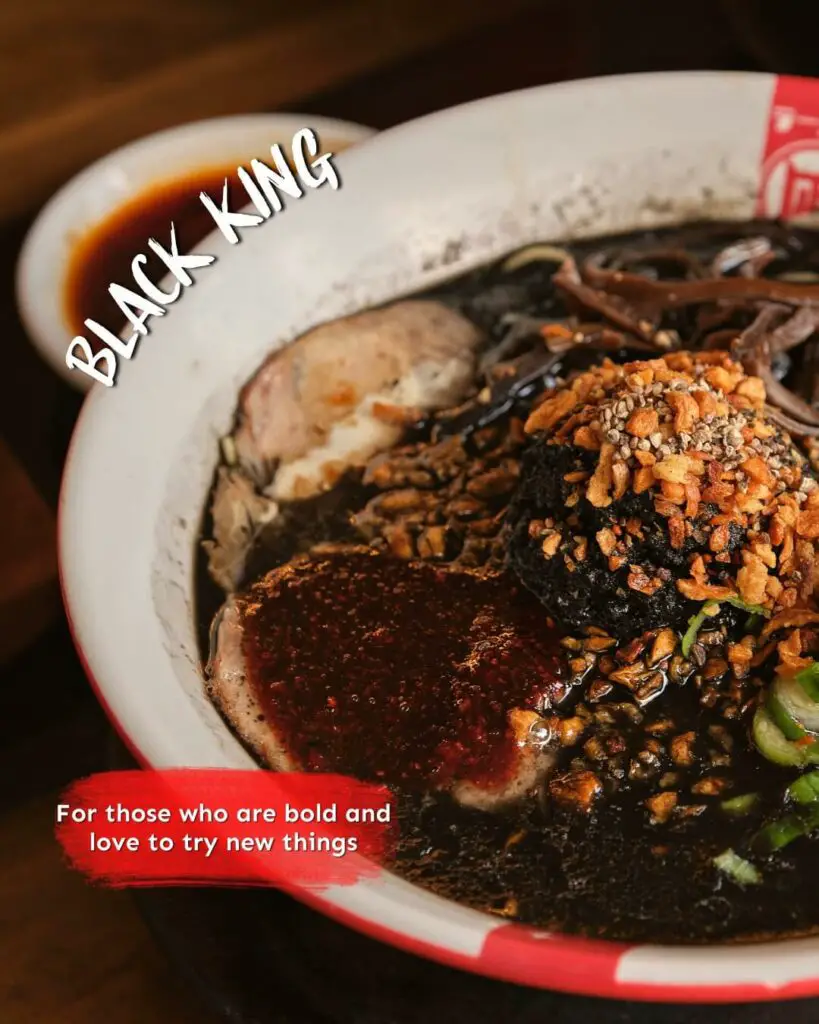 Green King Ramen
Ramen Nagi's approach to fusion cuisine is the Green King. This one-of-a-kind soup marries the flavors of fresh basil and olive oil with the richness of tonkotsu broth, and it's finished off with a generous helping of grated Parmesan and tender, velvety chashu. While I can't say that this one's for me, it's still an interesting take on ramen that I've yet to taste again elsewhere.
Veggie King Ramen
Nagi's incredible vegetarian ramen is a flavorful umami bomb created with a combination of savory Japanese soup stock, pureed cauliflower, hashed potato "chashu," shiitake mushrooms, and spinach.
Limited King Ramen
Every so often, Ramen Nagi introduces a new "Limited King" ramen recipe to showcase their innovation and tastebud-pleasing prowess. Since opening its doors, they have sold over a thousand flavors of Limited King ramen.
After deciding on a ramen base from the list above, you can add your personal touches to the dish. You may customize your order to your liking by picking from various toppings and ingredients, including meat (chashu or belly) and vegetables (green onion or cabbage), as well as noodle firmness, oil richness, garlic intensity, and volume of their in-house Nagi sauce. Nevertheless, you may also choose to have their Master Ramen Chef decide for you, which is sure to be a delightful and tasty surprise.
Looking for others? Try Mendokoro or Ippudo!
Ramen To Go
Ramen Nagi started offering Ramen to Go kits when the pandemic hit and people wanted their ramen fix despite not being able to head out. The broth, noodles, and other ingredients are all included in these kits, which can be delivered right to your home. All that's left to do is boil them up and put them together for a delicious bowl of ramen that tastes exactly like the kind you get at the restaurant.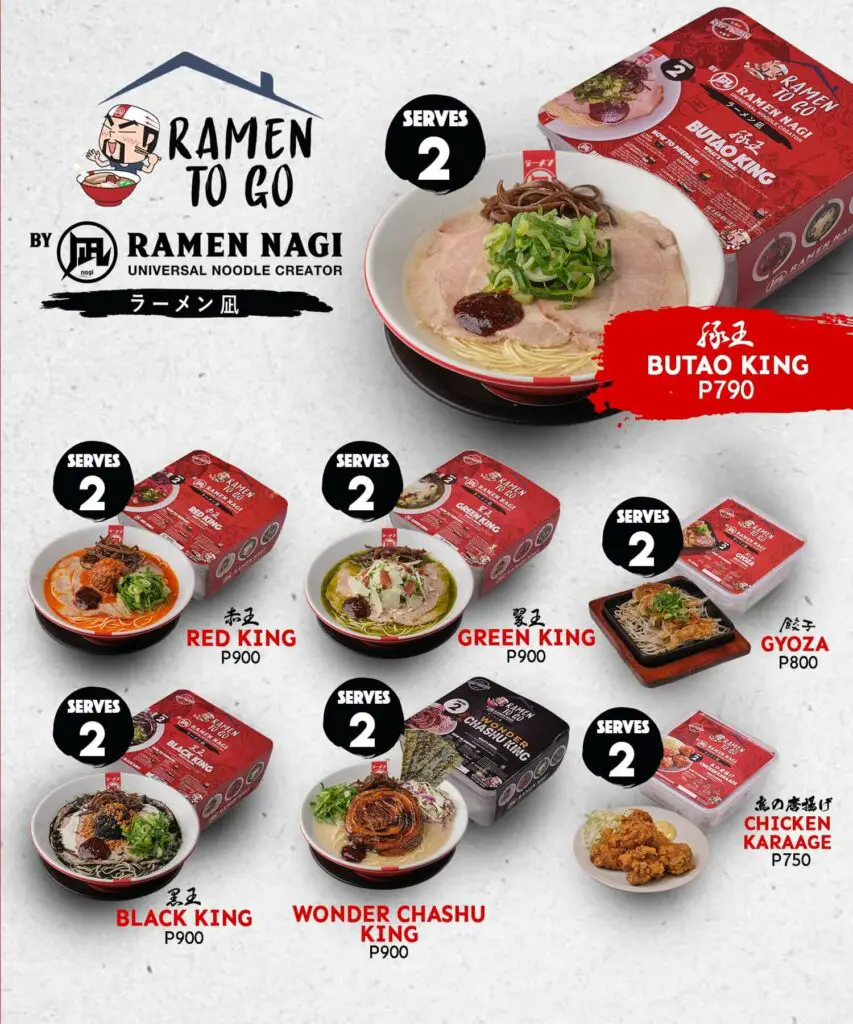 Want to be updated on other promos? Subscribe to our newsletter.
Nagi Kiddie Meal
The Naggie Kiddie Meal comes with Chasu Rice and your pick of Karaage, Gyoza, or Tamago, and is presented on a plate fashioned like a toy truck. There is also vanilla ice cream and a bowl of Butao Jr. offered on the side. This dish is not limited to children, though, and you know my inner child had to order this as soon as it came out.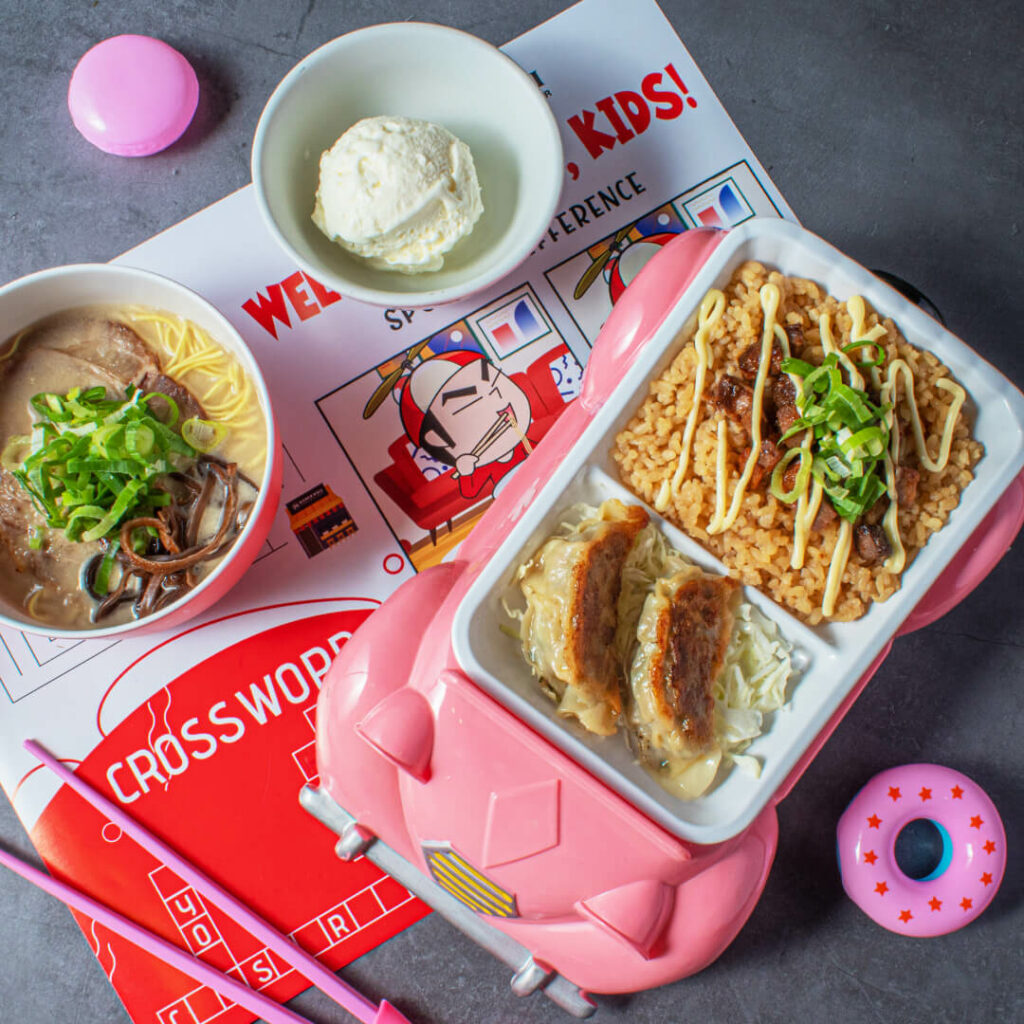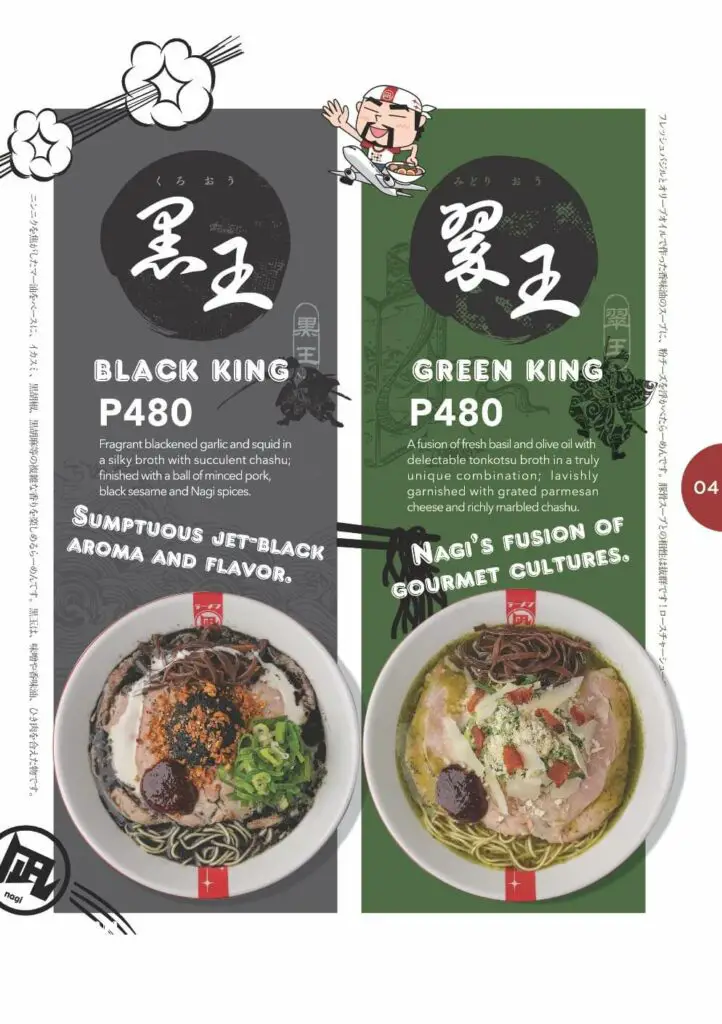 Ramen Nagi Delivery
If you're craving their ramen but don't have time to visit the restaurant, you may place an order via their website (https://www.ramennagi.com.ph/) or through third-party delivery services (such as foodpanda and GrabFood). You should know that the delivery service's availability varies by location.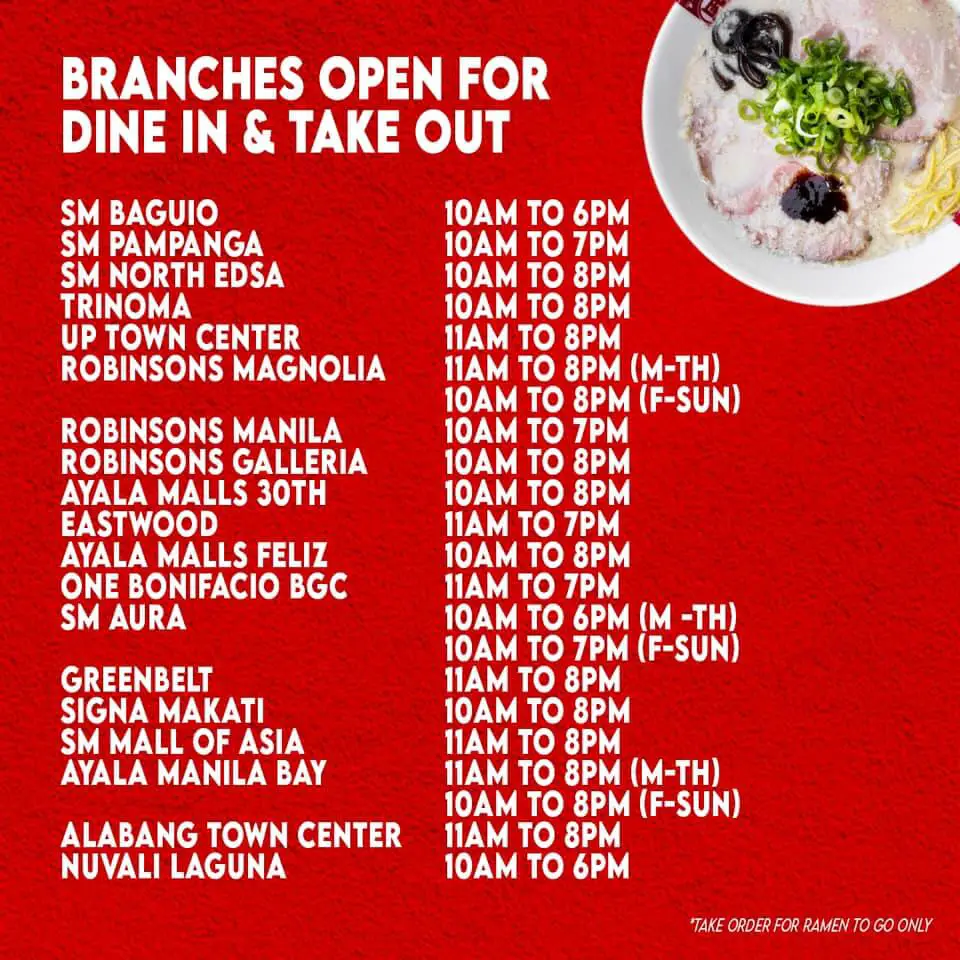 Frequently Asked Questions
Is Ramen Nagi from Japan?
Yes, Ramen Nagi started in Shibuya in Tokyo, Japan. 
Why can't I get takeout from Ramen Nagi?
Ramen Nagi doesn't allow takeout of leftovers because they want to maintain their high standard of quality. Your meal must be finished spontaneously.
About Ramen Nagi in the Philippines
In 1999, Master Ramen Chef Satoshi Ikuta opened the first Ramen Nagi shop in the trendy Shibuya neighborhood of Tokyo. Satoshi Ikuta had to first establish his reputation before he could launch Ramen Nagi as a global ramen powerhouse.
Chef Satoshi spent over a decade perfecting his craft before entering a renowned competition to obtain a position at Tachikawa Ramen Square, Tokyo's world-famous noodle theme park. Throughout the years, Ramen Nagi has grown and now has several dozens of locations in various parts of the globe.
Talk To Ramen Nagi Filipino Staff
Want to know more about the Ramen Nagi Menu in the Philippines? Send their staff a message on social media:
For any more questions you have about the Ramen Nagi menu, leave a comment below.