Kenny Rogers Roasters has some of the best roast chicken available in the Philippines. Chicken, pasta, salads, steaks, and more are on their menu.

Here is the latest Kenny Rogers menu with prices in the Philippines:
Menu item
Price

Solo Plates

Solo A Chicken
₱250.00
Solo A Ribs
₱400.00
Solo B Chicken
₱280.00
Solo B Ribs
₱430.00
Super Solo Chicken
₱320.00
Super Solo Ribs
₱470.00
Ribs & Chicken Plate
₱505.00

Grilled Plates

Grilled Chicken Plate 1 Side
₱255.00
Grilled Chicken Plate 2 Side
₱285.00
Burger Steak 1 Side
₱255.00
Burger Steak 2 Side
₱285.00
Grilled Sausage 1 Side
₱240.00
Grilled Sausage 2 Side
₱270.00
Grilled Fish 1 Side
₱270.00
Grilled Fish 2 Side
₱300.00
Premium Steak 2 Side
₱525.00

Healthy Plates

High-Protein Meal
₱285.00
Classic Healthy Plate
₱285.00
High-Fiber Meal
₱285.00
Low Calorie Meal
₱290.00
Light & Easy
₱210.00
Super Salad
₱210.00

Group Meals

Roasted Chicken
₱905.00
Omg Unfried Fried Chicken
₱905.00
Roasted & Omg Unfried Fried Chicken
₱905.00
Rib and Chicken Platter
₱1,080.00
All Grilled
₱1,285.00
Honey Bourbon Ribs
₱1,520.00

Ala Carte

Roasted Chicken Quarter
₱170.00
Roasted Chicken Half
₱295.00
Roasted Chicken Whole
₱555.00
Omg Chicken 2 Pcs
₱170.00
Omg Chicken 4 Pcs
₱295.00
Omg Chicken 6 Pcs
₱555.00
Ribs Half
₱385.00
Ribs Whole
₱725.00

Chimichurri

Sola A Chimichurri Chicken
₱270.00
Sola B Chimichurri Chicken
₱350.00
Chimichurri Chicken Group Meal
₱1,040.00
Chimichurri Roast Chicken and Rib Platter
₱1,170.00
Half Chimichurri Chicken
₱355.00
Whole Chimichurri Chicken
₱670.00
Chimichurri Chicken & Rib Plate
₱545.00
Classic Healthy Plate - Chimichurri Chicken
₱320.00
High Protein Meal - Chimichurri Chicken
₱320.00
High Fiber Meal - Chimichurri Chicken
₱320.00

Savory Snacks

Omg Strips & Dips - 6 Pcs Chicken Strips
₱200 .00

Sandwiches

Cold Chunky Tuna Combo
₱175.00
Cold Chunky Tuna Ala Carte
₱140.00
Ham & Cheese Combo
₱200.00
Ham & Cheese Ala Carte
₱165.00
Roasted Chicken Combo
₱200.00
Roasted Chicken Ala Carte
₱165.00
1/3 Lb Cheese Burger Combo
₱240.00
1/3 Lb Cheese Burger Ala Carte
₱205.00

Pasta

Spaghetti with Meatballs
₱165.00
Spaghetti Carbonara
₱160.00
Chicken Lasagna
₱160.00
Nachos
₱175.00
Quesadilla
₱185.00
Burrito
₱205.00

Salads

Caesar Salad
₱155.00
Kani & Mango Salad
₱155.00
Soup & Salad
₱120.00

Soup

Chicken Noodle Soup
₱90.00
Clam Chowder
₱105.00

Side Dishes

Regular
₱60.00
Large
₱85.00
Side Sampler
₱165.00

Muffins

1 Piece
₱18.00
Box of 6
₱90.00

Desserts &
Beverages

Chocolate Mousse
₱60.00
Fruits in Cream
₱65.00
Sundae - Chocolate - Strawberry - Vanilla
₱70.00
Brownie / A La Mode
₱50/85.00
Banana Split/ Peach Melba Split
₱155.00
Soda Regular
₱55.00
Soda Large
₱60.00
Soda Pitcher
₱165.00
Iced Tea Regular
₱60.00
Iced Tea Large
₱65.00
Iced Tea Pitcher
₱180.00
Sugar-Free Iced Tea Regular
₱60.00
Sugar-Free Iced Tea Large
₱65.00
Sugar-Free Iced Tea Pitcher
₱180.00
Pineapple Juice Regular
₱65.00
Pineapple Juice Large
₱70.00
Soda Float
₱85.00
Bottled Water
₱40.00
Soda in Can
₱65.00
Coffee
₱65.00
Hot Tea
₱35.00
San Miguel Pale Pilsen
₱70.00
San Mig Light
₱70.00

Kenny's Fruit Juice 300ml

Apple
₱110.00
Guyabano
₱110.00
Mango
₱110.00
Pink Guava
₱110.00
Menu Updates
With one of the largest food menus in the Philippines, Kenny Rogers is always creating new flavors and dishes for the thousands of customers they serve every day. One of which is most exciting – the Kenny Rogers Chimichurri Chicken!
Chimichurri is a sauce of Argentinian origin. It's a wonderful blend of freshly chopped parsley and cilantro, with a kick of garlic and spices plus a hint of zest. Kenny Roger's Chimichurri twist to their roast chicken is absolutely mouthwatering.
Here are some photos of the most up to date menu at Kenny Rogers: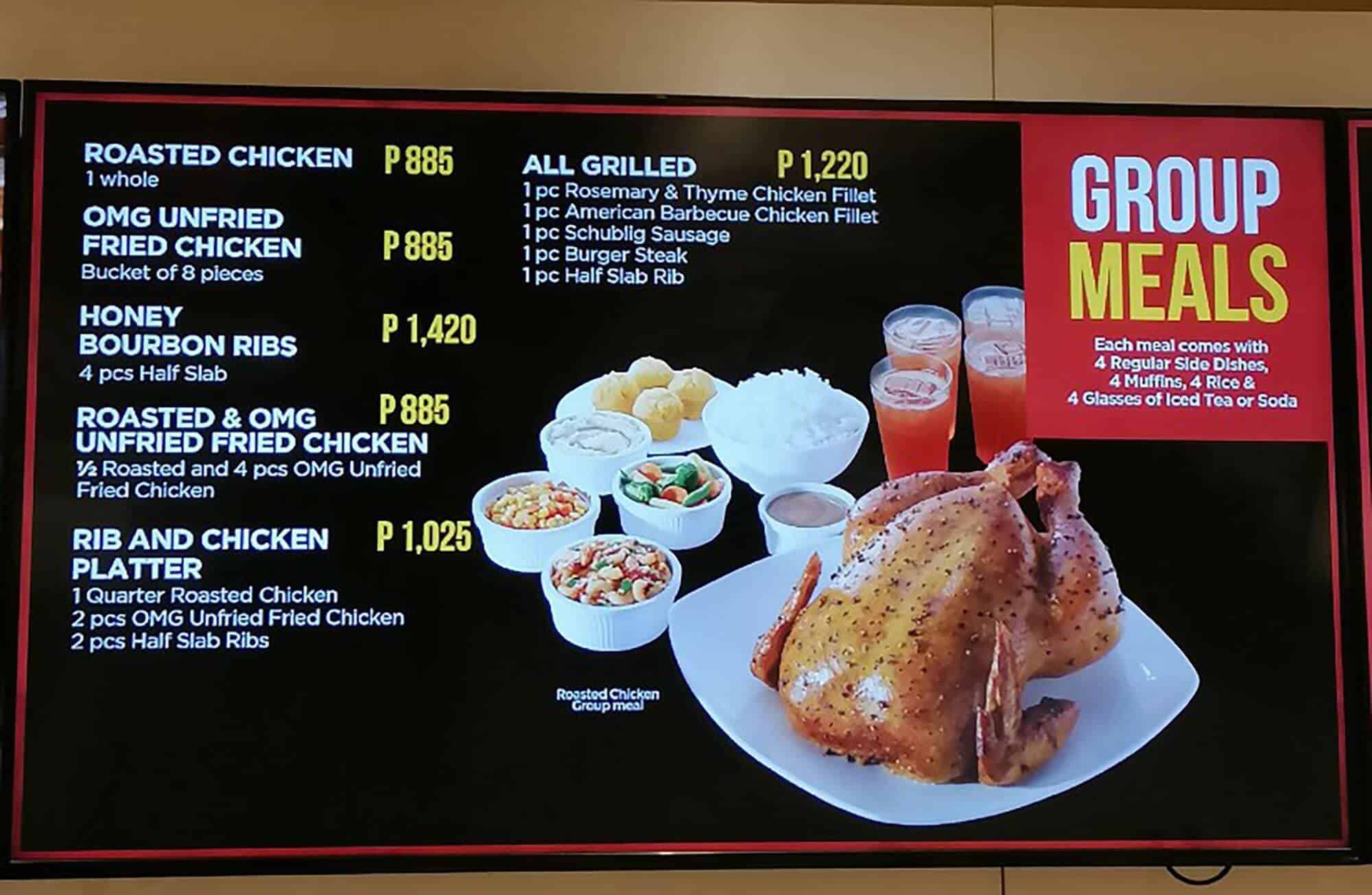 Best Food On Kenny Rogers Menu
Kenny Rogers Roasters boasts a menu that's focused on healthy eating and calorie-conscious combinations. Their Roasted Chicken, a perennial favorite, is citrus marinated and perfectly seasoned before being roasted to a caramel brown color, available in whole, half, quarter servings, and some combos. The High Protein Meal, also a best seller, is composed of a quarter serving of chicken with a Caesar salad, rice, and a drink.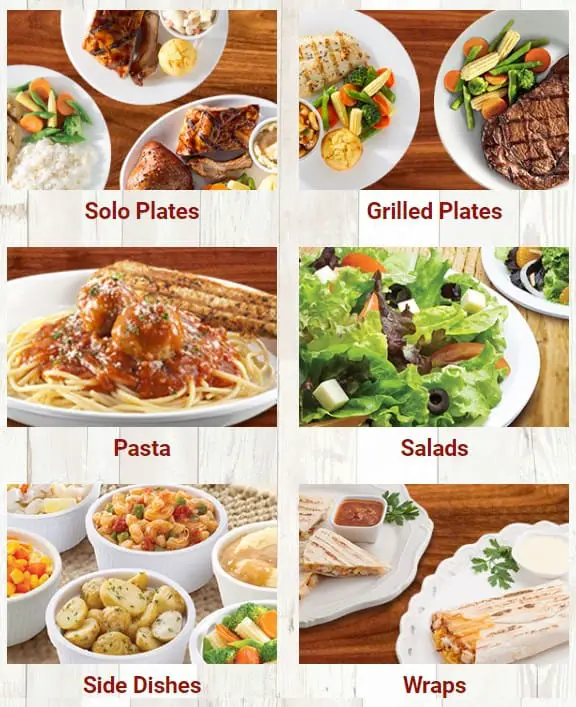 But it's not all about the chicken at Kenny Rogers. Their grilled steaks and fish are also popular items and it isn't hard to see why. The Premium Steak is cooked just how you prefer it and served with any two of their plethora of side dishes. Meanwhile, the Sea Bass Plate serves a prime cut of sea bass with lemon butter sauce, two sides, rice, and a muffin.
Read Also: McDonald's Menu and Prices
Kenny Rogers Promo
Featured items on the Kenny Rogers menu range from new items and specials to promos with good value for money. The restaurant regularly offers limited-time specials such as the Muffin Promo, which gets you a free box of ube macapuno muffins when you purchase a box of corn muffins. The latest items and combos will remain featured before being moved to the regular menu or until the combo period lasts.

There's a multitude of group meals to choose from, and they're ideal for parties and group dining. You can get meaty options like the All Grilled Group Meal, which comes with ribs, chicken fillet, a burger steak, and a bunch of sides. Or keep it simple and get the OMG Group Meal for a bucket of chicken to go with your sides, muffins, and pitcher of iced tea or soda.
Want to be updated on other promos? Subscribe to our newsletter.
Kenny Rogers Delivery Service
Kenny Rogers Roasters delivery in the Philippines is available 24/7 in select areas around Metro Manila. For non-24/7 areas, the delivery window opens at 10am and closes at 9pm. You can order anything on the menu through their website or call 555-9000 to reach their delivery hotline and get your food within the hour.
You can also check out the GrabFood app to have your favorite Kenny Rogers chicken delivered!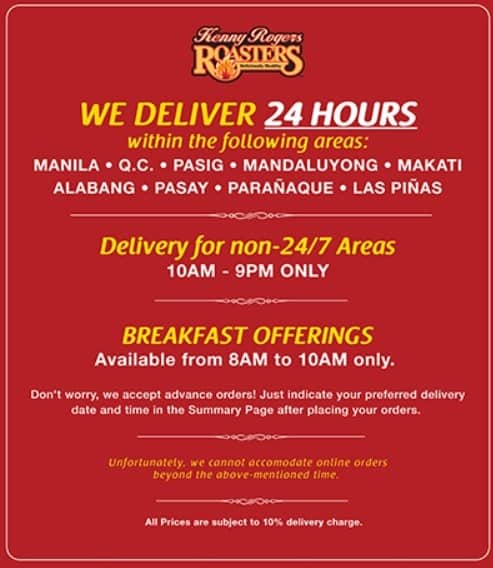 Breakfast deliveries from the Kenny Rogers menu are taken between 8am and 10am, where items such as omelets, pancakes, bacon and egg sandwiches, and more are available. If the day ahead looks like it's going to be busy and you won't have time to make a call or order online, you can place an advanced order earlier in the day and just specify the time you want the food to arrive.
Do Other Filipinos Like Kenny Rogers?
About Kenny Rogers Menu Philippines
Kenny Rogers Roasters was founded by country musician Kenny Rogers with John Y. Brown, Jr. in 1991. It began as a restaurant in Coral Springs, Florida, that focused on serving roasted chicken, but the menu quickly expanded to include turkey and ribs along with various side dishes. The company's growth was shaky over the first decade, but that didn't stop it from expanding to international markets.
In 1995, the menu was introduced to the Philippines where a solid following was formed for the roasted chicken, muffins, and side dishes. Although its operations in the US dwindled, the chain is alive and well in Asia with over a hundred outlets spread throughout Malaysia, Indonesia, Singapore, Bangladesh, China, and the Philippines.
Although the Kenny Rogers menu is continuously changing in the Philippines and elsewhere, you'll find that the signature taste remains a constant delight to customers who eat at Kenny Rogers.
Talk To Kenny Rogers Filipino Staff
Want to know more about the Kenny Rogers menu in the Philippines? Forward a message to them on social media:
Otherwise, you can find one of their stores and contact a Kenny Rogers near you. Or you can send them a message on their website.
For any more questions you may have about the Kenny Rogers menu Philippines, leave a comment below.