If you're a yogurt fan, you undoubtedly have your favorite brand you always turn to first. Some prefer the tin-lid grocery version for a more intense yogurt flavor, while others prefer the colder, lighter soft-serve variety. Some people choose smooth beverages in tetra packs for a quick yogurt boost. The Koomi menu makes it possible to have all of them in one satisfying drink.
Here is the latest Koomi menu with prices in the Philippines:
Menu
Price

Kilig Kombo Series

Jack of All Dates yogurt x langka x dates
170
You're All I Avo Wanted yogurt x avocado x mango
185
Kitkat to Believe in Berries yogurt x made with kitkat strawberry
185
That's Taro-Rific yogurt x taro x purple rice
155
Havana Go-Nana
175

Koomi Yogurt Cake

Avo Nice Day Yogurt Cake yogurt x avocado almond dacquoise pistachio
175
Will Ube Mine? Yogurt Cake yogurt x macapuno strips ube x almond dacquoise desiccated coconut
175
Waterberry Wonder Yogurt Cake yogurt x strawberry watermelon x pistachio almond dacquoise
175
Mango Choco Yogurt Cake yogurt x mango x almond dacquoise chocolate
175

Best Sellers

Stick-On-Me Purple Rice yogurt x purple rice
125
Will Ube Mine? Yogurt x ube x nata cheese foam
170
Mango Moo yogurt x mango
155
Avo Nice Day yogurt x avocado
185
Cookies N Dream yogurt x cookies
135
You're The Berry Best yogurt x strawberry
155

Drinks

Kitkat You Outta My Head yogurt x made with Kitkat chocolate
180
Berry Kiwissable yogurt x kiwi x strawberry
175
Banana Boombastic Nuttella Fantastic yogurt x banana x Nuttela
180
Banana Dance With Some Berries yogurrt x blueberry strawberry x banana
175
I'm Berry Blue Without You yogurt x blueberry
175
Nuts About You yogurt x almon pistachio
170
Mango Cracker Rocker yogurt x mango x graham
170
A Melon Reasons Why I Lychee yogurt x lychee x melon
145
Chocnut Ka Biscoff? Yogurt x chonut x biscoff
175
Simply Koomi yogurt x fruit honey
120

Koomi Froyo

Simply Koomi Froyo (Without Toppings) Small
99
Simply Koomi Froyo (Without Toppings) Medium
129
Simply Koomi Froyo (Without Toppings) Large
159
Waterberry Wonder Froyo (Without Toppings) Small
109
Waterberry Wonder Froyo (Without Toppings) Medium
139
Waterberry Wonder Froyo (Without Toppings) Large
169
Simply Koomi Froyo (With Toppings) Small
129
Simply Koomi Froyo (With Toppings) Medium
179
Simply Koomi Froyo (With Toppings) Large
219
Waterberry Wonder Froyo (With Toppings) Small
139
Waterberry Wonder Froyo (With Toppings) Medium
189
Waterberry Wonder Froyo (With Toppings) Large
229

Add Ons

Purple Rice
20
Mango
30
Cashews
35
Nata
25
Pistachio
40
Watermelon
25
Graham
25
Oats
25
Cheese Foam
40
Blueberry
40
Strawberry
35
Almond
40
Boba Pearl
30
Red Bean
20
Banana
20
Dragon Fruit
30
Lychee
30
Avocado
40
Cookies N Dream
25
Dates
20
Mochi
40
Popping Boba
30
Dark Choco
25
Chocnut
20
Biscoff
40
Nutella
40
Peach
30
Taro
25
KitKat
50
Aloe Jelly
30
Apple Juice
40
Orange Jam
40
Kiwi
35
Strawberry Mochi
40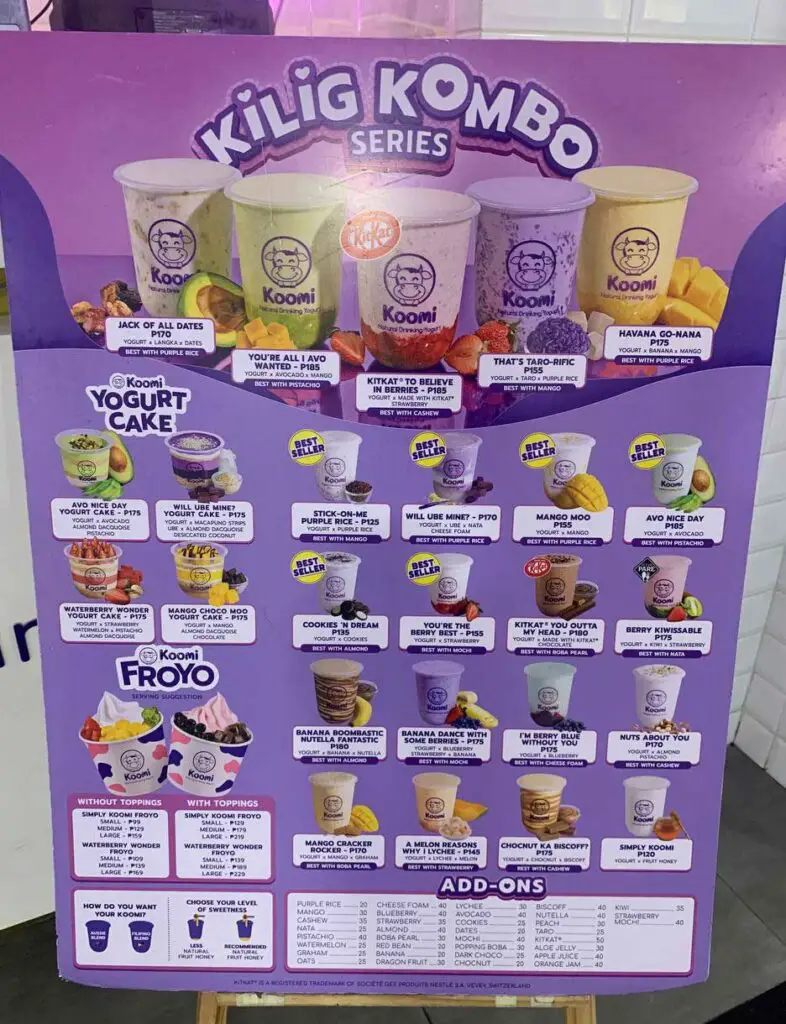 Australian company Koomi has made a name in the probiotic yogurt drink market with its line of delicious, healthful, and freshly made beverages. Koomi provides two different yogurt bases, one with a stronger and sourer taste profile (Australian) and a second with a sweeter flavor profile (Filipino), to appeal to the local market.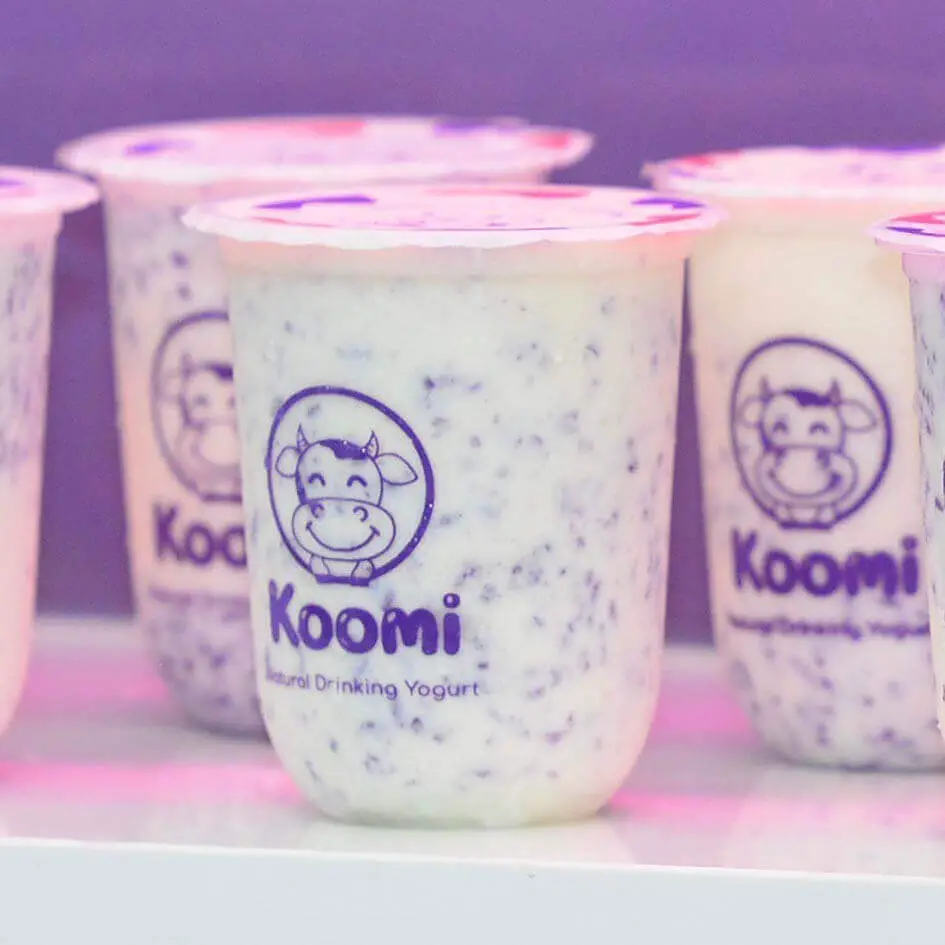 Koomi Best Sellers
Below are some of the crowd-favorites on Koomi's menu.
Stick-On-Me Purple Rice
When first trying the Koomi brand, the Koomi Purple Sticky Rice is the best option. At first taste, it's easy to understand why this is one of their most well-liked recipes. It's simple and drinks quite smoothly. Not only that but using purple rice in a drink is a novel take on a culturally significant staple food in a country where white rice is revered. And the rice makes it a hearty drink.
Langkashewald
The langka (also known as jackfruit), cashews, cream cheese, and a base of fresh yogurt are combined to make this deliciously refreshing beverage. Likely, the jackfruit tastes aren't as strong as you'd want them to be, but the cashew pieces provide a delightfully chewy texture that makes the drinking experience more pleasant.
Banana Dance with Some Berries
If you're the kind of person who can't help but swoon over blueberries and strawberries, The Banana Dance with Some Berries is a no-brainer. When mixed with fresh yogurt and natural honey at Koomi, these ingredients create a rare and delightful sweetness and acidity. Remember that this drink is more sour than sweet, and we would not advocate it to anybody with a sweet tooth.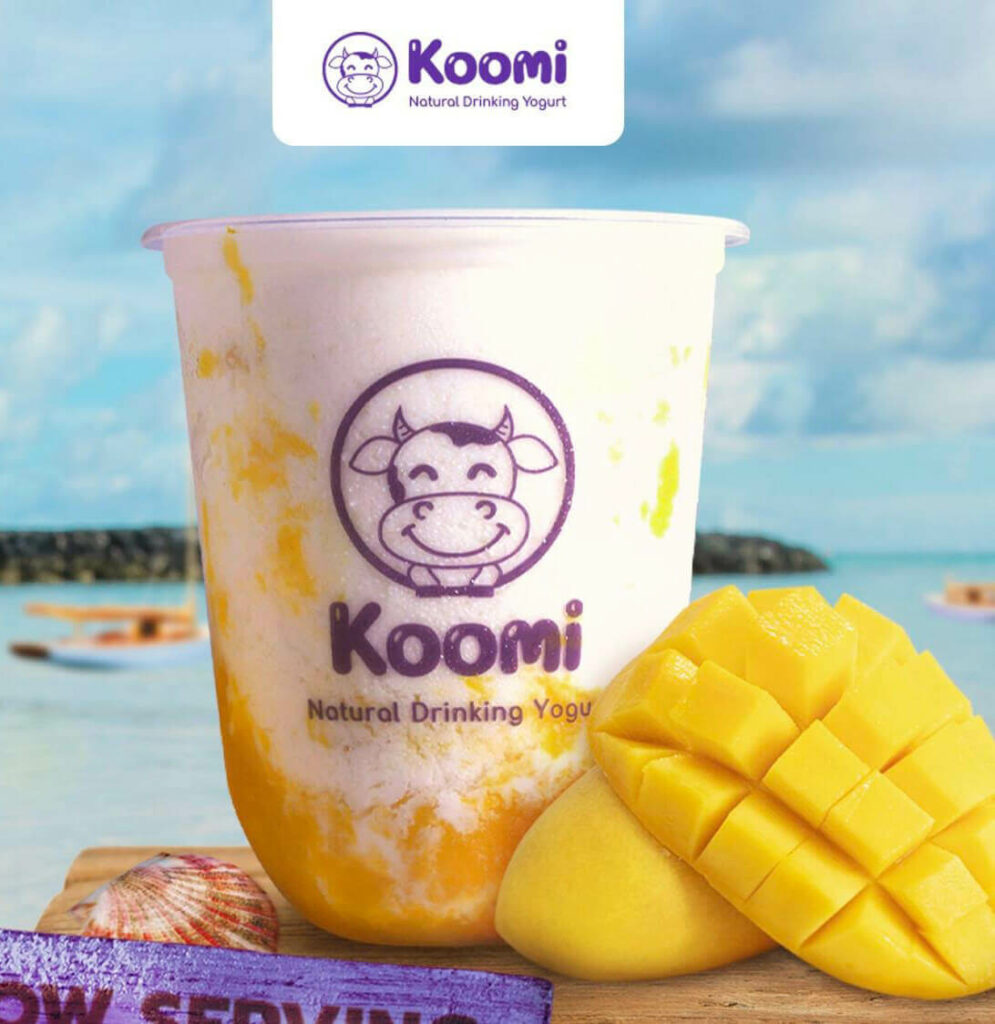 Mango Moo
Koomi's Mango Moo is another tart product that combines flavorful yellow mangoes, fruit honey, and drinkable yogurt. To hear it from Koomi's top executive, this matches the rice and nata de coco add-on offerings well. It's reminiscent of the mango sticky rice popular in Thailand, but not quite as much.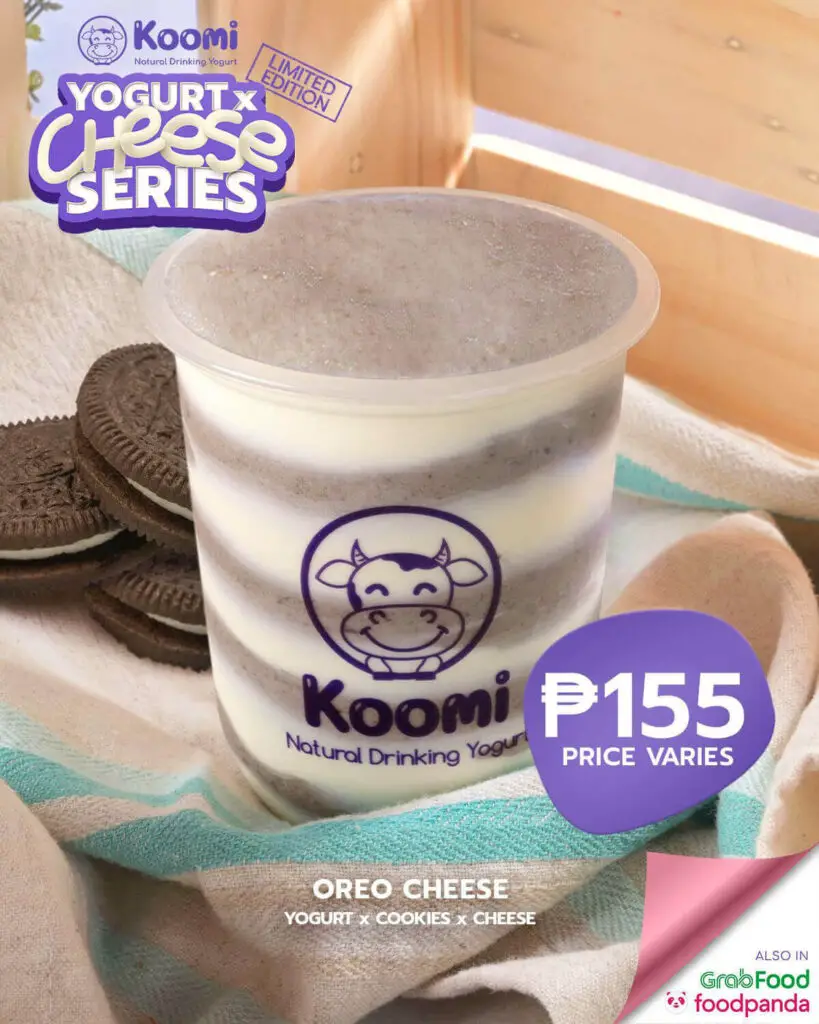 Cookies 'N Dream
To balance out our previous entries, here's something for those with a sweet tooth. Oreo cookies and yogurt may not seem like a natural pairing, but the sweetness of the fruit honey and cookies will help to balance out the tang of the yogurt.
Want to be updated on other promos? Subscribe to our newsletter.
Mango Choco Moo Yogurt Cake
The Mango Choco Moo is what you'd get if a mango float and a chocolate mousse had a kid. It comprises mangoes, chocolate, almond dacquoise (baked meringue), and fresh Koomi yogurt.  Interestingly, the sweetness is not overpowering, and it is possible to devour a whole cup in a single sitting without being bloated.
More guiltless goodie? Try out Red Mango's Yogurts too!
Koomi Delivery
If you need yogurt but don't feel like leaving the house, you may have Koomi delivered straight to your door. You may use major food delivery apps such as GrabFood and foodpanda to place an order for your Koomi favorites. When using the app, you just need to locate the Koomi restaurant that is most convenient for you and then wait for your order to come.
Frequently Asked Questions
Are there health benefits to drinking Koomi?
To make yogurt, milk must be fermented with good bacteria. Because of its numerous health advantages, yogurt is a staple of most diets. It's a good source of minerals and vitamins, including calcium, riboflavin, potassium, magnesium, and vitamins B6 and B12. There are probiotics in there, too, which are good for maintaining digestive health.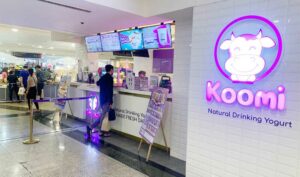 About Koomi in the Philippines
Australian business Koomi, with headquarters in Sydney, introduced their natural drinking yogurt to the Philippines a year ago so locals may indulge in it without feeling guilty.
The first Koomi shop in the Philippines was inaugurated at the Podium in April 2019 by Mr. John – Michael Hilton of the Visum Ventures Group.
Koomikadas, known for being spontaneous, imaginative, upbeat, and fascinating, quickly became the brand's most devoted fans. More significantly, this group of health nuts knows where to get their fill of guilt-free, tasty beverages, pastries, and frozen yogurt.
Since August 2022, Filipinos have enjoyed #GuiltlessGoodness at one hundred different Koomi locations.
Talk To Koomi Filipino Staff
Want to know more about the Koomi menu in the Philippines? Send their staff a message on social media:
For any more questions you have about the Koomi menu, leave a comment below.