Famous for its delicious frozen yogurt and smoothies, Red Mango has built a name in the Philippines. Red Mango caters to health-conscious customers by offering a delicious treat that doesn't compromise nutrition. Check out the Red Mango menu and see if their tasty smoothies or yogurt treats are to your liking.
Here is the latest Red Mango Menu with prices in the Philippines:
Menu
Price

Frozen Yogurt

Flavors: Original and Matcha
Small size
90
Medium size
130
Large size
170
Family size
260
Toppings (each)
20
Mango Jubilee - From
150
Asian Invasion - From
150
Banana Almond Crunch - From
150
Blueberry Cheesecake - From
150
Froyo Sundae Cone - Caramel
99
Froyo Sundae Cone - Chocolate
99

Froyo Parfait

Original - Regular size
155
Original - Grande size - with 50% more froyo!
185
Banoffee - Regular size
155
Banoffee - Grande size - with 50% more froyo!
185
Chocolate Lovers - Regular size
155
Chocolate Lovers - Grande size - with 50% more froyo!
185
Matcha - Regular size
155
Matcha - Grande size - with 50% more froyo!
185

Homemade Waffles

Banana Almond Classic
95
Banana Almond w/ Froyo
135
Blueberries n' Cream Classic
95
Blueberries n' Cream w/ Froyo
135
Fruit Bowl Froyo
125

Smoothies

Banana - Regular
105
Banana - Mixed Fruit
115
Mango - Regular
105
Mango - Mixed Fruit
115
Red Grape - Regular
105
Red Grape - Mixed Fruit
115

Beverages

Coffee and Tea
Americano Hot
80
Americano Iced
125
Latte Hot
90
Latte Iced
105
Cappuccino Hot
90
Caramel Macchiato Hot
90
Mocha Hot
90
Mocha Iced
105
Organic Tea Hot
80
Bottled Water
30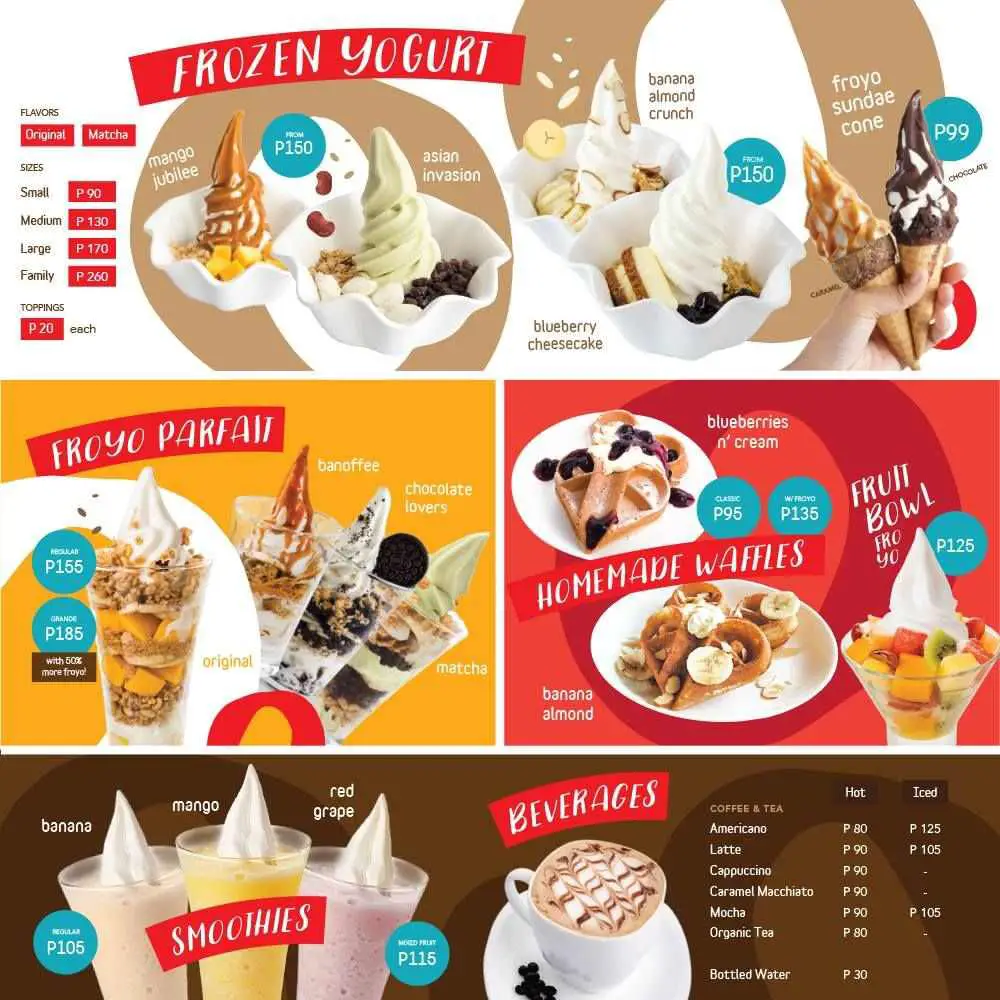 Beyond their world-famous frozen yogurt, Red Mango's menu is extensive and appealing, with many tasty options. Their flavored yogurts are particularly notable for their tangy and creamy flavor. You can also make them your own by choosing from various toppings, including fresh fruit and granola. Red Mango also offers fresh fruit parfaits and froyo cones, which are great for a fast pick-me-up while on the go.
Red Mango Best Sellers
Below are some of the crowd-favorites on Red Mango Menu.
Original Frozen Yogurt
Red Mango's Original yogurt strikes the ideal balance between tartness and smoothness, making it a customer favorite. It's a delight that yogurt lovers can't resist because of its velvety texture and authentic yogurt taste. You may make it your own by choosing from various toppings and mixins, such as fruits, cereals, nuts, and special treats, like brownie bites, cheesecake, and dark choco shells.
Personally, I like to add mine with mangoes and strawberries (if available), but hey, to each their own!
Want to be updated on other promos? Subscribe to our newsletter.
Banoffee Froyo Parfait
Delicious frozen yogurt, rich caramel sauce, sweet bananas, and crumbly buttery biscuits come together in perfect harmony in the Red Mango Banoffee Froyo Parfait. The tart and creamy frozen yogurt is a perfect base for the decadent toppings. The bananas create the perfect bed for the sticky richness the caramel-based sauce adds. The biscuit crumbs give it an intriguing texture and a buttery flavor. Each layer contributes to the overall harmony and deliciousness of the final product.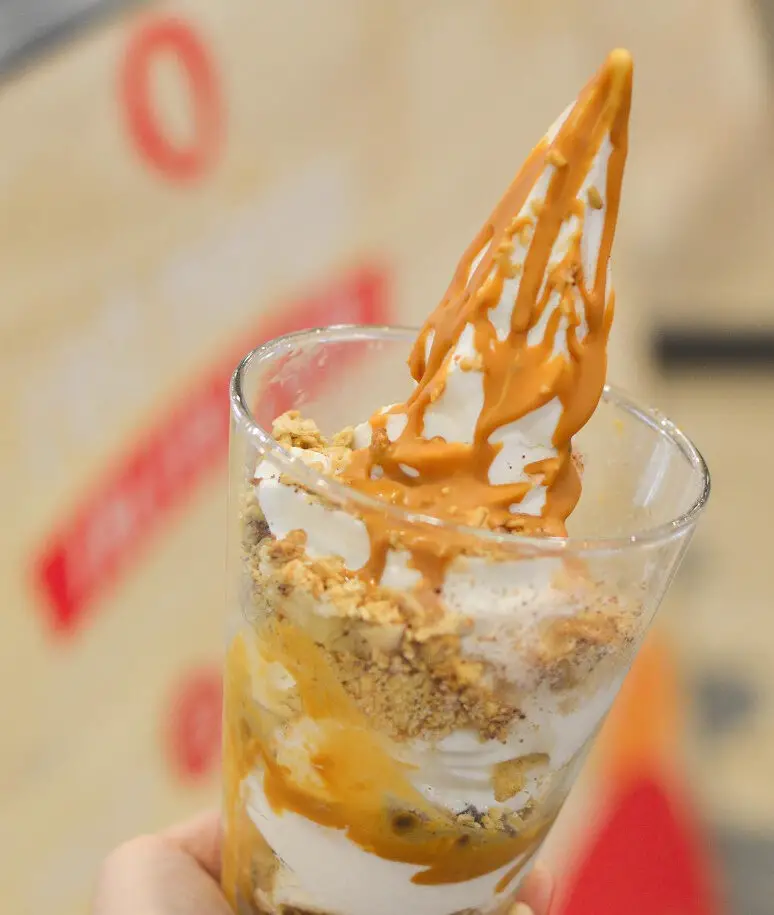 Red Mango Delivery
Indulge in the delightful flavors of Red Mango from the comfort of your home in the Philippines. Conveniently order and have Red Mango sweets delivered straight to your doorstep through their user-friendly website at www.redmango.com.ph. Browse the menu, select your favorites, and arrange for delivery with just a few clicks. You can also order through delivery apps like foodpanda and GrabFood. Treat yourself to the scrumptious offerings of Red Mango without the need to go out.
In case you're looking for yogurt in drink form, you can also try out the tasty Koomi!
Frequently Asked Questions
Does Red Mango Frozen Yogurt contain lactose?
Red Mango frozen yogurt contains lactose made from real nonfat milk. Still, the yogurt cultures used in the preparation process help break down lactose, enabling many lactose-intolerant individuals to enjoy yogurt with minimal gastrointestinal discomfort.
How long can you keep frozen yogurt?
Red Mango's Frozen Yogurt is made fresh. Therefore it's best consumed as soon as possible after delivery, no later than 7 days, or by the Best Before Date.
About Red Mango in the Philippines
Red Mango, which was founded in 2002 in South Korea, is the forerunner of the tart nonfat frozen yogurt genre. In addition to the United States, South Africa, Singapore, Indonesia, Thailand, and the Philippines, Red Mango may be found in over 150 other countries throughout the globe as a healthy and delicious sweet treat. Red Mango's nutritious and satisfying treats result from combining their natural frozen yogurt with fresh toppings, all free from dangerous additives like high-fructose corn syrup or artificial ingredients commonly found in other frozen yogurts.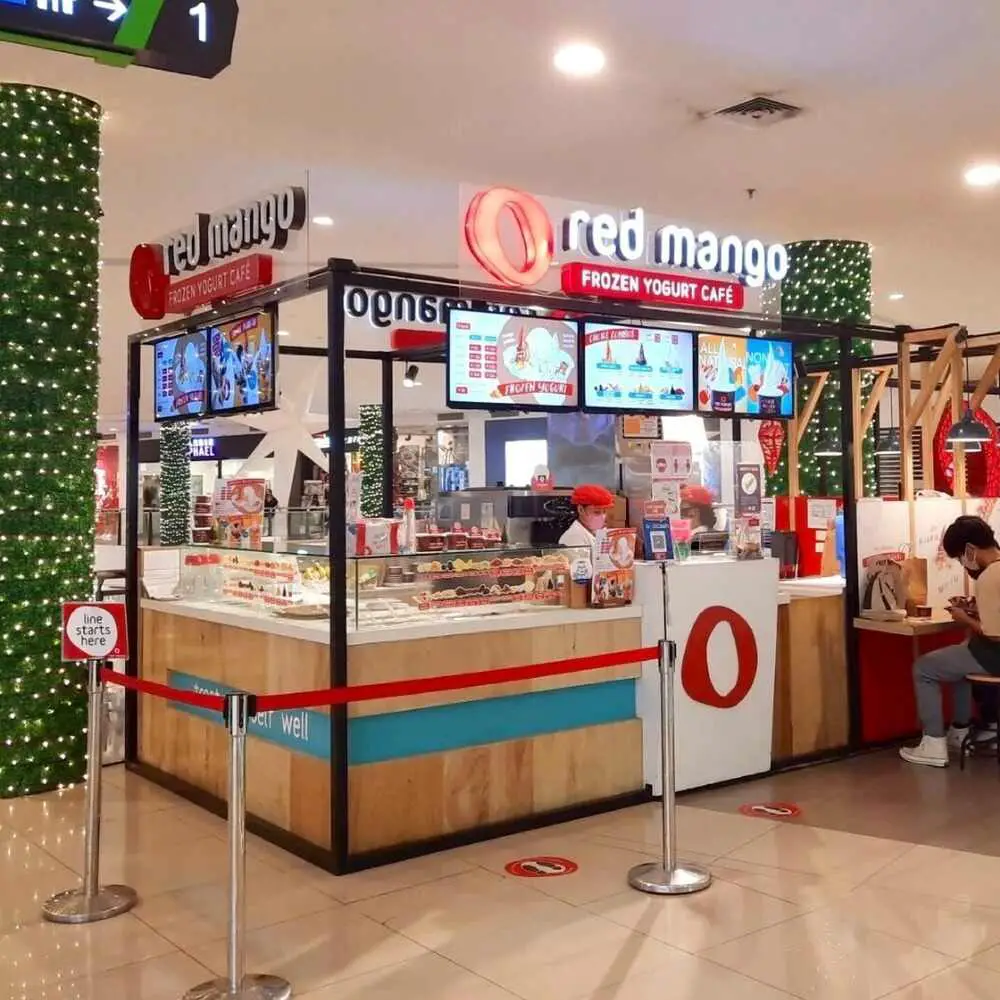 Talk To Red Mango Filipino Staff
For any more questions you have about the Red Mango menu, leave a comment below.