It's no secret that Marugame Udon serves excellent, affordable, and high-quality fast-casual Japanese food. You collect your order in minutes, prepay, and carry it on a tray. Here are a few pointers before you join the line in front of a Marugame Udon menu and give it a shot.
Here is the latest Marugame Udon menu with prices in the Philippines:
Menu
Price

Udon

Beef Ontama Bukkake Udon (Regular)
₱210.00
Beef Ontama Bukkake Udon (Large)
₱260.00
Chicken Paitan Udon (Regular)
₱200.00
Chicken Paitan Udon (Large)
₱250.00
Beef Udon (Regular)
₱185.00
Beef Udon (Large)
₱235.00
Sukiyaki Ninja Udon (Regular)
₱210.00
Sukiyaki Ninja Udon (Large)
₱260.00
Pork Samurai Udon (Regular)
₱170.00
Pork Samurai Udon (Large)
₱220.00
Spicy Pork Udon (Regular)
₱165.00
Kamaage Udon (Regular)
₱95.00
Kamaage Udon (Large)
₱145.00
Kake Udon (Regular)
₱95.00
Kake Udon (Large)
₱145.00
Beef Yaki Udon (Regular)
₱190.00
Kimchi Yakiudon (Regular)
₱230.00
Tonkotsu Udon (Regular)
₱250.00
Tonkotsu Udon (Large)
₱300.00
Karamiso Beef Udon (Regular)
₱265.00
Karamiso Beef Udon (Large)
₱315.00

Rice Bowls

Teriyaki Chickendon
₱175.00
Beef Yakiniku Don
₱190.00
Katsudon
₱190.00
Gyudon
₱170.00
Curry Rice
₱160.00
Tendon
₱270.00
Katsu Curry Rice
₱250.00
Teriyaki Chicken Special
₱200.00
Teriyaki Chicken & Beef Yakiniku
₱220.00

Side Dishes

Pork Tonkatsu
₱75.00
Ebi Ten
₱60.00
Sweet Potato Ten
₱40.00
Chikuwa Ten
₱60.00
Chicken Karaage
₱60.00
Kakiage (Vegetable Tempura)
₱60.00
Tamago Ten
₱40.00
Gyoza
₱40.00
Cheese Sausage
₱60.00
Kanikama Tempura
₱50.00
Tempura Ebi Kakiage
₱80.00

Omusubi

Spam Omusubi
₱60.00
Tuna Omusubi
₱40.00
Inari Sushi
₱55.00
Salmon Flakes Omusubi
₱55.00
Noritama Omusubi
₱35.00
Karaage Mayo
₱55.00
Dragon Omusubi
₱70.00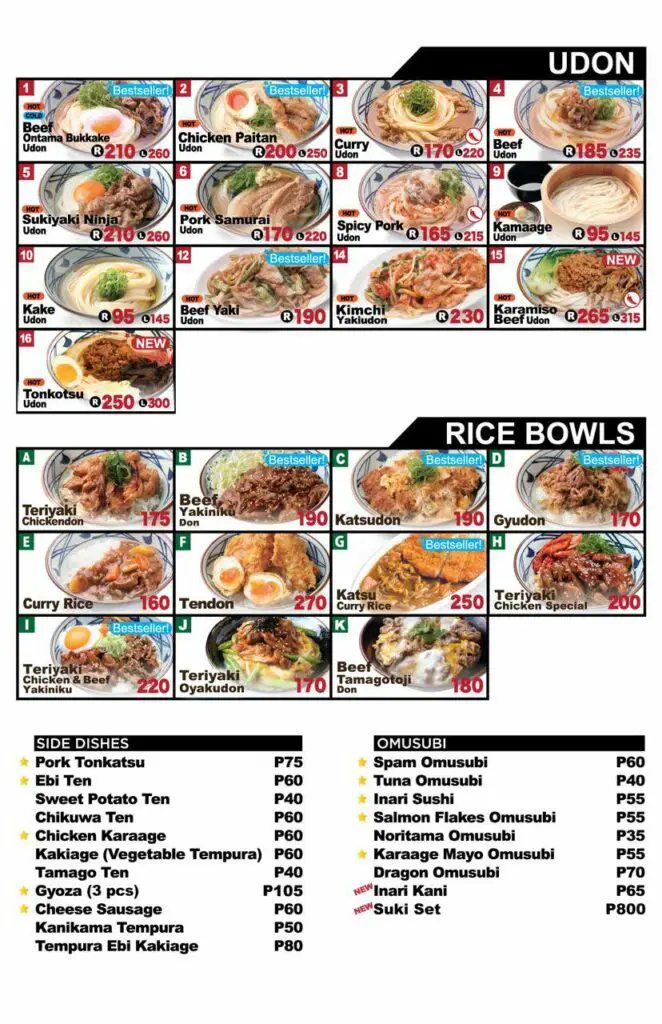 At Marugame Udon, patrons may watch as their udon bowl, tempura, or drink is cooked right in front of them in a theater kitchen. As the restaurant's name suggests, one of the attractions at Marugame Udon is the restaurant's selection of udon meals. These dishes feature noodles that are prepared to order, ensuring that customers receive the highest quality Japanese cuisine available.
Marugame Udon Best Sellers
Here are some crowd-pleasers in the Marugame Udon Menu in the Philippines.
Gyudon Rice and Curry Rice
Rice enthusiasts, rejoice! Even though they specialize in udon, they provide rice dishes as well. The gyudon and curry rice bowls are the two most highly recommended rice dishes at Marugame Udon. The Gyudon, strips of flavorful beef and soft onions marinated in a sweet and savory marinade. The Curry consists of incredibly tender meat in a sweet and spicy gravy-like sauce served over rice.
Beef Ontama Bukkake Udon
Beef Ontama Bukkake Udon is another bestseller. It's made with u don noodles in a light Kake broth are topped with a mountain of soft Beef Strips and Ontama  (a creamy over easy poached-like egg), making for a delicious meal.  The beef has a great deal of flavor and complements the broth's subtle sweetness and rich beefiness, but it doesn't steal the show from the dish's star ingredient, the chewy noodles.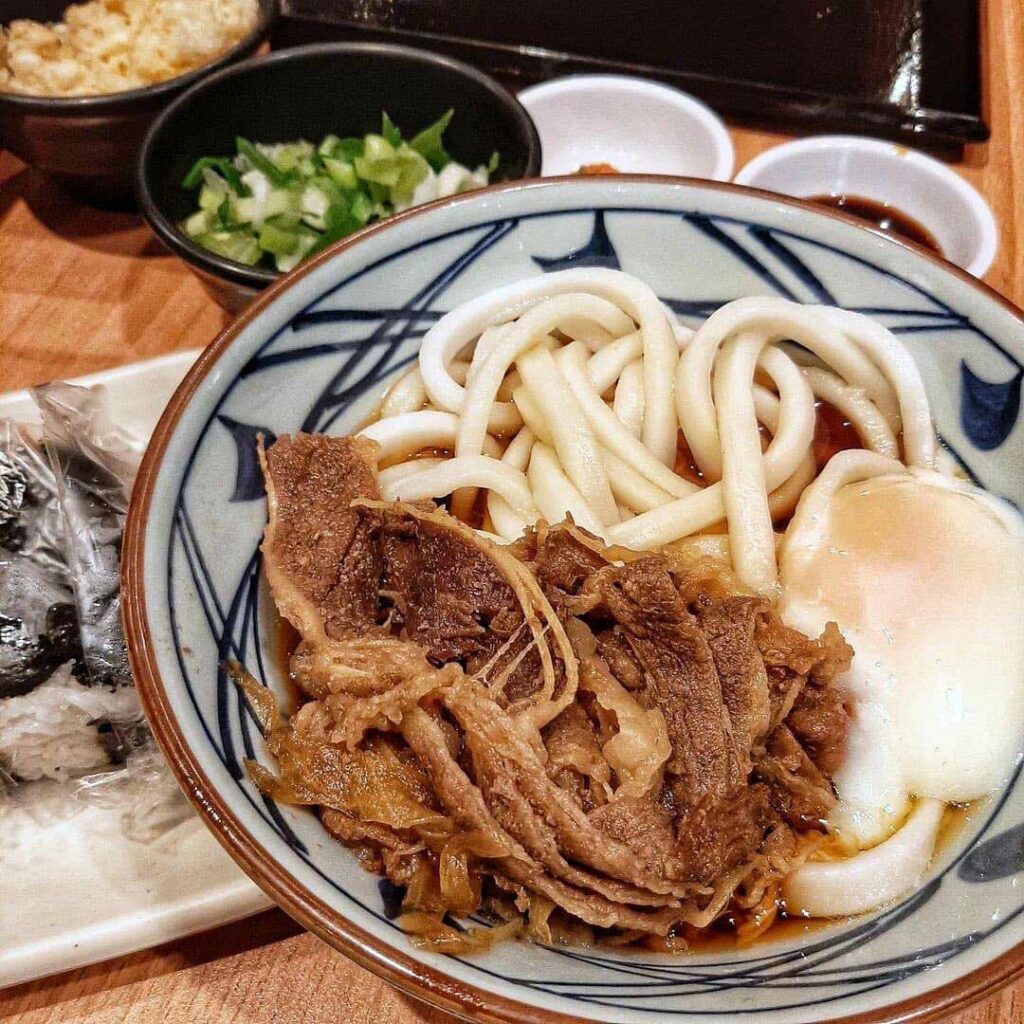 Chicken Paitan Udon
Another crowd-pleaser is Chicken Paitan Udon. The udon noodles are thick and springy, sopping soup like a sponge. The Paitan broth is creamy and rich, and it's delicately finished out by a flawlessly prepared soft-boiled egg and braised chicken.
Other noodle options? You can also check out Botejyu's Pork Paitan Ramen.
Want to be updated on other promos? Subscribe to our newsletter.
For a different restaurant with Katsu, you can also check out the Yabu Menu!
Marugame Udon Delivery
Getting a table at a Marugame location might be challenging at times, so why not have their Japanese dishes delivered to your home and avoid the hassle altogether? Ordering from the closest Marugame Udon location to your home is as simple as using one of the popular food delivery apps like Foodpanda or GrabFood.
Frequently Asked Questions
Are there side dishes available on the Marugame Udon Menu?
The Marugame Udon experience is not complete without adding some crispy extras, such as Ebi Tempura, Chicken Karaage, or Vegetable Kakiage. We suggest you get a few pieces of your preferred tempura in addition to a serving of their luscious Tuna Omusubi.
Can you make a reservation?
Because they would not let you enter to look for an empty seat, there is no option to make reservations in advance. The moment they permit you to go to the front of the line to place your order, you may assume there is room for you in one of the chairs.
How do you order at Marugame Udon?
Once you're in from of the cashier, you may place your order for an udon or rice dish, like beef gyudon, and they will make it right in front of you. After deciding on tempura or omusubi, you may pay for your order at the register. After settling your bill, a staff member will show you to the nearest empty table.
About Marugame Udon in the Philippines
The Japanese fast food enterprise Marugame Seimen, popularly known as Marugame Udon, primarily focuses on udon. Toridoll Holdings Corporation, headquartered in Kobe, operates the chain.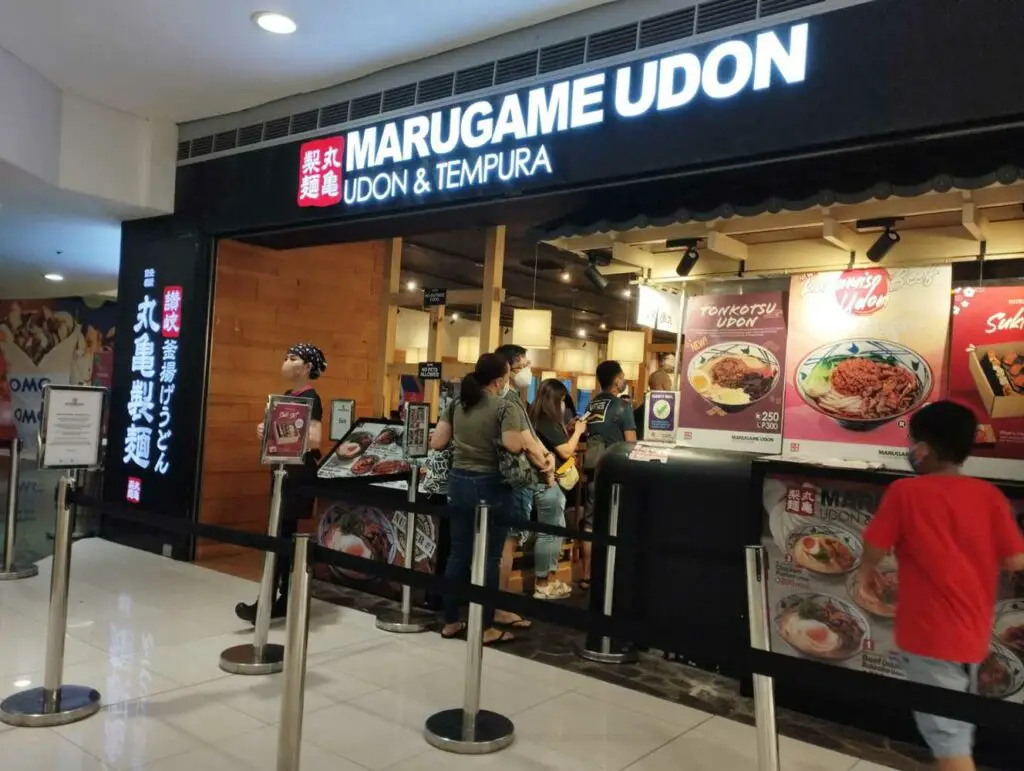 This chain has 786 locations all around Japan as of this June 2019. The chain is a global powerhouse with 217 locations across Singapore, the United States, the United Kingdom, the Philippines, Cambodia, Vietnam, Australia, Taiwan, Indonesia, Russia, South Korea, China, Hong Kong, and Thailand.
In 2017, the first Marugame Udon restaurant in the Philippines debuted on Bonifacio High Street to resounding success. Filipinos were won over by the convenience of the restaurant's signature Japanese fare.
There are over 20 Marugame locations throughout the Philippines, yet the chain's popularity shows no signs of dwindling.
Talk To Marugame Udon Filipino Staff
Want to know more about the Marugame Udon menu in the Philippines? Send their staff a message on social media:
For any more questions you have about the Marugame Udon menu, leave a comment below.