In May of 2022, the first location of the famous New York burger joint debuted in Manila. The pioneering restaurant at Bonifacio Global City, Taguig, is enormous. What items like burgers, hotdogs, fries, concretes, Manila-exclusive shakes, ice cream, beverages, meals for your beloved pet, and merch could we search for on the Shake Shack menu?
Here is the latest Shake Shack menu with prices in the Philippines:
Menu
Price

Burgers

ShackBurger (Single)
₱275.00
ShackBurger (Double)
₱445.00
SmokeShack (Single)
₱385.00
SmokeShack (Double)
₱555.00
'Shroom Burger (Vegetarian)
₱470.00
Shack Stack
₱575.00
Hamburger (Single)
₱265.00
Hamburger (Double)
₱420.00
Add applewood-smoked bacon
₱130.00

Chicken

Chicken Shack
₱275.00
Chicken Bites (6pcs)
₱195.00
Chicken Bites (10pcs)
₱295.00

Flat-Top Dogs

Hot Dog
₱210.00
Cheese Dog
₱265.00

Crinkle-Cut Fries

Fries
₱135.00
Cheese Fries
₱190.00

Manila Exclusive

Ube Shake
₱220.00

Shakes & Frozen Custard

Featured Shakes
₱240.00
Classic Shakes (Vanila)
₱220.00
Classic Shakes (Chocolate)
₱220.00
Classic Shakes (Cookies and Cream)
₱220.00
Classic Shakes (Black & White)
₱220.00
Classic Shakes (Strawberry)
₱220.00
Classic Shakes (Salted Caramel)
₱220.00
Floats (Root beer)
₱210.00
Floats (Creamsicle)
₱210.00
Cups & Cones (Vanilla or Chocolate) Single
₱150.00
Cups & Cones (Vanilla or Chocolate) Double
₱180.00

Woof

Poochini
₱155.00
Bag-O-Bones
₱365.00

Wine

White (Sauvignon Blanc, Fruity, Floral, Fresh) (6oz glass)
₱260.00
White (Sauvignon Blanc, Fruity, Floral, Fresh) (750ml bottle)
₱950.00
Red (Tannat, Merlot & Cabernet, Sauvignon | Supple, Fruity, Spice) (6oz glass)
₱260.00
Red (Tannat, Merlot & Cabernet, Sauvignon | Supple, Fruity, Spice) (750ml bottle)
₱950.00
Prosecco (750ml bottle)
₱1,500.00

Beer

ShackMeister Ale (16oz)
₱180.00
ShackMeister Ale (24oz)
₱260.00
Lager (330ml bottle)
₱125.00
Premium Malt (330ml bottle)
₱110.00

Concretes

Shack Attack Single
₱250.00
Shack Attack Double
₱350.00
Mega Mangga! Single
₱250.00
Mega Mangga! Double
₱350.00
Coconut Pie Oh My Single
₱250.00
Coconut Pie Oh My Double
₱350.00

Turn Up the Heat

Dark Meat Hot Chicken
₱310.00

Drinks

Featured Lemonade Small
₱135.00
Featured Lemonade Large
₱165.00
Fresh Lemonade Small
₱135.00
Fresh Lemonade Large
₱165.00
Fifty/Fifty Small
₱135.00
Fifty/Fifty Large
₱165.00
Shack Bottle Water (Hope in a bottle)
₱40.00
Sparkling Water
₱125.00
Organic Brewed Iced Team Small
₱135.00
Organic Brewed Iced Team Large
₱165.00
Fountain Soda Small
₱55.00
Fountain Soda Large
₱75.00
Abita Root Beer
₱190.00
Organic Apple Juice
₱105.00
Shake Shack's been at it for nearly 20 years, and the expertise clearly shows. There are now many fan favorites on the Shake Shack menu, which has gained the chain a loyal following.
However, the menu is rather extensive, so first-timers may have problems settling on just one dish to try. Shake Shack serves up a variety of delicious foods, including hand-spun milkshakes, delicious fried chicken sandwiches, and, of course, mouthwatering cheeseburgers.
Shake Shack Best Sellers
If you've ever wondered what the best-of-the-best things on the Shake Shack menu are, here is the section for you.
The ShackBurger
The ShackBurger is a safe bet whether you're a regular at Shake Shack or trying it for the first time. This is their version of a cheeseburger, and it's a delicious take on the classic with tender beef, crunchy vegetables, and a tangy ShackSauce.
The SmokeShack
You'll love the SmokeShack if you're a fan of smokiness and a dash of heat. With the addition of crunchy applewood smoked bacon and chopped cherry peppers for a bit of spice, this burger is essentially the ShackBurger dialed up to eleven.
The Shake Shack Secret Menu
Like every other Shake Shack franchise, the Philippines location emphasizes the basic menu with some additional Filipino touches. However, there is much more to the menu than meets the eye — the Shake Shack Secret Menu.
You can get the BLT or a grilled cheese sandwich that isn't listed on the menu by asking a staff member, as well as the peanut butter and bacon burger, which is just a regular burger topped with bacon and peanut sauce.
Want to be updated on other promos? Subscribe to our newsletter.
Check out Burger King and 8cuts if you want other burger menu options!
Shake Shack Delivery
You may now order from Shake Shack and have it delivered or picked up. You can find them on Foodpanda and GrabFood and place an order through those platforms, or you can call their physical locations and schedule a delivery service like Grab or Lalamove to pick up and deliver your order. If you choose the latter, you can send money through your bank to cover your food costs (BPI or Security Bank).
Shake Shack Branches
Here are the Shake Shack branches in the Philippines:
Central Square BGC – (02) 82553240 | 11am-9pm
Megamall – (02)83664059 | 11am-10pm
Greenbelt 5 – (02)79336724 | 11am-9pm
Alabang Town Center – (02)82833424 | 11am-9pm
Frequently Asked Questions
Does Shake Shack Have Vegetarian Options?
Check out the 'Shroom Burger if you're a fan of veggies; it consists of an entire portobello mushroom that has been roasted in a low and slow manner, and it's served with lettuce and the iconic ShackSauce.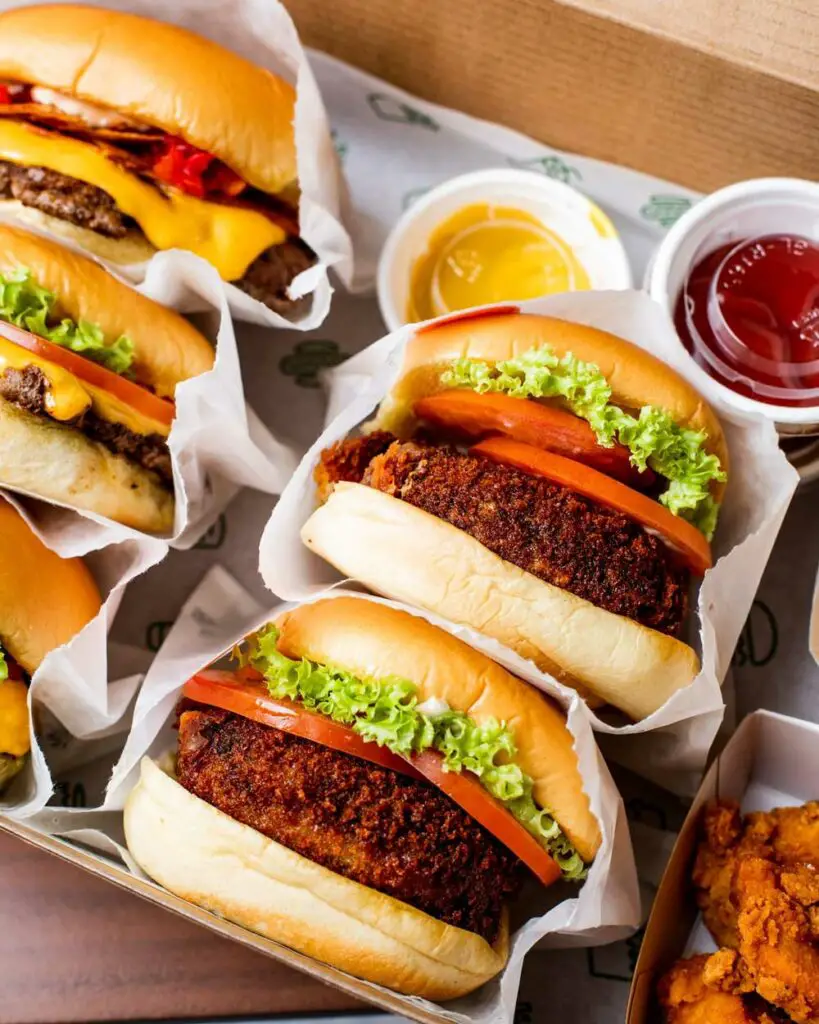 Does Shake Shack have food for my pet?
There will always be a warm spot in the hearts of the staff at Shake Shack for amazing four-legged buddies. Because of this, they have goodies such as the Poochini, which are ShackBurger dog biscuits with vanilla custard.
Is alcohol served at Shake Shack?
Nothing beats the perfect pairing of a beer and burger. In light of this, Shake Shack is pleased to offer the one-of-a-kind ShackMeister Ale, brewed specifically for them. Shack Red and Shack White, both made exclusively for the restaurant, are offered by the glass or bottle if wine is more your thing.
About Shake Shack in the Philippines
The first Shake Shack was a hot dog cart in Manhattan's Madison Square Park to raise money for the inaugural art display organized by the Madison Square Park Conservancy. The cart was such a hit that Shack lovers queued up every day for three consecutive summers to get their hands on it.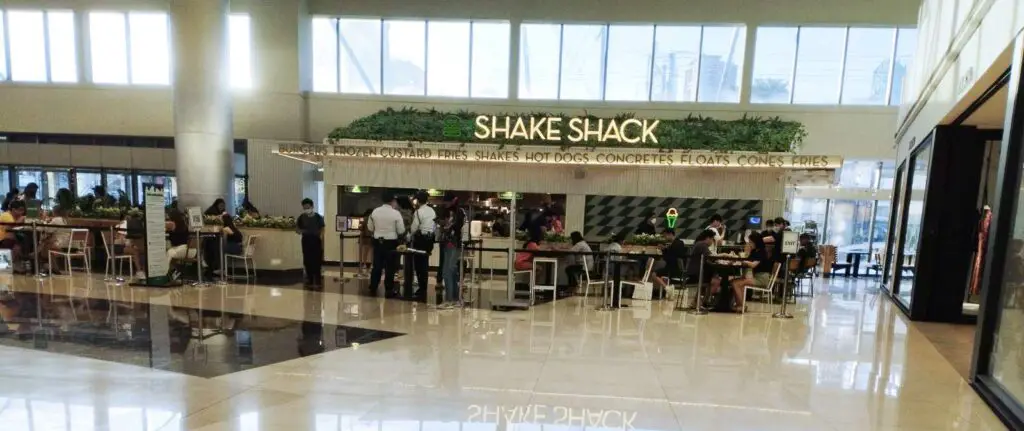 In 2004, a permanent kiosk was constructed in the park, and that year marked the birth of Shake Shack. This contemporary interpretation of a "roadside" burger stand is home to some of the world's tastiest hamburgers, hot dogs, frozen custard, shakes, beers, and wines, among other delicacies.
Shake Shack has already expanded to over 100 locations throughout the world, with four of those being in the Philippines.
Talk To Shake Shack Filipino Staff
Want to know more about the Shake Shack menu in the Philippines? Send their staff a message on social media:
For any more questions you have about the Shake Shack menu, leave a comment below.