What could top a good cheeseburger? A good cheeseburger with onion rings and perhaps some chicken wings on the side. 8Cuts is more than a jack of all trades, readily impressing even the pickiest of customers who often arrive with these three necessities. The menu is practically flawless, so feel free to indulge in whatever strikes your fancy. Take a look at the top-selling items at 8 Cuts.
Here is the latest 8Cuts menu with prices in the Philippines:
Menu item
Price

Daily Steals

The Basic Burger
₱328.00
The Overloaded Bomb Burger
₱358.00
The Heavy Duty Burger
₱378.00
The Post Workout Burger
₱378.00
The Wings and Beef Burger
₱398.00
The Party Animal Burger
₱398.00
The Thigh Breaker Burger
₱378.00
The Gut Buster Burger
₱398.00
The Slick Chick Burger
₱328.00
The Hot Mess Burger
₱358.00
The Power Chop Burger
₱378.00
The Highest Flyers Burger
₱398.00
The Champion Burger
₱378.00
The Lightweight Contender Burger
₱328.00
The Bomb Diggity Burger
₱358.00
The Pop Culture Vulture Burger
₱378.00

Burgers

Cheeseburger 1/4 lb
₱230.00
Cheeseburger 1/3 lb
₱305.00
Burger No. 3 1/4 lb
₱185.00
Burger No. 3 1/3 lb
₱230.00
Meathead 1/4 lb
₱185.00
Meathead 1/3 lb
₱300.00
Piggy 1/4 lb
₱305.00
Piggy 1/3 lb
₱375.00
Four Cheese 2.0 1/4 lb
₱305.00
Four Cheese 2.0 1/3 lb
₱375.00
A Half Pounder Worth of Sliders
₱360.00
Q-Daddy 1/4 lb
₱330.00
Q-Daddy 1/3 lb
₱400.00
Hangover 2.0 1/4 lb
₱330.00
Hangover 2.0 1/3 lb
₱400.00

Mains

2 Pcs. Heavyweight Fried Chicken
₱240.00
Bigger-Than-Your-Face Fried Pork Chop
₱290.00
Party Spaghetti
₱220.00

Wiches

Chick 'Wich'-Good Ol' Hot Fried
₱260.00
Chick 'Wich'- Garlic Parm
₱260.00
Chick 'Wich'-Tuffle Honey
₱260.00
Chick 'Wich'-Them Buffalo
₱260.00
Chick 'Wich'-Smok'n BBQ
₱260.00
Chick 'Wich'-BBQ Bacon Butter
₱260.00
Fish 'Wich
₱260.00
The Falafel
₱250.00

Starters

Golden Cheddar Mozzarella Nuggets
₱205.00
Skinny Fries Solo
₱75.00
Waffle Cut Fries Solo
₱85.00
Onion Rings
₱85.00
The Dirty Bucket
₱399.00
Skinny Fries Sharing
₱170.00
Waffle Cut Fries Sharing
₱180.00
Bucket of Onion Rings
₱215.00

High Flyers- Thigh Poppers

Salt and Pepper
₱230.00
Them Buffalo
₱230.00
Smok 'n BBQ
₱230.00
BBQ Bacon Butter
₱230.00
Good Ol' Hot Fried
₱230.00
Garlic Parm
₱230.00
Truffle Honey
₱230.00

The Finish Line

Death by Chocolate Milkshake
₱255.00
Ube Shake
₱170.00
Vanilla Ice Milkshake
₱255.00

Beverage

Iced Tea
₱75.00
Bottled Water
₱70.00
Coke Zero
₱85.00
Arnold Palmer
₱85.00
Sprite
₱85.00
Royal
₱85.00
Lemonade
₱100.00

Sauces

Blue Cheese Lime Sauce
₱35.00
House Ranch Sauce
₱30.00

Add-ons

Double-up 1/4
₱130.00
Yellow Rice
₱35.00
Smoked Bacon
₱35.00
Fried Egg
₱35.00
BBQ Sauce
₱30.00
Mayo
₱15.00
Double-up 1/3
₱165.00
Caramelized Onion
₱35.00
Cheese
₱35.00
Dijonnaise Mustard
₱30.00
Ketchup
₱15.00
The Moment Group's 8 CUTS Burger Blends is a build-your-own burger concept.
The restaurant boasts "eight cuts of beef in custom-blended patties that are freshly ground, hand pressed, and seared to order," hence the moniker "8 Cuts." Chuck, rib eye, short rib, sirloin, brisket, hanger steak, flank steak, and ox tail are the eight cuts of beef.
8 Cuts Meat for Burger Blends' "burgers use only the good stuff" is sourced from the "coolest cows."
8Cuts Best Sellers
The Cheeseburger
Visually, The Cheeseburger is no different from the burgers served at any other restaurant; it consists of a beef patty, cheddar cheese, lettuce, onions, and tomatoes. The design is minimalistic and free of frills. When you finally have a bite, you'll be pleasantly surprised by how much you will love the meaty flavor.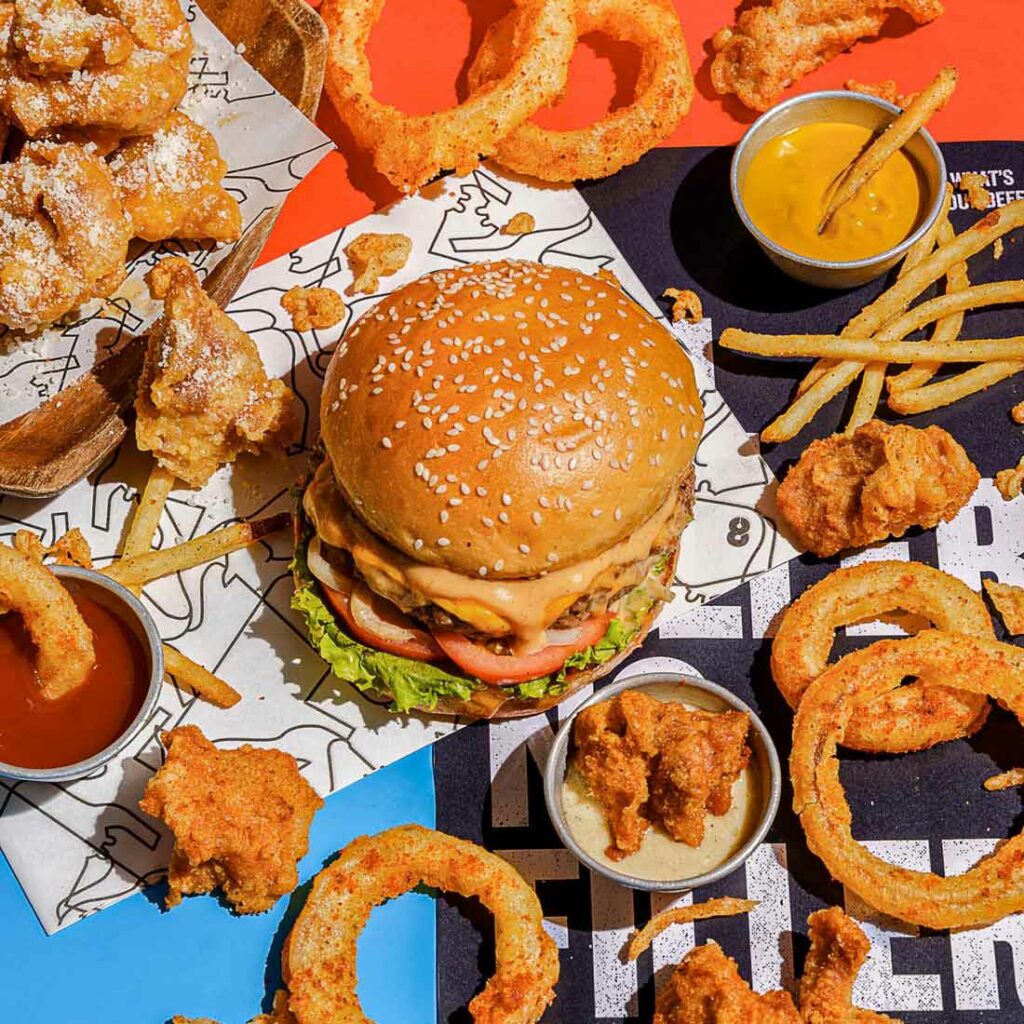 Piggy Burger
The Piggy consists of two sesame seed Buns filled with a quarter-pound BEEF BOMB BLEND (chuck + short rib) patty, mozzarella, crispy bacon strips, house-made bacon jam, lollo rossa greens, tomato, and garlic aioli. Given its size, you might need to use a fork and knife. Everything about this burger is perfect: the flavorful meat, the amazing melty mozzarella, and the crispy bacon pieces.
Four Cheese Burger
It's not your typical burger, with dripping cheese and packed slices of various colors of yellow. The Four Cheese at 8 Cuts Burgers is made up of crisp-fried cheese.  Some people love to look at the layers of cheese in their burgers, but you'll be delighted to hear that the parmesan has a crust, cheddar, gruyere, and mozzarella, which can all be recognized from one another.
Rising Shroom Burger
You have not tasted delicious or visually appealing burgers in a long time.
The sirloin and chuck patties in this burger were moist, served with a pile of mushrooms, plus two pieces of tempura-fried oyster mushrooms. The crunchy tempura complemented the mushrooms' slick, spongey texture perfectly. The truffle flavor was also evident in the creamed cheese.
Bleu Burger
If blue cheese is your jam, the Bleu burger is for you. Even if you're not a big fan, this will be among the finest and best-tasting versions you've ever seen. The Bleu is juicy, meaty, and crunchy, with a forceful punch of its signature tangy blue cheese taste, thanks to its combination of sirloin and chuck in the patties and a mountain of fried leeks on a brioche bun.
If you're looking for more classic burgers, you can also try out Zark's, Burger King, or Brothers Burger!
Want to be updated on other promos? Subscribe to our newsletter.
8Cuts Delivery
Like all the great restaurants, 8 Cuts is available for delivery. You can use major delivery apps like GrabFood, foodpanda, and Pickaroo to have your 8 Cuts favorite delivered to your doorstep. You can also use their in-house delivery service, Mo'Go, to place an order online at momentfood.com for same-day delivery.
For more burger menus, you can check out USA-famous Shake Shack or the affordable yet mighty Burger King.
Frequently Asked Questions
Do 8 Cuts serve combo meals?
8 Cuts, like any successful restaurant, is always expanding and steadily improving. You can experience your favorite burger blends in a variety of exciting new combinations and decide which exciting combination is your favorite with the Daily Steals. The Steals have something for every kind of eater, from the traditional burger-and-fries or burger-and-onion-rings combo to burger sliders served with salad or pasta.
Do 8 Cuts have chicken on the menu?
Yes. 8 Cuts offers fried chicken, chicken wings, and chicken burgers. They also offer group meals, milkshakes, and even alcoholic beverages.
About 8Cuts in the Philippines
Even though there is no shortage of burger establishments in Metro Manila, 8Cuts stands out from the crowd by offering eight cuts of beef in patties that are custom-blended, freshly ground, hand-pressed, and seared to order. The Moment Group has built its reputation on meticulous attention to detail, and this dish, typically considered a greasy grub, exemplifies that. The evidence is in the pudding: with eight shops located in eight different areas throughout the city, long lineups, and burgers getting a lot of talks.
Talk To 8Cuts Filipino Staff
Want to know more about the 8Cuts menu in the Philippines? Send their staff a message on social media:
For any more questions you have about the 8Cuts menu, leave a comment below.