Brothers Burger is a must for everyone searching for a top-notch burger restaurant. It's a great place to get a juicy, delicious burger because the menu is full of choices that will make your taste buds tingle. Brothers Burger serves various burgers, from traditional cheeseburgers to exotic creations. If you're hungry and ready for a culinary adventure, keep reading for a rundown of some of the most tempting offerings on the Brothers Burger menu.
Here is the latest Brothers Burger Menu with prices in the Philippines:
Menu
Prices

Gourmet Burgers

Brothers Burger (1/3 Pound)
235
Boss Burger (1 Pound)
450
Ranchero Burger
275
Chori Burger
235
Double Brothers Burger
340
Blues Brothers Burger
250
Extreme Bacon Burger
270
Double Smashed-Style Burger
335
Smashed-Style Burger
240

Gourmet Sandwiches

Cheese Steak Sandwich
235
Grilled Chicken Sandwich
235
Buffalo Chicken Sandwich
265
Fried Chicken Sandwich
235
Crispy Fish Sandwich
235
Zumo Chicken Sandwich
265

Brothers Franks

Snapdog
160
Chilidog
160

Chicken

Honey Garlic Sriracha Wings
275
House BBQ Wings
275
Korean BBQ Wings
275
Garlic Parmesan Wings
275

Lettuce Wrap

Brothers Burger Lettuce Wrap
265
Double Brothers Lettuce Wrap
370
Ranchero Lettuce Wrap
305
Chori Lettuce Wrap
265
Grilled Chicken Lettuce Wrap
265
Buffalo Chicken Lettuce Wrap
295
Snapdog Lettuce Wrap
190
Blues Brothers Lettuce Wrap
280
Extreme Bacon Lettuce Wrap
300
Cheese Steak Lettuce Wrap
265
Crispy Fish Lettuce Wrap
265
Zumo Lettuce Wrap
295
Chilidog Lettuce Wrap
230

Sides

Regular Fries
115
Sour Cream Fries
137.5
Onion Rings
115
Sour Cream Onion Rings
125
Chili Fries
235
Cheese Flavored Fries
137.5
BBQ Flavored Fries
137.5
Cheese Flavored Onion Rings
125
BBQ Flavored Onion Rings
125
Oh! Truffle Fries
165

Desserts

Chocolate Milkshake
135
Strawberry Milkshake
135
Hazelnut Milkshake
135
Brothers Churros
115

Drinks

Pepsi in Can
75
Pepsi Black in Can
75
Mug Rootbeer in Can
75
Mountain Dew in Can
75

Meals

Double Brothers Burger Duo Meal
420
Blues Brothers Burged Duo Meal
370
Extreme Bacon Burger Duo Meal
385
Brothers Burger Duo Meal
310
Boss Burger Duo Meal
545
Ranchero Burger Duo Meal
380
Chori Burger Duo Meal
310
Cheese Steak Sandwich Duo Meal
310
Grilled Chicken Sandwich Duo Meal
295
Buffalo Chicken Sandwich Duo Meal
375
Chilidog Duo Meal
300
Zumo Chicken Duo Meal
379
Crispy Fish Sandwich Duo Meal
319
Snapdog Duo Meal
275
Double Brothers Lettuce Wrap Duo Meal
450
Brothers Burger Lettuce Wrap Duo Meal
340
Ranchero Lettuce Wrap Duo Meal
410
Chori Lettuce Wrap Duo Meal
340
Fried Chicken Sandwich Duo Meal
350
Chili Lettuce Wrap Duo Meal
300
Cheese Steak Lettuce Wrap Duo Meal
340
Grilled Chicken Lettuce Wrap Duo Meal
325
Smashed-Style Lettuce Wrap
270
Smash Brothers Lettuce Wrap
335
Brothers Chili Franks Duo Meal
365
Blues Brothers Lettuce Wrap Duo Meal
275
Extreme Bacon Lettuce Wrap Duo Meal
315
Fried Chicken Lettuce Wrap
265
Snapdog Lettuce Wrap Duo Meal
275
Buffalo Chicken Lettuce Wrap Duo Meal
405
Crispy Fish Lettuce Wrap Duo Meal
340
Zumo Chicken Lettuce Wrap Duo Meal
400
Double Smashed-Style Lettuce Wrap Meal
365
Double Smashed-Style Burger Duo Meal
450
Double Smashed-Style Lettuce Wrap Duo Meal
480
Brothers Franks Duo Meal
300
Brothers Burgers Best Sellers
Smash Burgers
Chef Quito decided to try pan-searing patties instead of the flame-grilling method that Brothers Burger is known for. Chef Quito aimed to provide burger fans with a memorable meal by infusing his Q's sauce and other smash burger features. The result? In a word, outstanding. It's simple to see why the limited-time release was so well-received that it became a menu mainstay. Flavor-wise, it's superb, so it'll satisfy your taste buds and leave you feeling content.
Chori Burger
Brothers Burger's expertly constructed take on Filipino burgers truly drew me in. If you like paprika as much as I do, you'll love how their unique chorizo patty blends in with the classic fixings. The special cream cheese garlic dressing and crisp green lettuce on top of the burger create a textural and flavorful melody that will have you longing for another bite. The Chori Burger is a delicious combination of Filipino-inspired components and Brothers Burger's trademark touch, resulting in a delectable masterpiece that will fulfill your hunger.
Want to be updated on other promos? Subscribe to our newsletter.
Ranchero Burger
If you're like me and love onion rings on your burgers, you must try the Ranchero Burger at Brothers Burger. This tasty meal is a fusion of traditional flavors with a modern twist. Picture a beef patty grilled to perfection, smothered in their famous tangy barbecue sauce, bacon, cheese, and a pile of onion rings. Each bite is a taste explosion with just the right amount of smoke, salt, and creaminess. The toasted bread on the Ranchero Burger is well paired with the burger, adding a satisfying crunch without taking away from the meat.
Looking for a different burger brand? You can also check out Zark's Burger, 8Cuts or of course, Burger King!
Brothers Burger Delivery
You may order Brothers Burger's delicious burgers and other menu items to be delivered straight to your house. Putting in your order is as simple as using a reliable delivery site such as foodpanda or GrabFood. You may also order home delivery of your favorite Brothers Burger dish by going to their website, which can be found at https://www.brothersburger.com.ph. 
Frequently Asked Questions
Does Brothers Burger have a vegetarian option?
Brothers Burger has embraced the plant-based revolution by introducing their delightful range of Brothers Veggie Burgers. These burgers cater specifically to vegetarians, offering a satisfying and flavorful alternative. At the heart of these burgers is a 100% flame-grilled, plant-based patty crafted from a blend of soy protein, vegetable oil, fresh onion, and natural flavors. What sets these veggie burgers apart is that they come with the same delicious toppings, buns, and crisp veggies that have made Brothers Burgers famous.
How many branches does Brothers Burger have?
As of writing, they have 31 branches serving up their signature goodness all over Luzon.
About Brothers Burgers in the Philippines
The Jose brothers, inspired by their time eating burgers in California during the Asian Financial Crisis, launched Brothers Burger in June 1999. Chef Quito spearheaded the group's groundbreaking introduction of gourmet burgers cooked over an open flame. Brothers Burger was the first restaurant of its kind in the Philippines, serving gourmet burgers with creative toppings like blue cheese, cream cheese, and garlic over juicy flame-grilled beef patties and other meats. Their partnership with the Filoil Group in 2016 allowed them to rebrand and extend their menu to include tasty new items, including chicken wings, lettuce wraps, quesadillas, milkshakes, and more. Thanks to hard work and teamwork, Brothers Burger has expanded from a single restaurant in Ortigas to dozens of outlets nationwide, with plans for even more domestic and international growth.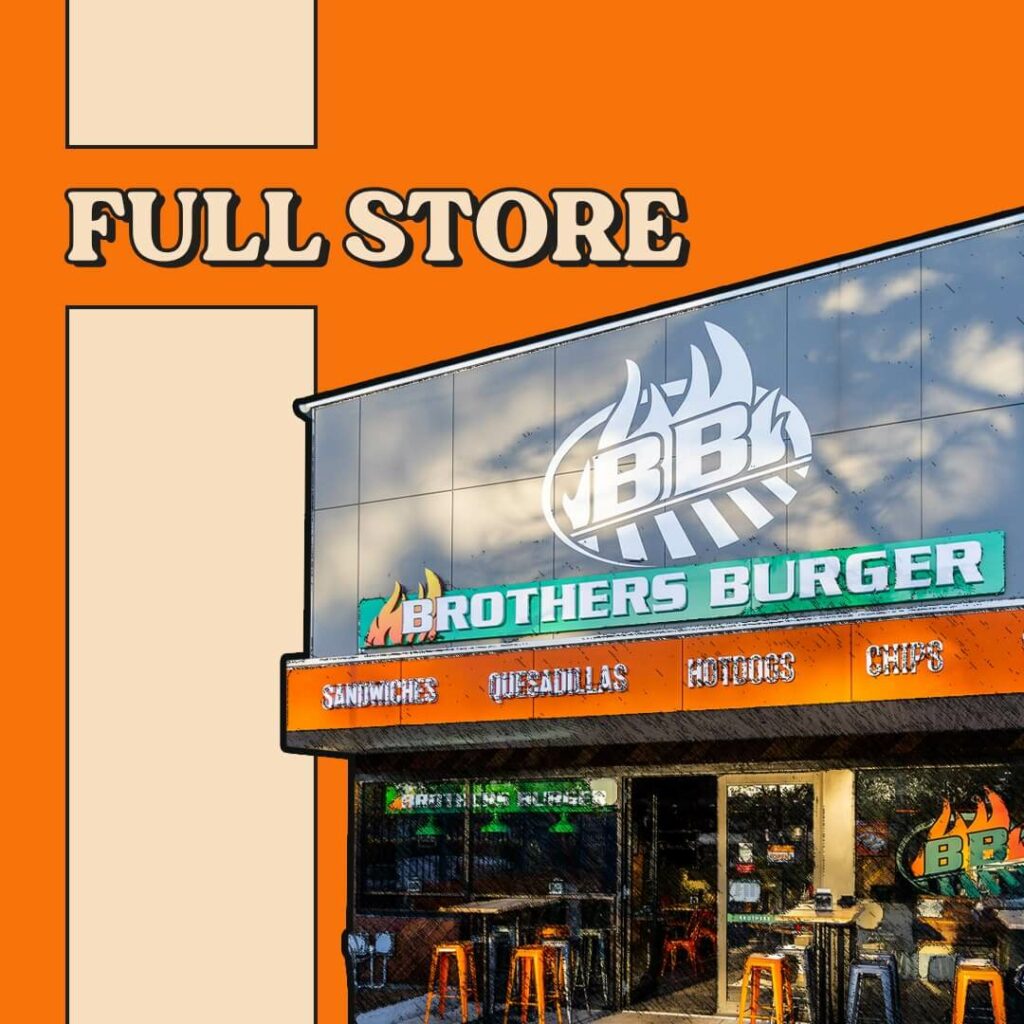 Talk To Brothers Burgers Filipino Staff
Want to know more about the Brothers Burgers menu in the Philippines? Send their staff a message on social media:
For any more questions you have about the Brothers Burgers menu, leave a comment below.