Tong Yang is a well-known buffet and shabu-shabu establishment in the Philippines. Its name is synonymous with bottomless bowls of grilled food and soup. Despite its long history, it's reassuring to see that Tong Yang Shabu-Shabu & Unlimited Barbecue has been able to adapt to the needs of its customers by transforming some of its locations into Tong Yang Plus, which has a redesigned menu and an improved tabletop cooking experience. Check out the Tong Yang menu, shall we?
Here is the latest Tong Yang Menu with prices in the Philippines:
Menu
Price

Grill and Shabu-Shabu

Manila Brances
All You Can Eat, Drink and Cheers (1 Pax) - Over 100 Kinds of Fresh Meat, Seafood, Vegetables and Many More
788
Provincial Brances
All You Can Eat, Drink and Cheers (1 Pax) - Over 100 Kinds of Fresh Meat, Seafood, Vegetables and Many More
688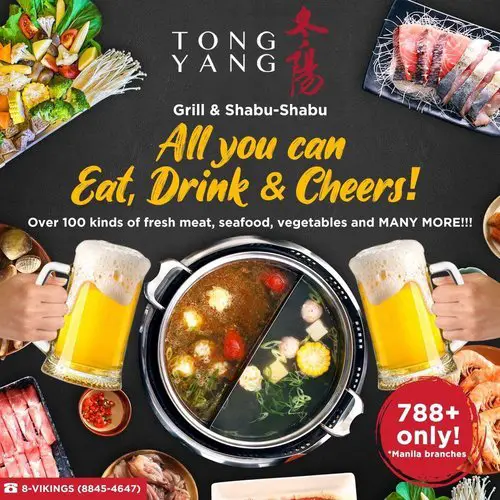 Tong Yang Plus is a combo of everything you could like, including unlimited access to the hot pot and grill and a buffet with ready meals. Each table has a communal grill and individual induction burners onto which you can set your individual-sized hot pots.
Tong Yang Best Sellers
Below are some of the crowd-favorites on Tong Yang's Menu.
The truth is every one of the meal options on the Tong Yang menu is the restaurant's most popular item. Tong Yang is a buffet place, so they don't have any bestsellers per se, as the only thing you could get here is a shabu-shabu with a grill all at once. Nevertheless, they offer a broad variety of food options to create your shabu-shabu, so that's something to look forward to.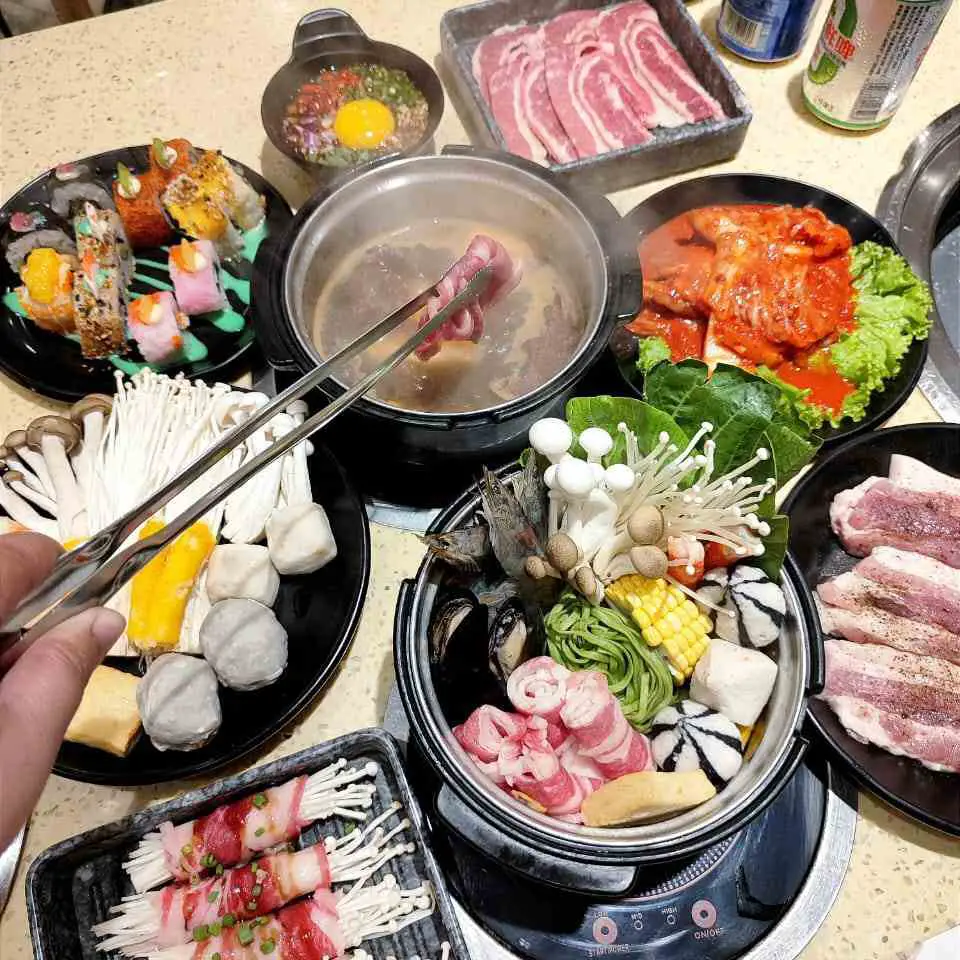 A huge variety of marinades are used on the numerous types of meat and seafood offered here at Tong Yang. You may cook them on the grill or simmer them in the broth you choose in the hot pot. For those who have never been to Tong Yang before, it may be difficult to decide where to begin; however, you may get started with the hotpot soup base, which comes with a choice of chicken, sinigang, fiery sate, vegetarian, kimchi, or Taiwanese Mala.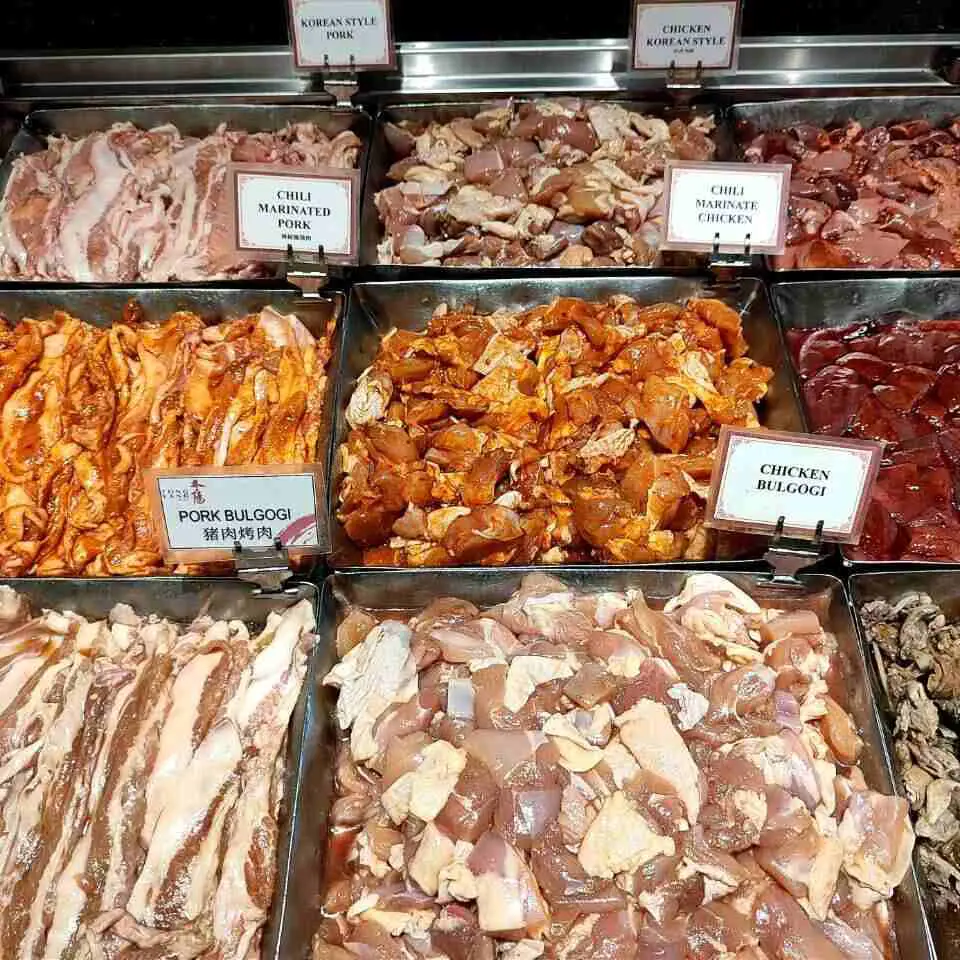 Various sauce selections are available, which is essential to the hot pot experience. You can prepare your own sauce or ask them to prepare their signature sauce for you. I did this the first time I tried Tong Yang, and I was not disappointed.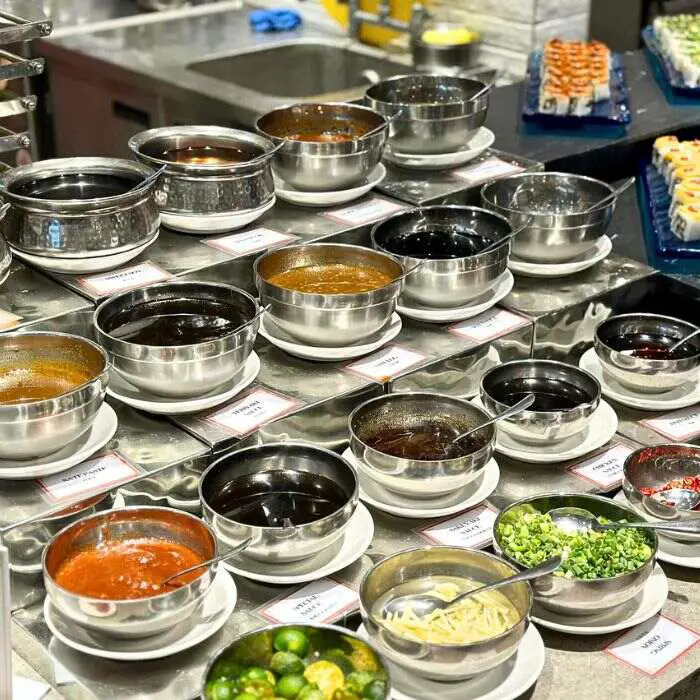 They provide various balls and noodles that you may use in hot pots. If you want mozzarella cheese balls, you'll have to ask for them since they only make them when someone specifically orders them.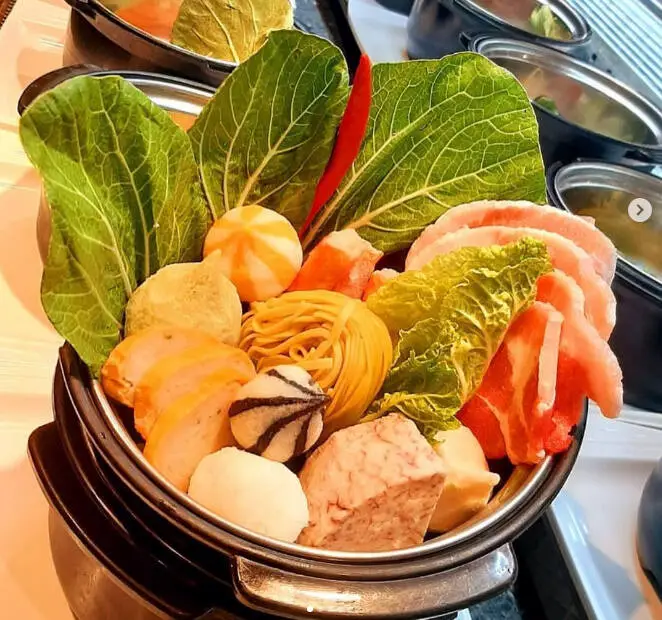 At Tong Yang Plus, you may have samgyupsal, galbi, and any other meat that tickles your fancy and still get your money's worth out of the meal. As 'Samgyup' lovers, my partner and I loved this factor. They also provide lettuce for wraps and a variety of condiments. In addition to that, they provide banchan, which is another term for Korean side dishes, such as kimchi or marble potatoes.
Looking for other value for money buffet options? You can also try out Vikings!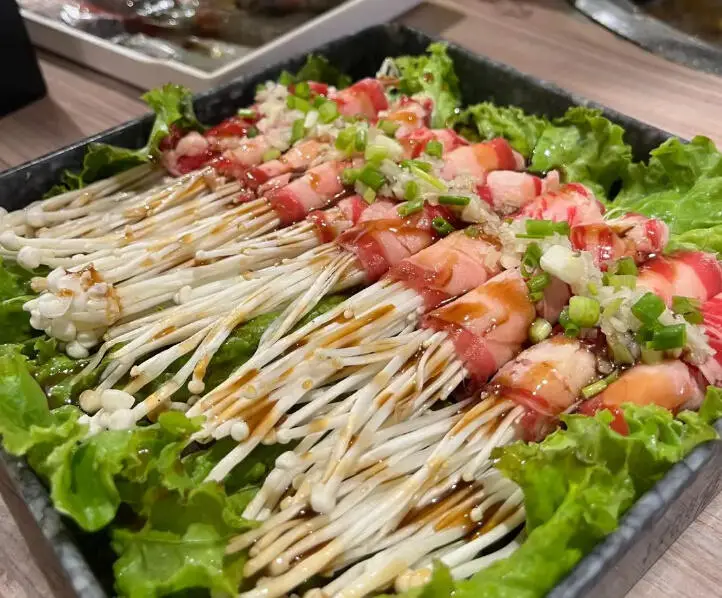 Tong Yang provides a distinct spread for many other foods, shabu-shabu and grilled buffets. These other dishes include their delicious paella, siomai, and spicy squid. They provide a selection of maki and sushi rolls for those fond of Japanese cuisine.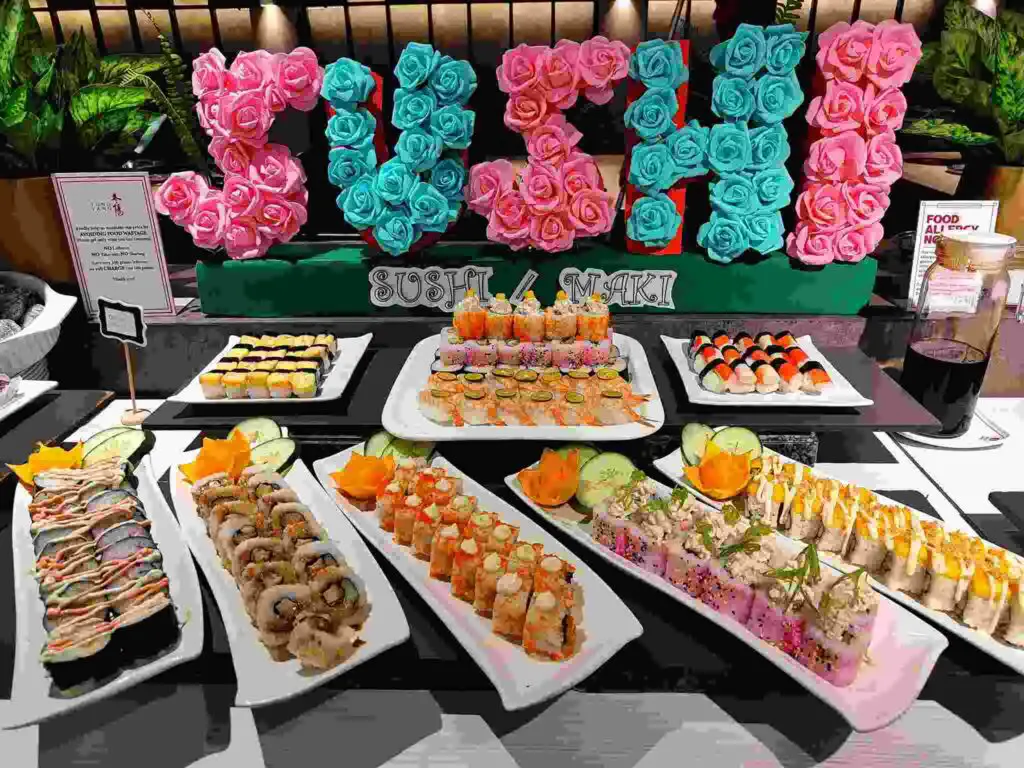 Want to be updated on other promos? Subscribe to our newsletter.
They provide a selection of fruit juices along with free refills of soda. While dining at a buffet, you should always save some space for dessert as a matter of common sense and good practice. In addition to the cakes and pastries, they provide a station to make your halo-halo.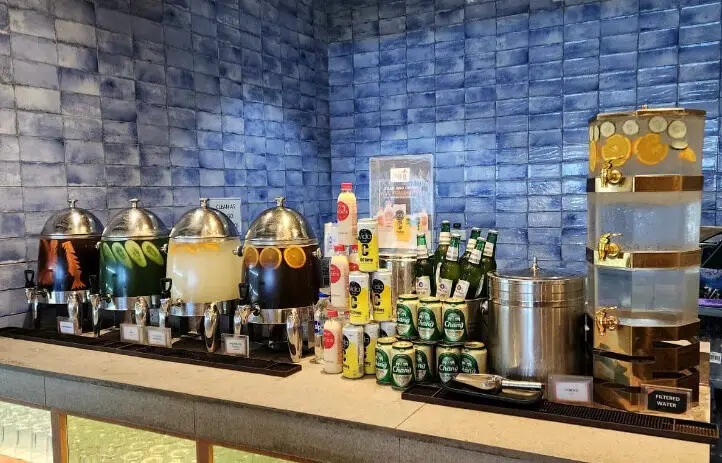 Tong Yang Delivery
Siopao, dim sum, Siomai, other dishes, and meats such as binusog na lechon and patatim are also available for delivery from the Tong Yang menu. Both Pasig and Makati are serviceable for deliveries. You may also try ordering via third-party delivery services like foodpanda, GrabFood, or any of the other options now accessible.
Frequently Asked Questions
Is there a Birthday Promo in Tong Yang?
Certainly, Tong Yang has the courtesy of providing complimentary meals to birthday celebrants on their special day. However, they still need to be joined by one adult paying the full price. Show them your government-issued photo ID with your birthdate clearly displayed, and you'll be ready.
Does Tong Yang have a time limit?
The best part about eating at Tong Yang is no time restrictions. You may sit back and enjoy your meal without worrying about the clock.
About Tong Yang in the Philippines
Over two decades ago, the Go family decided to open the Chinese restaurant Mei Lin in Binondo. Jackson, the family's young entrepreneur, used a common practice in Taiwan for consuming food in the freshest manner possible, reflecting on the incredible success of the previous business. Thus Tong Yang was born.
Bobby Garcia, who co-owns the restaurant, also knows its history. He says the owners of Tong Yang were encouraged by the success of their first store, located in Megamall, to open additional locations in strategic parts of the city.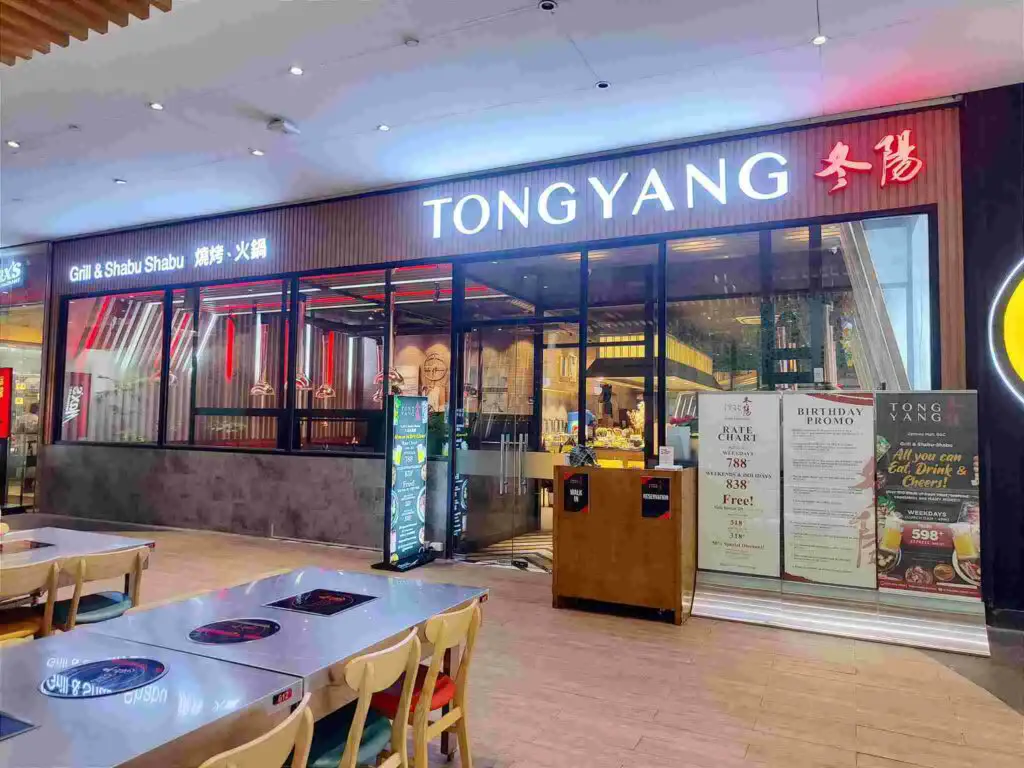 Talk To Tong Yang Filipino Staff
Want to know more about the Tong Yang menu in the Philippines? Send their staff a message on social media:
For any more questions you have about the Tong Yang menu, leave a comment below.