If you're a big eater needing a place to satisfy your hunger, maybe a buffet restaurant would be the best option. The Vikings claim to provide the "greatest buffet experience in the nation," with many unique foods and drinks. They have many locations, particularly inside shopping centers, making them simple to locate. Let's check out what's on the Vikings menu.
Here is the latest Vikings Menu with prices in the Philippines:
Menu
Price

Buffet Meals

SM Mall of Asia Rates
Eat Like A Viking! (1 Pax) - Weekdays
988
Eat Like A Viking! (1 Pax) - Weekends / Holidays
1188
Manila Branches except SM Mall of Asia Rates
Eat Like A Viking! (1 Pax) - Weekdays
988
Eat Like A Viking! (1 Pax) - Weekends / Holidays
1088
Provincial Branches Rates
Eat Like A Viking! (1 Pax) - Weekdays
888
Eat Like A Viking! (1 Pax) - Weekends / Holidays
988
SM Pampanga Create Your Own Buffet (1 Pax - Minimum of 5 Persons) - includes Salad Station (Pick 2), Appetizer Station (Pick 2), Pasta Station (Pick 1), Rice (Pick 3), Main Course (Pick 4), Dessert (Pick 2), Juices or Soda (Pick 2)
600

Solo Platter

Platter 1 - includes Choice of 1 Vida Drink, Makaroni Salad, Dimsums (Hakaw, Sharksfin, Pork Shrimp Siomai),Vegetable Melange, Longlife Noodles, Steamed Suahe, Viking Fried Chicken, Fish Fillet with Lychee Sweet and Sour Sauce, Revel Bars
650
Platter 2 - includes Choice of 1 Vida Drink, Caesar Salad, Buttered Beans and Tomato Confit, Almond Crusted Fish Fillet, Chicken Buffalo with Ranch Dressing, Slow-cooked Roast Beef with Red Wine Sauce, Truffled Mashed Potato, Revel Bars
850
Platter 3 - includes Choice of 1 Vida Drink, Kani Mandarin Salad, California Maki, Shrimp Tempura, Almond Crusted Fish Fillet, Slow-cooked Roast Beef, Arroz Con Pollo, Reveal Bars
1050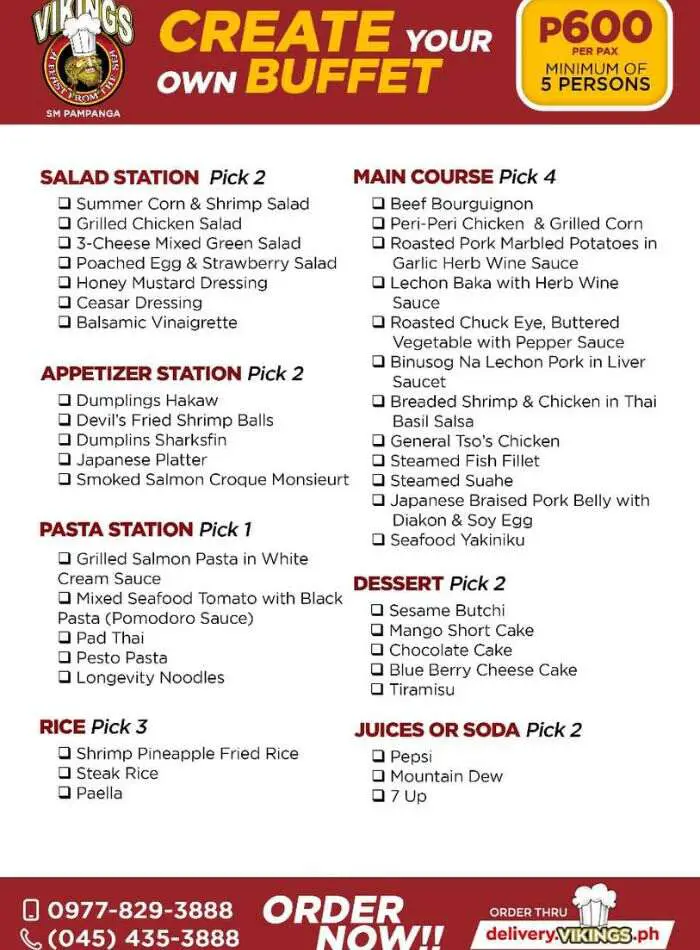 The popularity of the Vikings restaurant is astounding. A little pricey, and reservations are nearly usually required. You won't find better American, Japanese, or European food at a buffet than what they have here. These are a few examples of what you may eat at the Vikings restaurant if you decide to eat like a viking.
Vikings Best Sellers
Below are some of the crowd-favorites on Vikings Menu.
Buffet Meals
Every single item on the Vikings menu is, in fact, the most demanded dish in the whole restaurant. Being a buffet, there are no "bestsellers" at Vikings.
They have a wonderful bread assortment, and the bread they serve goes well with their excellent cheeses and cold meats. I rarely taste these so I don't fill up fast, but it's a great palate cleanser every now and then.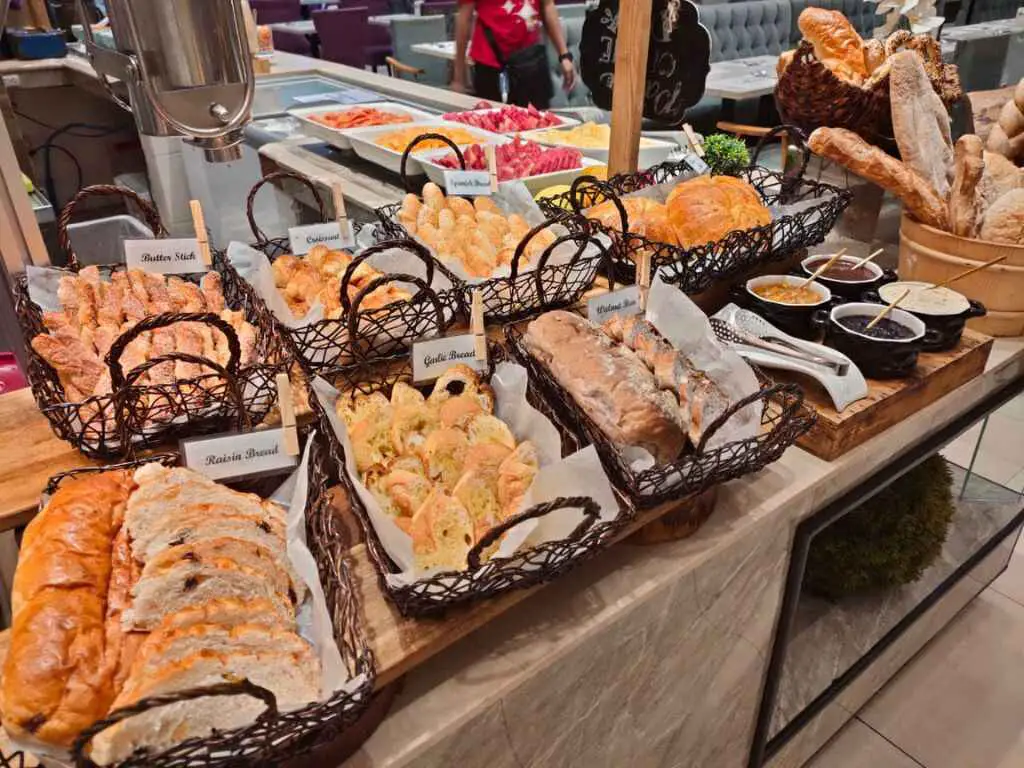 Give their Japanese area a go; they offer some of the greatest sashimi and sushi, along with tempura, teriyaki, and sukiyaki. I prefer their sashimi over other buffets, as it tastes fresher.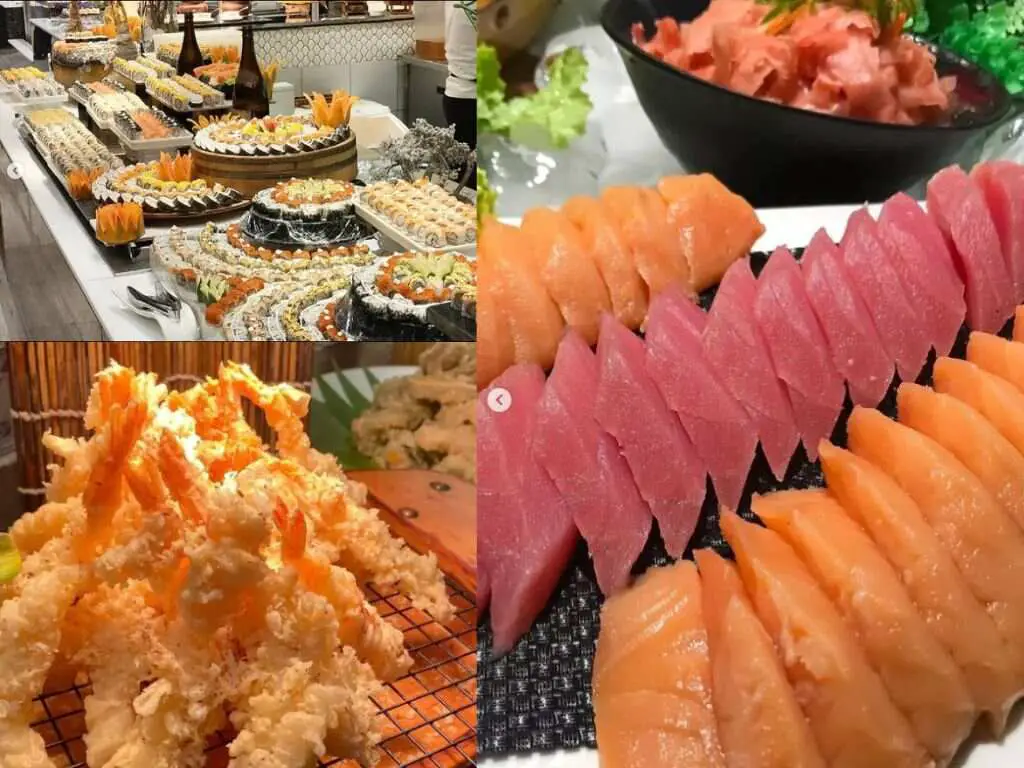 If you like Italian cuisine, you may be interested in trying out their pasta and pizza station. You can create your own pizza from scratch using fresh ingredients and choose from various toppings.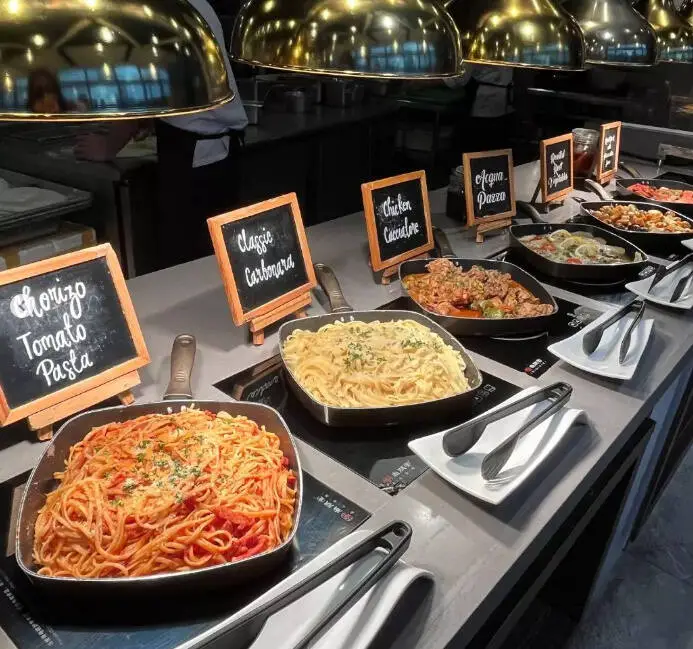 If you like shabu-shabu, you'll be happy to hear that they offer a shabu-shabu station where you may customize your feast. Soup options include Singaporean laksa, tamarind, sate, and many more. You'll love this shabu-shabu station, where you can choose from various meats, vegetables, noodles, and other toppings.
The Chinese side of the Vikings' menu has a variety of dim sum dishes, such as siopao and siomai. Still, the fried salt and pepper spareribs are the restaurant's huge hit for a good reason. Pata Tim is also available and is served with a rich sweet sauce; it is quite tender and pairs nicely with the rice.
Boneless lechon is a specialty at their carving station. Beef brisket is a crowd-pleaser, but roasted turkey also holds its own. I love their lechon sauce so much that I use it even on the steaks.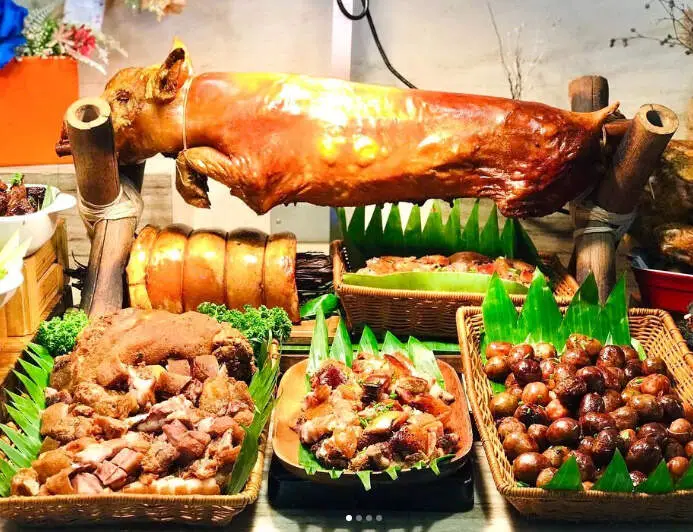 Want to be updated on other promos? Subscribe to our newsletter.
A wide selection of desserts is available, including cakes, crepes, petit fours, and sundaes made to order. To be even more healthful, you may make your own yogurt dessert. There is a wide variety of fruit drinks and smoothies available at Vikings. They also serve iced tea and Pepsi goods (soft drinks).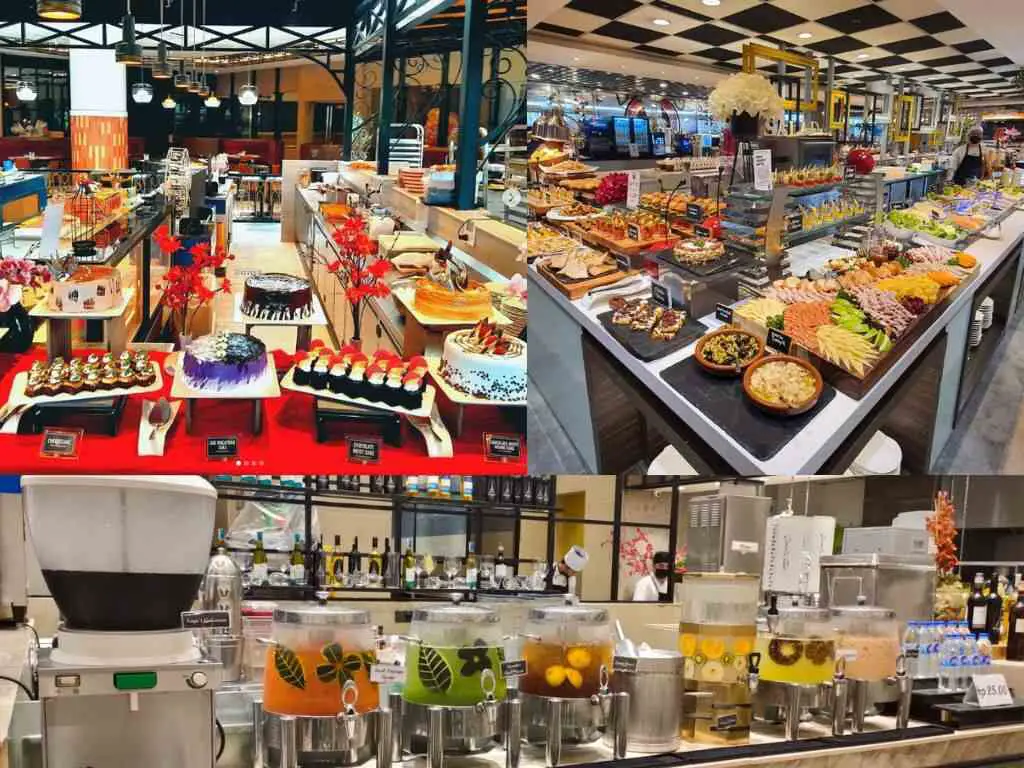 Vikings is without a doubt, the finest buffet in town.
Vikings Delivery
Vikings does have delivery options. Items offered, availability, and prices differ for each branch, so just visit their delivery portal to see them for yourself: https://delivery.vikings.ph.
Frequently Asked Questions
Does Vikings have a time limit?
That's correct; daily, they offer only lunch between 11 am to 2:30 pm and dinner between 5:30 pm to 10 pm. If you want to eat a wide variety of dishes, take your time, and take advantage of the buffet, dinner is the perfect time to visit.
How much does Vikings cost?
Prices range from as low as ₱888 (weekdays) to as much as ₱1,188 (weekends and holidays).
Does Vikings have a birthday promo?
Yes, birthday celebrants can eat for free. On their special day, birthday guests may have lunch or dinner on the house on the exact day of their birthday when accompanied by a single fully paying adult. The celebrant eats for free any time throughout the birthday month when accompanied by four full-paying adults.
Just provide a legitimate government-issued ID, such as a driver's license, SSS card, passport, etc. Remember that only Vikings cash vouchers and GCash, AliPay, Maya, and WeChat pay (QR or Card) are accepted for this promotion.
About Vikings in the Philippines
The Vikings Restaurant is one of the finest buffets in the nation, serving up delicious food in a sophisticated setting. They are well-known as one of the best buffets in the Philippines. They began serving Filipino customers in April 2011.
They opened their first restaurant at the Mall of Asia in Pasay, and its menu has more than 400 items. Pacific Apex Food Ventures Inc. now owns and operates this buffet restaurant. Their normal lunch service begins at 11 am and lasts until 2:30 pm, while their dinner service begins at 5:30 pm and lasts until 10 pm.
They are the biggest Filipino buffet restaurant chain, with 10 locations nationwide.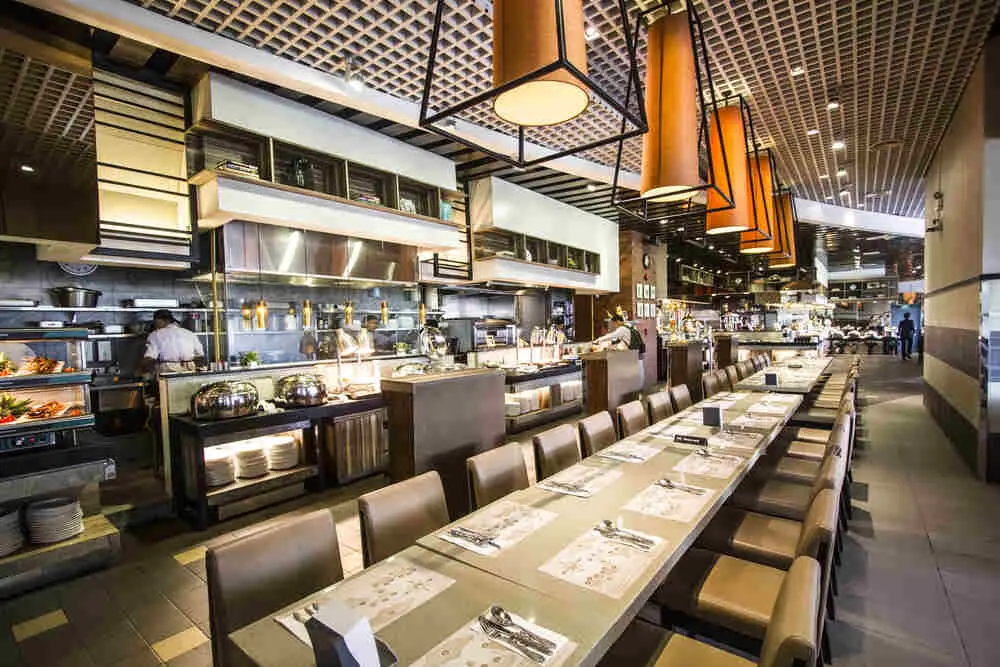 Talk To Vikings Filipino Staff
Want to know more about the Vikings menu in the Philippines? Send their staff a message on social media:
For any more questions you have about the Vikings menu, leave a comment below.