Despite hundreds, if not thousands, of local and worldwide competitors, Wendy's has maintained a steady stream of guests eager to try their burgers and special sides. Wendy's has been around for nearly half a century, making it an institution in the fast-food industry while other chains have risen and fallen. Below is a sample of what you can expect on Wendy's menu.
Here is the latest Wendy's menu with prices in the Philippines:
Menu
Price

Burger Combo

Dave's (Single)
₱205.00
Dave's (Double)
₱290.00
Baconator (Single)
₱209.00
Baconator (Double)
₱319.00
Big Bacon Mushroom Melt
₱209.00
Bacon Mushroom Melt
₱155.00

Chicken Combo

1-pc Fried Chicken (with rice)
₱109.00
1-pc Fried Chicken (with fries)
₱139.00
1-pc Fried Chicken (with spaghetti)
₱159.00
2-pc Fried Chicken
₱190.00
Fried Chicken (3-pc)
₱235.00
Fried Chicken (6-pc)
₱450.00
Classic Chicken Sandwich
₱185.00

Whattabox

Baconator Single Whattabox
₱269.00
Dave's Whattabox
₱265.00
Bacon Mushroom Melt Whattabox
₱215.00
Fried Chicken Whattabox
₱199.00

Fresh Salads

Macaroni (side)
₱55.00
Macaroni (big plate)
₱105.00
Macaroni (platter)
₱199.00
Apple Waldorf (side)
₱79.00
Apple Waldorf (big plate)
₱160.00
Mango Kani (side)
₱79.00
Mango Kani (big plate)
₱160.00
Chicken Caesar (side)
₱79.00
Chicken Caesar (big plate)
₱160.00
Beef Bulgogi (side)
₱79.00
Beef Bulgogi (big plate)
₱160.00
Taco Salad (wrap)
₱125.00
Taco Salad (big plate)
₱160.00

Frosty

Strawberry Cheesecake Overload (regular)
₱39.00
Strawberry Cheesecake Overload (medium)
₱70.00
Red Velvet Overload (regular)
₱39.00
Red Velvet Overload (medium)
₱99.00
Banaberry Overload (regular)
₱39.00
Banaberry Overload (medium)
₱99.00
Vanilla / Chocolate (regular)
₱39.00
Vanilla / Chocolate (medium)
₱65.00
Vanilla / Chocolate (large)
₱79.00

Everyday Savers

Baconcheese Burger Combo
₱240.00
Cheeseburger Deluxe Combo
₱220.00
Chicken Nuggets
₱220.00
Potato Wedges
₱220.00
Spaghetti
₱220.00
Hot & Crispy Fries
₱220.00
Litro Iced Tea (Classic / Peach)
₱220.00

New Fired Up Chicken Sandwich

Solo
₱199.00
Combo
₱249.00

New Holiday Salad

Solo
₱79.00
Big Plate
₱160.00
Platter
₱250.00

Fambox

Bacon Mushroom Melt (For 2)
₱445.00
Bacon Mushroom Melt (For 4)
₱590.00
Fried Chicken (For 3)
₱509.00
Fried Chicken (For 4)
₱679.00
Baconator Single (For 3)
₱599.00
Baconator Single (For 4)
₱799.00
One of Wendy's freshly produced and delectable hamburgers is an item that just must not be overlooked if you find yourself in one of their restaurants. However, which of them should you choose?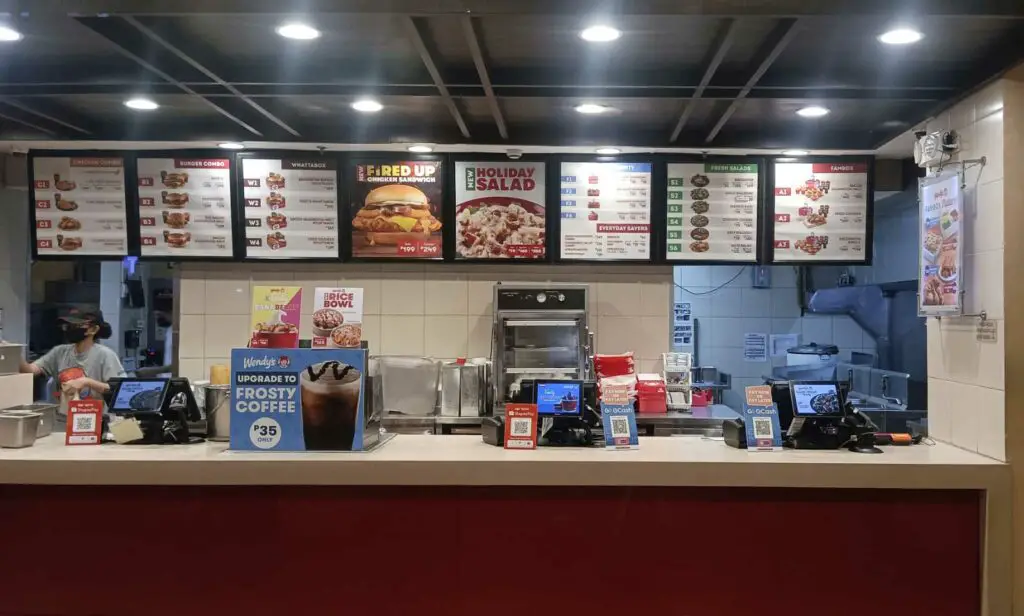 Wendy's Best Sellers
Here are some of the best-selling items on Wendy's menu.
The Baconator
In addition to the never-frozen beef patties that are standard on all Wendy's burgers, this particular burger from Wendy's goes all out with a generous helping of crispy bacon.
A substantial half-pound of beef and six pieces of Applewood-smoked bacon are used to create the Baconator. The abundance of meat is accompanied by American cheese, and it is finished off with ketchup and mayonnaise.
You can order this burger as part of a combo meal if you want to have fries and a beverage.
Wendy's Dave's Triple
Dave's Triple is the place to go if you're craving a huge cheeseburger.
Three beef patties go into making each cheeseburger that is piled high with taste. If you're still hungry after that, try ordering a combo meal with fries and a drink.
Dave's Triples are prepared with three-quarters of a pound of beef, American cheese, lettuce, tomato, onion, and a pickle. Ketchup and mayonnaise cover the entire thing, and the toasted burger bun can barely hold it all together.
Wendy's Spicy Chicken Sandwich
After trying the Spicy Chicken Sandwich for the first time, there is a chance that you may become addicted to eating it. With the addition of premium bread, lettuce, tomato, and mayonnaise, Wendy's exclusive combination of spices, which it utilizes to pump up the heat, tastes even better than before, and you don't have to worry about things being too hot.
You can also check out Jollibee, McDonalds, or Tropical Hut for other fast food finds!
Wendy's Classic Chocolate Frosty
If you're asking how a dessert can be among Wendy's bestselling menu items, you've never tried the Classic Chocolate Frosty. It's not just Wendy's greatest dessert; it could be the best dessert you've ever had.
Though Vanilla Frosty's novelty didn't debut until 2006, Wendy's Classic Chocolate Frosty has been there since the chain's inception in 1969. Because there was no need to distinguish it from its present cream-colored stepbrother, it was simply called the Frosty back then.
In addition to enjoying your Frosty by the spoonful, you can also use it as a dipping sauce for other desserts. Dipping fries or even chicken nuggets in your Frosty is not uncommon.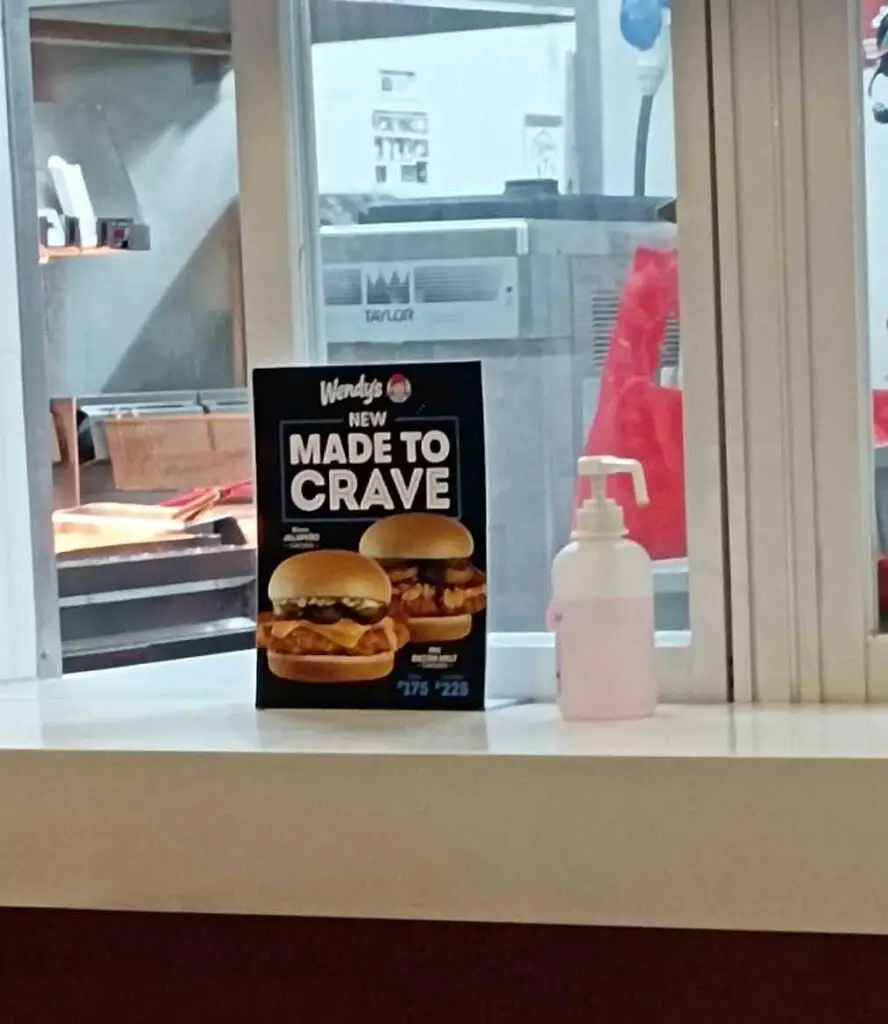 Want to be updated on other promos? Subscribe to our newsletter.
Wendy's Delivery
You can order with them by calling their delivery number, +63285333333, or by going to their website, which is https://wendys.com.ph/. You may also order using one of your preferred food delivery apps, such as Foodpanda or GrabFood.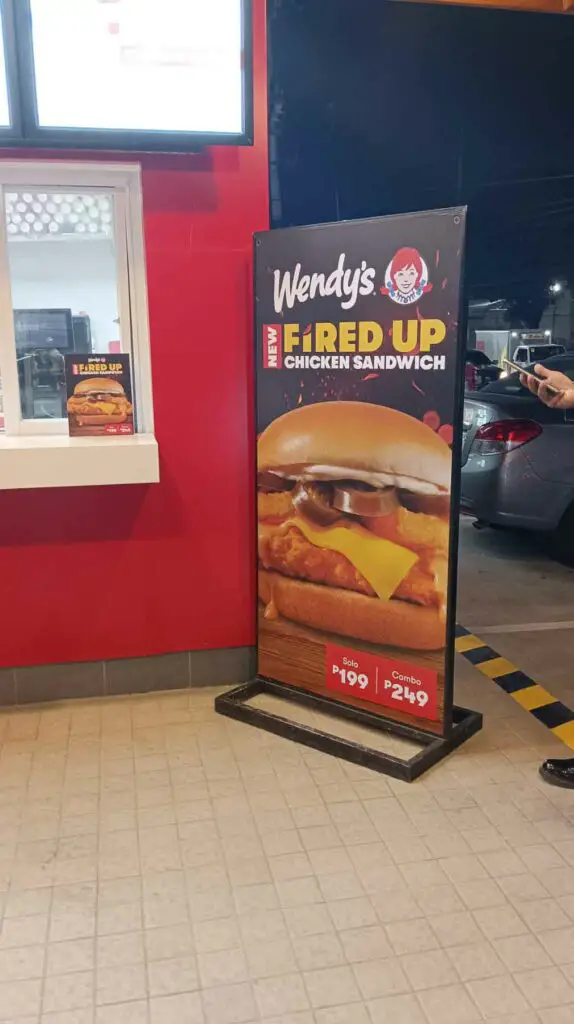 Frequently Asked Questions
How much do items cost at the Wendy's close to me?
Prices for items on Wendy's menu range from ₱27 to ₱770. Items on the menu fluctuate, with "Plain Rice" being the least expensive and "Fambox Baconator Single Good for 4" being the most expensive.
Is Wendy's menu consistent throughout the Philippines?
No, certain stores do take part in promotional offers. However, the menu remains mostly unchanged.
About Wendy's in the Philippines
On November 15, 1969, the first Wendy's restaurant debuted in Columbus, Ohio. Dave Thomas's daughter Wendy inspired the name of the East Broad Street fast food chain he opened to satisfy hungry bellies in the company of loved ones. The original location was so successful that they expanded to a second location in Columbus, complete with the country's first contemporary drive-through window.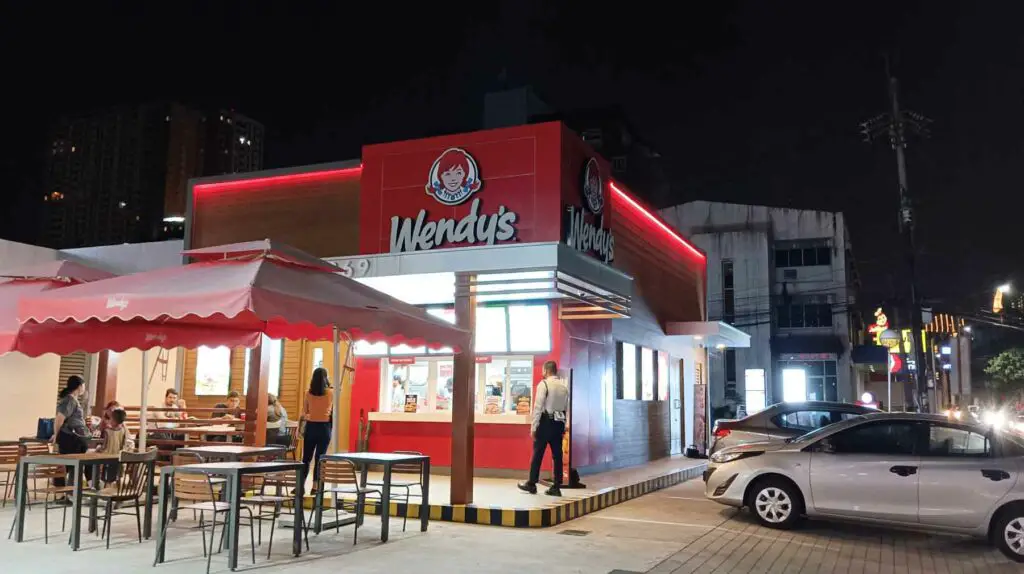 In the 1970s, the company's popularity grew, and in 1979, the now-iconic Wendy's salad bar debuted. Hundreds of Wendy's restaurants had already been established in the United States by this time, and the chain had also expanded to Mexico and Canada. Since 1983, Udenna Corporation has franchised Wendy's in the Philippines.
The company's sustained success may be attributed to its dedication to providing customers with nutritious, high-quality meals.
Talk To Wendy's Filipino Staff
Want to know more about the Wendy's menu in the Philippines? Send their staff a message on social media:
For any more questions you have about the Wendy's menu, leave a comment below.