Goldilocks is the most widely recognized bakery brand in the Philippines. It offers a wide variety of products at costs that are within reach of people from various socioeconomic origins. If you ask every Filipino about their favorite Goldilocks menu item, you can be sure that at least one of them will be mentioned.
Table of Contents
Here is the latest Goldilocks menu with prices in the Philippines:
Menu Item
Price

Cakes

Luscious Caramel (9" round)
₱550.00
Pastel Blooms Mocha (9" Round)
₱396.00
Pastel Blooms Marble (9" Round)
₱396.00
Pastel Blooms Chocolate (9" Round)
₱396.00
Classic Sans Rival (8-inch round)
₱792.00
All About Chocolate (8-inch round)
₱726.00
Royal Fudge Cake with Toblerone (8-inch rnd)
₱638.00
Black Forest (8-inch round)
₱638.00
Chocolate Cherry Torte (8-inch round)
₱638.00
Chocolate Caramel Decadence (8-inch round)
₱616.00
Double Dutch (8-inch round)
₱572.00
Chocolate Mousse (8-inch round)
₱594.00
Chocolate Mousse Cake 8x12
₱825.00
Pastel Blooms Marble (8x12)
₱572.00
Pastel Blooms Mocha (8x12)
₱572.00
Pastel Blooms Chocolate (8x12)
₱572.00
Luscious Caramel (8x12)
₱770.00
Dulce de Leche Whole Roll
₱330.00
Classic Mocha Whole Roll
₱330.00
Chocolate Whole Roll
₱330.00
Brazo de Mercedes Whole Roll
₱385.00
Chocolate Overload Whole Roll
₱341.00

Snacks and Pasalubong

Cheesy Taisan
₱94.00
Cheese Roll
₱39.00
Cinnamon Roll
₱33.00
Ube Ensaymada Hugs
₱132.00
Cheesy Ensaymada Hugs
₱109.00
Monay
₱71.00
Classic Brownies (2's)
₱28.00
Classic Brownies (4's)
₱50.00
Classic Brownies (box)
₱253.00
Raisin Oatmeal Cookies
₱50.00
Chocolate Chip Cookies
₱50.00
Butter Macaroons (12`s)
₱61.00
Mongo Hopia (6's)
₱72.00
Pork Hopia (6's)
₱72.00
Caramel Popcorn (85g)
₱33.00
Ube Loaf (275g)
₱61.00
Cheesy Ensaymada
₱30.00
Chicken Pie
₱54.00
Peanut Polvoron
₱143.00
Cookies and Cream Polvoron
₱143.00
Pinipig Polvoron
₱143.00
Cashew Polvoron
₱143.00
Classic Polvoron
₱176.00
Assorted Polvoron
₱220.00
Egg Pie
₱275.00
Puto (12s')
₱88.00
Ube Cheese Puto
₱109.00

Favorite Party Pack

FPP - Rellenong Bangus
₱1,099.00
FPP - Pork Dinuguan
₱769.00
FPP - Fresh Lumpia (16pcs)
₱770.00
FPP - Pancit Palabok
₱770.00
FPP - Pancit Malabon
₱770.00
FPP - Sotanghon
₱770.00
FPP - Pork Barbecue (12pcs)
₱770.00
Set A - Sotanghon, Pork BBQ, Lumpia Shanghai
₱880.00
Set B - Palabok, Pork BBQ, Fresh Lumpia
₱880.00
Set C - Malabon, Pork BBQ, Lumpiang Shanghai
₱880.00
Fried Veggie Lumpia with Egg (16 pcs.)
₱770.00

Desserts

Iced Guinumis
₱88.00
Iced Buko Pandan
₱88.00
Iced Ube Macapuno
₱94.00
Mais con Yelo
₱94.00
Iced Sago't Gulaman
₱61.00

All Day Meals

Chicken Popcorn with Rice
₱138.00
Breaded Porkchop with Rice
₱215.00
Lechon Paksiw with Rice
₱231.00
Pork BBQ with Rice
₱193.00
Boneless Chicken BBQ with Rice
₱215.00
Pork Sisig with Rice
₱171.00
Rellenong Bangus with Rice
₱215.00
Beef Kare Kare with Rice
₱231.00
Beef Caldereta with Rice
₱231.00
Pork Dinuguan with Rice
₱160.00

All Day Merienda

Pork Dinuguan Plate
₱160.00
Pork Dinuguan with Puto
₱153.00
Palabok with Puto
₱149.00
Sotanghon with Puto
₱149.00
Fresh Lumpia
₱116.00
Chicken Popcorn Ala Carte
₱116.00
Pancit Malabon with Puto
₱149.00
Arroz Caldo
₱116.00
Sotanhon Soup
₱116.00
Fried Veggie Lumpia with Egg
₱116.00
Freshly Baked - Chicken Adobo Pie
₱65.00
Freshly Baked - Tuna Sisig Pie
₱65.00
Freshly Baked - Pork with Chorizo Bilbao Pie
₱76.00
Freshly Baked - Spicy Beef Pie
₱76.00
Freshly Baked - Chicken Pie
₱65.00
Prices may vary per location
The Goldilocks menu provides alternatives to a wide range of desserts, snack foods, and bread made entirely from Filipino ingredients. Only Goldilocks is capable of coming up with one-of-a-kind ideas, such as "Decorate Your Cake," "Go Lite," "Pinoydeli," "Bitbit Packs," and "Happy Goldi Birthday Party," and many others.
If you're looking for other cakes, check out the Red Ribbon or Cake2Go Menu.
Goldilocks Best Sellers
The following are popular items on the Goldilocks menu. Keep in mind that prices may vary depending on the store's location.
Roll Cake
Roll cakes have become a part of local culture because you can't brag about feeding 20 people chocolate cake for less than 500 pesos any other way. They aren't very fancy, but they do the job.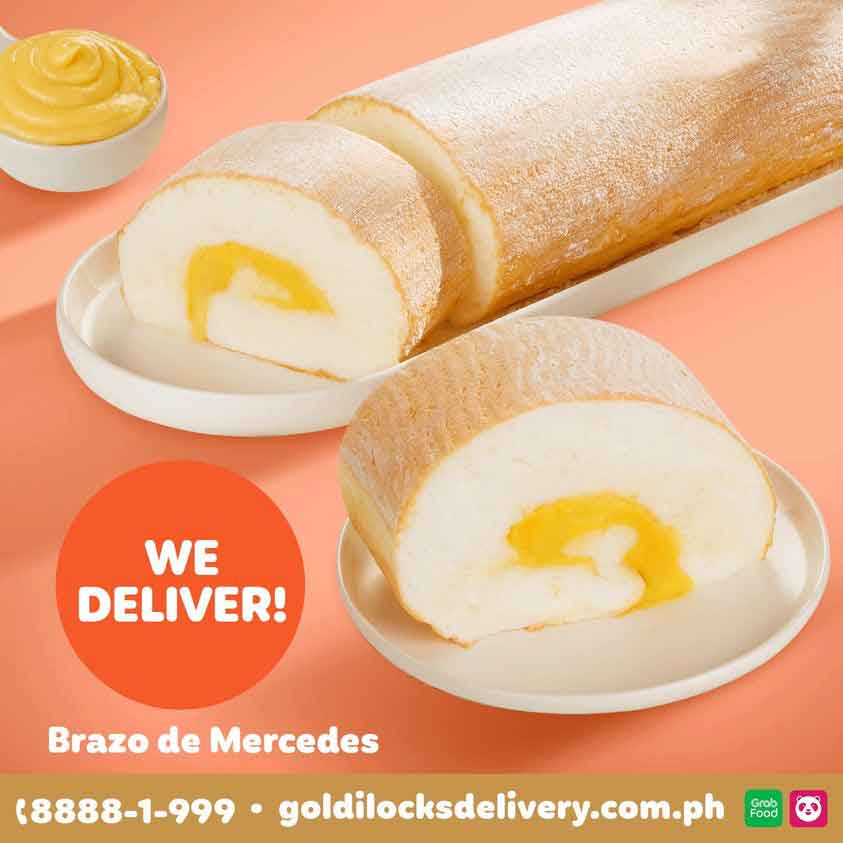 Brazo De Mercedes
The Brazo de Mercedez cake is a silky soft meringue roll with a rich custard filling and a light dusting of confectioners' sugar.
Polvoron
Polvoron is a mix of sweets and shortbread cookies. It's not baked like cookies are. It is generally made of toasted flour, sugar, and powdered milk, which is then pushed into a Polvoron molder and wrapped up individually like candies.
Crema De Fruta
The Crema de Fruta has two layers of vanilla sponge cake with a mixture of custard filling and a fruit cocktail in between. The top of the cake is covered with the same custard filling and cut-up peaches and cherries. A thin coating of gelatin embraces the whole surface of the dessert.
Macaroons
The famous Goldilocks macaroon is a little round biscuit made from desiccated coconut, sugar, and egg whites that has become a classic in the Philippine dessert world.
Black Forest
Layers of Chocolate Chiffon Cake are loaded with whipped cream and dark luscious cherries in this favorite. There are maraschino cherries, whipped cream rosettes, and shaved Swedish chocolate on top of it.
Brownies
Goldilocks brownies are classic-flavored snack cake bars that are moist and fudgy.
Sansrival
Four tiers of crunchy cashew meringue batter loaded with creamy butter frosting and topped with toasted cashew nuts.
Chocolate Mousse
Rich chocolate mousse atop a delicious chocolate butter cake, topped with whipped cream. Chocolate ganache and chocolate vermicelli are drizzled over the entire cake, with chocolate chips strewn on top of the cake.
Ensaymada
Goldilocks is well-known for its Classic Ensaymada, consisting of sweet brioche bread braided and twisted in the classic fashion before being topped with creamed butter, honey, and real cheese.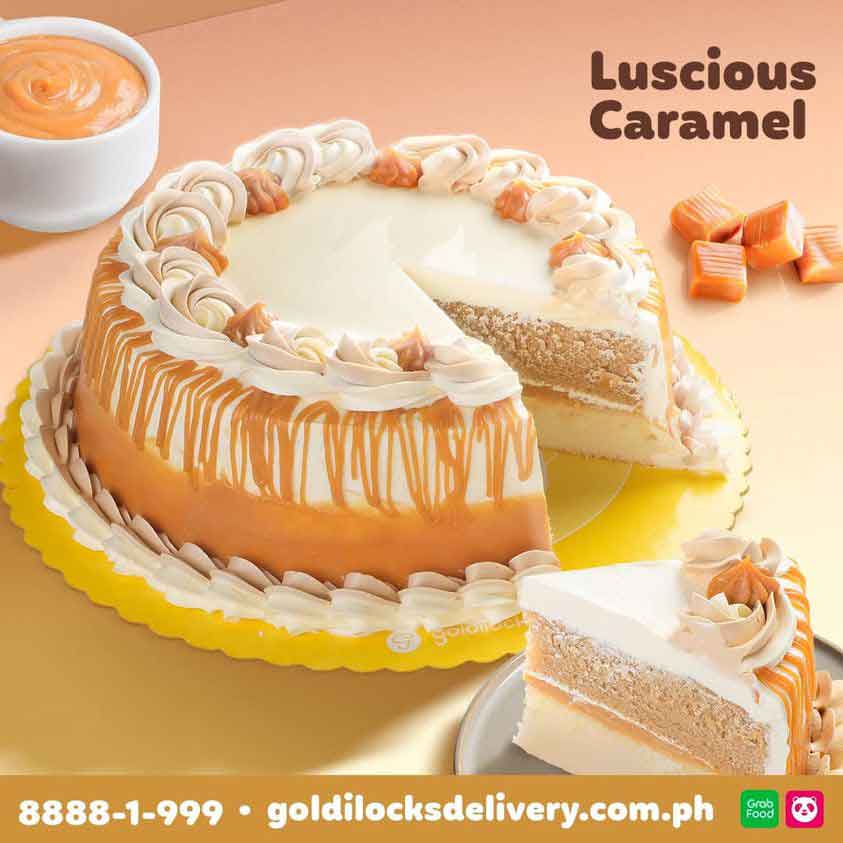 Caramel Cake
Luscious caramel sauce drizzled over moist, vanilla-flavored cakes that have been filled with a buttery, caramel-flavored cream cheese icing.
Want to be updated on other promos? Subscribe to our newsletter.
Goldilocks Birthday Theme Cakes
Goldilocks offers pre-designed birthday theme cakes for any occasion. They also have Greeting Cakes of various sizes. You may even have these as part of their Party Packages.
Party Packages
These are the Home Party Packages available.
The Standard Party Package, inclusive of:

1 Choice of Greeting Cake 8×12
1 Fiesta Pack Palabok Sotanghon
1 Set of Party Materials
The Special Party Package, inclusive of:

1 Choice of Choco Cherry Torte Cake or Black Forest Cake
5 Pcs Golden Fried Chicken
1 Pc Fiesta Pack Palabog & Sotanghon
1 Set of Party Materials
The Gold Party Package, inclusive of:

1 Choice of Choco Cherry Torte Cake or Black Forest Cake or Greeting Cake 8×12
5 Pcs Golden Fried Chicken
1 Pc Party Package: Sotanghon or Palabok
12 Pcs Pork Barbeque
1 Egg Pie
1 Set of Party Materials
Choose from a popular choices of themes! They have Disney Frozen themed cakes, Micky Mouse design cake, Disney princess cakes and BT21 cakes. (Yes, Goldilocks is an authorized cake licensee of The Walt Disney Company!)
For other party package options, you can also inquire with the ever favorite Jollibee!
Goldilocks Delivery
Goldilocks offers delivery through major delivery services like Foodpanda and GrabFood. Also, you may get your favorites from the Goldilocks menu through their official delivery website, https://www.goldilocksdelivery.com.ph/ or their official hotline 8888-1-999.
Goldilocks Branches
As a truly global brand, it has expanded to more than 420 outlets in the Philippines and abroad markets, and it now employs a workforce of over 2,000 people. This expansion has allowed it to grow its customer base.
About Goldilocks in the Philippines
On May 15, 1966, Filipino-Chinese sisters Milagros Leelin Yee and Clarita Leelin Go and their sister-in-law Doris Wilson Leelin decided to open the first Goldilocks store. They began with only ten employees and leased space on the ground floor of a three-story building along Pasong Tamo Street in Makati.
In 1991, Goldilocks began offering franchise opportunities, ultimately establishing a large number of stores in the Metro Manila area. The Philippine Competition Commission has given the merger of SM Retail Inc. and Goldilocks Bakeshop Inc. in 2018 the go-ahead.
Talk To Goldilocks Filipino Staff
Want to know more about the Goldilocks menu in the Philippines? Send their staff a message on social media:
Email: customercare@goldilocks.com.ph
For any more questions you have about the Goldilocks menu, leave a comment below.