Since its opening more than ten years ago, Mama Lou's Italian Kitchen (also known as "Mama Lou's") has provided a haven of healing for its patrons.  Even while it's apparent that Mama Lou's serves delicious cuisine, there's plenty more to the experience there. Mama Lou's kitchen is famous for its delectable pasta, risotto, and pizza, but the most prized dish is the love that goes into making them. Let's dig into the delicious offerings on Mama Lou's Menu.
Here is the latest Mama Lou's Menu with prices in the Philippines:
Menu
Price

Antipasato

Escargots
395
Crpaccico Di Manzo
375
Nachos
275
Gambas
300
Fried Calamari
195
Bruschetta
225
Chicken Wings
180
Poutine
160
Baked Italian Meatballs
195
Spicy Italian Garlic Sausage
250
Mozzarella Sticks
180
Onion Rings
160
Squid Heads
195
Smoked Salmon Platter
375

Zuppe

Clam Chowder Soup (Small)
185
Clam Chowder Soup (Big)
325
French Onion Soup
250
Minestrone Soup (Small)
175
Minestrone Soup (Big)
300
Mushroom Soup (Small)
165
Mushroom Soup (Big)
295
Pumpkin Soup (Small)
165
Pumpkin Soup (Big)
300

Insalate

Chef's Salad
275
Friulana Salad
295
Caesar Salad
275
Oriental Salad
325

Platters

City Sampler
495
Cheese Platter
495
Sausage Platter
495

Al Dente Barilla Pasta

Italian Sausage Pomodoro
295
Shrimp Formaggio
325
Spaghetti Meatballs
275
Spaghetti Alla Puttanesca
295
Linguini Vongole
275
Spaghetti Seafood Pomodoro
295
Spaghetti Bolognese
295
Pescatore
295
Amatriciana
275
Jalapeno
295
Spaghetti Seafood Olio
315
Spaghetti Con Tuyo Filleto
295
Shrimp A Limone
325
Penne Pesto Al Pollo
295
Vongole Olio
295
Carbonara
295
Prosciutto Carciofo Fettuccini
295
Creamy Salmon Linguini
325
Truffle Mac and Cheese
285
Seafood Alfredo
325
Lasagna
295
Ravioli Spinaci
325
Pasta Al Nero Di Seppia
325

Risotto

Risotto Tartufo Funghi
325
Risotto Di Mare
350
Risotto Pesto Al Pollo
325
Buttered Risotto
295

Pizza

Pizza Margherita (Small)
260
Pizza Margherita (Large)
375
Mama Lou's Special (Small)
350
Mama Lou's Special (Large)
450
Pizza Bianca (Small)
275
Pizza Bianca (Large)
375
Pizza Salsiccia (Small)
295
Pizza Salsiccia (Large)
415
Primavera (Small)
325
Primavera (Large)
425
Frutti Di Mare (Small)
325
Frutti Di Mare (Large)
425
Hawaiian Pizza (Small)
275
Hawaiian Pizza (Large)
375
Napoli (Small)
260
Napoli (Large)
375
Pepperoni (Small)
295
Pepperoni (Large)
395
All Meat Pizza (Small)
325
All Meat Pizza (Large)
450
Tabarnes (Small)
295
Tabarnes (Large)
395
Proscuitto Funghi (Small)
325
Proscuitto Funghi (Large)
425
Quattro Formaggi (Small)
325
Quattro Formaggi (Large)
425
Quattro Stagioni (Small)
325
Quattro Stagioni (Large)
425

Mains

Chicken Piccata
330
Rollo Di Pollo
390
Chicken Parmigiana
390
Chicken Marsala
390
Chickekn Fra Diavalo
390
Braised Short Ribs
295
Salpicao
295
Mozzarella Burger Steak
295
Fillet Mignon
695
Marbled Rib Eye Steak
695
Pan Fried Beef Scallopini (Al Limone Sauce)
330
Pan Fried Beef Scallopini (Marsala Sauce)
360
Pan Fried Beef Scallopini (Pizzaiola Sauce)
330
Osso Buco Classico
595
Rosemary Lamb Rack
695
Grilled Lamb Chops
695
Grilled Pork Chops
350

Seafood

Seafood Flambe
395
Prawns Thermidor
695
Grilled Tuna Belly
325
Steamed Fish Fillet in Brodo
390
Pan Fried Fish Fillet
390
Salmon Grill
390
Fish and Chips (Atlantic Sole)
350
Seabass Ala Florentina
795

Desserts

Mango Crepe
225
Chocolate Cake
160
Apple Pie
160
Italian Tiramisu
160
Mama Lou's Cheesecake
180
Ice Cream
85

Drinks

Coke Products
50
Mama Lou's Iced Tea
75
Bottomless Iced Tea
85
Regular Iced Tea
50
Raspberry
80
Strawberry
80
Bottled Water
30
Soda Water
95
Tonic Water
95
San Pelligrino (250 ml)
135
San Pelligrino (500 ml)
170
Tea By the Cup
60
Tea By the Pot
90
Apple Juice
160
Apple and Carrot Juice
160
Carrot Juice
160
Calamansi Juice
160
Orange Juice
160
Banana Fruit Shake
145
Watermelon Fruit Shake
145
Green and Yellow Mango Shake
145
Strawberry Shake
145
Pineapple Shake
145
Grapes Shake
145
Americano
60
Decaf Americano
60
Espresso
60
Double Espresso
85
Café Latte
95
Mocha Ice Blended Coffee
150
Hazelnut Ice Blended Coffee
150
Cappuccino Ice Blended Coffee
150
Espresso Choco Ice Blended Coffee
150
Vanilla Ice Blended Coffee
150
Chocolate Ice Blended Coffee
150
Wine by The Glass
175
San Miguel Beer
40
San Miguel Light
45
San Miguel Strong Ice
75
San Miguel Super Dry
75
San Miguel Premium
85
Cerveza Negra
45
Colada Surprise
145
Blue Lagoon
180
Tropical Sun
180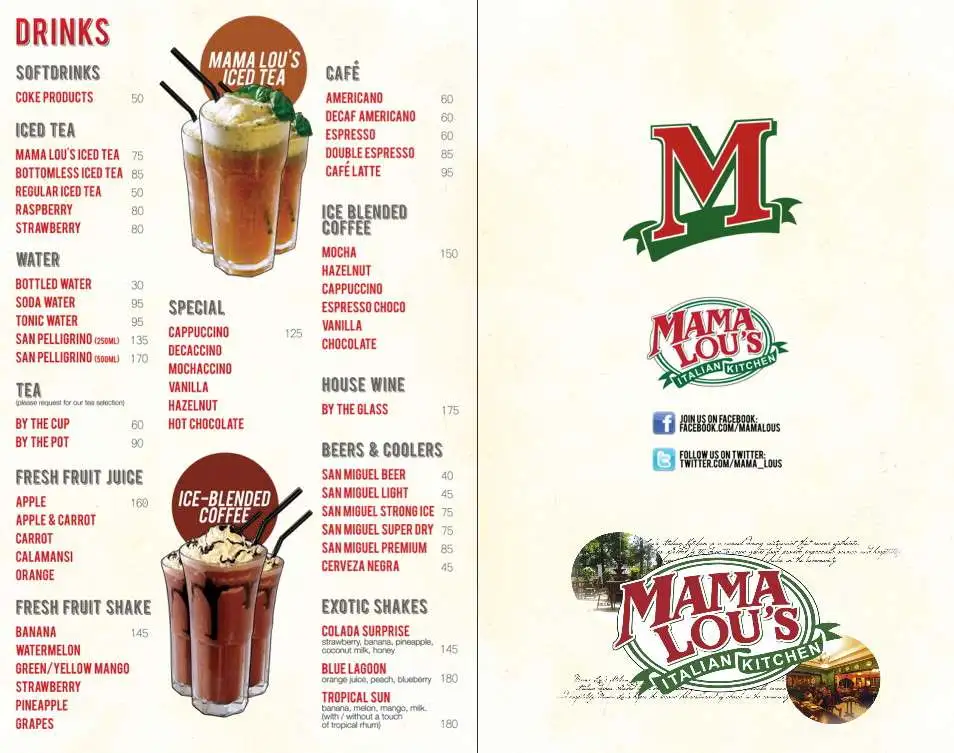 Mama Lou's Menu
The cuisine of Mama Lou's includes elements of many different cuisines, including those from Italy, France, the United States, and fusion cuisine. Most of their supplies come from third-party vendors outside the country to create unique tastes and consistently provide diners with a great eating experience.
Mama Lou's Best Sellers
Mama Lou's Special Pizza
I consider this pizza as absolutely one of a kind. The addition of mangoes to Mama Lou's "Filipinized" pizza is the primary reason for its status as her restaurant's most popular item. It is effective. This pizza features tomato, mozzarella, prosciutto, mango, arugula, and balsamic cream. Like the rest of their pizzas, this one also comes with arugula and alfalfa. You have the option of topping the pizza with arugula and alfalfa, rolling it up, and eating it like you would a pizza roll.
Risotto Tartufo Funghi
At first glance, Mama Lou's risotto may seem like an ordinary white and yellow risotto. But there's so much more to it than that. The first taste will reveal a delicious secret. The richness and cheesiness of the risotto will make your tongue and heart happy. Guess what else? They bumped it up a notch with a truffle twist. When combined with the creamy foundation, the earthy and fragrant aromas created by the truffle infusion are divine. The flavor explodes in your mouth with each mouthful.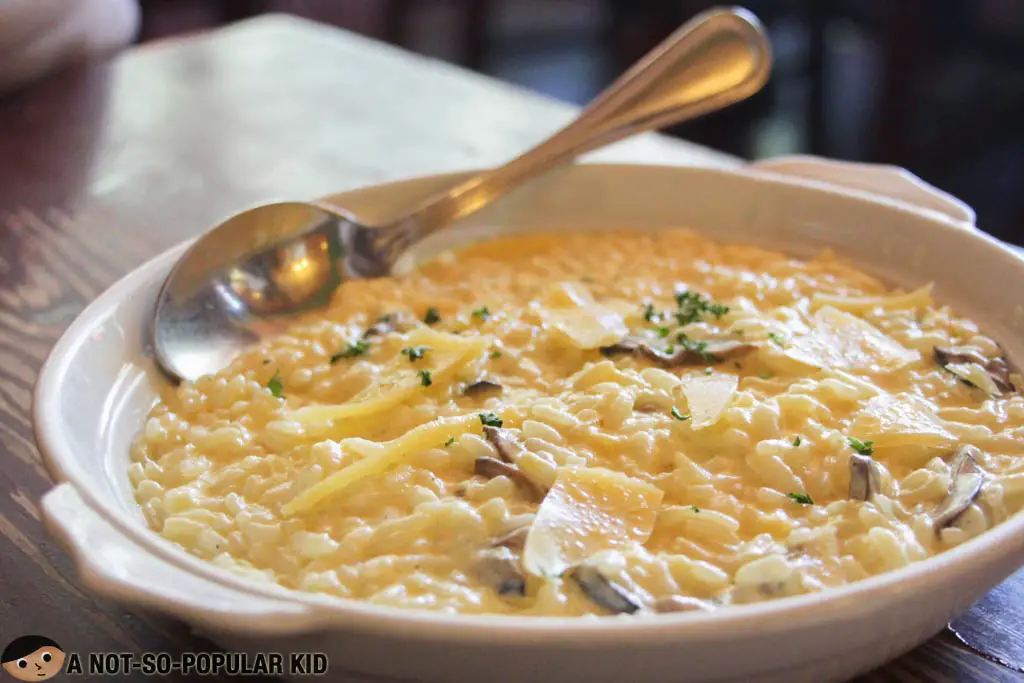 Bacon Poutine
The best poutines in town can be found at Mama Lou's. One of the proprietors is partly Canadian, thus they like serving this dish to their customers. Think about it: cheesy, gravy-covered French fries straight out of the deep-fryer. In addition, chunks of crispy bacon are thrown in for additional saltiness and crunch, making Mama Lou's poutine is a harmonious blend of many tastes and textures. Their hard work is evident in every delicious mouthful, making this an absolute must-try for anybody looking for a delectable delicacy that will leave them wanting more.
For other Italian restaurants, you can also check out Italianni's or Cibo!
Want to be updated on other promos? Subscribe to our newsletter.
Mama Lou's Iced Tea
It is imperative, mandatory, and required that you order Mama Lou's Iced Tea. If you don't, you'll be doing yourself a huge disservice. You can taste the inherent mintiness of the tea leaves, which is only present in freshly brewed tea made with genuine tea leaves rather than powdered tea bags. Totally refreshing, and well worth paying extra for the bottomless option.
Mama Lou's Delivery
Mama Lou's has introduced a convenient way to enjoy their delicious food through Mama Foods Cloud Kitchen. This new delivery platform houses a range of premium brands, including Mama Lou's, Nonna's, Persialive, and more. Now, you can easily order from multiple cuisines and have them delivered right to your doorstep. Whether you're in Metro Manila, select areas in Cavite, Laguna, or Rizal, they've got you covered, with calculated delivery fees. Simply choose your preferred branch, place your order, and either book a courier or let Mama Lou's handle the booking on your behalf (delivery fees apply). It's a cohesive and hassle-free solution for satisfying your cravings.
Frequently Asked Questions
What's a FamCard?
Mama Lou's FamCard is their loyalty card, which rewards their frequent diners with perks such as year-round discounts for dine-in, takeout, and delivery. It also includes birthday discounts and freebies, among other perks and incentives.
How can I get a FamCard?
You can purchase the card from Mama Lou's & Nonna's Restaurant by visiting in person or ordering online through a message. Soon, the card will also be available for purchase through their website checkout and online stores like Lazada.
About Mama Lou's in the Philippines
Mama Lou's is a family-run restaurant with a rich history rooted in love and food. It began in 2010 as a kitchen in a family home in BF Homes Las Piñas. Since then, it has evolved into Mama Lou's Group, comprising two Italian concept restaurants: Mama Lou's Italian Kitchen and Nonna's Pasta & Pizzeria, and several other kitchens serving up different cuisines. Despite the growth, both restaurants maintain the tradition of offering guests a welcoming atmosphere and delicious home-style cuisine.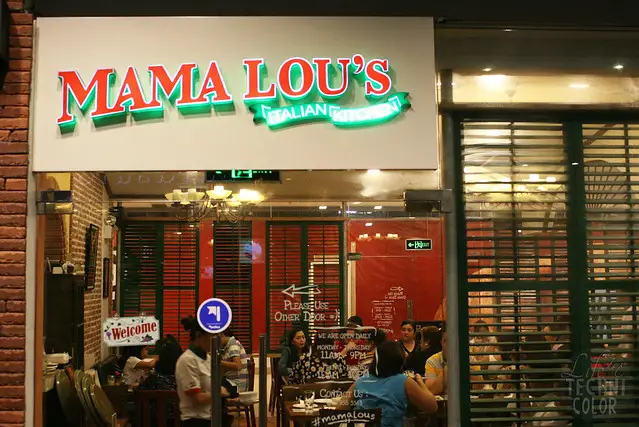 Talk To Mama Lou's Filipino Staff
Want to know more about the Mama Lou's Menu in the Philippines? Send their staff a message on social media:
For any more questions you have about the Mama Lou's Menu, leave a comment below.