Those searching for genuine Japanese fare in the Philippines should make a trip to Mendokoro Ramenba. This restaurant chain, affectionately called just Mendokoro by its patrons, has become well-known for its luscious and savory tonkotsu ramen, which has been lauded by both culinary reviewers and everyday diners. The ramen is excellent, but that's not all Mendokoro Ramenba has to offer. In this article, we'll explore the Mendokoro menu to determine whether they're up to the standards of our picky readers.
Here is the latest Mendokoro Ramenba Menu with prices in the Philippines:
Menu
Prices

Tonkotsu Ramen

Shio
430
Shoyu
460
TanTanmen
490
Miso
510

Hiyashi Ramen

Hiyashi Chuka
490
Hiyashi TanTanMen
490

Tsaukemen

Gyokai
500
Bonito
530
Tokusei
520
Karai Tokusei
560

Maze Soba

Shio Maze Soba
370
Shoyu Maze Soba
450
Kara Maze Soba
430

Take Home Ramen Kit

Shio
400
Shoyu
430
Super Chashu
560
TanTanMen
450
Ebi Tonkotsu
590

Side Dishes/Extras

Gyoza (3pcs)
140
Gyoza (5pcs)
230
Extra Chasu (3pcs)
275
Aji Tamago
80
Karaage
320
Chahan
300
Extra Chasu Bits(1kg)
1250
Bonito
495
Tokusei
485
Karai Tokusei
520
Mendokoro Ramenba is a chain of Japanese restaurants known mostly for its tonkotsu ramen but also for its gyoza, karaage, and rice bowls. They use only the freshest ingredients and heritage methods to provide authentic Japanese food for ramen lovers and foodies in the Philippines
Mendokoro Ramenba Best Sellers
Tonkotsu Ramen
Tonkotsu ramen, Mendokoro's specialty, is the restaurant's most famous dish. This is another reason I keep returning to the restaurant. The pork bones are simmered for several hours to extract the broth's rich flavor and velvety texture. The ramen noodles are prepared to the ideal al dente consistency, and then the meal is finished with toppings like chashu pork, ajitama egg, and scallions. Mendokoro has several optional extras such as corn, garlic, and butter if you want to spice up your bowl even more. The Tonkotsu Ramen is a must-try for everybody, whether they are ramen experts or have never had the dish before.
Tantanmen Ramen
Tantanmen Ramen at Mendokoro is fantastic for people who like a little more heat than I do. The broth in this take on traditional tonkotsu ramen gets its fiery flavor from a combination of sesame and chili oil. The soup is finished off with a topping of ground pork, bamboo shoots, and scallions. If, for some reason, you need extra heat, more spice may be added. Tantanmen Ramen's thick and savory broth, along with the powerful flavors of chili oil, makes for a delicious and filling ramen experience.
Gotta try other brands? You can also try Ippudo or Ramen Nagi!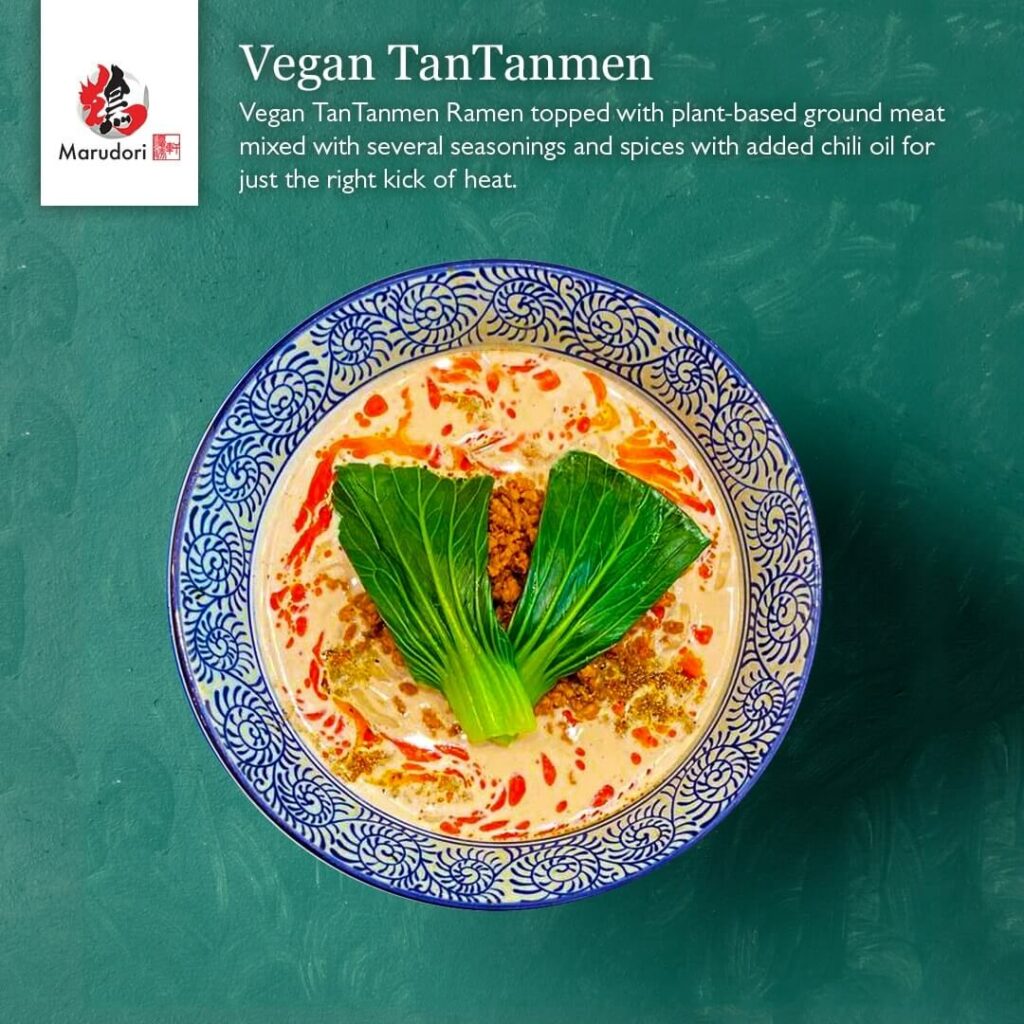 Ebi Tempura
One of Mendokoro's most well-liked starters and sides is the restaurant's Ebi Tempura, or deep-fried prawns covered in a light batter. Tempura has always held a special place in my heart, and Mendokoro's didn't disappoint. A dipping sauce of dashi, soy sauce, and mirin is provided to accompany the crunchy fried prawns. The briny flavor of the prawns is well countered by the sugary taste of the dipping sauce, making for a delicious combination that goes great with ramen.
Want to be updated on other promos? Subscribe to our newsletter.
Gyoza
You should not leave Mendokoro without trying their pan-fried Japanese gyoza. The rich and savory interior of ground pork, vegetables, and spices matches the crisp, golden-brown exterior. Presented with a dipping condiment composed of soy sauce, rice vinegar, and chili oil, gyoza is a must-try treat for fans of Japanese dumplings.
Mendokoro Ramenba Delivery
Mendokoro is a restaurant that provides delivery services for the products on its menu. Based on your location, you can place orders via the restaurant's official website or through mobile applications for meal delivery, such as GrabFood and FoodPanda. The delivery rates may change based on the area and the required quantity of the minimum order.
Frequently Asked Questions
Are there vegetarian-friendly items on the Mendokoro menu?
Vegetarians may rest assured knowing that Mendokoro Philippines has something for them to eat. There is a vegetarian ramen option with various veggies, tofu, and mushrooms in a light broth. Vegetarians may also enjoy edamame and Japanese-style pickles as starters at Mendokoro. Customers should inform wait staff about food allergies or preferences to ensure their meals are prepared properly.
What's the best time to visit Mendokoro?
Lunch and supper are traditionally the busiest times at Mendokoro since that's when most people are there. Diners who would prefer a less crowded establishment should consider coming during the middle of the day or late at night. It's best to avoid the busiest times unless you don't mind waiting for a table and thrive in a crowded environment. It's important to remember that Mendokoro does not take reservations, so diners must be patient if they want to eat there at peak times.
About Mendokoro Ramenba in the Philippines
Elbert Cuenca and Ryan Cruz, who made a name for themselves in the ramen industry with the famous restaurant Ramen Yushoken in Alabang's Molito Commercial Center, have joined forces to open Mendokoro Ramenba. Elbert and Ryan opened Mendokoro Ramenba two years after Ramen Yushoken, and it is still memorable for its boat-shaped counter that allows customers to see their ramen being made.
Talk To Mendokoro Ramenba Filipino Staff
Want to know more about the Mendokoro Ramenba menu in the Philippines? Send their staff a message on social media:
For any more questions you have about the Mendokoro Ramenba menu, leave a comment below.