Lola Nena's has been operating since 2012 and has many locations all around the metro. It has a reputation for producing irresistible sweets and has become the "go-to" spot for many individuals to satiate their merienda cravings. Here's a quick peek at what's in store at Lola Nena's Menu.
Table of Contents
Here is the latest Lola Nena's menu with prices in the Philippines:
Menu Item
Price

Old Fashioned Donuts

Classic Donuts Box of 8
₱136.00
Triple Cheese Donut Box of 8
₱216.00

Special Pichi Pichi

Small Box of Special Pichi Pichi
₱85.00
Medium Box of Special Pichi Pichi
₱170.00
Large Box of Special Pichi Pichi
₱340.00
Small Bilao of Special Pichi Pichi
₱425.00
Medium Bilao of Special Pichi Pichi
₱595.00
Large Bilao of Special Pichi Pichi
₱850.00

Pancit Palabok

Small Palabok (Good of 3-4pax)
₱350.00
Large Palabok (Good for 6-8pax)
₱625.00

Canton Bihon

Small Canton Bihon (Good for 2-4pax)
₱350.00
Large Canton Bihon (Good for 6-8pax)
₱625.00

Siopao Tostado

Siopao Tostado Box of 12
₱168.00

Others

Bottled Macapuno
₱200.00
Bottled Adobong Tuyo
₱210.00
Bottled Crispy Garlic
₱165.00
Bottled Spicy Garlic
₱175.00
Bottled Chili Garlic Oil
₱120.00
Ready to Cook Ilocos Bagnet (450g)
₱480.00
Ready to Cook Nena's Embotido
₱180.00
Cold Brew Latte, 250ml
₱105.00
Cold Brew, 250ml
₱85.00
Menu Updates
Not much has changed in their menu. Here is a photo of the most up to date menu at Lola Nenas: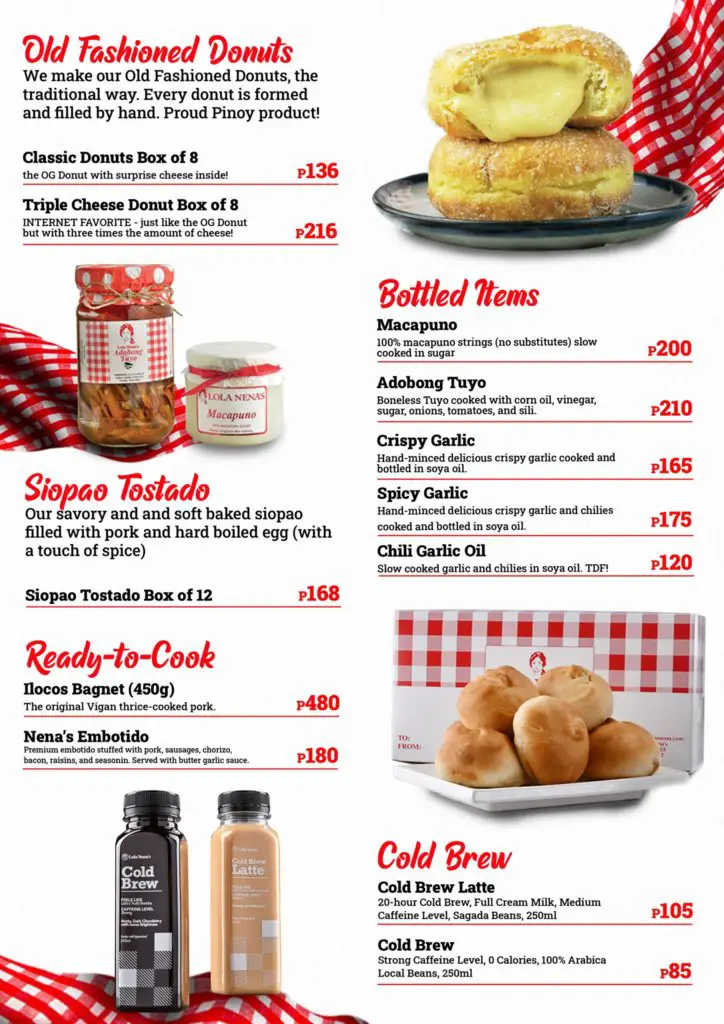 Compare with the Ambers Restaurant menu to check their palabok and pichi pichi too!
Lola Nena's Bestsellers
Lola Nena's Donuts
Every day, Lola Nena's fluffy Filipino donuts are baked the traditional manner – with sugar and margarine – and then molded and filled by hand. These aren't your regular, store-bought, commercialized doughnuts; they're "old-fashioned," but they're absolutely in.
Lola Nena's donuts are is a wonder of textures — chewy yet soft as a pillow on the first bite, along with a very slight yet welcome crunch from the light sprinkling of white sugar. It might be sweet at first, but once you come across the melted, gooey cheese filling, you'll know the tingly sensation of savory meeting sweet. '
It's all about what's on the inside, and Lola Nena's Triple, Cheese Doughnut is a cheesy eruption of three savory varieties of cheese (similar to cheddar) — nothing like you will ever experience in a donut before. The creamy cheese combination has a subtle umami saltiness that penetrates through the sweetness.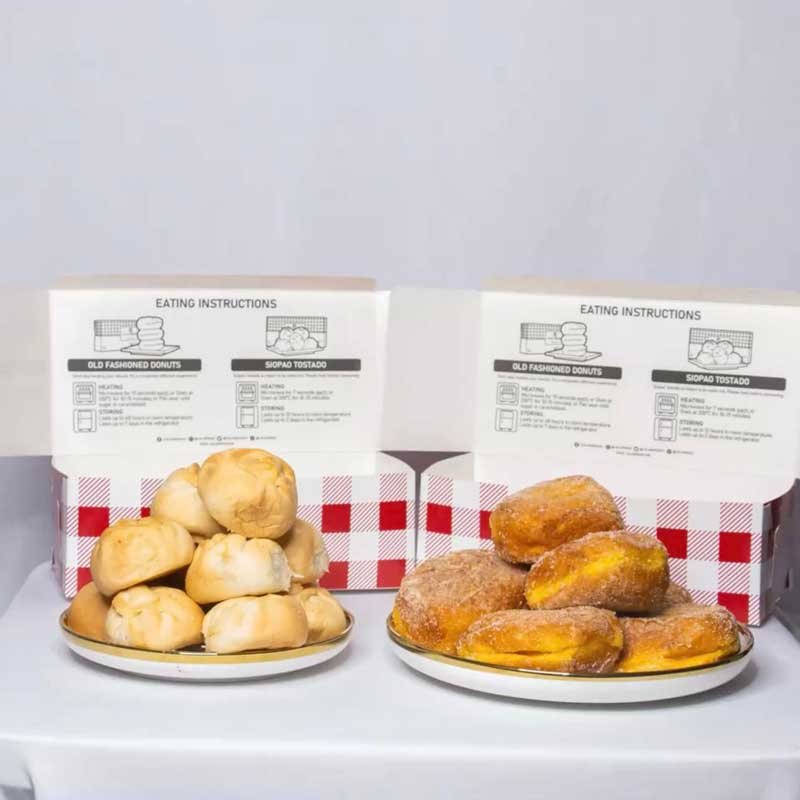 For maximum enjoyment of Lola Nena's Triple Cheese Donuts, it's best that you throw it into a microwave for about 15 seconds to let the cheese and sugar heat up a little bit and re-melt. Pair it with a great cup of coffee or hot choco and then it's perfect for breakfast or a mid-day snack. You can also choose to crisp it up a little bit by popping it in a toaster over for no more than 15 minutes.
P200 gets you a package of 8 Triple Cheese Donuts. Lola Nena's Classic Donuts (P120) contain less cheese inside yet taste practically identical.
If you're looking for a similar fluffy merienda, you can also try Mary Grace's ensaymada or Red Ribbon's butter mamon. Both fluffy Filipino classics!
Lola Nena's Toasted Siopao
If you're looking for a snack and are feeling a bit too carnivorous for donuts, Lola Nena's has got you covered.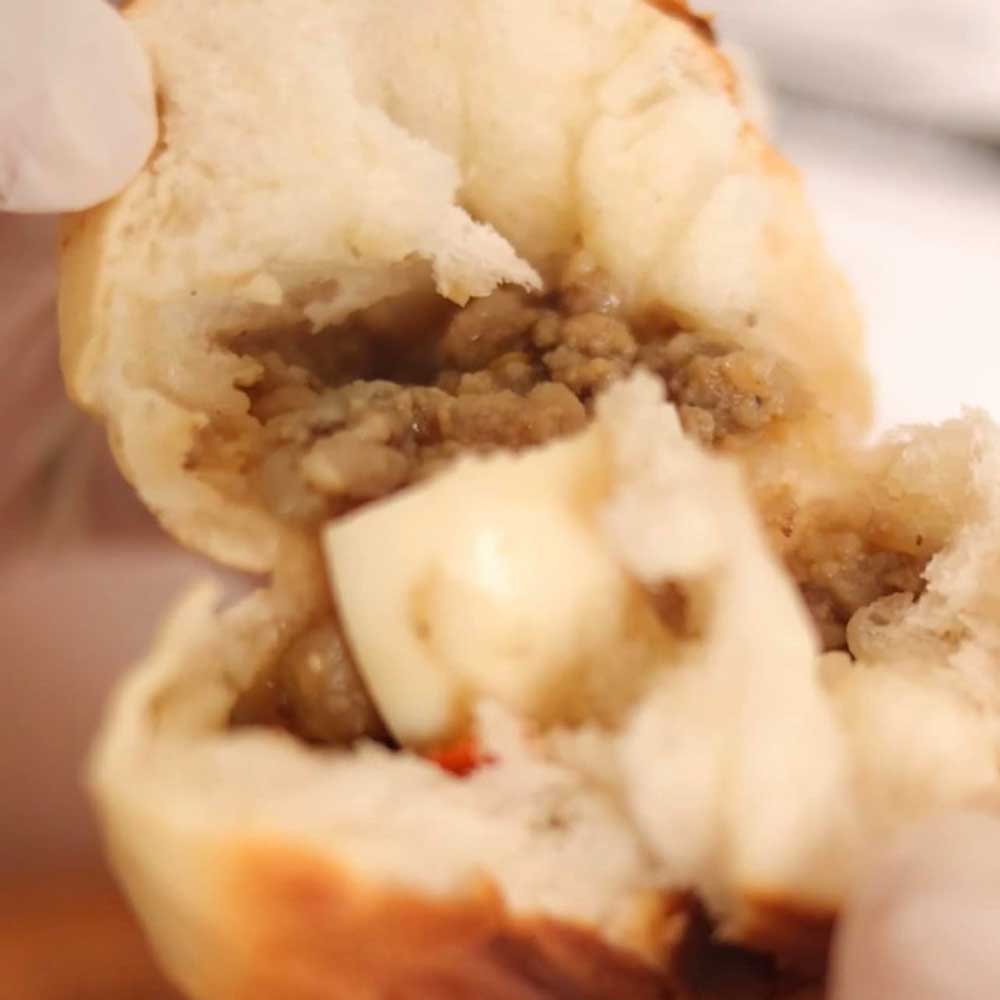 Lola Nena's toasted siopao — called Siopao Tostado on their menu — is basically like a small Asado siopao but instead of being steamed, it's baked to a toasty golden brown perfection, not unlike the Bicol region's famed toasted siopao. 
The toasting process lends the bun a crisp initial bite before hitting the soft bread inside. Then you'll be greeted by the savory rewards inside — the pork and boiled egg filling. This mixture has a touch of spice inside, which may be the reason why some of the fans of Lola Nena's toasted siopao liken its taste to sisig.
Lola Nena's Siopao Tostado currently costs P168 by the box, which has 12 pieces of the tasty bites inside.
Lola Nena's Pichi-Pichi
If you're down for something sweet and traditional, Lola Nena's serves up seriously delicious Pichi-Pichi.
Lola Nena's has large pieces of soft and bouncy pichi-pichi while still giving a full, smooth bite which makes it a really addictive piece of kakanin. The interior has a little bit of sweetness, balanced out by a darker, sharper undertone, not unlike the taste of muscovado sugar. This beautiful blend allows the cassava's inert flavor to shine out amongst the flavors.
This brand's cheese is a highlight, combining a creamy texture with a slight saltiness and a wonderful cheese finish that enhances the cassava mix without stealing center stage.
Lola Nena's offers their special Pichi Pichi in various sizes that's great for small gatherings to big parties.
Their Small Box of Special Pichi Pichi (10pcs) – great for a solo serving
Medium Box of Special Pichi Pichi (20pcs) – great for 4-5pax
Large Box of Special Pichi Pichi (40pcs) – great for pasalubongs to your loved ones
Small Bilao of Special Pichi Pichi (50pcs)
Medium Bilao of Special Pichi Pichi (70pcs)
Large Bilao of Special Pichi Pichi (100pcs) – great for clan parties
You can choose between the Cheese topping, Niyog topping, or a combination of both!
Want to be updated on other promos? Subscribe to our newsletter.
Lola Nena's Delivery
Lola Nena's is available for delivery through GrabFood delivery, through their website, or you may call their hotlines below:
Landline: 8925 4623
Globe: 0915 795 2777
Smart: 0918 679 6000
About Lola Nena's Philippines
Nena Del Rosario Teotico, co-owner Steffi Santana's great-grandmother, is referred to as "Lola Nena." Lola Nena's was founded in 2012 by Santana and her father, Kit Teotico Santana, with the intention of evoking the sense of visiting your grandparents' house. The Santanas established the first Lola Nena's kiosk in Tandang Sora, Quezon City, selling principally Pichi-Pichi.
Now, Lola Nena's has 18 locations in and around Metro Manila. During the lockdowns throughout the pandemic, they established five branches in Cavite, Pampanga, Valenzuela, and Cainta, Rizal.
Talk To Lola Nena's Filipino Staff
Want to know more about the Lola Nena's menu in the Philippines? Forward a message to them on social media:
Otherwise, you can find one of their stores and contact a Lola Nena's branch near you.
For any more questions you may have about the Lola Nena's menu Philippines, leave a comment below.