Have you ever been on the hunt for a place that serves mouthwatering treats that feel like they're made with love and care? Look no further because today, I'm excited to talk to you about Purple Oven Menu!
Here is the latest Purple Oven Menu with prices in the Philippines:
Menu
Price

Artisan Breads

Butter Croissant - per piece
90.00
Butter Croissant - box of 6
540.00
Cinnamon Raisin Pretzel - per piece
110.00
Cinnamon Raisin Pretzel - box of 6
660.00
Parmesan Pretzel - per piece
110.00
Parmesan Pretzel - box of 6
660.00
Sourdough
240.00
Raisin Bread
370.00

Gifts

Bars - half 16 pieces
Mango Bars
460.00
Lemon Bars
460.00
Double Chocolate Brownies
460.00
Fudge Brownies
460.00
Food for the Gods
460.00
Chocolate Revel Bars
460.00
Bars - Whole 32 pieces
Mango Bars
870.00
Lemon Bars
870.00
Double Chocolate Brownies
870.00
Fudge Brownies
870.00
Food for the Gods
870.00
Chocolate Revel Bars
870.00

Loaves (8 servings)

Banana Loaf
460.00
Carrot Walnut Loaf
460.00
Orange Almond Loaf
500.00
Pistachio Lime Loaf
500.00
Chocolate Banana Walnut Loaf
500.00

Cookies per piece

Reese's Peanut Butter Chip Cookie
90.00
Double Chocolate Chip Cookie
90.00
Chocolate Macadamia Cookie
90.00
Chocolate Dipped Cookie
90.00
Oatmeal Raisin Cookie
90.00
White Chunk Chocolate Cookie
90.00
White Chocolate Cashew Cookie
90.00
Assorted box of 6
540.00
Assorted box of 8
720.00
Chocolate Crinkles (box o 12)
460.00

Savory Breads and Pastries

Quiches

Broccoli and Cheese Quiche - per piece
135.00
Broccoli and Cheese Quiche - box of 6
810.00
Quiche Lorraine - per piece
135.00
Quiche Lorraine - box of 6
810.00

Flaky Pastries

Per Piece
Chicken Curry Turnover
110.00
Chili con Carne Turnover
110.00
Chorizo Roll
110.00
Sausage Puff
110.00
Spinach Danish
110.00
Tuna Turnover
110.00
Ham and Cheese Croissant
125.00
Box of 6
Chicken Curry Turnover
660.00
Chili con Carne Turnover
660.00
Chorizo Roll
660.00
Sausage Puff
660.00
Spinach Danish
660.00
Tuna Turnover
660.00
Ham and Cheese Croissant
750.00

Soft Savory Buns

Per Piece
Pork Asado Bun
90.00
Corned Beef Bun
90.00
Floss Bun
90.00
Tuna Bun
90.00
Ham and Cheese Bun
90.00
Bacon and Egg Bun
90.00
Sausage Bun
90.00
Box of 6
Pork Asado Bun
540.00
Corned Beef Bun
540.00
Floss Bun
540.00
Tuna Bun
540.00
Ham and Cheese Bun
540.00
Bacon and Egg Bun
540.00
Sausage Bun
540.00

Freshly Baked Favorites in a Box

Assorted Breads (as shown in the photo)
770.00

Sweet Breads

Per Piece
Cheese Roll
90.00
Ensaymada
100.00
Soft Cinnamon Roll
100.00
Chocolate Croissant
100.00
Box of 6
Cheese Roll
540.00
Ensaymada
600.00
Soft Cinnamon Roll
600.00
Chocolate Croissant
600.00

Cakes and Pies

Light Cakes (8 in)
Honeycomb Crunch Cake
1,180.00
Pistachio Stardust
1,180.00
Chocolate Honeycomb Crunch Cake
1,180.00
Strawberry Kisses
1,250.00
Chocolate Cakes (8 in)
Grandma's Chocolate Cake
970.00
Chocolate Dome Cake
970.00
Chocolate Campfire
1,080.00
Classic Chocolate Cake
940.00
Caramel Sauce
210.00
Cakes with Nutty Layers (8 in)
Classic Sans Rival
1,130.00
Dark Mocha Sans Rival
1,250.00
White Chocolate Sans Rival
1,250.00
Rustic Chocolate Torte
1,250.00
Merry Cherry Torte
1,250.00
Mango Walnut Torte
1,250.00
Lemon Torte
1,250.00
Cheesecakes (8 in)
New York Cheesecake
1,430.00
Blueberry Cheesecake
1,430.00
Oreo Cheesecake
1,430.00
Tub Desserts (8x14 in)
Tiramisu
1,670.00
Strawberries and Cream
1,670.00
Pies (9 in)
Apple Crumb Pie
1,080.00
Banoffee Pie
1,050.00
Little Cakes and Pies Per Piece
Little Carrot Cake
175.00
Chocolate Lava Cake
175.00
Little Banoffee Pie
175.00
Little Apple Crumb Pie
215.00
Little Pecan Pie
215.00
Little Cakes and Pies Box of 6
Little Carrot Cake
1,050.00
Chocolate Lava Cake
1,050.00
Little Banoffee Pie
1,050.00
Little Apple Crumb Pie
1,290.00
Little Pecan Pie
1,290.00
Assorted box of 6 - from P1,050.00
1,050.00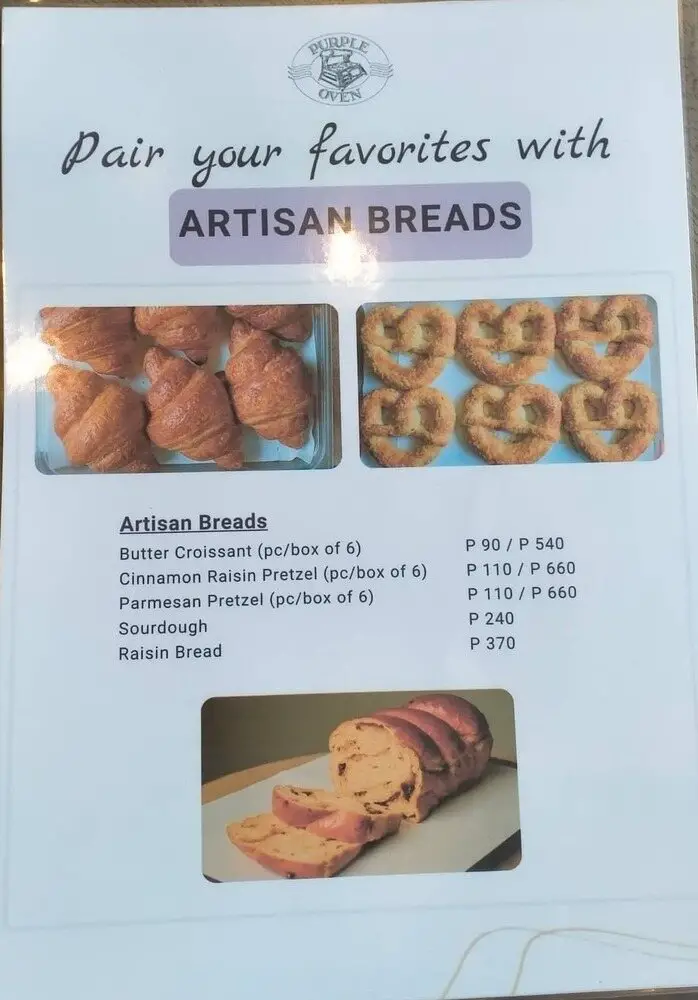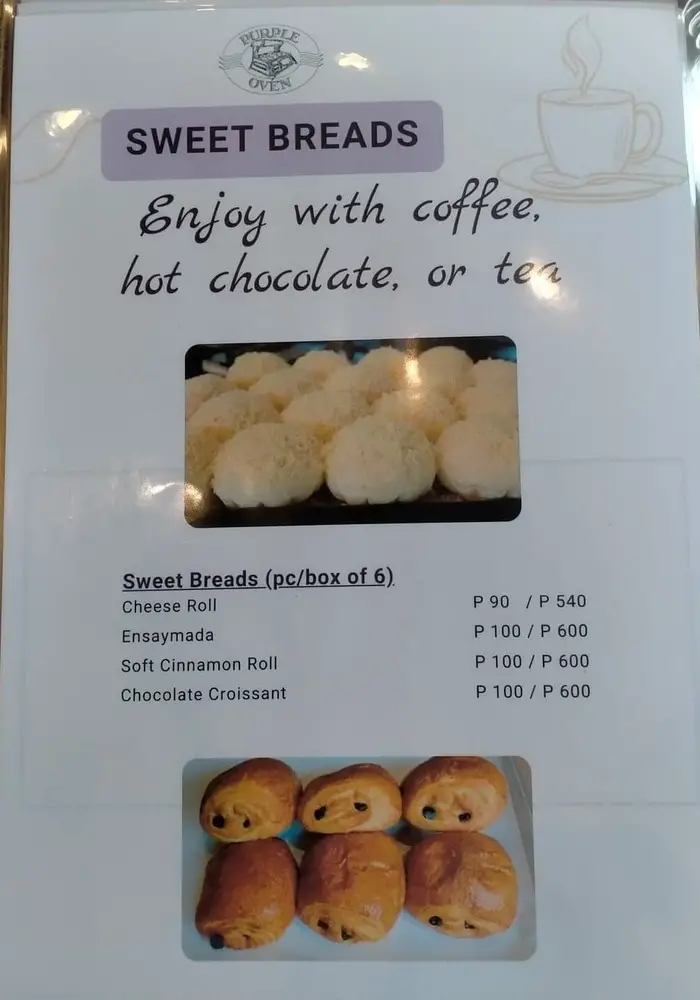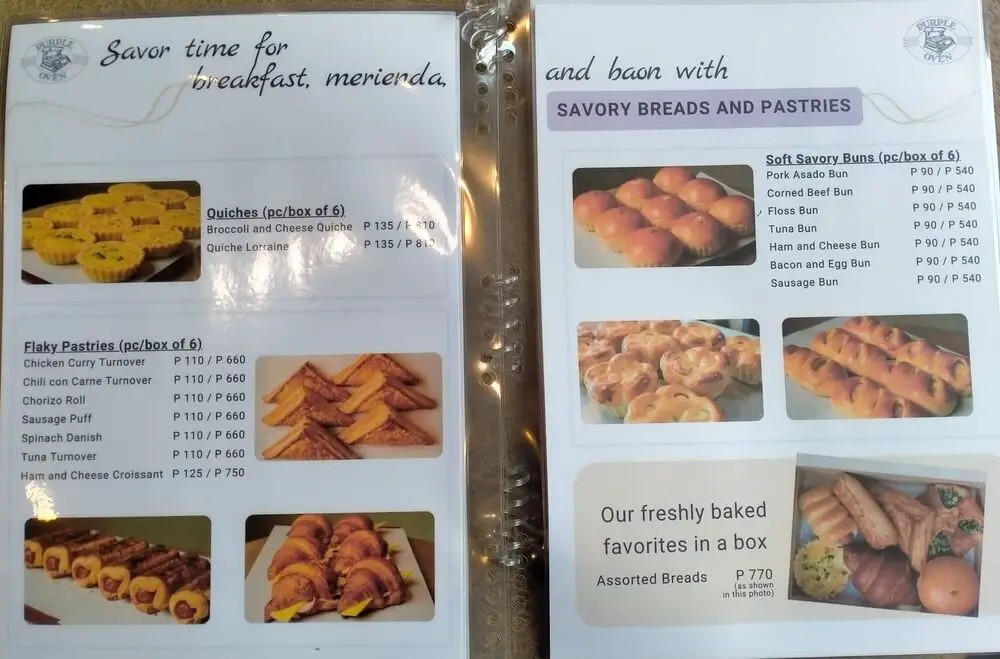 This place is an absolute gem if you're a foodie with a sweet tooth or craving delectable delights. From heavenly pastries to delightful cakes and everything in between, Purple Oven Menu is a haven for anyone who appreciates the art of baking.
Best Sellers of Purple Oven Menu
Below are some of the crowd-favorites on Purple Oven's menu.
Purple Oven Tiramisu
Indulge in the heavenly taste of their signature Purple Oven Tiramisu, a beloved Italian dessert reimagined to perfection. Layers of delicate ladyfingers soaked in espresso and rum are harmoniously balanced with a luscious mascarpone cheese filling. 
Each velvety bite is a delightful journey of flavors, blending the richness of mascarpone with the subtle bitterness of coffee and the hint of sweetness from the rum. One taste, and you'll be transported to the picturesque streets of Italy, savoring every spoonful of this timeless classic.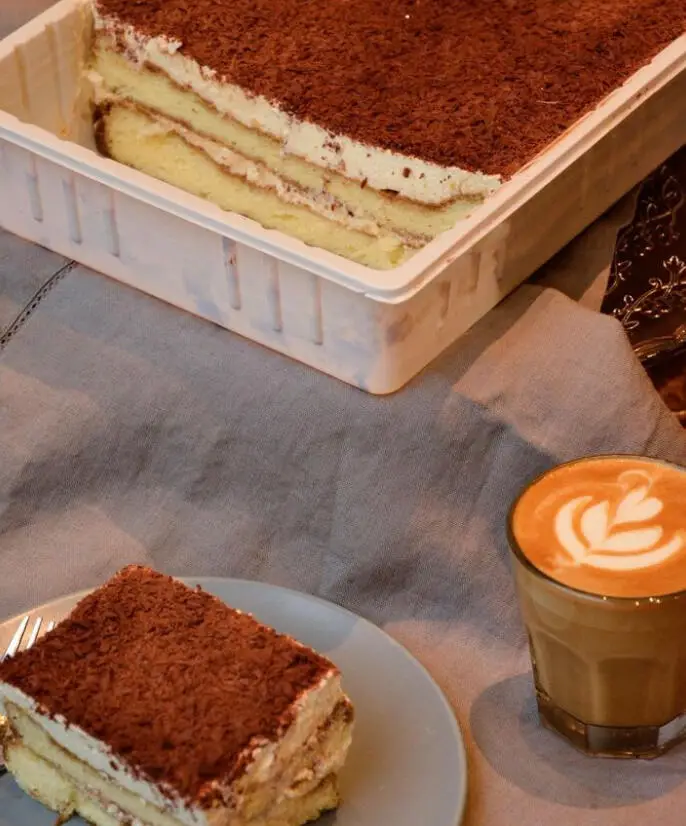 The Chocolate Dome Cake
Prepare to be enchanted by the sheer decadence of their Chocolate Dome Cake, a true classic that never fails to captivate chocolate lovers. Just imagine tender layers of moist chocolate sponge cake, meticulously crafted with layers of velvety mousse and dreamy cream. 
To top it all off, a lavish chocolate ganache icing drapes the cake, creating a perfect harmony of textures and flavors. With each forkful, you'll experience a symphony of chocolate-infused bliss, making this dessert an absolute must-try for anyone with a sweet tooth and a love for all things chocolate.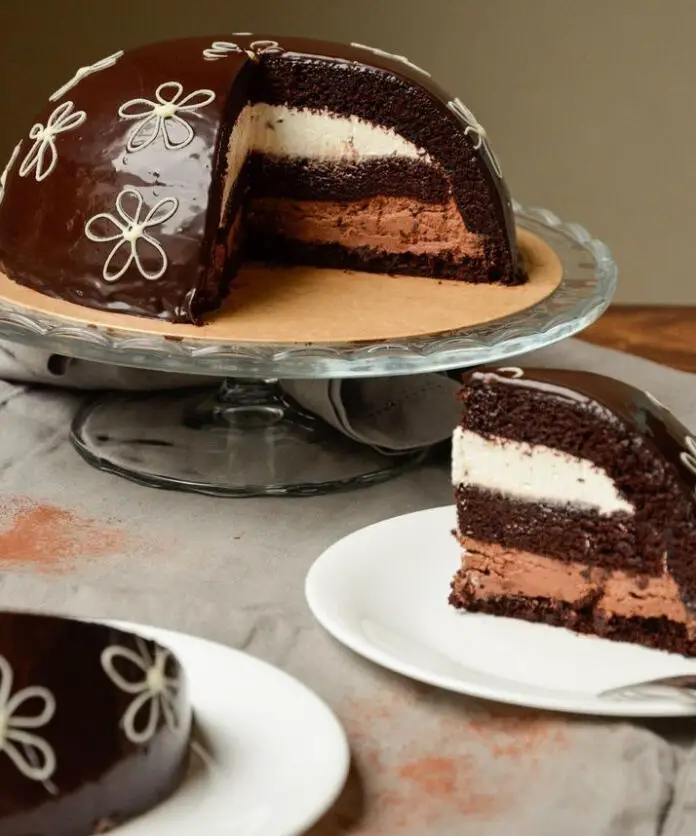 Apple Crumb Pie
Fall head over heels for the heartwarming goodness of their Apple Crumb Pie, a rustic delight that exudes comfort and nostalgia. Picture yourself enjoying a tender, flaky crust, cradling a generous filling of succulent, cinnamon-kissed apples. But wait, there's more! A delightful crumb topping adds a delightful crunch to every forkful, elevating the experience to new heights. 
Moreover, this pie is a delightful blend of sweet and tart flavors, evoking memories of cozy evenings and family gatherings. It's a slice of warmth and sweetness that captures the essence of home, making it a cherished favorite among our customers.
Purple Oven Cakes
Honeycomb Crunch Cake
Indulge in the captivating contrast of textures with Purple Oven's Honeycomb Crunch Cake. Delicate layers of moist cake alternate with velvety honeycomb-flavored cream, all enveloped in a generous coating of toffee crunch. A symphony of sweet and crunchy, this cake offers a delightful, irresistible, harmonious harmony of flavors.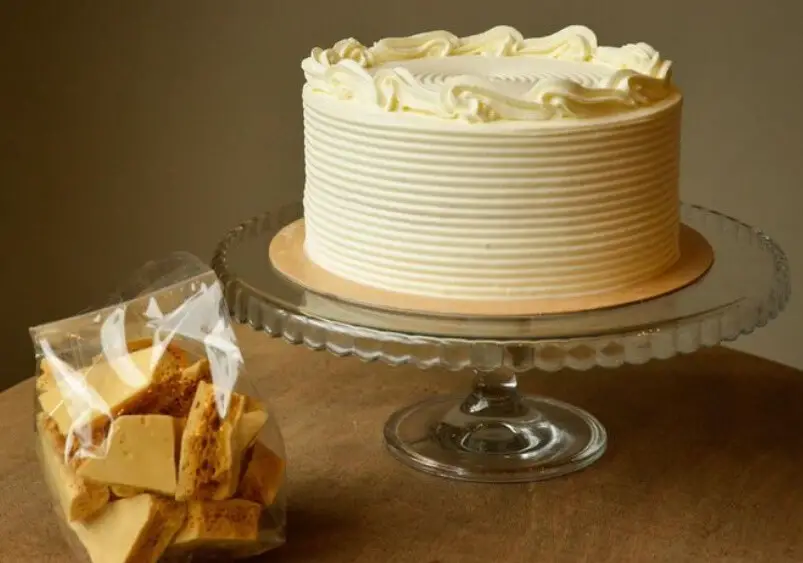 Banoffee Pie
Experience a slice of dessert heaven with Purple Oven's Banoffee Pie. A buttery graham crust cradles layers of luscious caramel, fresh banana slices, and a cloud of whipped cream. Every bite is a delightful balance of sweet and fruity, making this pie a timeless favorite that'll transport your taste buds to pure bliss.
Pistachio Stardust
Why don't you elevate your dessert experience with Purple Oven's Pistachio Stardust Cake? Delicate layers of pistachio-infused cake are artfully interspersed with layers of smooth pistachio cream. Adorned with crushed pistachios and a dusting of edible stardust, this cake offers a nutty elegance that will captivate your senses.
Read more: Contis Cake and Mary Grace Cake
Mango Walnut Torte
Savor the tropics with Purple Oven's Mango Walnut Torte. Moist cake layers embrace generous slatherings of velvety mango cream, punctuated by the satisfying crunch of walnuts. Topped with juicy mango slices, this cake is a delightful symphony of flavors that brings the freshness of ripe mangoes together with the earthy richness of walnuts.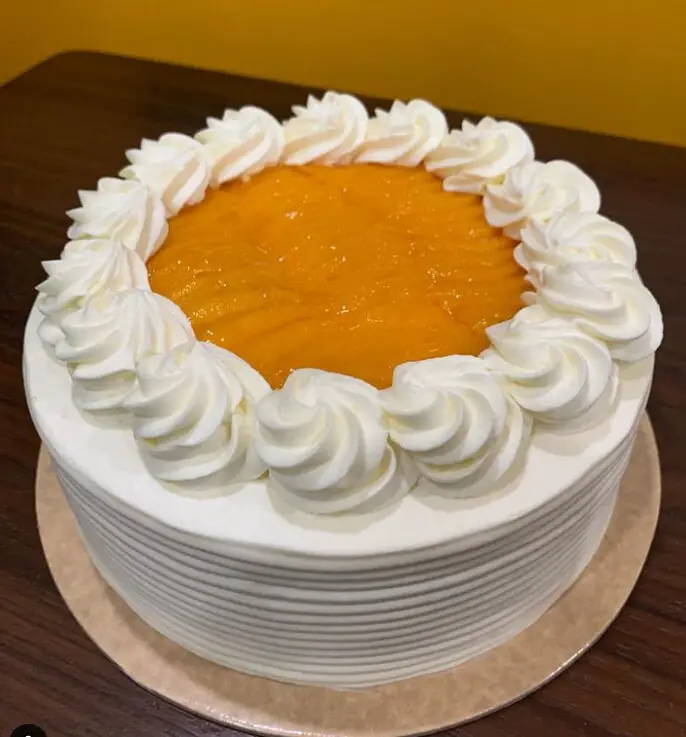 Classic Sans Rival
Experience the timeless allure of Purple Oven's Classic Sans Rival. Layers of crisp meringue nestle between indulgent buttercream, creating a harmonious contrast of textures. Toasted cashews provide a nutty richness, while each forkful showcases the perfect balance of sweetness and crunch that defines this Filipino dessert favorite.
Want to be updated on other promos? Subscribe to our newsletter.
New York Cheesecake
You can also indulge in the velvety elegance of Purple Oven's New York Cheesecake. With its rich and creamy filling, this classic dessert delights the palate with its melt-in-your-mouth texture and subtly tangy flavor. Set atop a buttery graham cracker crust, every forkful is a journey into the heart of decadence, making this cheesecake an iconic treat that captures the essence of New York's culinary heritage.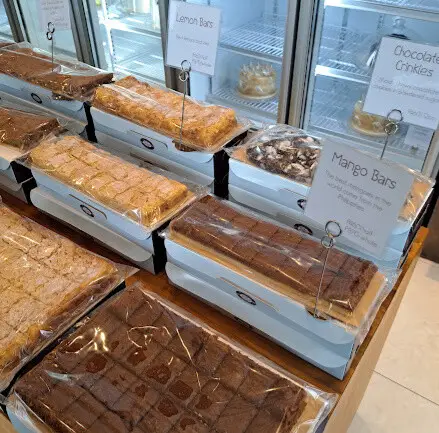 Purple Oven Delivery
Purple Oven takes pride in providing a seamless and reliable delivery service to satisfy its customers' cravings. Their next-day delivery service ensures you receive your order fresh and on time. Simply place your order before the cutoff time, and their dedicated delivery team will work magic to bring the irresistible flavors of Purple Oven straight to your doorstep.
Purple Oven Branches
Purple Oven takes pride in having branches across the city, making it convenient for their customers to find their delightful treats.
Scout Rallos
San Juan 
Sacred Heart
San Antonio
Legaspi Village
Portico
Alabang
About Purple Oven Menu in the Philippines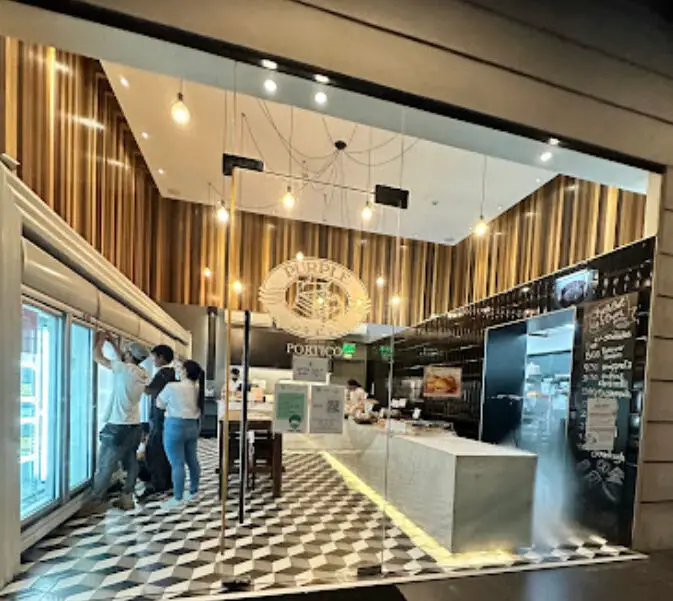 Purple Oven Menu is the ultimate destination for a delightful array of savory and decadent baked goods! Step into a world of heavenly aromas and mouthwatering treats that will leave you wanting more. They take great pride in crafting an extensive selection of delectable delights, from scrumptious tarts to comforting pies and indulgent, rich cakes that satisfy even the most discerning palate.
Talk To Purple Oven Filipino Staff
Want to know more about the Purple Oven menu in the Philippines? Send their staff a message on social media:
For any more questions you have about the Purple Oven menu, leave a comment below.