You may have seen a huge doughnut sign in movies like Iron Man 2; if so, you may not realize it belongs to the world-famous Randy's Donuts. In this article, we will explore the Randy's Donuts menu, a Los Angeles institution known for its enormous, freshly fried doughnuts, which come in various flavors, that has recently landed on Philippine shores.
Here is the latest Randy's Donuts Menu with prices in the Philippines:
Menu
Price

Classic Donuts

Glazed Raised
105.00
Chocolate Raised
105.00
Sugar Raised
105.00
Maple Raised
105.00
Devil's Food cake
105.00
Plain Cake
105.00
Cinnamon Crumb Cake
105.00
Chocolate Iced Cake
105.00
Vanilla Iced Cake
105.00
Maple Iced Cake
105.00
Cherry Iced Cake
105.00
Pink Sprinkles Iced Cake
105.00
Wheat and Honey Cake
105.00
Powdered Sugar Cake
105.00

Deluxe Donuts

Pink Raised w/ Sprinkles
120.00
Glazed Twist
120.00
Chocolate Twist
120.00
Plain Buttermilk
120.00
Glazed Buttermilk
120.00
Chocolate Buttermilk
120.00
Chocolate Long John
120.00
Maple Long John
120.00
Glazed Old Fashioned
120.00
Chocolate Old Fashioned
120.00
Lemon Glazed Old Fashioned
120.00
Blueberry Cake
120.00
Blueberry Icing
120.00
Chocolate Iced Cruller
120.00
Maple Iced Cruller
120.00
Vanilla Iced Cruller
120.00

Fancy Donuts

Apple Fritter
120.00
Cinnamon Roll
120.00
Bear Claw
120.00
Maple Long John w/ Cream
120.00
Chocolate Long John w/ Cream
120.00
Coconut Raised
120.00
Butter Crumb Raised
120.00
Roasted Coconut Raised
120.00
Lemon Jelly Filled
120.00
Strawberry Jelly Filled
120.00
Raspberry Jelly Filled
120.00

Premium Donuts

Matcha Tea Raised
120.00
Funfetti Cake w/ Ganache
120.00
Red Velvet Cake w/ Ganache
120.00
Fruity Pebbles Raised
120.00
Froot Loops Raised
120.00
S'mores Raised
120.00
Texas Glazed
120.00
Nutella Raised
120.00
M&M Raised
120.00
Orea Raised
120.00
Bacon Maple Long John
120.00
Maple Raised w/ Churros
120.00
Coffee
120.00

Boxes

Classic Box of 6
610.00
Classic Box of 12
1,220.00
Assorted Box of 6
700.00
Assorted Box of 12
1,400.00

Beverages

12 oz Brewed Coffee (Hot)
85.00
12 oz Americano (Hot)
95.00
12 oz Latte (Hot)
95.00
12 oz Capuccino (Hot)
95.00
12 oz Randy Dandy (Hot)
95.00
12 oz Mocha Loca (Hot)
95.00
12 oz Randy's Salty Caramelee (Hot)
95.00
16 oz Randy Dandy (Cold)
150.00
16 oz Mocha Loca (Cold)
150.00
16 oz Randy's Salty Caramelee (Cold)
150.00
Randy's Donuts Menu
Randy's Donuts is the place to go, whether you're looking for a quick bite to eat to stave off hunger or a massive, stuffed doughnut the size of your hand.
Randy's Doughnuts has been selling its famous deep-fried donuts since 1952. Customers are drawn to the chain not only by the novelty of its huge doughnut storefronts but also by the superior texture, lightness, and size of its doughnuts, which come in more than 40 unique varieties.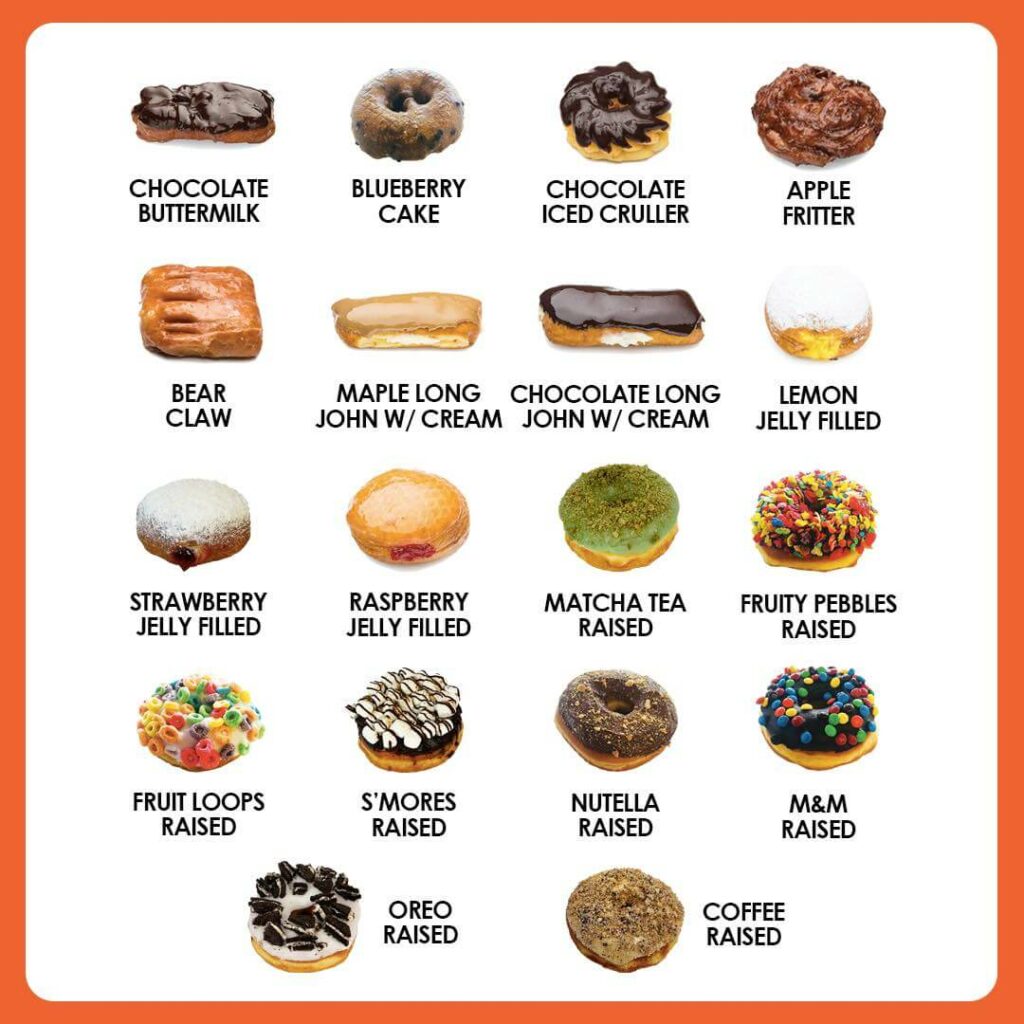 Randy's Donuts Bestsellers
You can choose between Classic, Deluxe, Fancy, and Premium donuts in the Randy's Donuts menu. Here are some of the flavors and varieties you can expect.
Classic Donuts
Some best-selling donuts are the Glazed Raised, Chocolate Raised, and Devil's Food. But you can also get classic donuts in the following flavors:
The Glazed Raised donuts are a staple and usual favorite amongst the top donut shops, owing to their simplicity and decadence. Chocolate Raised is quite similar, but with a dash of chocolate to bump up the powdered sugar glaze. Randy's Devil's Food donut is basically the decadent Devil's Food Cake you can carry around with a top layer of luscious chocolate.
Deluxe Donuts
Most love the Choco Old Fashioned and the Glazed Old Fashioned, which are, as the name suggests, old-fashioned sour cream donuts. Its craggy surface is perfect for holding the luscious chocolate and silky vanilla glazes, respectively. If that's too sweet for you, they also have the Lemon Old Fashioned, which provides more balanced flavor notes.
Fancy Donuts
Step it up with the famous Randy's Donut Bear Claws, a rectangular glazed donut with apple pie filling in the center. You can also try the Roasted Coconut Raised donut for a tropical and refreshing take on a sweet dessert. The Randy's Donuts Cinnamon Roll is a must-have if you're looking for something more familiar.
Want to be updated on other promos? Subscribe to our newsletter.
Premium Donuts
Dial up your donut experience to 11 with the cereal-topped donuts from the Randy's Donuts menu. You must try the Cinnamon Toast Crunch Raised, Fruit Loops Raised, and Fruity Pebbles Raised for a crunchy and nostalgic bite. If you're going for decadence and are willing to throw the guilt out the window, there's the Nutella Raised, M&M's Raised, and Oreo's Raised — perfect if you're looking for a sugar kick like no other.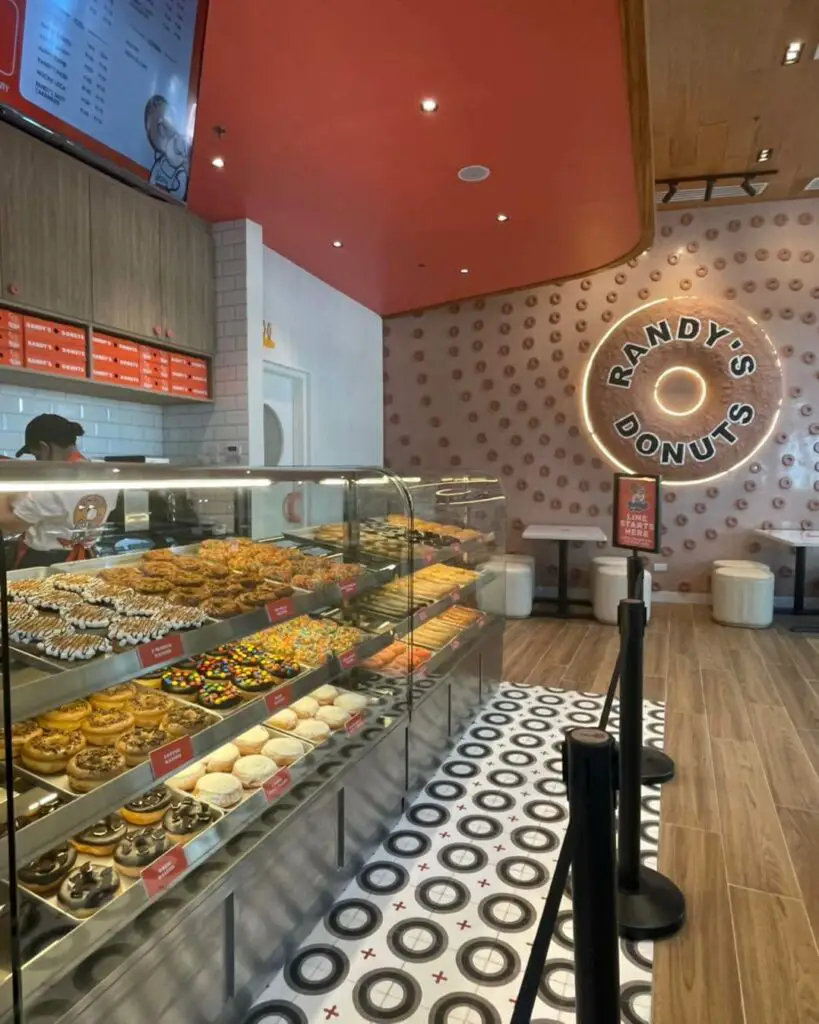 Randy's Donuts Delivery
If you want your Randy's Donuts craving satisfied but would like to stay at home, you can have your favorites delivered exclusively via the Pick.A.Roo app.
If you feel like trying other brands of donuts, you can also try Jco, Krispy Kreme or Dunkin Donuts!
Frequently Asked Questions
Is Randy's Donuts available in Grab or Foodpanda?
As mentioned above, Randy's Donuts only delivers via the Pick.A.Roo app.
Does Randy's Donuts stay true to its Los Angeles menu?
So far, the Randy's Donuts Philippines menu has stayed faithful to its original menu.
Do they sell anything other than donuts?
Yes. Randy's Donuts also serves hot and iced coffee, donut sandwiches, and cakes (which you have to pre-order.)
About Randy's Donuts in the Philippines
In 1952, on Manchester Boulevard in Inglewood, California, the original location of the now-famous Los Angeles landmark with the massive rooftop doughnut initially opened its doors to the public. It now has sites in Los Angeles and other cities around the United States, South Korea, and Saudi Arabia.
The Bistro Group, which also franchises Italiannis, Denny's, Hard Rock Café, Buffalo Wild Wings, Modern Shanghai, Fish & Co, and TGIFridays, is credited for introducing Randy's Donuts to the Philippines.
On May 10, Randy's Donuts held a "soft debut" in Uptown Parade in Bonifacio Global City, the country's first location. Donut shop lineups have been constantly lengthy ever since. They've expanded to three other places in the Philippines, and their success continues to grow.
Talk To Randy's Donuts Filipino Staff
Want to know more about the Randy's Donuts Menu in the Philippines? Send their staff a message on social media:
For any more questions you have about the Randy's Donuts menu, leave a comment below.