Unlike most restaurants out there that just become famous because of the marketing hype the owners have created around them, Wildflour that's more than that. Their consistency, great food, and talent made them the most successful and recognizable local restaurant brands in Metro Manila. Let's look at the Wildflour menu and see why all love it.
Here is the latest Wildflour menu with prices in the Philippines:
Menu
Price

Bread

Garlic Parsley Butter
150
Honey Brown Butter
150
Truffle Marscapone warm sourdough bread, honey
150
Cheese and Charcuterie Board
995

Appetizers

Garlic Knot and Ricotta
420
Fried Calamari
660
Mussels and Fries
680
Korean Fried Chicken Wings
680
Chorizo and Gambas
850
Roasted Bone Marrow
995
Burrata
995

Soup

Tomato Soup
380
Pumpkin Soup
420
Clam Chowder in sourdough bowl
495

Salads

Baby Mixed Green Salad
415
Classic Caesar Salad
480
Prawn Salad
580
Wild Mushroom Salad
590
Wildflour Chopped Salad
630
Roast Chicken Salad
630
Steak Salad
760

Vegetables

Crispy Potatoes
340
Broccoli and Cauliflower
450
Sweet Potato Fries
450

Pasta

Mac N Cheese
470
Pasta Alla Norma
640
Cacio E Pepe
700
Pumpkin Agnolotti
700
Squid Ink Pasta
750
Meatballs fresh rigatoni pasta
750

Main Course

California Burger (1/3 lb.)
650
Roast Organic Chicken
750
Fried Chicken (allow 20 minutes)
760
Risotto Nero
940
Duck Adobo
950
Braised Beef Brisket
995
Tasmanian Salmon mushroom fried rice, whole grains, soy, chili
1295
Pork Piccata 350g
1995

Steaks

Kimchi Fried Rice and Steak 250g
1950
Steak and Fries 300g
2500
Cote De Boeuf
7995

Rice Bowls

Sisig Rice Bowl
470
Filipino Breakfast (homemade longganisa, picked vegetables, fried egg)
595
Beef Tapa
625
Bacon Fried Rice
625
Adobo Fried Rice
630
Mushroom Bowl
630
Kimchi Fried Rice and Steak
650

Sandwiches

Breakfast Sandwich
420
Tomato soup, side salad, grilled cheese sandwich
580
Tuna Melt
580
Fried Chicken Sandwich
595
Philly Cheesesteak
595
Clubhouse Sandwich
630
Chicken Avocado Sandwich
630
Californiia Burger 1/3 lb.
650
Reuben Sandwiich
695

Lunch Plates

Wildflour Quiche
530
Roast Organic Chicken
750
Chicken and Biscuits (allow 20 minutes)
760
Duck Adobo
950
Tasmanian Salmon
1030

Breakfast(Bread)

Truffle Marscapone
150
Garlic Parsley Butter
150
Honey Brown Butter
150
Cheese and Charcuterie Board
995
Bundaberg
250

Cocktails

Mimosa
495
Strawberry Bellini
495
Basil and Lemon Spritz
495
Aperol Spritz
495
Calamansi Mojito
495

Fresh Juices

Sparkling Dalandan Juice
290
Golden Juice
330
Green Juice
330
Red Juice
330
Fresh Squeezed Orange Juice
420

Smoothies

Fresh Grape Shake
330
Good Morning Sunshine
330
Blue Dream
330
Coconut Pineapple Smoothie
330
Kale Smoothie
330
Banana Chia Smoothie
330

Cold Drinks

Espresso Tonic
175
Green Tea Mojito pineapple, basil, St. Tropez Tea
190
Chantilly Iced Coffee iced brewed coffee with sweet cream
190
Cold Brew Tea (unsweetened )
190
Agua Fresca cucumber, lime, mint syrup
195
Watermelon Iced Tea
195
Cold Brew Coffee
105
Wildflour Kombucha
240
Golden Milk homemade almond milk, turmeric, ginger juice
250
Farmacy's Thick Milkshakes
280

Homemade Sodas

Turmeric Ginger Ale ginger, tumeric, honey, calamansi
190
Strawberry Lemon strawberry, lemon, sugar syrup
190
Guava guava, lime juice
190

Coffee

Espresso
135
Macchiato
155
Cortado
155
Americano
165
Flat White
175
Latte
175
Cappuccino
185
Vietnamese Latte
195
Café Moca
195
Vanilla Almond Latte
295

Brewed Coffee

Lamill Black Velvet bold and intese, full- bodied medium roast, clean finish and bright
165

Hot Tea

Ginger Turmeric Tea freshly juiced ginger an turmeric mixed with honey and calamansi juice
190
St. Tropez Green Tea
190
Earl Grey
190
Green Morrocan Mint
190

Hot Drinks

Matcha Green Tea Latte
210
Okinawa Latte hojicha roasted green tea, less caffeine
210
Hazelnut Hot Chocolate
210
Salted Black Sesame Latte
280
Pistachio Au Lait
280

Specialty Water

San Pellegrino sparing specialty water
160
San Pellegrino sparing specialty water
360
Acqua Panna still specialty water
270

Sparkling Juice

San Pellegrino aranciata / limonata /aranciata rosea
180

Craft Soda

Bundaberg ginger beer / sasparilla
250

Cocktails

Mimosa fresh fruit sparkling wine, cucumber/ orange / passionfruit / guava
495
Strawberry Bellini spakling wine
495
Basil and Lemon Spritz fresh lemon juice, prosecca
495
Aperol Spritz aperol liqueur, prosecca
495
Calamansi Mojito manille rum, calamansi
495

Dessert

Mango Passionfruit Pie (Whole)
2600
Tres Leches (Slice)
275
Tres Leches (Whole)
2500
Ube Tres Leches (Mini)
820
Avocado White Chocolate Mousse (Slice)
210
Avocado White Chocolate Mousse (Whole)
1440
Mango Caramel Torte
265
Bread Pudding (Slice)
235
Bread Pudding (Whole)
1880
Ensaimada Pudding (Slice)
260
Bacon Jalapeno Corn Bread
280
Banana Bread
450
Carrot Walnut Loaf
695
Cinnamon Bake
399
Sugar Free Gluten Free Banana Bread
780
Wild Flour has grown from its early roots as a French-American influenced café and bakery serving breakfast and lunch all day to now also offering local and foreign meals to its customers. They were motivated to expand their offerings beyond brunch and now provide dinner at all of their locations.
Wildflour Bestsellers
Below are some of the crowd-favorites on Wildflour's menu.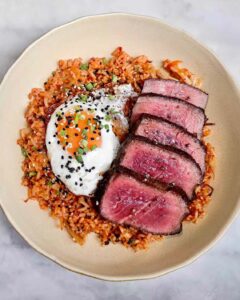 Kimchi Fried Rice and Steak
Wildflour is not a Korean restaurant, but their Kimchi Fried Rice is among the finest in Manila. This dish is popular because it boasts excellent and succulent Bolzico beef tenderloin that can hold on its own and delivers a powerful fragrant dosage of kimchi character without becoming overpowering. Those who enjoy kimchi's spiciness and tanginess will enjoy this dish. It's no big revelation that the humble egg atop this dish is the connecting element that finally makes everything click.
Soup, Salad, Sandwich
Nothing beats good 'ol grilled cheese, and Wildflour's take on this classic is as unbeatable. It's called The Soup, Salad, Sandwich: tomato soup, grilled cheese, and side salad combo.
The grilled cheese itself is a medley of textures and flavors from crunchy, chewy, and creamy to sweet, salty, and earthy, thanks to Wildflour's iconic sourdough, Gruyere, and caramelized onions. This sandwich becomes all the more delectable when dipped in the rich tomato soup, and the fresh and crisp salad bites in between cut through all the richness and balance the flavor profiles.
Lasagna Bolognese
Lasagna is the ultimate comfort food, and Wildflour always gets its comfort food right. Their Lasagna Bolognese is a straightforward take on the classic: al dente pasta layered with Italian sausage, tomato sauce, ground beef, and mozzarella. While it may seem too simple to be good, their lasagna might rival the best you've had.
Young Coconut Pie
Regarding Pinoy desserts, Young Coconut Pie from Wildflour is a worthy contender to the traditional buko pie. Paired with a not-too-sweet crème anglaise that draws out its subtle nutty essence, this variation is more creamy than most others and features rich ribbons of young coconut and a topping that is as delectable as can be.
California Burger
A good cheeseburger is a must-have when it's offered. Wildflour's California Burger is tender and juicy, pairing perfectly with sharp cheddar cheese and the sweetness of perfectly caramelized onions. However, the star of the dish is their house brioche bun. It's not your run-of-the-mill bun you come across daily — it's fluffier, sweeter, and the perfect vessel into which the perfect patty is nestled. Another nice thing about Wildflour's take on the cheeseburger is that they ask about the diner's cook preference for the patty, which is usually lost in most burger experiences today.
Want to be updated on other promos? Subscribe to our newsletter.
Chicken Avocado Sandwich
In no way mimicking a traditional chicken sandwich, the Chicken Avocado Sandwich includes the following elements: You can expect high quality from the roast chicken, tomato, and house multigrain bread because of Wildflour's commitment to providing only the best loaves. In the end, you're left with a  well-balanced option for lunch that will satiate your appetite without overloading you.
Looking for food that's more like home-style comfort food? You can also check out Mary Grace and Contis!
Wildflour Party Trays
Wildflour offers Party Trays, which are meals meant for sharing. If you want to amp up your next potluck, we recommend the Squid Ink Pasta, Adobo Fried Rice, and Bucatini & Meatballs.
The Adobo Fried Rice proves that Philippine tastes are still evident at Wildflour. Succulent and savory pork belly, adobo sauce, Dalisay rice, and fried eggs make up this surefire meal. On the other hand, the Squid Ink Pasta features handmade squid-ink mafaldine pasta prepared to a perfect al dente, delivering a delicious shellfish flavor. Squeeze some fresh lemon juice on top right before you dive in for a tangy burst to counteract all that briny seaside flavor. Finally, the Bucatini & Meatballs are prepared with only garlic, pepper, tomato sauce, basil, parmesan, and the special touch of the Wildflour chefs: a true testament to their talent and dedication.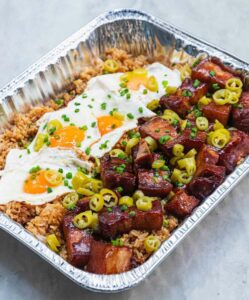 Wildflour Cakes
Wildflour is well-known for its cakes, so let us peek at some of their best ones.
Tres Leches
Wildflour's take on the classic Tres Leches dessert is even more velvety and ethereal thanks to the inclusion of dulce de leche, a sweetened milk sauce. Although it may seem unimpressive compared to Wildflour's more elaborate cake options, this cake is a guaranteed hit at any occasion, from parties to late-night snack incidents.
Honey Cake
This decadent cake is evenly frosted with dulce cream all over the sides, and in between the cake layers, it is super moist. There are toasted crumbly cake bits surrounding it, and a generous amount of crunchy walnuts sprinkled on top, just to give a bit of texture to each bite.
Salted Chocolate Cake
The chocolatey paradise is made of chocolate cake, salted caramel, and chocolate frosting. One of Wildflour's top sellers, this cake is exceptionally soft and has a substantial coating of rich chocolate and sugar taste. People with a penchant for sugar will no doubt enjoy it, what with the rich caramel.
Here is the Wildflour Cake Menu:
Menu
Price

Cakes

Carrot Cake (Slice)
225
Carrot Cake (Slice)
310
Carrot Cake (Mini)
1350
Carrot Cake (2-Layer)
2250
Carrot Cake (3-Layer)
3100
Lemon Almond Cake (Slice)
285
Lemon Almond Cake (Mini)
1300
Lemon Almond Cake (2-Layer)
2280
Salted Chocolate Cake (Slice)
265
Salted Chocolate Cake (Slice)
365
Salted Chocolate Cake (Mini)
1350
Salted Chocolate Cake (2-Layer)
2650
Salted Chocolate Cake (3-Layer)
2650
Strawberry Cream (Slice)
270
Strawberry Cream (Mini)
1350
Strawberry Cream (3-Layer)
2700
Bibingka Cheesecake (Slice)
340
Bibingka Cheesecake (Whole)
2720
Birthday Cake (Slice)
200
Birthday Cake (Whole)
1600
Caramel Cake (Slice)
205
Caramel Cake (Mini)
1350
Caramel Cake (Whole)
1640
Cassava Cake (Slice)
245
Cassava Cake (Whole)
1960
Cronut Cake (Whole)
1440
Honey Cake (Slice)
335
Honey Cake (Whole)
2680
Mascarpone Cake (Slice)
310
Mascarpone Cake (Whole)
3100
Mixed Nut Sansrival (Slice)
300
Mixed Nut Sansrival (Mini)
1350
Mixed Nut Sansrival (Whole)
2400
Strawberry Mango Pavlova (Slice)
250
Strawberry Mango Pavlova (Mini)
1050
Strawberry Mango Pavlova (Whole)
2060
Tres Leches Cake (Slice)
275
Tres Leches Cake (Whole)
2750
Ube Cake (Slice)
270
Ube Cake (Whole)
2700
Apple Pie (Slice)
285
Apple Pie (Whole)
2280
Apple Pie (Mini)
1300
Banana Creampie (Slice)
195
Banana Creampie (Whole)
1680
Coconut Pie (Slice)
295
Coconut Pie (Whole)
2360
Coconut Pie (Mini)
1100
Egg Pie (Slice)
195
Egg Pie (Whole)
1560
Key Lime Pie (Slice)
190
Key Lime Pie (Whole)
1520
Mango Passionfruit Pie (Slice)
325
Mango Passionfruit Pie (Whole)
2600
Tres Leches (Slice)
275
Tres Leches (Whole)
2500
Ube Tres Leches (Mini)
820
Avocado White Chocolate Mousse (Slice)
210
Avocado White Chocolate Mousse (Whole)
1440
Mango Caramel Torte
265
Bread Pudding (Slice)
235
Bread Pudding (Whole)
1880
Ensaimada Pudding (Slice)
260
Bacon Jalapeno Corn Bread
280
Banana Bread
450
Carrot Walnut Loaf
695
Cinnamon Bake
399
Sugar Free Gluten Free Banana Bread
780
Wildflour Delivery
Wildflour launched Wildflour To-Go last February 2020. Head over to www.wildflourtogo.com. Navigate to the "ORDER NOW" or "SHOP ALL" section of the page, pick the products you want, and then go to the shopping cart and checkout. Their offerings, including Wildflour Italian, Farmery, etc., are available here on their website.
Frequently Asked Questions
Does Wildflour delivery have lead and cutoff times?
Yes, lead periods exist for orders. A 48-hour notice is required for baked goods, while only three hours is required for food platters, à la carte dishes, and marketplace goods. Payments received after the daily cut-off period of 6:00 PM will be processed the following business day.
How do I pay for my Wildflour To-Go order?
PayMongo processes their in-person, online, card, bank, GCash, and GrabPay transactions. They will provide you with a money processing link for GCash and GrabPay. They also take payments through PayMaya and BDO Bank Transfer.
Once payment has been made, submit payment confirmation to wildflourbakerymanila@gmail.com or @wildflourtogo on Instagram. Orders are not considered final until they inform you they have received payment confirmation.
What is Wildflour's delivery radius?
Currently, Wildflour only offers GrabExpress and LalaMove deliveries within Metro Manila. Wildflour will arrange all deliveries, but customers will be responsible for paying any associated costs, which will be communicated to them on the day of delivery. Delivery costs are to be paid in cash, straight to the courier, by the customer, but both in-store and roadside pickup options are available to customers. It's important to mention that pizza, ice cream, and Pink's, for example, can only be shipped from select locations.
About Wildflour in the Philippines
Sisters Ana and Margarita Manzke opened Wildflour Café + Bakery in Bonifacio Global City in 2012. Since then, the company's expansion and growth have made it one of the most popular restaurant groups in Metro Manila, with stellar recognition for its cuisine and customer service.
The Wildflour group operates 15 high-profile locations in and around the commercial hubs of Metro Manila under the Little Flour, Wildflour Italian, Pink's, and Farmacy Ice Cream brands, to mention a few. The business is well-positioned for future growth thanks to its established internet presence and rapidly expanding delivery service.
Talk To Wildflour Filipino Staff
Want to know more about the Wildflour menu in the Philippines? Send their staff a message on social media:
For any more questions you have about the Wildflour menu, leave a comment below.